5 Best FLV to DVD Converters to Burn Flash Videos to DVD You Should Know
FLV file is a popular video format for the Internet. If you have a large number of FLV files, how do you back them up to DVD discs, or even create a standard one with subtitle, menu, chapter and more? In order to burn FLV to DVD, you can learn more about the 4 best free FLV to DVD burner, as well as the best alternative from the article. Choose the desired one and burn a DVD disc according to your requirement.

Part 1: Best Method to Convert Flash Video to DVD
In order to burn Flash videos to a standard DVD disc, such as settings, subtitle, chapter, thumbnail, template, menu and others, Vidmore DVD Creator is an all in one FLV to DVD converter that burn any video to DVD/ISO/BD/folder, edit DVD videos with built-in video editor, personalize your DVD disc with free menu templates and more others.
Burn FLV or any other videos to DVD, ISO file, DVD folder and Blu-ray disc.
Customize DVD menu, template, chapter, subtitle, audio track and more.
Edit the DVD file with the built-in video editor before burning FLV to DVD.
Powerful tools to tweak TV standard, burning speed, video quality, etc.
Step 1: Download and install the FLV to DVD converter, launch the program on your computer and select the DVD Disc on the left side of the interface to burn the FLV videos into a DVD disc. Click the Add Media File(s) button to import the FLV files into the program.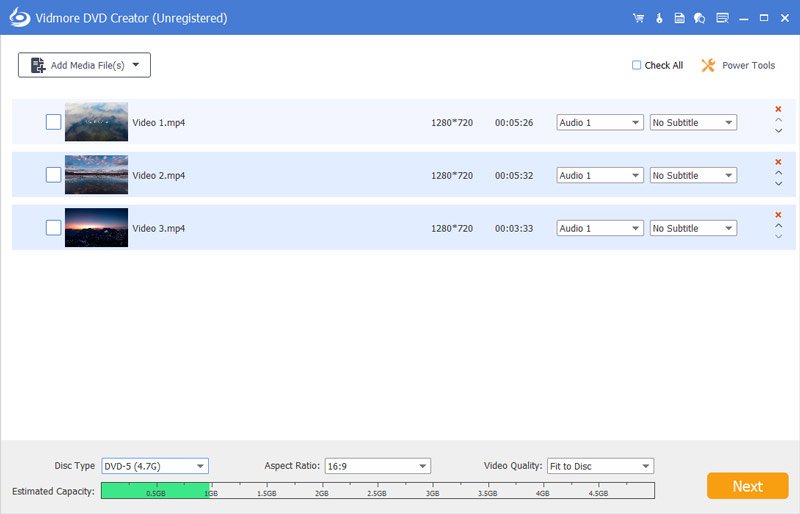 Step 2: To edit the FLV files, you can click the Power Tools on the upper right corner to edit the subtitles, merge chapter, set thumbnail, or even clip the FLV video into different parts. Moreover, you can find multiple video-editing features to merge, crop and apply video effects.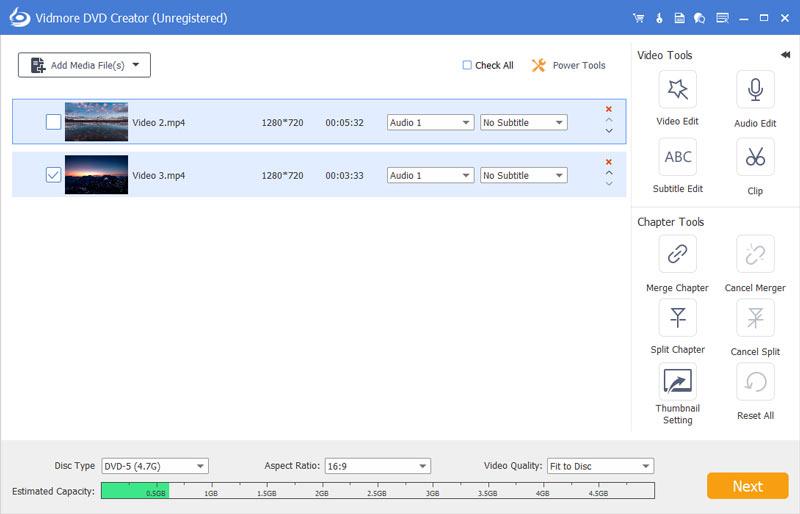 Step 3: Select the menu template or customize the template to adjust the button, or title for your DVD file. You can choose the Menu Template menu to select a desired preset, or even customize one for DVD disc with the Custom Template menu.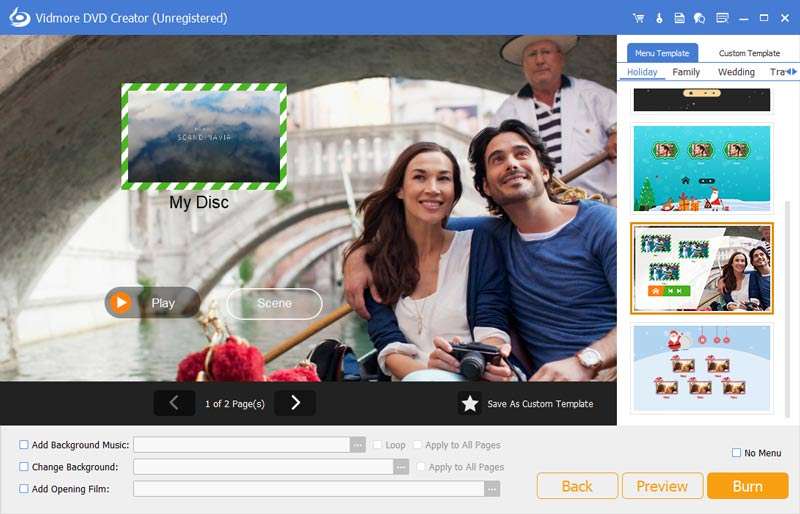 Step 4: If you are satisfied with the DVD disc, you can click the Burn button to enter into the Settings window to select a destination, make burn settings, and select playback mode. After that, you can click the Start button to burn FLV to DVD accordingly.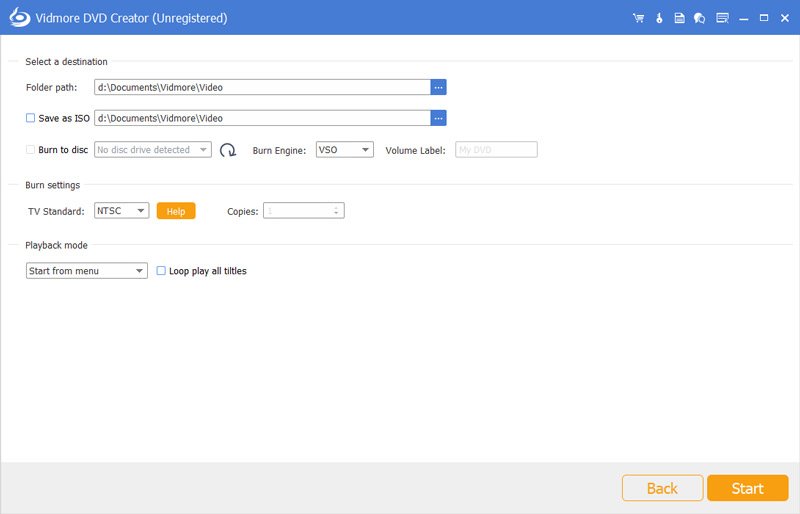 Part 2: 4 Methods to Burn FLV Videos to DVD for Free
1. BurnAware Free
BurnAware Free is a free FLV to DVD converter that enables you to burn video, audio image to DVD, CD, Blu-ray and even boot discs. It should be a nice choice to burn a DVD for free on your Windows.
Pros:
Support FLV, MP4, AVI, MKV, WMV and most of the video and audio files.
It has all of the essential bases covered to meet all of your basic needs.
Easy user interfaces that you can select the desired features within clicks.
Cons:
Update to the Premium version for disc-to-disc copy and other features.
Lack of the context menu integration feature to burn FLV to DVD disc.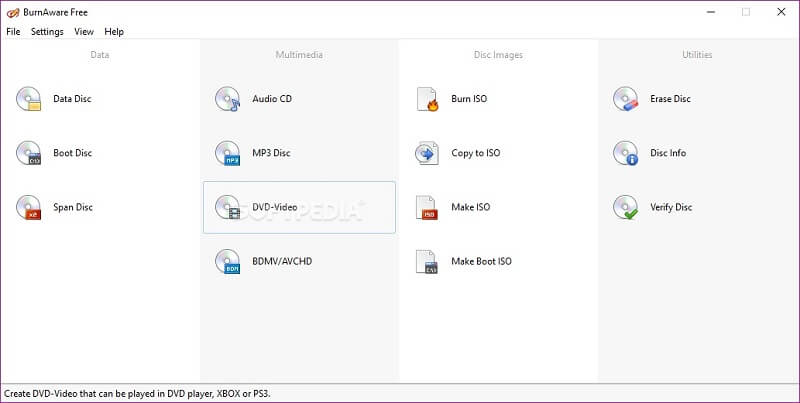 2. DVD Styler
DVD Styler is a cross platform free FLV to DVD converter for Windows, Mac and Linux. It enables you to burn kinds of video files into DVDs, including various formats, and also create individually designed DVD menus.
Pros:
It enables you to create and burn DVD video with interactive menus.
Allow putting files with different audio and video formats on one DVD.
Flexible menu creation on the basis of scalable vector graphic.
Cons:
It is not able to add custom sound tracks to videos within DVD discs.
Cannot export the output DVD as ISO to backup the video files.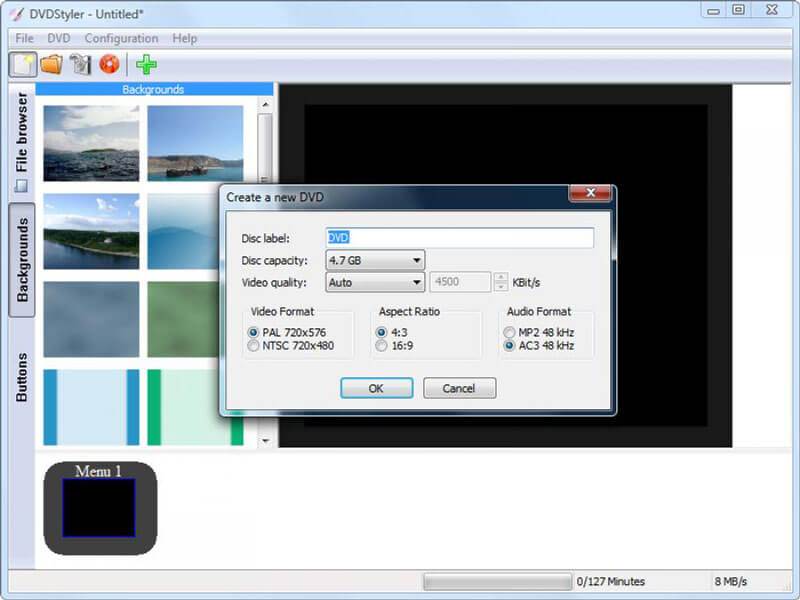 3. WinX DVD Author
WinX DVD Author is another FLV to DVD burner free of charge, which is able to take a selection of FLV video files and transform them into a DVD, with a menu, subtitle and template as your requirement.
Pros:
Built-in YouTube video downloader to extract FLV files from online streams.
Burn FLV to DVD, or even create VOB files for burning at a later time.
Provide multiple customization options, such as handles PAL and NTSC.
Cons:
CPU consuming and take a period of time to burn FLV video to DVD file.
Cannot load all the MP4 files, or too simplistic to handle more tasks. (See how to convert MP4 to FLV)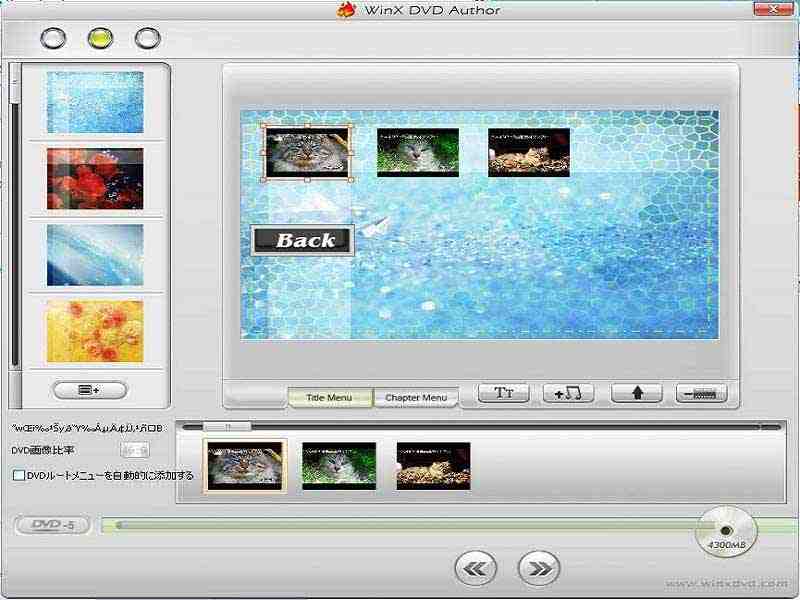 4. AnyBurn
AnyBurn is a simple and small FLV to DVD converter with limited features. When you enter the program, you can select a desired task to burn FLV onto CD, DVD and even Blu-ray disc easily within a few clicks.
Pros:
Burn images, videos, or append files/folders to DVD disc within clicks.
Create some ISO images from DVD/CD is another useful function.
It is an FLV to DVD burner that compatible with 32-bit and 64-bit Windows.
Cons:
Just provides the basic functions without customization features and filters.
Lack of the basic editing feature to rotate, clip and merge the FLV videos. (Find more video merging tools)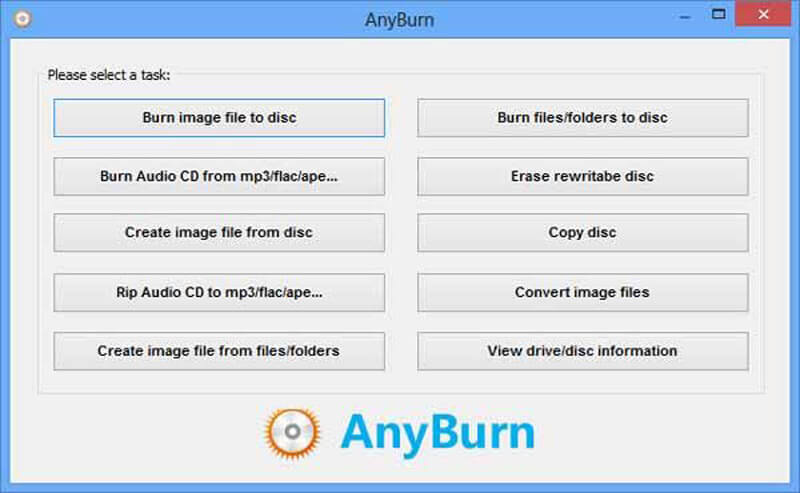 Part 3: Tips about How to Burn FLV to DVD
1. What is FLV?
FLV file extension is standing for Flash Video developed by Macromedia, which is a standard video format for most of the embedded video on the Internet. It is excellent in delivering video, audio, and text data over the Internet. But in order to save the videos for backup, you have to convert FLV to DVD instead.
2. How to Fix Audio Sync for Converting FLV to DVD?
When you simply copy the FLV to DVD, you might experience the audio out of sync issue. Just use the Windows Media Player to view the FLV files to make sure the video is not damaged. Of course, you can also convert FLV to MPG files before converting to DVD disc.
3. Which TV Standard Should I Choose to Convert FLV to DVD?
The NTSC TV mode is used in the United States of America and Canada, while PAL is used in Australia, part of Asia, and some European countries. You should learn more about the DVD Player and choose the desired TV standard according to your requirement.
Conclusion
What are the best methods to convert FLV to DVD video format for free? The article shares 4 free FLV to DVD converters as well as the best alternative. Just learn more about the special features of these programs and choose a suitable one according to your requirement.