How to Play Any DVD in Your Windows Media Player without Issue
I just put a DVD into my Windows 10, but Windows Media Player did not read it at all, how to play DVD on Windows Media Player?
Whether you believe or not, Microsoft has removed the DVD playback ability from the built-in media player on Windows 10. According to the experts' statement, many computers now come without any sort of disc drive and stream services are increasingly popular. If you still have a DVD collection, this guide will show you how to play it on Windows smoothly.

Part 1: How to Play DVD on Windows Media Player
Generally speaking, Windows Media Player is able to play audio CDs and video files on DVDs. If your computer has a DVD drive and a compatible DVD decoder, you can follow the steps below to play DVD on Windows Media Player.
Step 1: Insert your optical disc into the DVD drive on your computer.
Step 2: Then Windows Media Player should pop up and start playing automatically.
If not, go to the Start menu at the bottom left side, find and open WMP.
Step 3: Go to the Library panel on the left side and select the disc. Then you will see all titles or chapters. Double-click on a chapter and the DVD video should play in Windows Media Player.
Note: The DVD playback was removed from Windows 8 and later, but you can still enjoy your discs on Windows 7 and earlier.
Part 2: How to Solve DVD Not Playing on WMP
Why does my DVD not play on Windows Media Player? The reasons are complicated. According to our research, the primary causes include lack support for DVD playback, damaged DVD, and non-compatible DVD format. Next, we will help you solve this problem quickly.
Solution 1: Install DVD Decoder
Windows Media Player won't play DVD on Windows 10/8, partly because your computer lacks a DVD decoder. As long as you install a proper decode, the problem will disappear.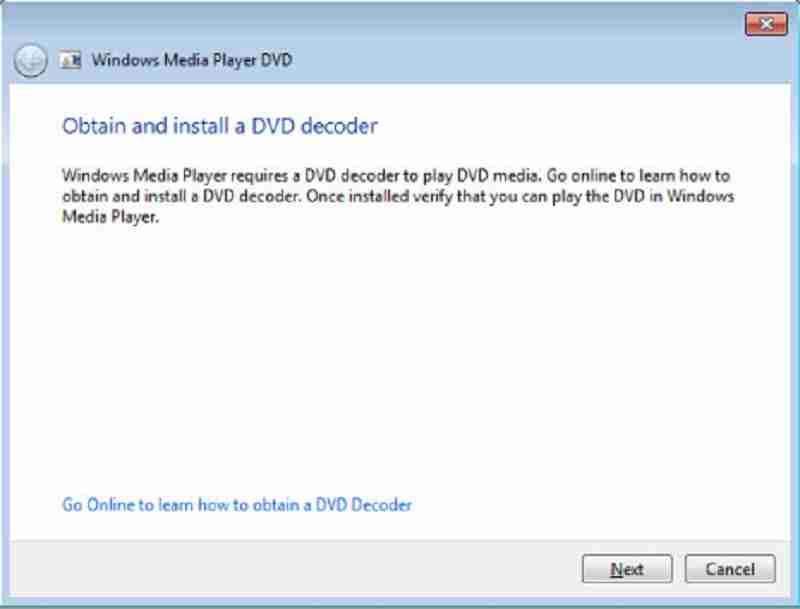 Step 1: Go to the Start menu at the bottom left corner, search and open Control Panel.
Step 2: Next, type troubleshooter in the search box and click Troubleshooting from the result list. Click view all and choose Windows Media Player.
Step 3: Then you will be presented the popup dialog and ask to install Windows Media Player DVD decoder. Follow the instructions to install it. Now WMP should read and play your DVD.
Note: There are also a lot of DVD decoders on the internet. Partly of them are paid or contains virus, so we do not suggest you to search for DVD decoder in search engine.
Solution 2: Check Your DVD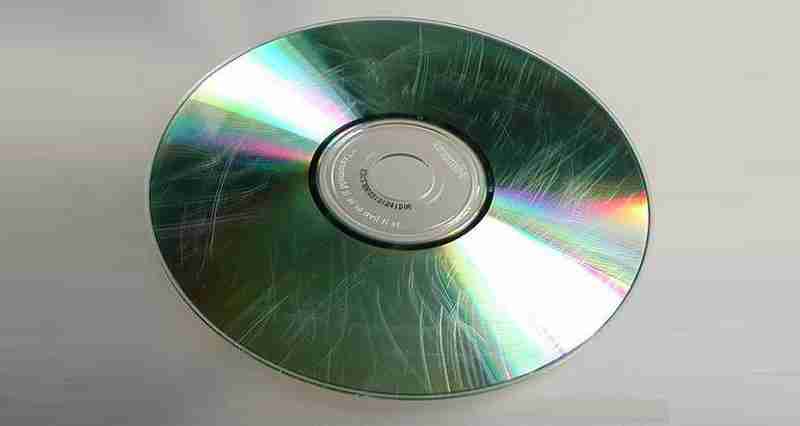 Before playing DVD on Windows Media Player, you should check your optical disc. The scratches or damage can lead to file corrupted and DVD drive fails to read it.
Solution 3: Rip DVD Video
The most effective way to watch DVD on Windows Media Player is to rip the videos. Vidmore DVD Monster is the best option to do the job.
Basic Features of the Best DVD Ripper for Windows Media Player
How to Rip DVD for Windows Media Player
Step 1: Load a DVD
Run the best DVD ripper and it is compatible with Windows 10/8/7 and Mac OS X. Put the video DVD into your computer and click Load DVD. If you just want to rip specific chapters, click View/Select Title, check the desired titles, and click OK.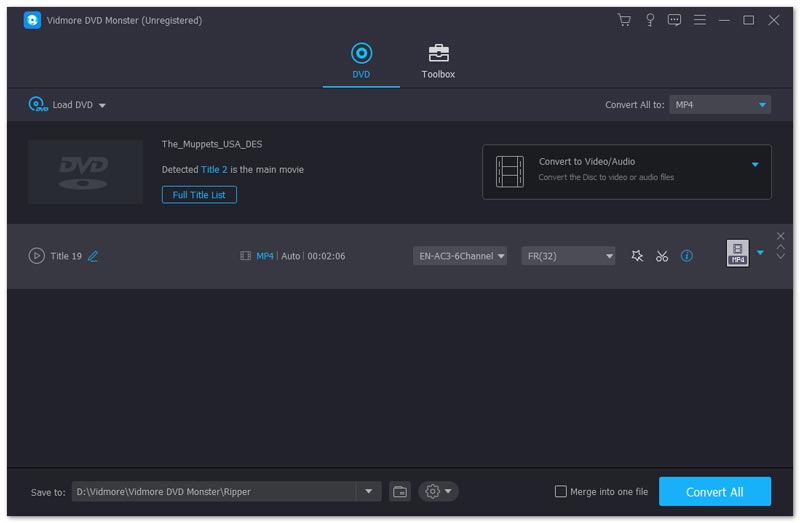 Step 2: Choose output format
Press the Rip All to list and choose a proper video format. To play ripped DVD on Windows Media Player, you can select WMV and pick a preset.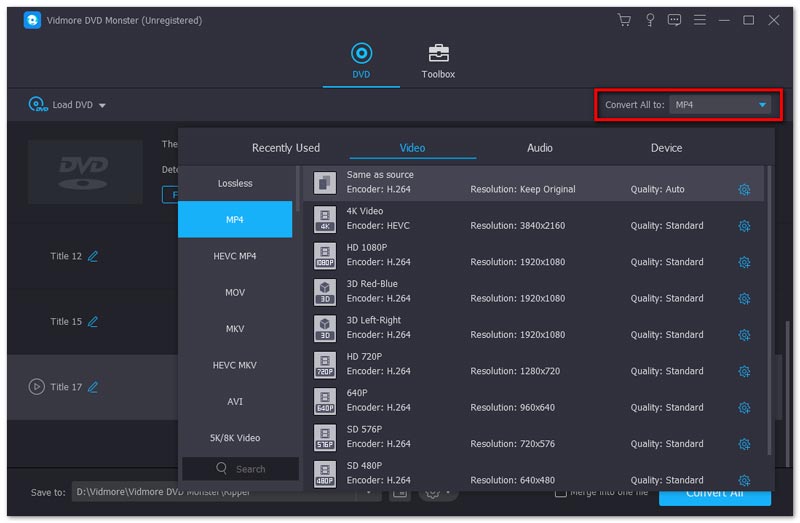 Step 3: Rip DVD
Set the destination folder in Save to field at the bottom left side. Finally, click on the Rip All button to begin ripping DVD for playing on WMP.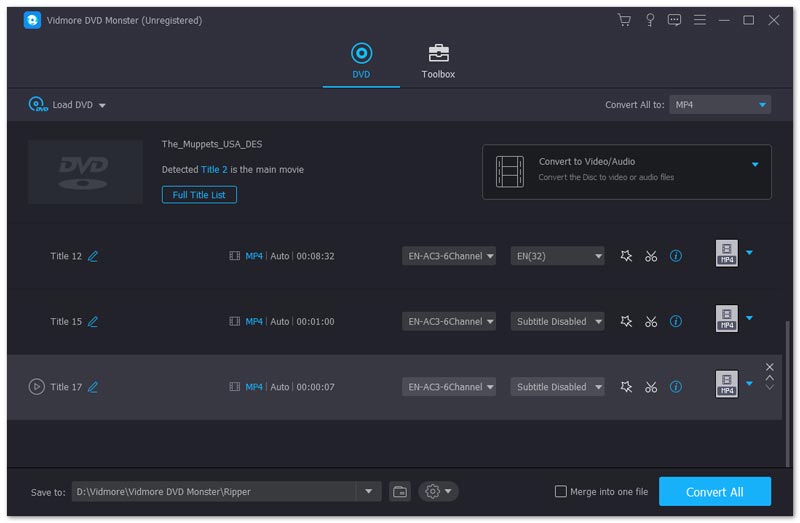 Part 3: Best Alternative Way to Play DVD on PC
You should understand that Window Media Player is not the only way to play DVD, Blu-ray disc and digital videos on PC. Vidmore Player, for example, is a powerful alternative to WMP. It includes a large package of codecs including DVD.
Main Features of the Best Alternative to Windows Media Player
Play any DVDs, CDs, Blu-ray discs without extra decoder.
Protect video and audio quality using advanced technology.
Enhance image color and audio quality automatically.
How to Play DVD without Windows Media Player
Step 1: Load DVD
Insert a video DVD into your computer. The alternative to Windows Media Player offers two versions, one for Windows 10/8/7 and the other for Mac OS X. Install the right version on your machine and launch it. Insert a video DVD into your computer. Click the Open Disc button in the home interface, select the disc and click OK to load it.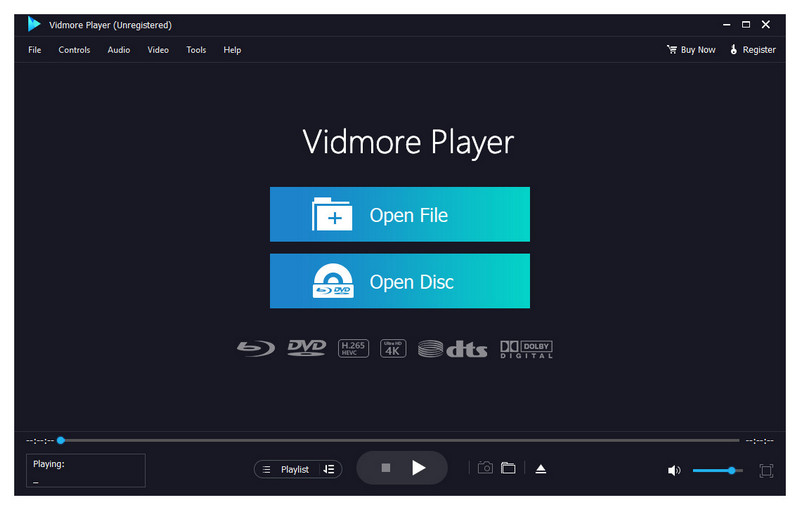 Step 2: Control DVD playback
After DVD loading, you will be presented the main interface. The buttons at the bottom help you fast forward, rewind, pause, stop and play the video. The Camera icon is used to take snapshot at important moment. More advanced controls can be found in the top menu bar.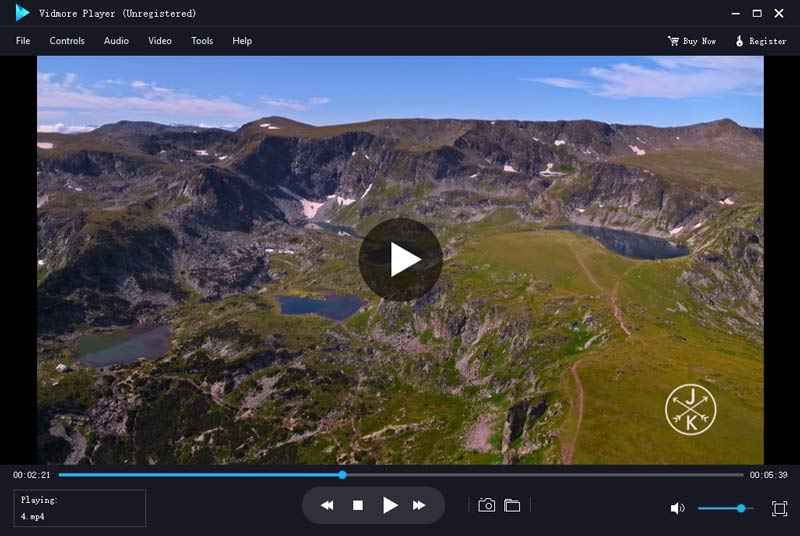 Want to know more alternatives to Windows Media Player, read on Windows Media Player Alternatives.
Part 4: FAQs about Playing DVD on Windows Media Player
Does Windows 10 play DVDs?
There is a paid program called Windows DVD Player to help users watch DVDs on Windows 10. You can download it from Microsoft Store.
How do I start a DVD automatically?
You need three things to play a DVD automatically:
1. A DVD player program.
2. Have Autoplay enabled.
3. Set the DVD player program as default.
How to play a DVD on an external drive?
Connect the external drive to your computer using USB cable or Wi-Fi, put a DVD into it, and open your DVD player program to begin watching it.
Conclusion
This guide has shared how to play DVDs on Windows Media Player on Windows 10/8/7/XP/Vista. Even if your WMP cannot open a DVD, you can fix the problem following our solutions. The best solutions are to rip your DVDs into digital videos for playing on WMP or use an alternative DVD player, such as Vidmore Player. Undoubtedly, you can play MP4, AVI, MP3 or any other popular video & audio formats on Windows Media Player. More questions? Please leave your message below this post.