How to Play Blu-ray Movies on Windows 10/8/7 with/without Media Player
Does Windows Media Player play Blu-ray movies?
No. Windows Media Player (WMP) does not support the Blu-ray codec natively, and it is not competent for playing Blu-ray movies directly by inserting a Blu-ray disc into the drive.
Don't worry, you have options!
To play Blu-ray movies on Windows 10/8/7, you are offered the 3 ways: download Blu-ray codec for WMP, convert Blu-ray to WMP supported digital formats, and get a WMP alternative.
That's what we will focus on.
Keep reading and you will know it in detail.

Part 1. Play Blu-ray Files on Window Media Player by Downloading Blu-ray Codec
Due to Sony's license policy on Blu-ray, Windows Media Player cannot play Blu-ray files directly.
Windows users who want to play Blu-ray movies on Windows Media Player, they have to turn to some third-party assistance, and downloading the Blu-ray codec is one of the solutions.
Quite a few code packs for Windows Media Player are available for downloading and installing from mediaplayercodecpack, Windows Media Codec Pack, Media Player Codec Pack, etc. You can directly download the Blu-ray codec or package and then play the Blu-ray movies directly on Windows Media Player.
Part 2. Play Blu-ray with Windows Media Player Alternative on Windows 10/8/7
Though you can download the Blu-ray codec and install on Windows Media Player to open the Blu-ray movies, you have to admit that those codec downloading sites from the third-party are not 100% reliable.
What's worse, the supported media formats by Windows Media Player are limited. Once you want to play MXF, MKV, DVD, WebM, or other video files on Windows Media Player, you have to download the massive codecs.
That's not an easy task.
To solve that, we recommend you find a Windows Media Player alternative.
Vidmore Player is the all-in-one media player, that can play Blu-ray movies, DVD files, and other popular video and audio files on Windows and Mac computer. Without downloading any third-party codecs, it plays all the media files once and for all there.
Play all the types of Blu-ray like BD-5, BD-9, BD-25, BD-50, BD-XL, BD-R, BD-RE, etc.
Play 4K Blu-ray and 4K videos on Windows 10/8/7 and macOS.
Play Blu-ray and DVD disc, folder and ISO file (Protected Blu-ray/DVD supported).
Play popular media formats like MP4, MOV, MKV, WMV, AVI, WebM, M4V, 3GP, MTS, M2TS, MP3, FLAC, etc.
The steps of playing Blu-ray movies with Blu-ray player are pretty easy.
Step 1: Download Vidmore Player
Insert the Blu-ray disc to your external Blu-ray drive that is connected with this computer.
Free download the Blu-ray player on your Windows computer by clicking the download button above. Run it after the successful installation.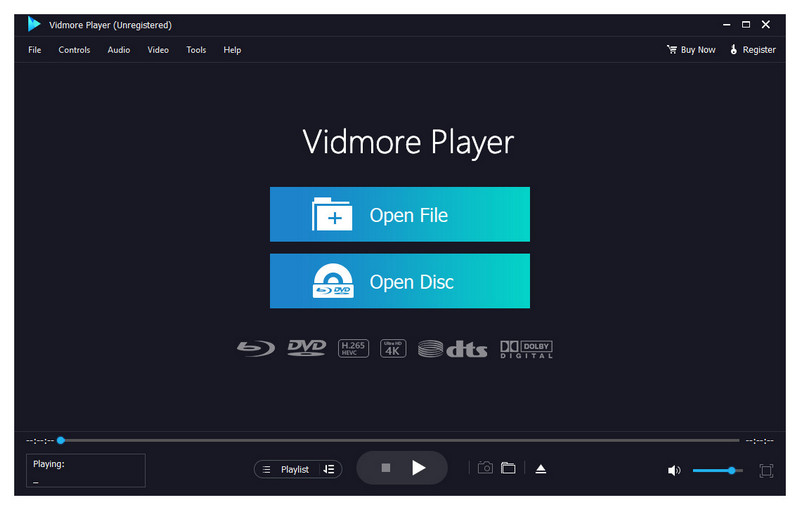 Step 2: Load and play Blu-ray files
Click Open Disc in the main interface to select the Blu-ray folder, ISO, or disc.
Then, this player will load your Blu-ray files, and you just need to select your favorite chapter to start playing.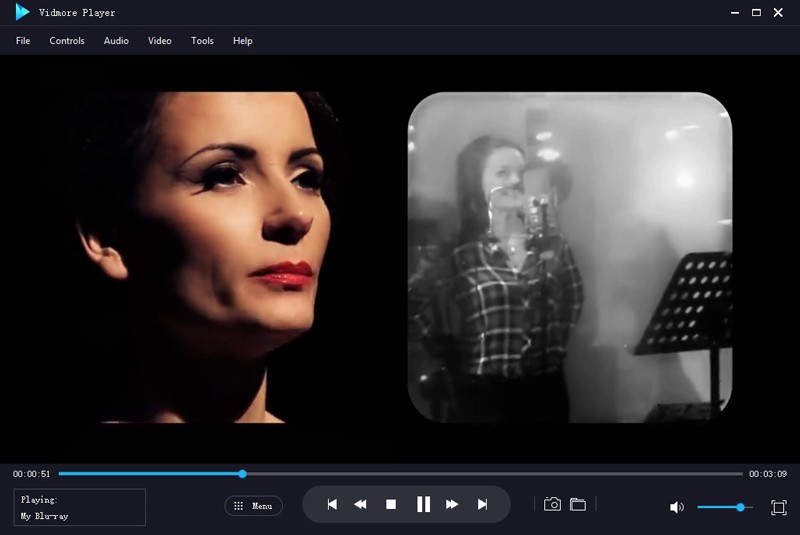 To play DVD files, you should also choose Open Disc, and play other popular video or audio files, you should click Open File.
The top toolbar allows you to control the playback settings like chapter, title, forward, backward, playback window size, audio track, subtitle, etc.
More Blu-ray players on Windows are here.
Part 3. Rip Blu-ray to Windows Media Player Compatible Formats
Surely, if you insist on watching Blu-ray movies on Windows Media Player, and do not want to install other players, this method is for you.
Blu-ray is not supported by WMP playback, but you can convert Blu-ray into the digital formats that are compatible with Windows Media Player.
Windows Media Player Supported Media Formats
Windows Media formats (.asf, .wma, .wmv, .wm)
Windows Media Metafiles (.asx, .wax, .wvx, .wmx, wpl)
Windows Media Download Package (.wmd)
Audio Visual Interleave (.avi)
Moving Pictures Experts Group (.mpg, .mpeg, .m1v, .mp2, .mp3, .mpa, .mpe, .m3u)
Musical Instrument Digital Interface (.mid, .midi, .rmi)
Audio Interchange File Format (.aif, .aifc, .aiff)
Sun Microsystems and NeXT (.au, .snd)
Audio for Windows (.wav)
CD Audio Track (.cda)
Indeo Video Technology (.ivf)
Windows Media Player Skins (.wmz, .wms)
QuickTime Movie file (.mov)
MP4 Audio file (.m4a)
MP4 Video file (.mp4, .m4v, .mp4v, .3g2, .3gp2, .3gp, .3gpp)
Windows audio file (.aac, .adt, .adts)
The above details are from Microsoft officially.
How to Rip Blu-ray into WMP Compatible Formats for Playback
To rip Blu-ray into the digital formats, you will need the professional Blu-ray to Windows Media Player ripping software.
Vidmore Blu-ray Ripper is the professional Blu-ray converter software, which can rip Blu-ray into over 1000 digital formats like WMV, AVI, 3GP, ASF, MP4, MOV, WebM, MKV, etc. It also supports the encrypted Blu-ray disc ripping, so that you can play any type Blu-ray movies with Windows Media Player on Windows 10/8/7 conveniently.
Rip Blu-ray into over 1000 formats for video and audio.
Edit Blu-ray disc before ripping like rotate, crop, watermark, clip, merge, etc.
Edit Blu-ray subtitle and audio tracks (Add, delete and change).
Copy Blu-ray disc into a folder and MKV Lossless on the hard drive.
Create GIFs, convert 3D videos, enhance video quality, edit metadata info, and compress videos for the most popular video files.
Follow the simple steps mentioned here to convert Blu-ray to Windows Media Player MP4.
Part 4. FAQs of Windows Media Player Playing Blu-ray
Does VLC Media Player play Blu-ray movies?
Yes. But VLC cannot play Blu-ray files directly, you should install VLC 3.0 and later and download the keys database and AACS dynamic library for Blu-ray files playback.
Can Windows Media Player play DVDs on Windows 10?
No. Windows 10 does not support DVD playback with Windows Media Player, though Windows 7 has a support of the DVD playback with a compatible DVD decoder. Learn here how to fix Windows Media Player not playing DVD.
Do I need a Blu-ray drive for my PC?
It all depends. Blu-ray can store 1080p HD and 4K movies, which brings you a super clear vision. If you want to play Blu-ray movies on PC, it is a must to get a Blu-ray drive, because PC does not have a built-in Blu-ray drive.
Conclusion
Windows Media Player is the built-in media player on Windows 10/8/7. It can play some media files, but cannot open Blu-ray movies. To play Blu-ray movies, this post shares 3 methods.
Now I'd like to hear what you have to say:
Which method from this page are you going to try first?
Do you want to get a ripped Blu-ray digital format?
Or maybe you want to download a Windows Media Player alternative?
Either way, let me know in the comments section below.