How to Use Scribd Downloader to Get Documents from Scribd without Data Loss
Scribd is the platform similar to YouTube for documents. Namely, it is a place to share and view documents and presentations. No matter you are looking for scientific reports, novels or new publications, it is a perfect spot. According to the data released by Scribd, there are more than sixty million documents.
By default, you can view all documents on the platform without registration. When it comes to Scribd downloading, you have to subscribe the paid membership or upload documents to exchange the download. This guide shows you a complete guide of Scribd Downloader and other methods to get the desired documents.

Part 1: What Is Scribd Downloader?
Scribd Downloader (https://scribddownloader.org/) is website that can help you to download paid documents from Scribd for free. As mentioned previously, there are oceans of documents on Scribd, but you can only view them for free. The only way to download your desired documents is to pay for it. Another way is to upload some documents and exchange it. It does not require any sign-up or payment.
Part 2: How to Download Documents with Scribd Downloader
If you are looking for a way to download documents from Scribd without a paid membership account, you can use Scribd Downloader following the steps below.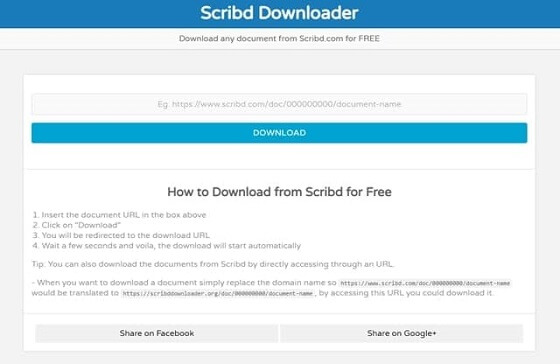 Step 1: Copy document address once you find a document on Scribd that you want to download. Create a new tab in the browser and visit https://scribddownloader.org/.
Step 2: Paste the document address into the URL box. There are a lot of ads on the website and you need to scroll down to get the URL box.
Step 3: Click the Download button and you will be redirected to the download URL. A few seconds later, the download pop-up will appear. Now, you can download the Scribd document to your hard drive.
Part 3: More Options to Download Documents from Scribd
Though Scribd Downloader is free to use, you'd better master more tools to get your favorite documents. Therefore, we share more Scribd downloaders below.
Method 1: Download Scribd Document by Uploading
One way to download documents from Scribd is to upload some files on your part. It is based on the exchange method of Scribd. You are willing to share your files then you can get some kind return. Firstly, you must have a Scribd account. Moreover, you must have something to share.
Step 1: Copy and paste scribd.com in the address bar of a browser, and hit Enter key to open the log-in page. Input your username and password. If you do not have an account, create a free one immediately.
Step 2: Find the document on Scribd that you want to download and open it. You can see the Download button on the left hand side. Click on the button and you will be taken to the subscription page.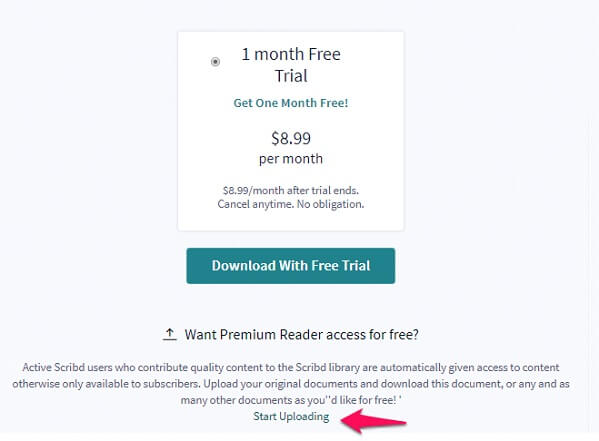 Step 3: Instead of paying for subscription, select the Start Uploading link. When prompted, click Upload to open the next page. Now, hit the Select Documents to Upload button and upload any type of document from your computer. Scribd supports PDF, TXT, DOC, PPT, XLS and DOCX.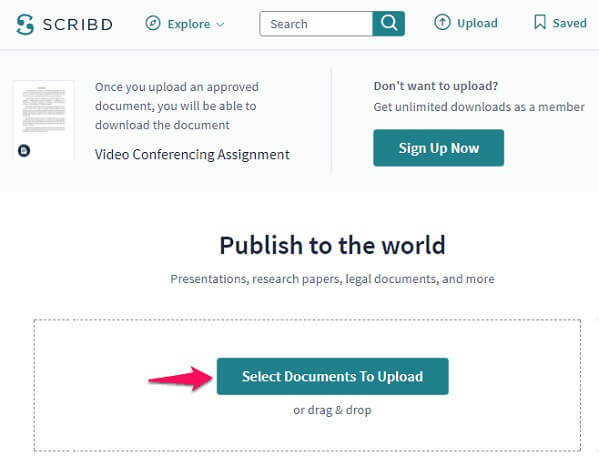 Step 4: Enter the title and description, and click Done button. After that, click the Download button on the document page again. Now, you should be able to get the desired file. If the document contains multiple file types, select your favorite one and click Download button again.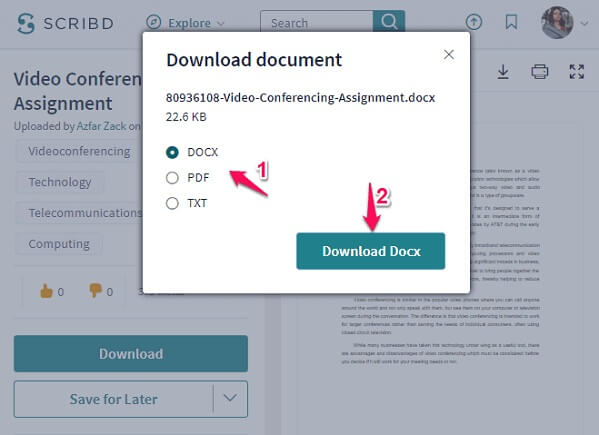 Method 2: Download Documents from Scribd in Chrome
Chrome browser has a print-pdf feature, which is helpful to download documents from Scribd. Though the website hides the real address of the documents, you can find it with the steps below.
Step 1: Go to scribd.com and search for the document you want to download. This way does not need you to sign in an account.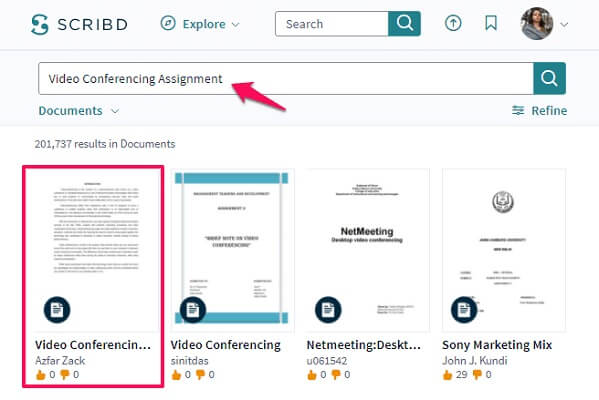 Step 2: Open the document, right-click on it and select view page source on the context menu. Then you will see the codes. Find the access_key and copy the code next it and paste into a temporary text file.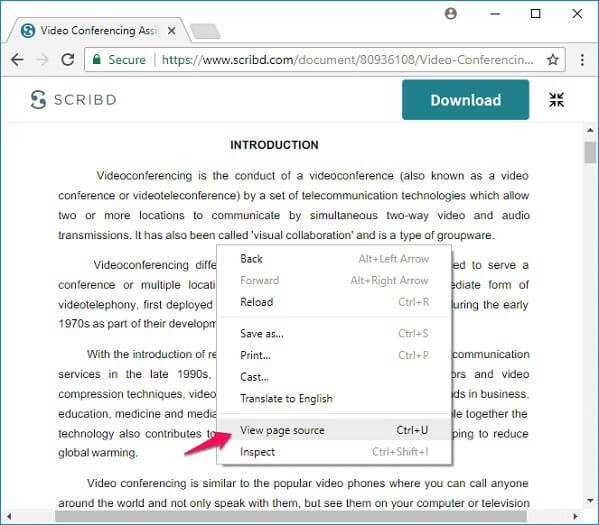 Step 3: Next, remember the document ID in the URL, which is usually several digits. Then complete the address: HTTP://d1.scribdassets.com/ScribdViewer.swf?document_id=xxxxxxxx&access_key=key-xxxxxxxxxxxxxxxxxxxx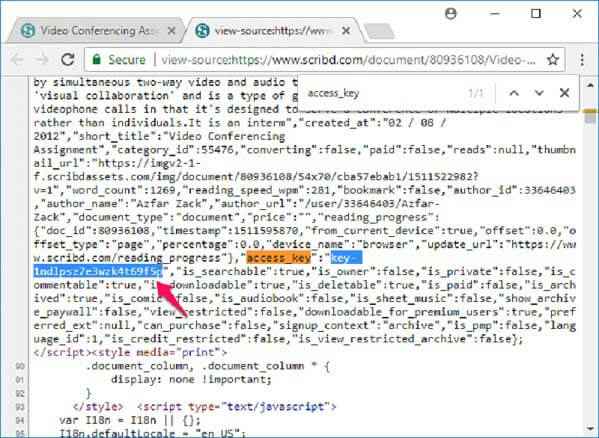 For example, your document ID is 80936108 and the access_key is key-1ndlpsz7e3wzk4t69f5p. The complete address should be http://d1.scribdassets.com/ScribdViewer.swf?document_id=80936108&access_key=key-1ndlpsz7e3wzk4t69f5p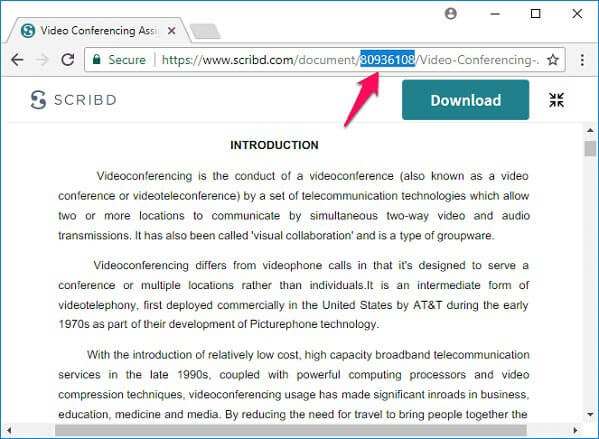 Step 4: Paste the complete address into address bar and hit Enter key. Once the document is loaded, click the Print option. Next, hit the Save button and save the document as PDF.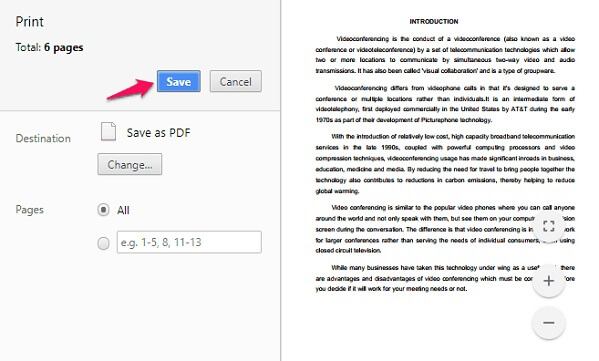 Method 3: Download Scribd Document with Firefox Extension
GreaseMonkey is another Scribd downloader to get documents for free. It is able to bypass the subscription, so you can get what you want easily.
Step 1: The Scribd downloader is an add-on for Firefox. You can install it from here (https://addons.mozilla.org/en-US/firefox/addon/greasemonkey/) or Firefox add-on store. Next, get the user script of Scribd on GreaseMonkey from here (https://userscripts-mirror.org/scripts/show/160374).
Step 2: Now, visit Scribd and search for any document you wish to download. Open the document and you will get the Download button.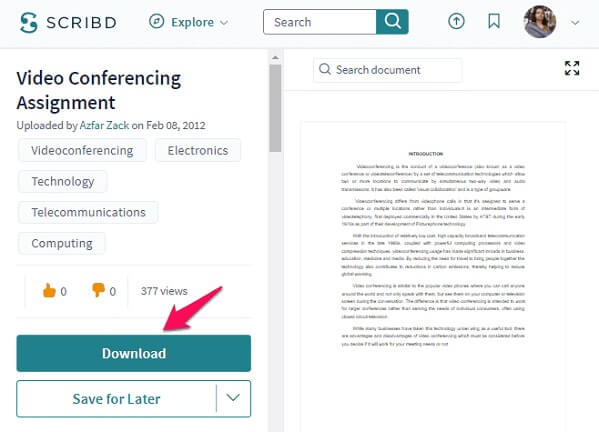 Step 3: Hit the Download button and the script will bypass the subscription page and the download process will start immediately.
Method 4: Download Documents from Scribd Online
In fact, scribddownloader.org is not the only Scribd downloader online. There are more options, such as Dlscrib (https://dlscrib.com/), ScrDownloader (https://www.scrdownloader.com/), and more. We use ScrDownloader as the example.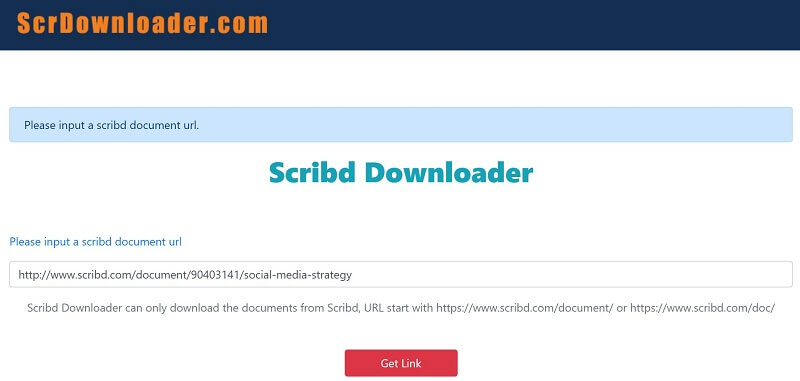 Step 1: Go to https://www.scrdownloader.com/ in your browser and input the document address into the URL box. Hit the Get Link button to open the next page.
Step 2: Check the CAPTCHA and click the Check And Download PDF button. Next, hit the Download PDF button.
Step 3: When prompted, select a specific directory to save the document and get it to your computer.
Note: The success rate of online Scribd downloaders is pretty low since Scribd has enhance the encryption. It makes sense that the platform wishes to protect the users' copyright.
Recommend: Best Online Video and Audio Downloader

In addition to download documents from Scribd, you may also need a video or audio downloader. From this point, we recommend Vidmore Screen Recorder, which is the best video and audio downloader program.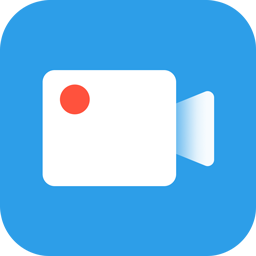 Vidmore Screen Recorder
Record video files from YouTube, Netflix and more.
Capture online music from SoundCloud and other websites.
Support a wide range of output formats, like MP3, MP4, MOV, etc.
Preview the video or audio file with the built-in media player.
Remove unwanted clips from video or audio recording.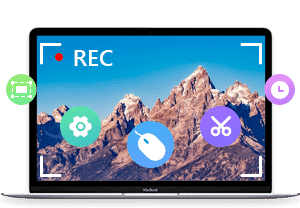 Conclusion
Now, all internet services have integrated serious copyright protection. That makes downloading Scribd documents more difficult. You should learn as many Scribd downloaders as possible. Firstly, Scribd Downloader is a web app for downloading Scribd documents without an account. Moreover, you can try the Print-as-PDF feature in Chrome or GreaseMonkey addon for Firefox to get what you want from Scribd. Vidmore Screen Recorder, on the other hand, is the best way to download video and music from any website. If you encountered other troubles when downloading Scribd documents, please write it down below this post.