Sirius Radio Recorder – Remember SiriusXM Satellite Radio Forever
SiriusXM satellite radio is widely listened by people all around the world. But the content each time it plays only appears once in our life. When you meet something interesting and want to keep it in files for playback, it would be impossible.
And you know, if you are out of the period of validity, you can't listen any radio. No matter how much audio you like, you can not listen to them anymore.
It seems a good radio recorder can help you do this. This article will show you the features and details of the best Sirius Radio Recorder. Let's see it.

Part 1: How to Record SiriusXM Satellite Radio with Best Sirius Radio Recorder
How to Record SiriusXM Satellite Radio? Vidmore Screen Recorder can help you fix this problem easily. So, before we start recording, let us see what Vidmore Screen Recorder can do.
Vidmore Screen Recorder is the best video/radio recorder in the market. It is specially designed to record radio and video and capture screen with high quality. You only need several clicks, then you can get a high-quality recorded radio file. And after recording, it also enables you to remove the unwanted clips. About the format of recorded files, there are various formats to choose, like MP3, M4A, AAC, WMA, M4A, CAF, etc. You can use it on both Windows 10/8/7/XP/Vista computer and Mac.
Record streaming audio, microphone voice with high quality.
Powerful editing functions to edit captured video and audio files.
Capture online videos, conference, podcast, webinars, Skype call, etc.
Save recorded files in various formats, like MP3, M4A and more.
How to Record SiriusXM Satellite Radio with Vidmore Screen Recorder
Step 1: Download and install Vidmore Screen Recorder on your PC. Double click this software and select Audio Recorder in the main interface.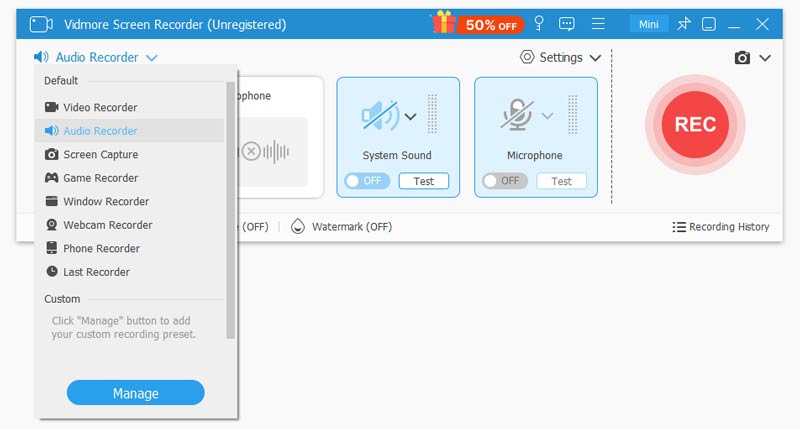 Step 2: In the next interface, you can turn on or turn off the "System Sound" and "Microphone".
For recording the music from your computer, toggle on "System Sound" and off "Microphone".
For recording your voice for a video tutorial, turn on "Microphone" and turn off "System Sound".

Step 3: Then open SiriusXM on your computer and start the file you want to listen. Click "REC" to start recording the audio file on your computer.
In the recording process, you also can adjust the volume of the recorded audio.

Step 4: Click the Stop button to stop recording and click "Save" to save it to your computer.
You can also use the Clip feature during previewing the audio recording to cut unwanted parts of the file.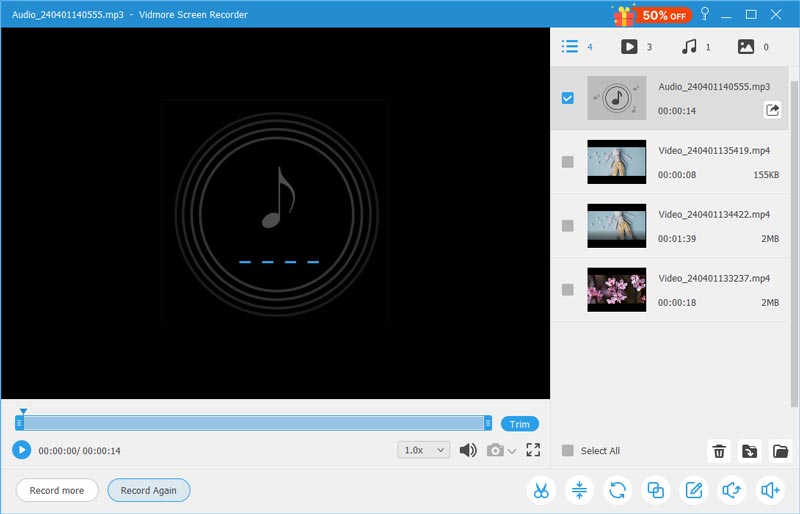 Part 2: FAQ about Record SiriusXM Satellite Radio
1. How to download music from SiriusXM?
You can get a free 30-day trial of SiriusXM Internet Radio to get On Demand episodes of your favorite shows on your computer, iOS devices, or compatible Android device. Furthermore, you can even download episodes for offline listening.
2. How much is Sirius XM monthly?
To activate a new Select subscription, you can get first 12 months for $4.99/mo (a $12.00/mo savings).To activate a new All Access subscription, you need to pay $99 for your first 12 months, a savings of 60% off the current monthly rate of $21.99, plus get free activation (an additional $15 savings). A credit card is required. Fees and taxes apply.
3. How to Connect Sirius to a Car Stereo
Build a Wireless Connection between SIRIUS Satellite Radio and Your Car Stereo: First, select a frequency in FM frequencies that is not being used and make this frequency a preset on your car stereo; Second, power on your Sirius radio, and access the settings or menu tab; select the FM frequency adjustment tab and change the frequency number.