How can I Record My Screen with DU Screen Recorder
When talking about screen recorders, there are various recording tools available on the market. Among them, DU Screen Recorder is quite a useful application that you may have heard before.

So, if you want to know more about this program, this article is exactly what you need. In the following parts, you will have a better understanding of DU Screen Recorder and learn how to record your screen with it. And if you find this application cannot meet your demands, you can still get a great alternative to solve all your problems. Don't miss it!
Part 1. Quick Introduction to DU Screen Recorder
As one of the most popular screen recorders, DU Screen Recorder can help you record your screen videos with no ads or in-app purchases. You can use it to record gameplay, streaming videos, live chatting, etc. with high quality.
It provides 4 app/software versions for different operating systems, including Windows, macOS, iOS, and Android. So basically, you can use it on any device of yours, such as iPhone, PC, Mac, Android phone, and more.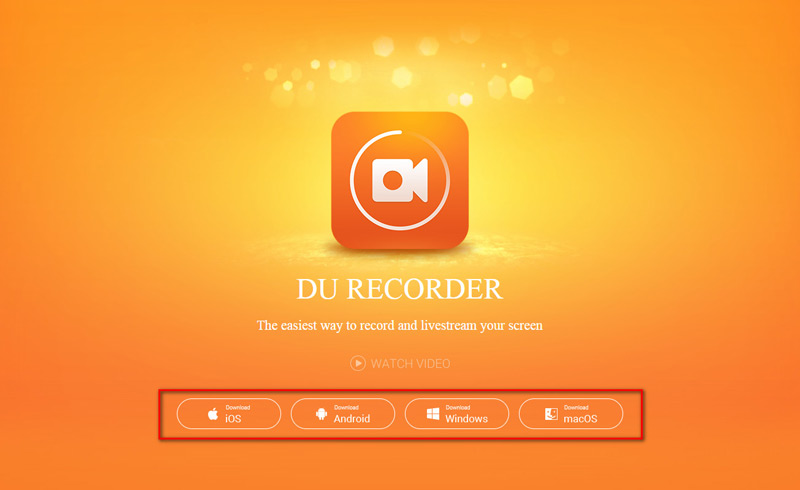 Key Features:
DU Screen Recorder provides a simple interface that makes your screen recording much easier. With only one tap, you can start your recording.
It offers features and settings to record the best video. There are multiple video resolutions, frame rates, and bit rates for you to select.
Besides capturing your screen, DU Recorder also enables you to edit your videos after recording them. You are allowed to cut out unwanted video parts, combine separate video clips, and add music to your recorded videos.
With this recorder, you can livestream your screen to YouTube, Facebook, and Twitch.
It can also be used to take screenshots, make GIFs, and record your camera.
To sum up, DU Screen Recorder can be your good choice when you want to create custom recordings. But now you may wonder how to use it. Don't worry, just keep reading.
Part 2. How to Record Your Phone Screen with DU Screen Recorder
If you want to record smooth and clear screen videos on your smartphone, you should first download DU Screen Recorder from Google Play Store or App Store. But some of our readers said that Google Play Store has removed this app. Thus, if you cannot find it in the store, you can go to the official website and download the APK file there.
1. DU Screen Recorder for Android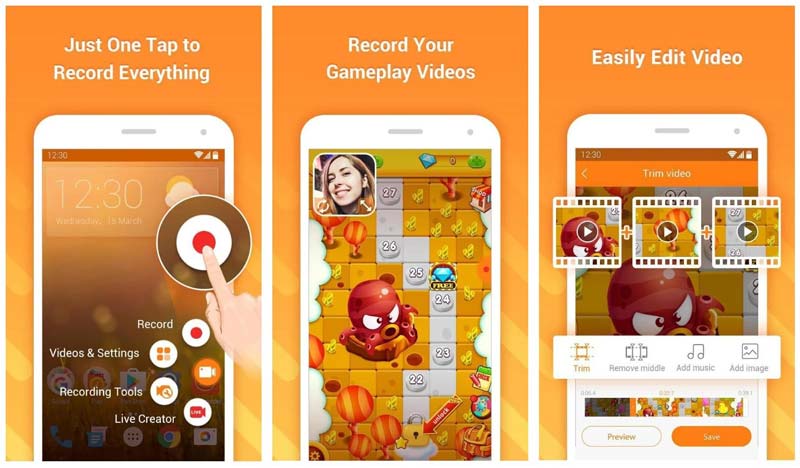 Step 1: After installing this app on your Android phone, you will see a camera icon on the side of your screen.
Step 2: Go to where you want to record the screen video. Then tap on the camera icon and choose the Record icon to start recording. During the process, you can pause, restart, and stop the recording as you like.
Step 3: You will get a notification if you stop recording. After that, you can play, edit, share or remove the recorded video freely.
2. DU Screen Recorder for iOS
In fact, recording screen on iPhone with DU Screen Recorder for iOS is quite like using the built-in screen recording tool of Apple.
Step 1: Install DU Recorder on your iPhone. Then go to Settings, Control Center, and then Customize Controls. Find Screen Recording and add it to your Control Center.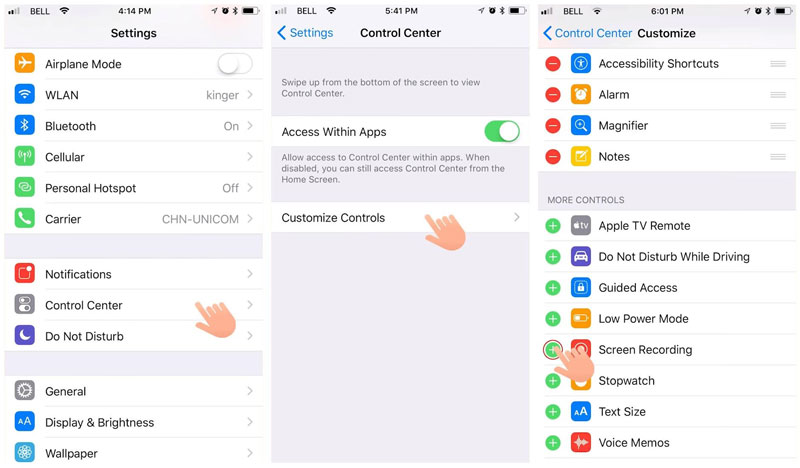 Step 2: Open your Control Center. Long-press the Record icon. Select the DU Recorder Live option and enable your Microphone if needed. Start Recording.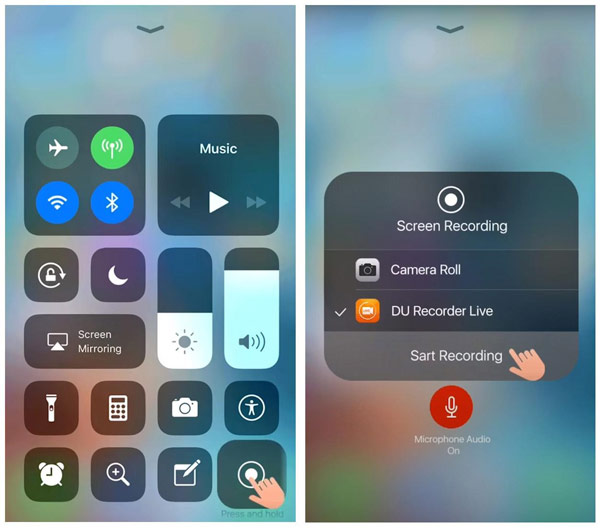 Step 3: When you finish recording, just tap on the red bar above or tap the Record icon in Control Center again to stop recording. After recording successfully, you can find the recorded video in your Photos.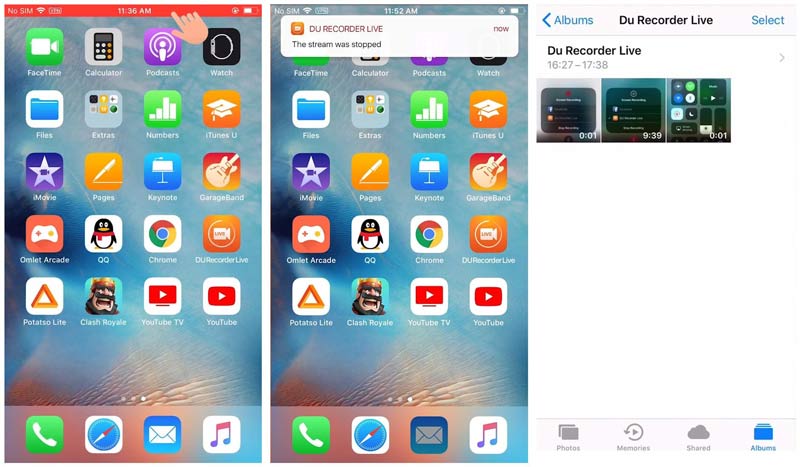 Part 3. How to Operate DU Recorder on Windows/Mac
In case users want to record their PC/Mac screens, DU Recorder also released Windows/macOS version for you to capture screen activities on your computer, both desktop and laptop.
Step 1: Download and install the software from DU Recorder site. Then run it on your computer.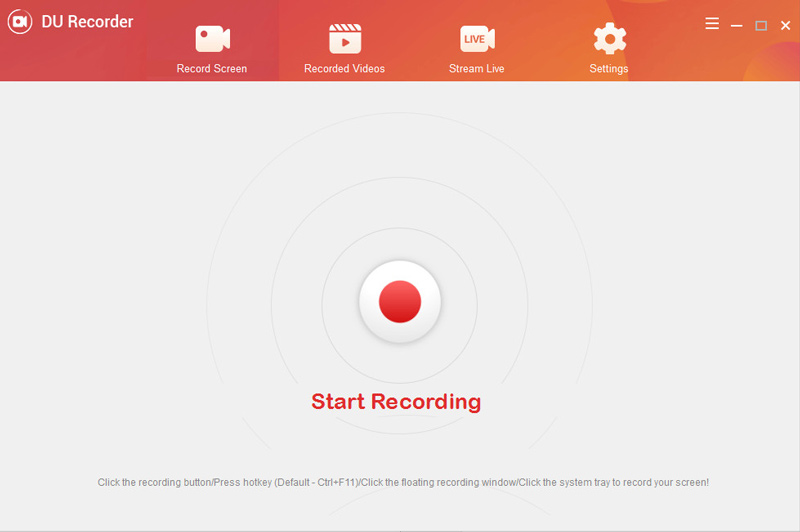 Step 2: To start recording, just click on the big red button in the center. If you want to end the recording, you can click that button again or click on the Stop icon in the top right corner of your screen.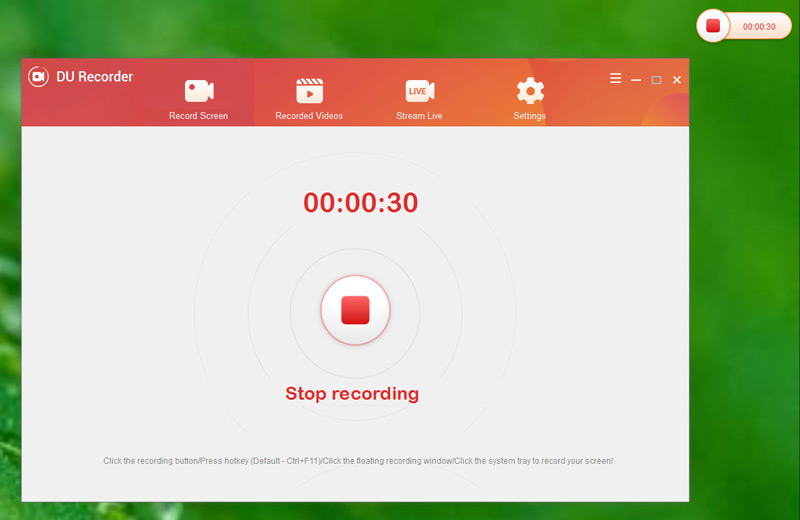 Step 3: You can find the recorded videos in the Recorded Videos tab.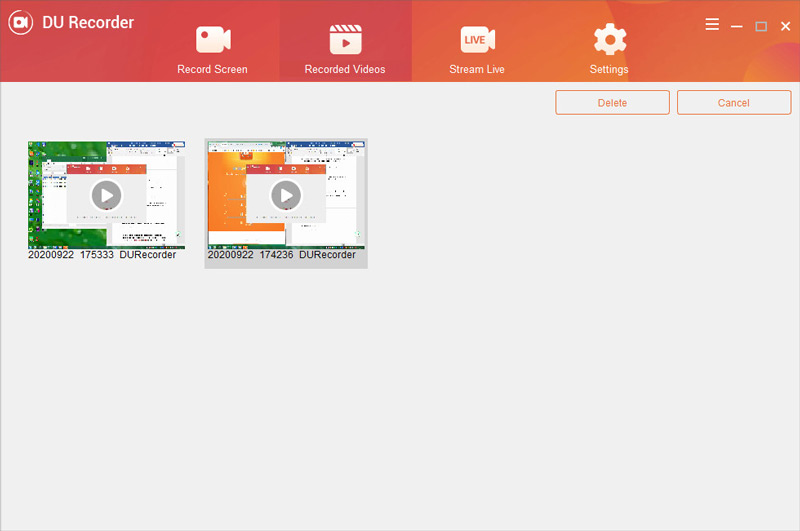 Part 4. Is There an Alternative to DU Screen Recorder
It is true that DU Screen Recorder for PC/Mac is simple to use. But to some users, it may be too simple – there are not many features. You have no choice but to record the entire screen of your computer. And you cannot add annotations and screenshot while recording.
Therefore, here we highly recommend you use Vidmore Screen Recorder to enjoy a better screen recording experience. It is the best DU Recorder alternative for both beginners and professionals. With this recorder, you can record any area of the computer screen with full screen or customized screen size based on your needs. It even lets you add text, line, shapes, callout, and more in real-time.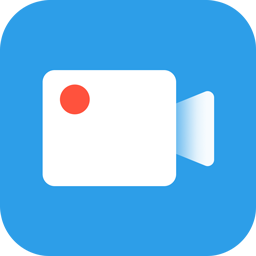 Vidmore Screen Recorder
Capture any screen activities in high quality on Windows/Mac.
Record from microphone, system sound, or both as you like.
Add real-time drawings, mouse effect, and more to your recording.
Preview and Trim the recorded video to make it looks better.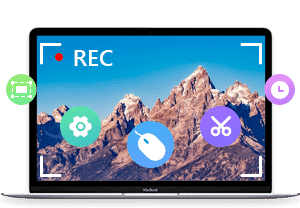 Step 1: Free download and install Vidmore Screen Recorder. Then run this software on your computer. When you enter the home interface, choose Video Recorder.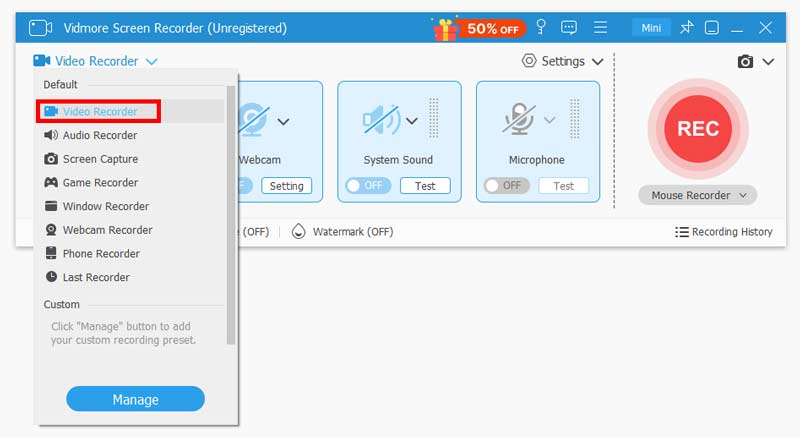 Step 2: You can select the recording area according to your need. You can also turn on the webcam if you want. The next thing you should do is change the audio settings. To save online videos, you'd better enable System Sound and disable Microphone. And if you want to record a video tutorial, you can turn on Microphone.

Step 3: After that, please click the REC button to start recording. During the recording, click on the pen icon, and you can add shapes, text, arrows, etc. You can also take screenshots by clicking the camera icon.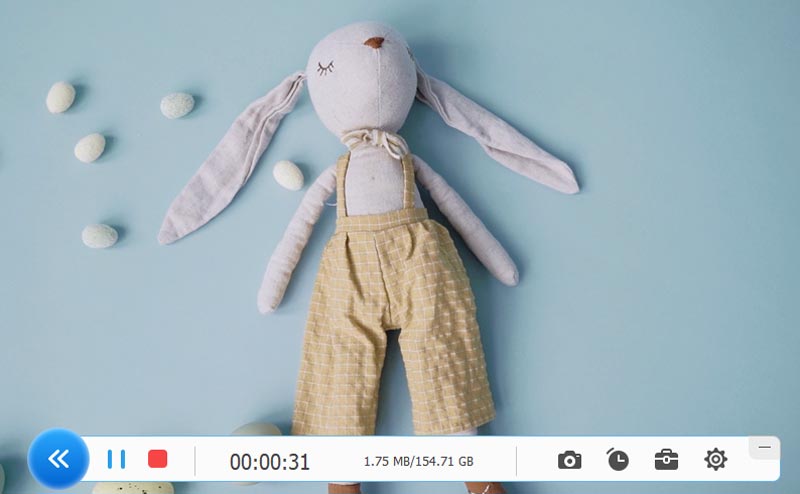 Step 4: Click the Stop icon to end the recording. Then the Preview window will pop up automatically. Here you can remove the unwanted parts from the recorded video by adjusting the Start/End time. Click Save to export the video on your computer.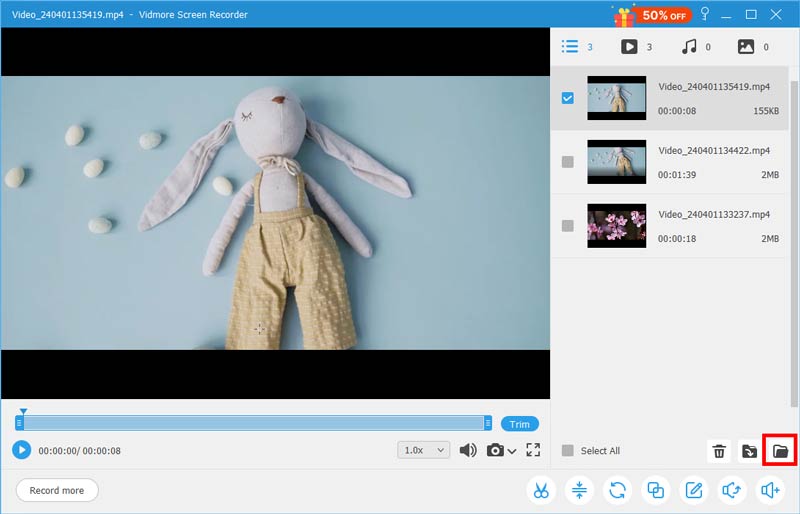 Part 5. FAQs of DU Screen Recorder
Q1: Is DU Screen Recorder safe?
Yes, it is safe to use. All your information is protected.
Q2: How long can DU Recorder record screen?
There is no recording time limit. That means you can record as long as you want.
Q3: Can DU Recorder record video calls?
Yes, you can record video calls with DU Screen Recorder. You can not only record video calls but record any screen activities, using DU Recorder app.
Conclusion
DU Screen Recorder is absolutely your best choice to record your Android device. But when it comes to recording computer screens, Vidmore Screen Recorder obviously has more advantages. It can make your screen recording more customized.
Hope you find this post helpful. If you like it, don't forget to comment below and share it with your friends.