Top 6 Best Alternatives to Fraps for Windows and Mac
Fraps is a universal Windows application that can be used with games using DirectX or OpenGL graphic technology. It is able to give gamers numerous options to configure their preferences for capturing videos in extremely high. However, still many of you want to find a similar or better program to Fraps due to some reasons. That's all what this post will share, top 6 Fraps alternatives on Windows and Mac.

Top 1. Vidmore Screen Recorder – The Best Fraps Alternative
If you are seeking for a better alternative to Fraps and want to record high paced online gameplays, Vidmore Screen Recorder is the best option. Vidmore Screen Recorder is the professional screen recording software, which can record any screen, video and audio on Windows and Mac. It enables you to record screen and webcam simultaneously. What's more, it also has a handy video editor which can help you do basic editing, add annotations/text/callouts and more. Check more basic features of Vidmore Screen Recorder.
Basic features:
Capture up to 60 FPS game video files and the lossless audio files in real time.
Record any screen from, desktop, browser (YouTube, Facebook, etc.), webcam, online meeting and video call from Skype, Hangout, etc.
Capture computer built-in audio and narration from microphone freely.
Add arrow, dram line, add text, spray, pin to screen, and more while recording.
Set task schedule recording without sitting in front of the computer.
Advanced recording lets you select any region or window for recording.
Share the recording file on YouTube, Facebook, Twitter, Vimeo, etc.
Compatible with Windows 10, Windows 8.1/8, Windows 7, and Mac operation systems.
Top 2. Bandicam
Bandicam is another great alternative to Fraps. It supports to capture game videos and screenshots. Although Bandicam provides diverse custom parameters, it is straightforward to use. Even beginners could enjoy its excellent software experience with its default settings. And advanced users could explore its potentials through adjusting the parameters. And you can access the main features of Bandicam. It is pity that Bandicam is not available for macOS.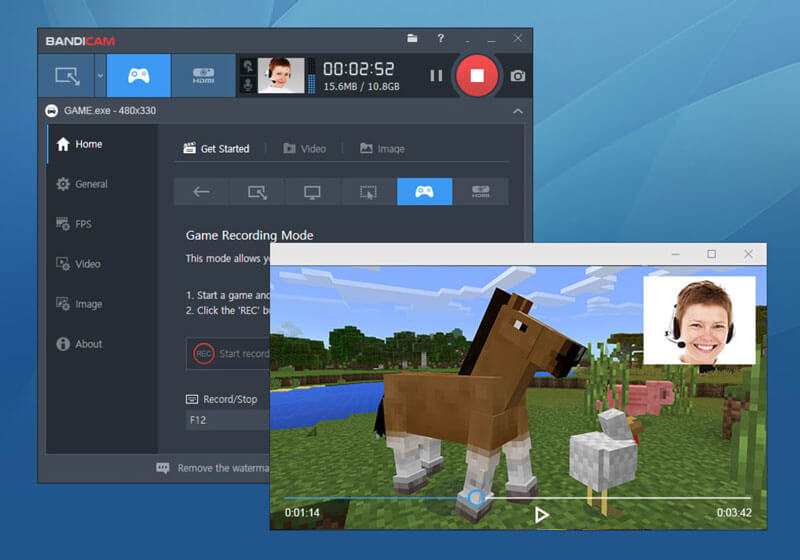 Basic features:
Bandicam is able to capture videos from both web camera and computer system.
It supports adding real-time drawing and outlining the video or screenshot.
You can reset various recording parameters, like video and audio formats, recording screen size and more.
You can add webcam and record your voice when you are recording games.
The program is compatibles with Windows XP or above operation systems.
Also read: Does Bandicam Work for Mac – Best Bandicam Mac Alternative You Should Know
Top 3. Nvidia ShadowPlay
Nvidia ShadowPlay is a great way to record your gameplay or broadcast it live to the world if you're running a GeForce graphics card. Nvidia ShadowPlay offers quite good performance for most PCs. There are also general settings for tweaking your audio and webcam video capture for broadcasting, and customizing the placement of framerate counters and other items for the in-game heads-up display.

Basic features:
Offers both Frame Butter Capture and Inband Frame Readback.
Control everything in the gaming performance with ease.
It can record video for 4K resolution at 130 Mbps.
Stream the video over Twitch or save it in your PC storage.
The program is compatible with Windows XP, Windows 7, Windows 8, Windows 8.1 and Windows 10.
Top 4. Mirillis Action
Mirillis Action is a simple to use, high quality screen recorder for recording desktop's screen, gameplay and taking screenshot quickly. It has full functionality to record screen video, gameplay, video from external device via USB or HDMI cable and take screenshots. Apart from the basic video-recording features, Mirillis Action offers more advanced features like Chroma key and sharing features directly to social media.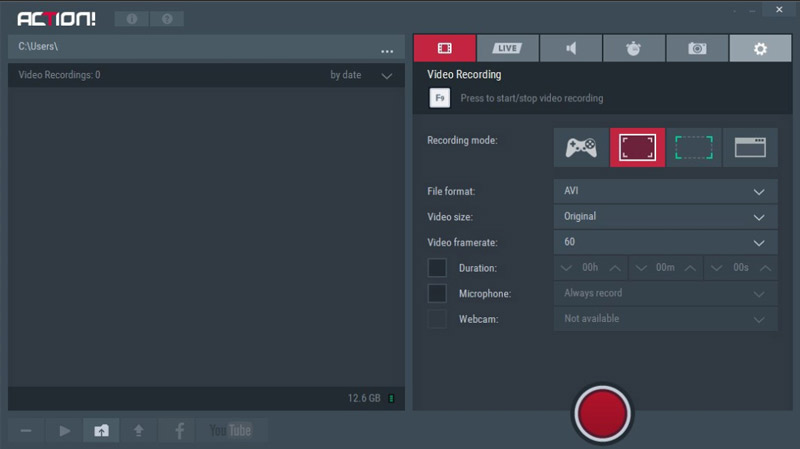 Basic features:
Record gameplay in HD. Benchmark games performance.
Record webcam or USB/HDMI capture devices.
Outstanding slow motion effects for your gameplay recordings.
Monitor and control your screen or gameplay recordings with free action.
Hardware acceleration for stunning HD screen and gameplay recording in MP4 format.
Also read: How to Record Chaturbate Live Stream on Windows/Mac/iPhone/Android
Top 5. D3D Gear
D3D Gear is a great Game Recording tool which enables you to record game play to movie with high quality, small file size and minimal lag. D3DGear game recording performance and quality are superior compared with Fraps software. D3D Gear has the ability to measure and display the 3D frame rate of your games. So D3D Gear is popular among 3D gamers. All you need to do is start it up and then you can play game and capture it. Check more about the basic features of D3D Gear.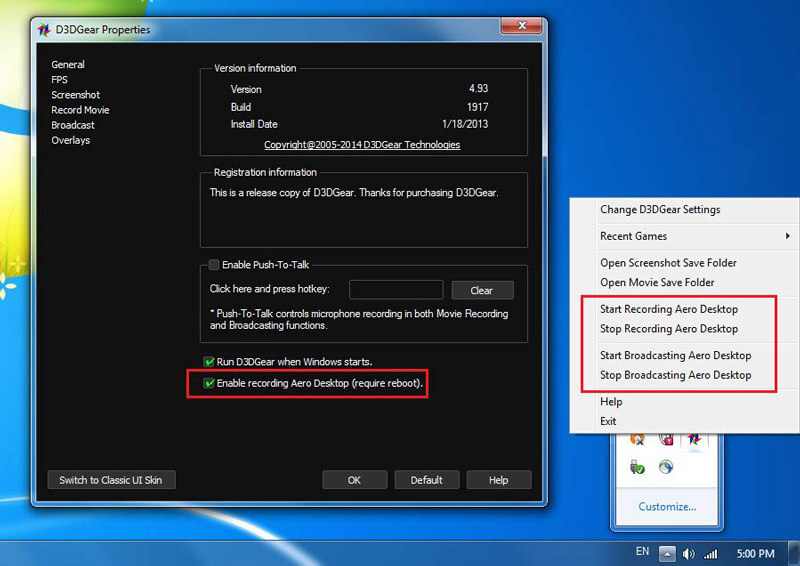 Basic features:
It supports measuring video game frame rate and displaying it on the screen as overlay.
Users could use keyboard shortcuts to control D3D Gear and record games.
It is equipped with AMD Mantle API based video games, and is full compatible with AMD Mantle API.
It supports various output formats, like BMP, JPG, GIF, PNG, and most video formats.
Gamers could post the game videos to a certain URL or social networks.
Top 6. OBS (Open Broadcaster Software)
Open Broadcaster Software (OBS) is a free fraps alternative and an open source for game recording software. Using OBS Studio you can not only record directly from your webcam and microphone, you can also incorporate footage from games, add in existing videos and still images, capture a window or portion of your screen, and much more. After launching the program, you can find the option for Game Capture. But for beginner, OBS is very complicated to capture games.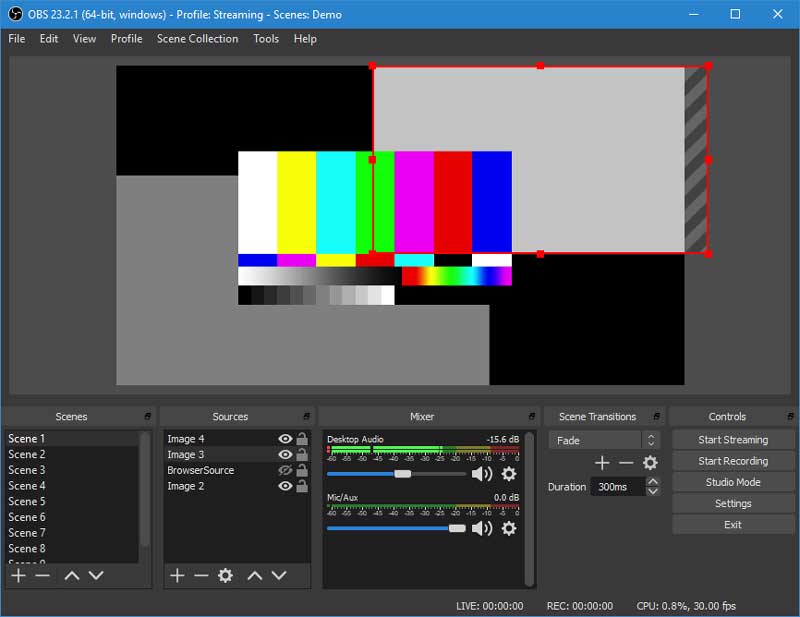 Basic features:
Real time video and audio capturing and mixing with high performance.
Capture voice from microphone with the game video or separate into different files.
Image masking, color correction, and more others.
Access to Picture-in-Picture mode, custom watermark and Push-to-Talk mode.
It is compatible with Windows XP/Vista/7/8/10, Mac and Linux operation systems.
Conclusion
This article lists top 6 game capture programs to help you record game in real time. All in all, Vidmore Screen Recorder is the best alternative to Fraps, even for the newbies. It can be configured to your needs as a recording program and even create a professional-level final product for sites such as YouTube and Twitch. It's also pretty low impact on frame rates for budget systems. Leave us a message if you have any problem on game recording.