Best Screenr Alternative to Record the Screen
Screenr is a web-based screen recorder that enables users to record screen online. With Screenr, you can create screenshots and post it on social media. Screenr provides a HD recording output. This software also enables you to download video in MP4 format and share it directly.
But Screenr is a paid service that supports recording videos about 5 minutes. You had to keep your video within 5 minutes. For better recording experience, you can read the post to find Screenr alternative to record video and audio over 5 minutes on computer.

Part 1. Reviews of Screenr for Screen Recording
Screenr is a free screencasting program that allows you to record screen casts for posting and playing on social media. To know better about Screenr, you can check its pros and cons below.
Pros:
It is a web-based program, so there is no need to download an installation package.
You can capture full screen, a preset capture size, or drag the recording size as you like.
It allows users to publish recorded video on their own web page, not a web hosting.
It is easy to use. Just select the recording area and click recording button to start.
Cons:
The duration of a recorded video or audio file is limited to 5 minutes.
Screenr doesn't support editing videos after fulfilling a recording.
It is limited in functions not like other paid screen recording software.
Part 2. Best Screenr Alternative for Windows and Mac
Though Screenr is an online recording program without installation, it is not as functional as other desktop screen recorders. If you want to find a more powerful screen recorder for Windows and Mac, you can try Vidmore Screen Recorder as Screenr alternative. Vidmore Screen Recorder is an all-in-one screen recorder that allows you to capture computer screen, online lectures, webcam videos, FaceTime calls, take screenshots and more.
It allows users to record any area of screen, whether a full screen or a selected screen.
Record computer screen, gameplay, and webcam videos.
It is simple to use for beginners and professional video creators.
Steps to record video with best Screenr alternative
Step 1. After clicking the download button, install and run Vidmore Screen Recorder on your computer. Select Video Recorder to start recording computer screen. If you just want to record a piece of music from website, you can choose Audio Recorder instead.

Step 2. In the Video Recorder interface, you can select the recording area from Full screen, a fixed region size like 1902*1080, 1280*720, 1024*768. Or you can drag the arrow to select a specific area for recording.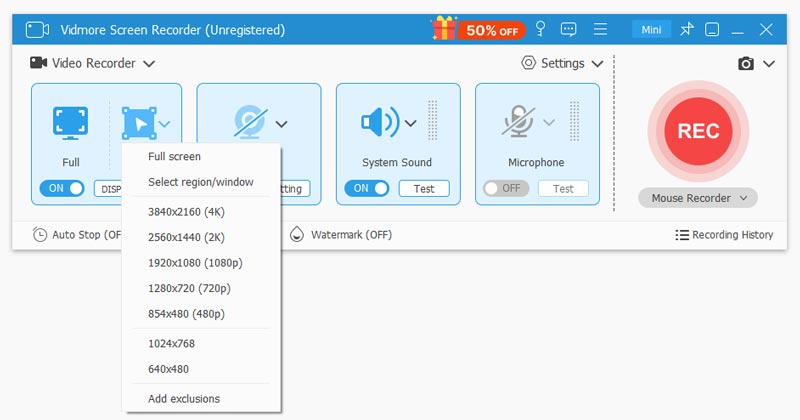 Step 3. For online video recording, you need to turn on System Sound and turn of Microphone. For recording a video tutorial with your own narration, you can choose choose to turn on System Sound or Microphone.

Step 4. After all settings done, you can click REC button to start recording. During the recording process, this Screenr alternative also allows you to edit the screen. As you have recorded a video, you can click Stop button to pause recording. Then, click Save button to save the video to your computer.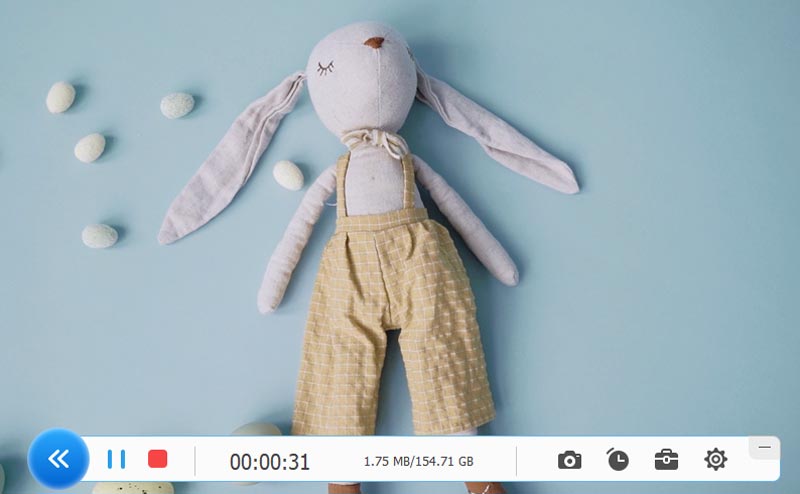 Before recording, you can preset task, display, recording area, webcam, sound, microphone, video/audio output and quality.
Part 3. Screenr Alternative for Online Recording
If you want to record computer screen online, you can check this part to find a free online Screenr alternative. Screencast-O-Matic is a simple and intuitive screen recorder to record and edit videos online. Here are simple steps to use this free online Screenr alternative.
Step 1. Visit Screencast-O-Matic official website. Click Start recording for free button to start.
Step 2. Click Launch Free Recorder button to download the recorder. Wait for a few seconds, you can check the recorder on your screen.
Step 3. You can choose to record computer screen or webcam. Also, this free Screenr alternative allows you to preset the recording size and recording time.
Step 4. The maximum time for recording is 15 minutes. Then, click REC button to start recording.
After finishing recording, you can trim the video, save the video to computer or share it directly.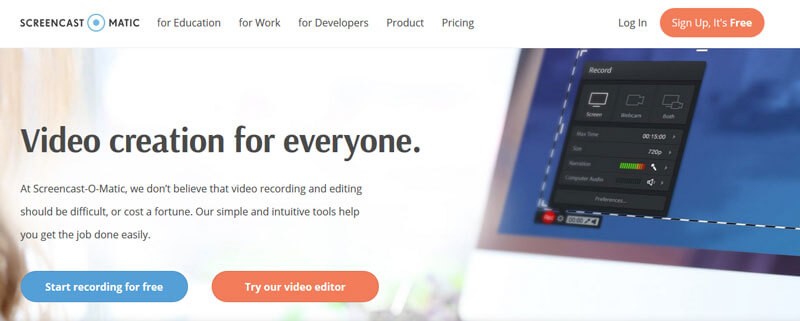 Conclusion
All in all, we mainly introduced Screenr reviews and its alternatives for Windows and Mac. With the free online Screenr alternative, you can record any screen without installation. Vidmore Screen Recorder is a more professional desktop screen recorder. It is easy to handle and record any area of computer screen, webcam calls, gameplays and take screenshots as you want.