ShareX Review and Top 5 Alternatives to ShareX (2023)
ShareX is a very popular open-source screen recorder which allows you to capture videos on computer for free. If you frequently create videos with recordings, you may be familiar with the ShareX screen capture tool.
However, many users don't know how to use ShareX to record video audio properly. They get some problems while or after recording with ShareX. Are you one of them?

You can see many questions related to ShareX usage asked on the internet. For instance, you are more likely to get a captured video with no sound. Here in this post, we will give you a detailed ShareX review. You can free download ShareX and get right steps to record video and audio on your Windows computer. What's more, we recommend 5 best ShareX alternatives for you to choose from.
Part 1. ShareX Review and Free Download
ShareX is a lightweight free screencasting program that enables you to record any activities on your computer. ShareX is an open-source video capture for Windows 11, Windows 8.1 and Windows 7. At present, ShareX can be used on Linux and Mac.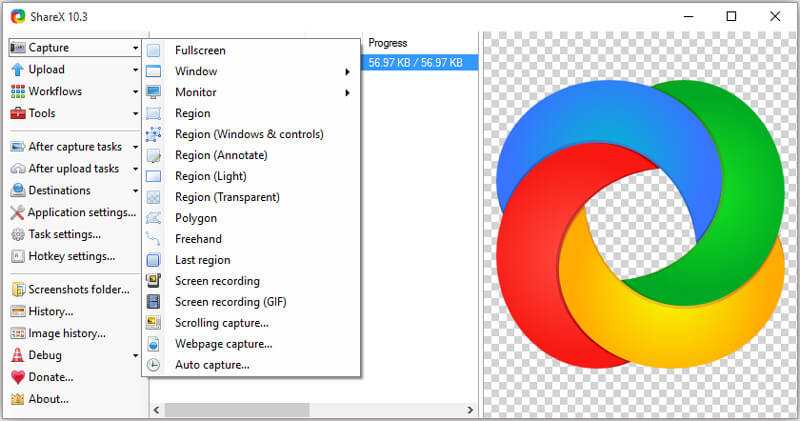 ShareX offers a simple and convenient way to make the recording and share it. This free screen capture has the capability to record high-quality video with entire screen, desktop monitor, active window or selected region. What's more, it carries plenty of customize after-capture features to help you edit recorded content. It is designed with an Automated Capture feature for better screen recording.
Besides the recording functions, ShareX also provides you with a direct way to upload and share your captured file. It allows you to upload images, text or other types of files to over 80 supported destinations.
ShareX enables you to save the recorded video as MP4 or GIF file according to your need. With the over 9 years of active development, ShareX is added more and more features. Even though ShareX is a free and open-source screen capture, it won't place any file size or time limits. Also, it won't add watermark to your recordings.
ShareX free download and how to use it
Considering that ShareX is a totally free screen capture tool, so you can directly download it from its official site. You can find many new released versions there. If you are using a Windows 11/10/8/7 PC, you can click the Download button to get a suitable ShareX version downloaded on your computer.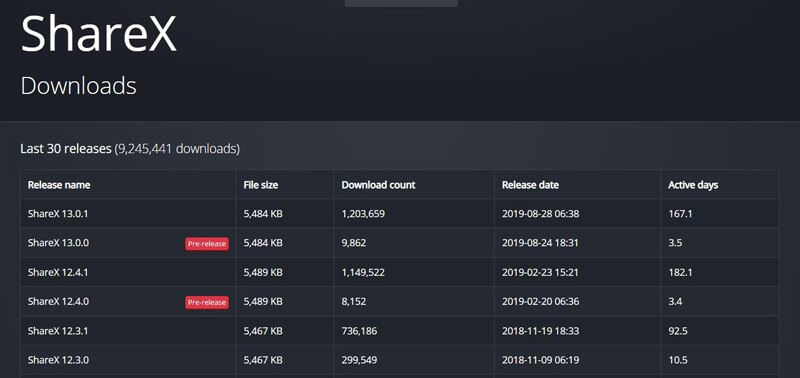 After downloading, you can take the following guide to capture screen with ShareX.
Step 1. First, you need to click the ShareX icon on Desktop to open it. When you enter the main interface, you can see many key features are designed on the left panel, such as Capture, Upload, Workflows, Tools and more.
Step 2. Move your mouse on the Capture feature and you can get many screen recording options like Fullscreen, Window, Monitor and more. You can select one based on your need.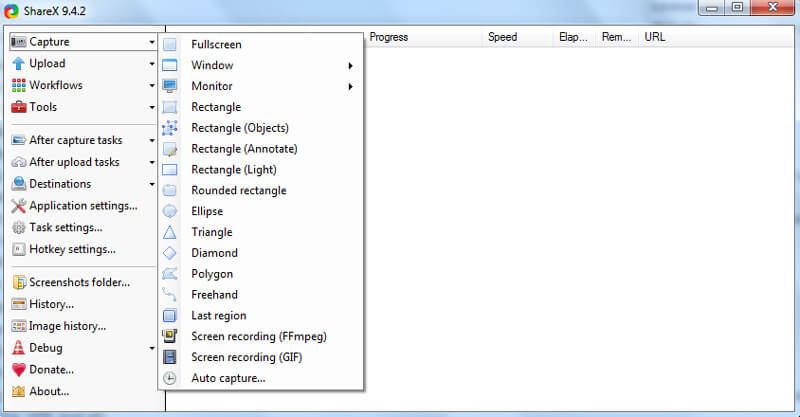 Step 3. Click Task settings on the left and then choose the Capture tab on the right window. Click Screen recorder and then make sure the Output is FFmpeg. FFmpeg enables you to capture screen including sound and compress it in real time.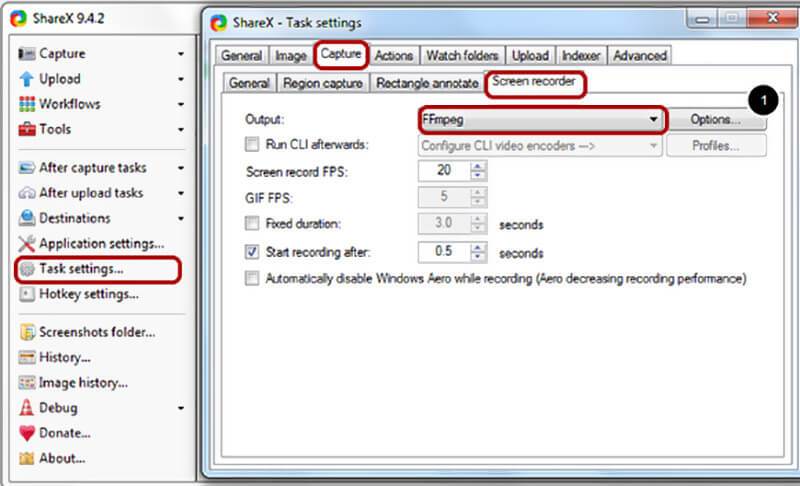 Here you can click the Options button to download FFmpeg file and set the FFmpeg recording options. When you enter the FFmpeg options window, you can click the Download button to easily install one latest version of FFmpeg.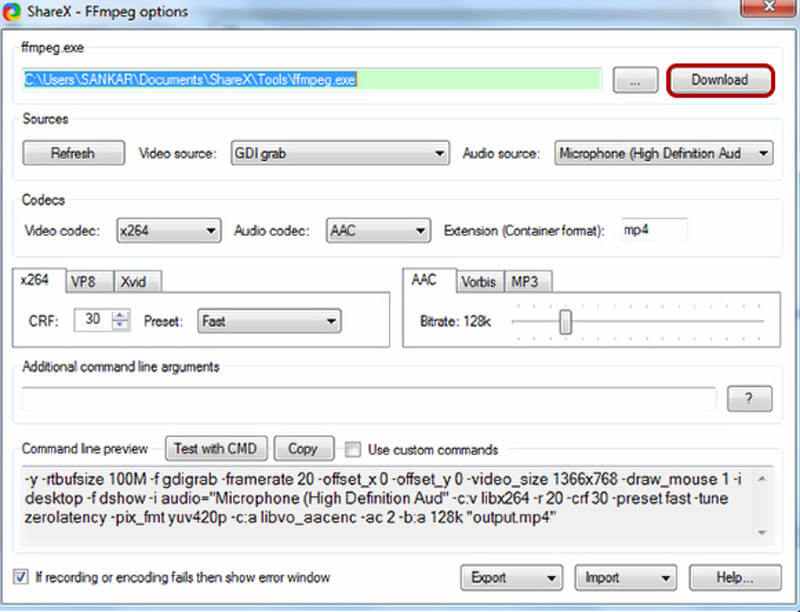 Step 4.. After downloading the FFmpeg, you can set the video and audio capture sources. During this step, you can choose a right video codec from x264, VP8 and Xvid. You are also allowed to select an audio codec from AAC, MP3 and Vorbis. Then set the Extension format as MP4, WebM, MKV, or AVI based on your need.
Step 5. After all these settings, you can use ShareX to capture video with sound. Click Capture on the left and then choose Screen recording (FFmpeg) option from the drop-down list. Then you can adjust the capture region for your screen recording.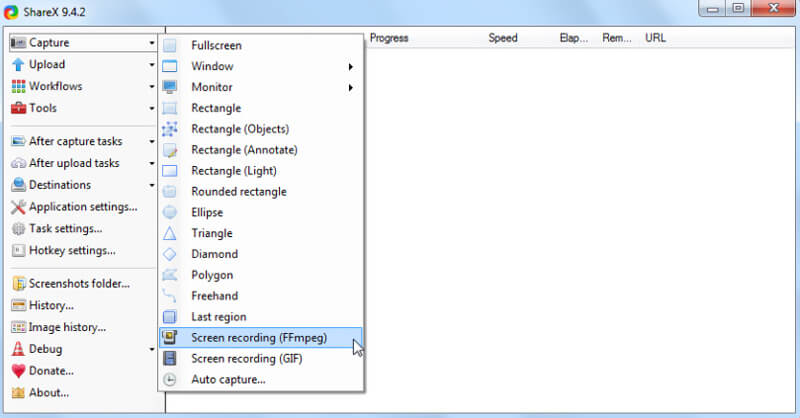 ShareX will automatically start the video recording as soon as you choose the recording region. On the bottom-right corner, you are given some buttons to get full control of the screen capture process.
Part 2. Top 5 ShareX Alternatives
With ShareX, you can capture your computer screen and create your video with these capturing contents. In case you want a easier video audio recording tool, here you make a list of 5 great alternatives to ShareX for you to choose from.
NO.1 Best ShareX alternative - Screen Recorder
If you are looking for an easy-to-use screen capture tool, you shouldn't miss the powerful Screen Recorder. It has the capability to record any activities on your computer with exactly original image and sound quality. That means you are allowed to capture a high-quality even up to 4K or 1080p/720p HD.

This best ShareX alternative allows you to record screen from computer monitor and webcam, and capture audio from system audio and microphone with ease. It can easily handle all kinds of capture needs.
Best ShareX Alternative - Screen Recorder
Capture any video audio on Windows 11/10/8/7/XP/Vista PC and Mac with high quality.
Support 4K video recording up to 3840 x 2160 resolution without any limitations.
Record video with entire screen, active window or selected region with no limits.
Easy record online videos, 2D/3D gameplay, webcam, video/audio chats, music and more.
Advanced hardware acceleration technology to capture screen with low CPU, GPU and RAM.
Powerful editing features to custom recorded video and adjust the output effects.
Compared with ShareX, this Screen Recorder can offer you an easier video audio recording experience. You can quickly select the video/audio source and start the high-quality recording. Thanks to the acceleration technology, this ShareX alternative enables you to record screen smoothly while doing other operations like playing video game. The capture content can be saved in any frequently-used video or audio format like MP4, MOV, AVI, FLV, MP3 and more.
NO.2 Free ShareX alternative for Mac - QuickTime Player
As it mentioned above, ShareX is only compatible with Windows 11/10/8/7 system. You can't use it to capture video on a Mac. In fact, if you are using a Mac, you get a better choice for the video and audio recording. QuickTime Player is the official media player and video audio recorder in macOS which can work as a great alternative to ShareX.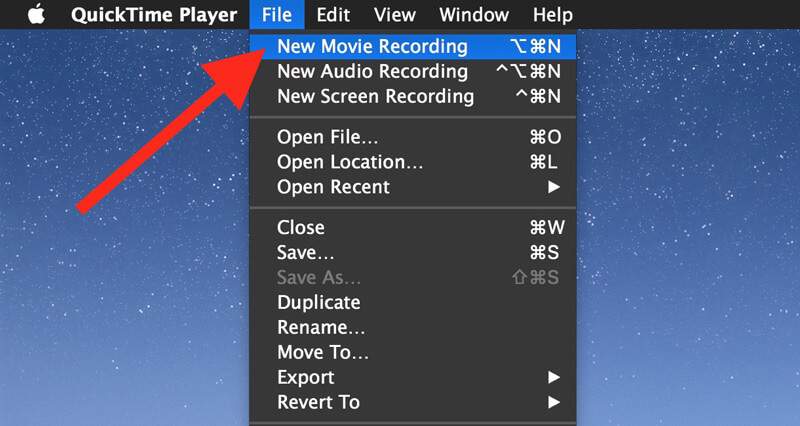 QuickTime Player can give you a stable and high-quality screen recording. There is no file size or capture time limit. Surely this free Mac screen recorder won't add any watermark to your recorded file. It enables you to export your recording as MOV or MP4 file. What's more, this Mac ShareX alternative carries some basic editing functions to help you edit video and custom the output video.
NO.3 Great ShareX alternative - Camtasia Studio
Camtasia is one of most popular screen recording software which can help you record video on your computer. Similar to other ShareX alternatives, it allows you to record a video with full monitor screen or selected area. In addition, Camtasia Studio is designed with some editing features for you to add animations, adjust effects and more.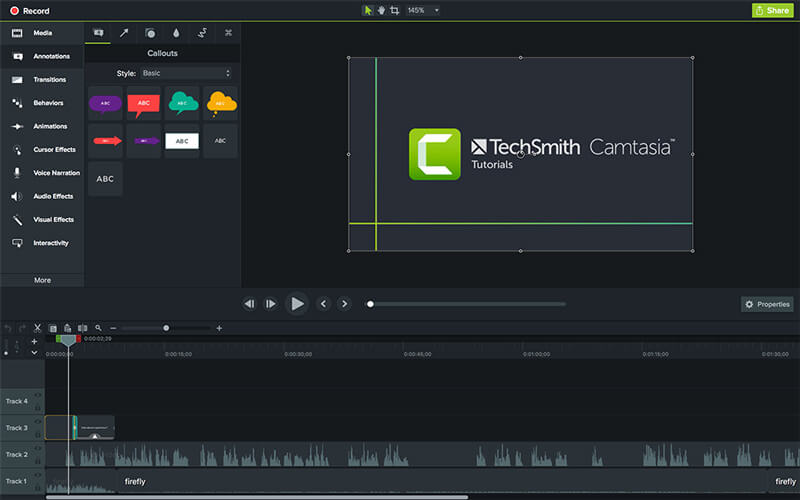 Camtasia has the capability to edit video and audio separately. Moreover, it allows you to import extra footage and incorporate webcam with ease. This ShareX alternative is compatible with both Windows and Mac systems. One thing you should know is that, Camtasia has some feature limitations in its free version.
NO.4 ShareX screen recording alternative - Snagit
Snagit is a famous screen capture which provides a simple way to capture a process, add your explanation, and create visual instructions. It can work as a great ShareX alternative to capture your computer screen. You are allowed to record wide, horizontal scrolls, scrolling webpages, and everything between with ease. Besides the recording feature, Snagit enables to take a screenshot.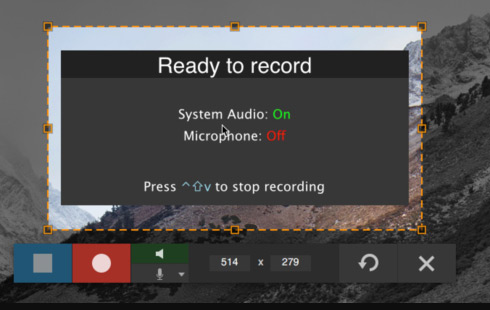 Snagit is equipped with a Snagit Editor feature which can help you easily edit and custom video with arrows, text, call-outs, effects, and more. It won't add any watermark to your recording. But it enables you to place your personal watermark to the captured video. This ShareX alternative is not a free video recorder. You only get a free-trial of its recording feature.
NO.5 Alternative to ShareX - Open Broadcaster Software
Open Broadcaster Software (OBS) is our last recommendation in the list of ShareX alternatives. OBS is a very popular live and video recording service. It offers you a simple and high-quality recording without any limitations and annoying ads. OBS highly supports Windows 11/10/8/7, Mac and Linux.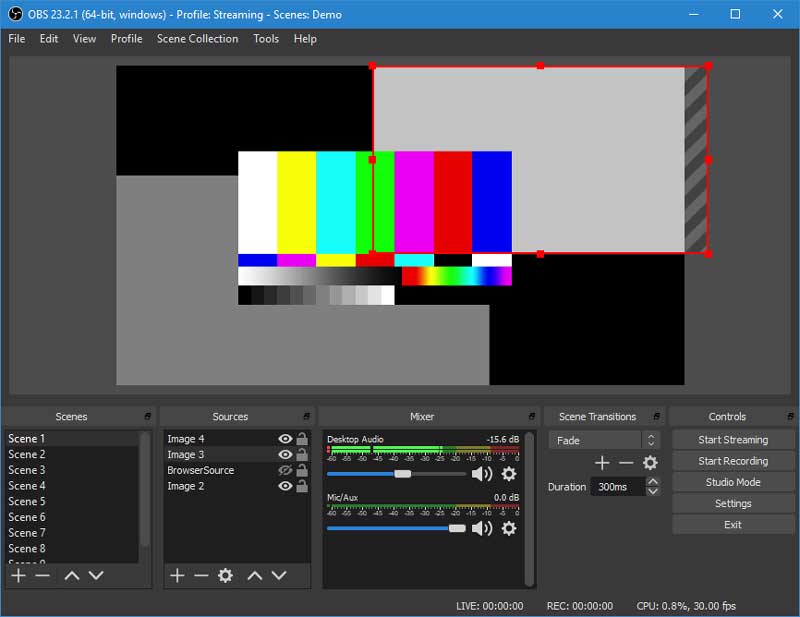 For the screen recording function, Open Broadcaster Software enables you to record a video with entire screen or customized region. More importantly, this free screen capture tool is able to record a high quality video up to 1080p and 60 FPS. OBS enables you to capture screen from webcam. So it's quite convenient to create a live video recording or capture a gameplay, online meeting and video call.
Conclusion
ShareX is a good screen recorder to record video and audio on Windows PC. However, many users don't know how to use it properly and easily get a recording without audio. Here in this post, we give you a detailed ShareX review and tell you how to use ShareX to capture both image and sound. What's more, we make a list of 5 great ShareX alternatives for you to choose your preferred screen capture software.
Again, we recommend the best ShareX alternative, Screen Recorder for you to record anything happened on your computer. Compared with other video recorders, it can give you a higher output video quality. Just free download it and give it a try.