What Is Windows 10 Steps Recorder and How to Use It on Your PC
Steps Recorder, also called Problem Steps Recorder on Windows 7, is a useful tool to capture your screen and add annotation. Unlike other screen recorders, it is primarily used for troubleshooting purposes on a computer. As a pre-installed utility on PC, Steps Recorder is usually overlooked. Some users do not know how to find the feature and others even do not known it is built in their computer or laptop. Therefore, this article will share a comprehensive introduction and guide for this utility.

Part 1: What Is Steps Recorder on Windows
As mentioned previously, Steps Recorder is an assistance tool for troubleshooting. It has the capacity to record your actions on your PC running Windows 10/8/8.1/7 and then send the information to support team or someone else who is assisting in the troubleshooting.
What Steps Recorder Can Do?
Record detailed steps with description on Windows 7/8/8.1/10.
Take screenshots of what you are doing.
Review the step recording as slide show.
Record both screens if you are using two displays.
Steps Recorder is pre-installed in Windows systems, so you do not need to install any extra software. However, every coin has two sides, so does Steps Recorder. There are somethings about it you should know before using:
It cannot capture text you type.
It cannot record gameplay, video and more.
It lacks record editing tools.
It can only save recordings as ZIP files.
Part 2: How to Use Steps Recorder
Since Steps Recorder is a great way to help you troubleshot a problem on your computer, you'd better learn how to use it. Once something wrong on your device, it can help you simplify the process of troubleshooting.
Step 1: Activate Windows Steps Recorder
Open your Start menu at the bottom left corner, search for Steps Recorder and run it. Alternatively, you can search for psr.exe file in the system disk and run it directly. Another way to open Microsoft Steps Recorder is to press Win + R keys, enter psr into the Run box and click OK.

Tip: On Windows 10/8, every method can open Steps Recorder, but you can only open it in the Run dialog on Windows 7.
Step 2: Set up Steps Recorder
On the Steps Recorder dialog, click the Downward icon and choose Settings to open the Settings dialog. Firstly, click the Browse button and select a specific folder to save the recordings. If you leave it blank, you will be prompted for location every time. Select Yes under Enable screen capture, if you want to capture screenshots; otherwise, Steps Recorder will only record a text description of your steps. Set the Number of recent screen captures to store. Hit OK to confirm the settings and go back to Steps Recorder interface.

Step 3: Record Steps on PC
When you are ready to record steps or problem, click the Start Record button or press Alt +A keys on your keyboard to begin recording steps. Then you will get three buttons on the toolbar, Pause Record, Stop Record and Add Comment. Since Steps Recorder cannot capture text you type in, you have to click Add Comment, select on the target part of the screen, type your comment and click OK.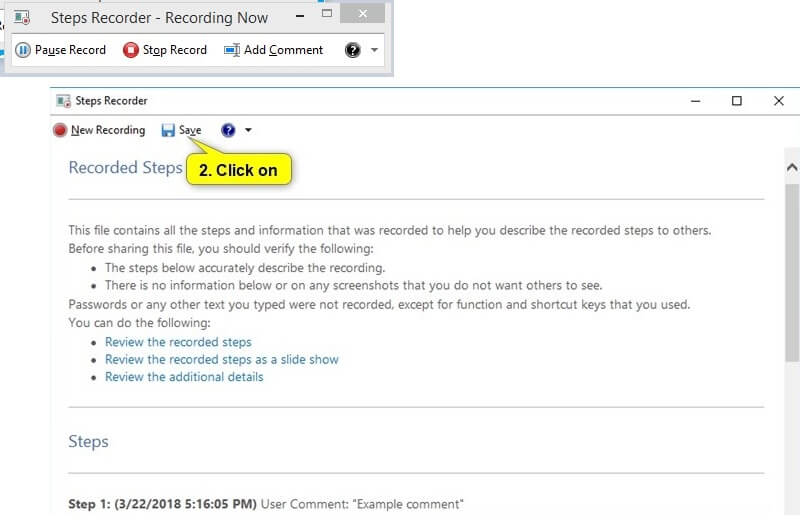 When you finished recording, click Stop Record. If you did not set the output location on the Settings dialog, click the Save button manually. On the popup dialog, find a specific folder to save the steps, leave a filename and click Save. Steps Recorder can only save recordings in ZIP archive. Then you can send it to support team as email attachment. The ZIP file can be viewed in any web browser.
Part 3: Best Alternative to Steps Recorder
Obviously, Steps Recorder is a simple way to help you display the problems on your computer to anyone who offers support. However, it is not a perfect screen recorder. That may be why you need an alternative to Steps Recorder, such as Vidmore Screen Recorder.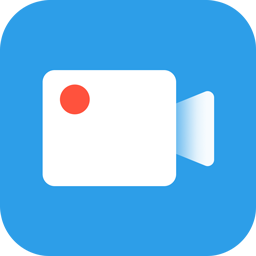 Main Features of the Best Alternative to Steps Recorder
Record everything and activities on your screen.
Add your reactions and comment, or highlight to step recording.
Support almost all multimedia file formats, like MP4, WMV, etc.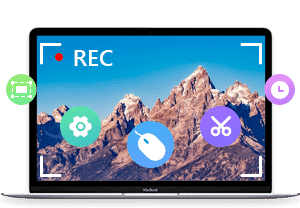 Briefly speaking, it is the easiest way to record problems and steps on PC and Mac.
How to Record Problem and Steps When Troubleshooting
Step 1: Install the alternative to Steps Recorder
Launch the best alternative to Steps Recorder once you install it on your PC. If you are using macOS, download another version. Pick Video Recorder to enter the main interface. Then click the Gear icon to activate the Preferences dialog. Here you can set output format, destination folder, hotkeys, mouse and more.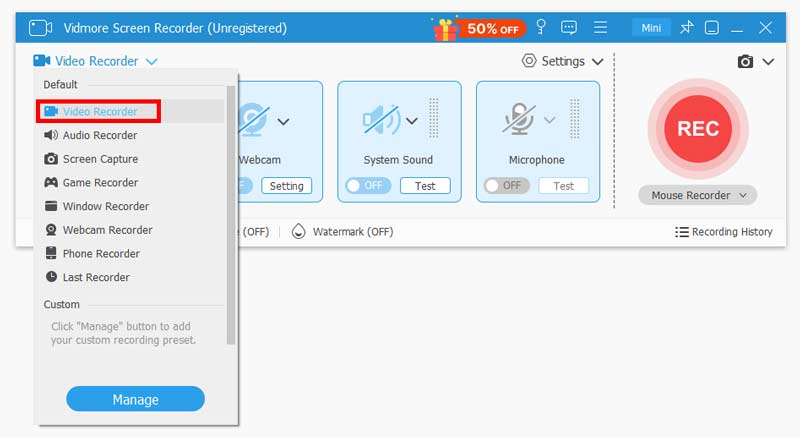 Step 2: Record steps
Set the recording region at the Display section, such as Full screen or Custom area. If you wish to add your reactions to the step recording, turn on Webcam; otherwise, disable it. Then choose the audio source, including System Sound and/or Microphone. The former is used to record audio from your system and the latter can capture your voice through microphone. Click the REC button to begin recording if you are ready on step recording. During the process, take screenshots at important moment by hitting the Camera icon. The Edit icon allows you to add text, highlight or painting to the recording in real time.

Step 3: Preview and save step recording
Click the Stop button waiting for the step recording to finish. View the step recording with the media player and remove unwanted frames using the Clip tool. Finally, click the Save button and export the step recording to your hard drive as a video file. Now, you can send the recording to your technical support team via email.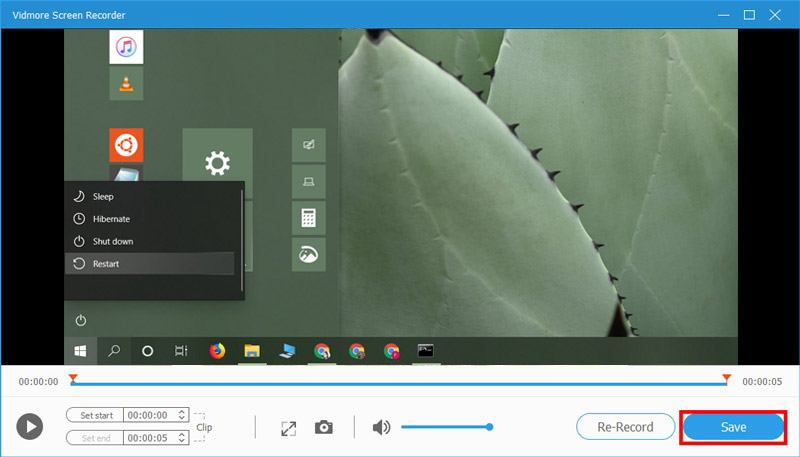 Here you may like: How to Efficiently Record Meetings with Audio Using TeamViewer
Part 4: FAQs about Steps Recorder
Can Steps Recorder record video?
No, Steps Recorder cannot record video or gameplay. It was designed for problem and steps recording. Then it will save these into a ZIP file for support team to learn your problem visually. Though it is called Steps Recorder, it is not a real screen recorder.
Can you edit Steps Recorder?
Sorry, you cannot find any editing tools within Steps Recorder. You can only get basic custom options, like output location. When recording steps, you can also add comment manually, partly because it cannot capture your text. In addition, you cannot get more other functionalities.
Does Windows 10 have built-in screen recorder?
Microsoft did introduce a screen recorder into Windows 10. However, it is not Steps Recorder, but Game Bar, which was the game recorder on Xbox One at first. Now, you can use it to capture gameplay and record screen on Windows 10.
Conclusion
This guide has talked about one of important utility on Windows 10/8/8.1/7, Steps Recorder. There are a lot of problems and bugs in Windows system and third-party software. It is hard to description it by text. Instead, the problem can get better explanation by visual content. Steps Recorder is the right tool you need in such situation. If you believe it is too simple, Vidmore Screen Recorder is a good alternative solution. You can use it to record video in Goolge Classroom, all series of Grand Theft Auto, streaming music and videos, or any other screen activity on your computer. If you have more questions, please feel free to write it down below.