How to Record Video in Google Classroom for Learning or Reviewing Later
It was a challenge for educators to keep track of all class materials and stay organized. Today, educators are turning to technology to make class life easier. Google Classroom, for example, is a useful tool to manage digital workflow, information and more. Moreover, the G-Suite apps are integrated into Google Classroom. That is why millions of students and teachers are using the web service. This guide will tell you two best ways to record video in Google Classroom.

Part 1: Brief Introduction of Google Classroom
Google Classroom is not a single app but a suite of online tools. It helps teachers to set assignments, collect work submitted by students, return graded papers, and more. It is an important part of digital transition in education industry. What you can do with Google Classroom include:
Make assignments. As a teacher, you can make homework assignments for students. Your students turn in the assignments when finished, and you can then grade the assignments.
Manage classroom materials. The documents, presentations, and other files that you add to an assignment will store on Google Drive.
Distribute information. You can quickly type in the information and deliver to the entire class by email.
Allow students to interact. Students have the capacity to comment on assignments and more, or email each other.
Google Classroom is an online service. Users can access it in any device with a web browser. Moreover, there are device specific apps for iOS, Android, Mac, Windows and Chromebooks. Google Classroom is free to use.
How to Get Start with Google Classroom
Step 1: Visit www.classroom.google.com in a browser, and sign in your Google account. When you get the alter message, click Get Started with Apps button.
Step 2: Fill out the form and click Next. Enter your school website and click Next.
Step 3: Enter your username and password, read and check the Read-and-Agree box, and click Accept and Signup. Now, you can create a new class, add assignment and more.
Part 2: Best Way to Record Video in Google Classroom
There are many reasons to record video from Google Classroom, but the service does not provide any option to do the job. Vidmore Screen Recorder can meet your need.
Main Features of the Best Google Classroom Recorder
Record videos from Google Classroom in a single click.
Save Google Classroom and conferences in high quality videos.
Provide plentiful custom options and presets.
Needlessly to say, it is the easiest option to record video in Google Classroom.
How to Record Google Classroom on Desktop
Step 1: Install Google Classroom recorder
Launch the best video recorder for Google Classroom after you install it to your PC. There is another version for Mac. Choose Video Recorder from the home interface to move on. Open Google Classroom in the app or browser.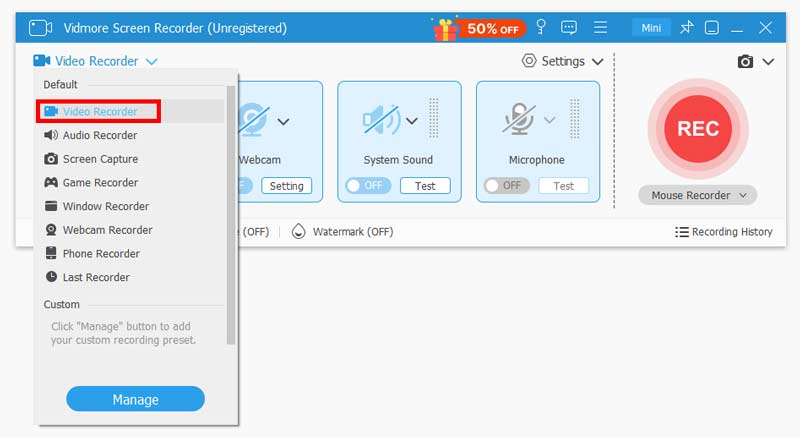 Step 2: Record a class
Toggle on DISPLAY in the main interface, click Custom and Select region/window, and click on Google Classroom app or your browser. Turn on System Sound to record video from Google Classroom with audio. If you want to add your reaction to the recording, enable Webcam and Microphone; otherwise, disable them. Click the REC button when the class begins.

Tip: If you want to record a class automatically, set it with the Take Schedule feature.
During recording, you can draw on the video or add comment. When the class is over, click the Stop button to open it in preview window. View the class recording and remove redundant frames with the Clip tool. Finally, click the Save button to save the Google Classroom recording to your hard drive.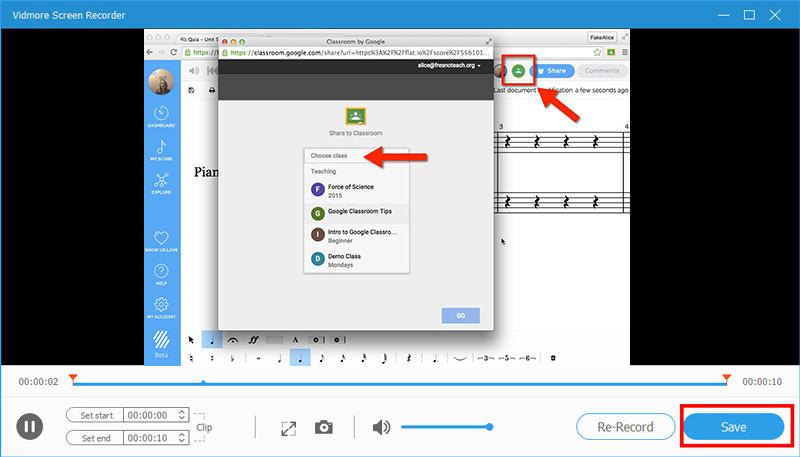 In addition, you can use it record a Livestorm meeting, save lectures, and more.
Part 3: How to Record Video in Google Classroom Online
For users who do not like to install software, Vidmore Free Online Screen Recorder is a good choice to record videos from Google Classroom.
Basic Features of the Best Online Video Recorder for Google Classroom
Record Google Classroom without installing software.
Completely free of charge with no watermark.
Compatible with all major browsers, like Chrome.
How to Record a Video in Google Classroom Online
Step 1: Visit https://www.vidmore.com/free-online-screen-recorder/ in a browser when you need to record video in Google Classroom. Click Launch Free Recorder to download the launcher.

Step 2: You can see four icons on the launcher:
Display: Record Google Classroom as video on your desktop.
Webcam: Add your face to class recording.
System audio: Capture sound from Google Classroom.
Microphone: Record your voice via microphone.
Turn on or off each icon based on your need.

Step 3: Press REC when the class initiates. Wait for the class to finish and click Stop button. Then download the recording to your computer.

Part 4: FAQs about Recording Video for Google Classroom
Does Google Classroom have video conference?
Google Classroom does not have an embedded video tool, but G-Suite does. It is called Google Meet. You can turn to Meet and use the premium features from Google Classroom.
How many people can be in a Google Classroom?
If you have a G-Suite or school account, the maximum number of class members is 1,000. For personal Google account, a class can include up to 250 members.
What is the difference between Google Hangout and Google Classroom?
Google Hangout is a regular calling and messaging service. It is not designed for school, although some schools rely on it to communicate with students remotely. Google Classroom, on the other hand, is for assignments. It cannot make conference or video chats.
Conclusion
This post has talked about one of Google services, Google Classroom. Today, more and more teachers and students create and grade assignments. Since it is free and easy to use, Google Classroom is popular among schools. If you wish to record videos in Google Classroom, Vidmore Screen Recorder can meet your need on PC and Mac. It is able to save classes in high quality videos. If you have other problems related to the service, please feel free to leave a message below.