How to Record a Meeting in Microsoft Teams in High Quality Videos
Many online conference services have come up as working remotely becomes a new normal. The Microsoft Teams is a video conference app for professionals to ensure smooth functioning of their work-from-home situations. It lets you conduct online meetings, classes, seminars, video calls and more easily. However, not many users know that it is also possible to record meetings in Microsoft Teams. This guide will show you the built-in recording function and more ways to record Microsoft Teams.

Part 1: The Built-in Method to Record Microsoft Teams Meeting
Microsoft Teams provides the recording feature, but it is only available to meeting organizer or persons from the same organization. Moreover, it only allows you to record up to four hours.
Step 1: Create a meeting in Microsoft Teams. To record the meeting, go to the meeting controls. Click More options with a three-dot icon and choose Start recording.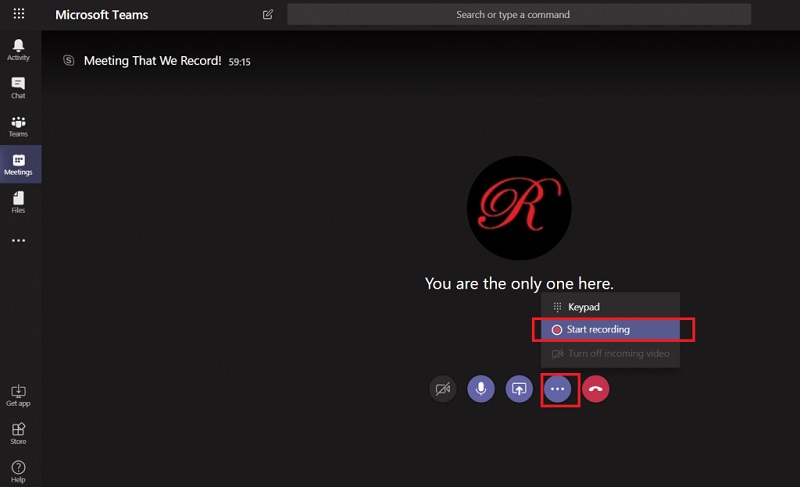 Step 2: Now, everyone in the meeting is notified that recording has started.
Step 3: When you want to stop the recording, go to the meeting control bar. Click More options and choose Stop recording.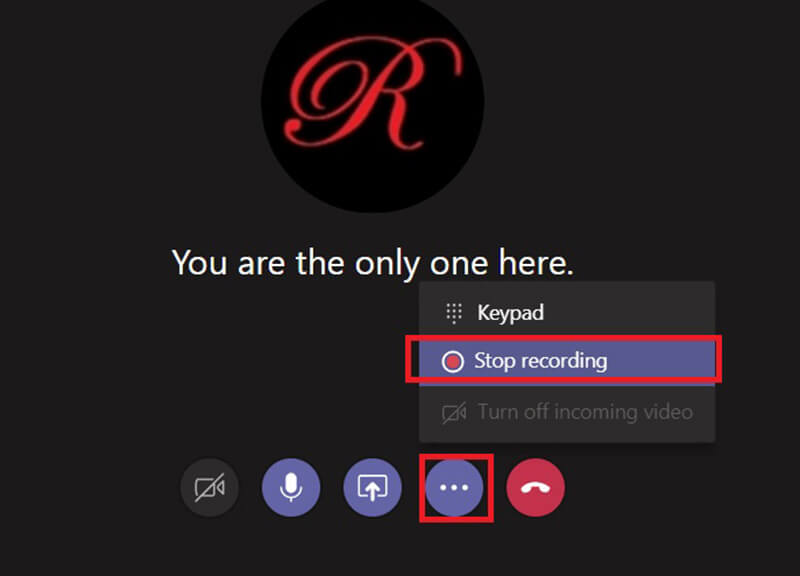 Step 4: It may take a while to process the recording. Then you will get the notification email from Microsoft Stream. By default, the meeting recording is stored on Microsoft Stream. You will get a link to the recording, which is available for seven days.
Part 2: Best Ways to Record Microsoft Teams Meeting
Obviously, the built-in recording feature in Microsoft Teams is not available to every participant. Moreover, it has the length limit. Therefore, you may need more options to record Microsoft Teams cloud meetings secretly.
Option 1: Best Microsoft Teams Recorder on Desktop
Vidmore Screen Recorder is a powerful screen recorder available to all cloud meeting services including Microsoft Teams. It is able to save your meetings in high quality videos without notifying other members.
Main Features of Beast Microsoft Teams Recorder
Record meetings in Microsoft Teams on PC and Mac.
Support webcam and microphone capture while recording.
Produce high quality recordings automatically.
In brief, it is the best option to record a meeting in Microsoft Teams on PC and Mac.
How to Record a Meeting in Microsoft Teams
Step 1: Set up meeting recorder
There are two versions of the best meeting recorder, one for PC and the other for Mac. Install the right version to your machine and launch it. Choose Video Recorder to open the main interface.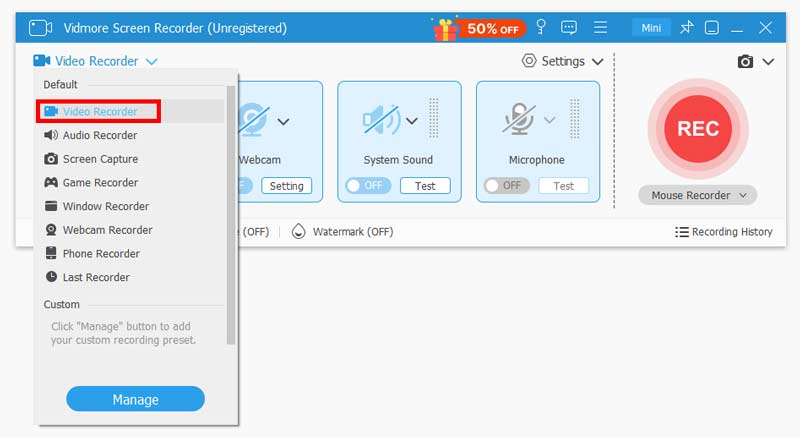 Step 2: Record a Microsoft Teams meeting
Open Microsoft Teams app and switch to the meeting recorder. Toggle on DISPLAY, choose Custom and Select region/window, and click on the app to set the recording region. Turn on System Sound as well. Webcam and Microphone are used to capture your face and voice. You can decide whether to turn them on or off based on your situation. When the meeting starts, click REC to begin recording it.

Tip: If you wish to record a meeting automatically, click Take Schedule and set it up. Then the meeting recorder will work spontaneously.
Step 3: Preview and save recording
Whenever you want to stop Microsoft Teams meeting record, click the Stop button. Then you will be taken to the preview window. Play the meeting record with the built-in media player and click Save button if you are satisfied. The Clip tool is available to cut unwanted frames from the video.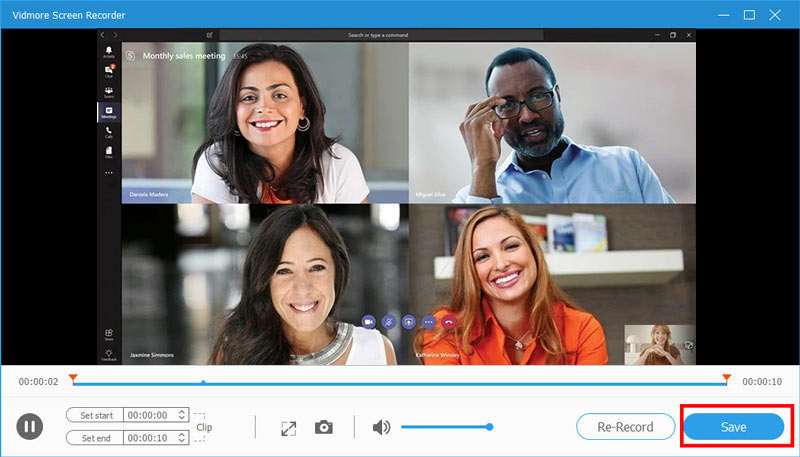 You can also use it to record WebEx meetings, capture AnyMeeting conferences, and more.
Option 2: The Easiest Online Microsoft Teams Recorder
Sometimes, it is not convenient to install meeting recorder software. Vidmore Free Online Screen Recorder is the best option to record a meeting in Microsoft Teams.
Key Features of the Easiest Microsoft Teams Recorder Online
Record a cloud meeting online.
Free of charge with no ads or watermark.
No recording length limit.
How to Record a Meeting in Microsoft Teams Online
Step 1: When you intend to record a Microsoft Teams meeting, open a browser and visit https://www.vidmore.com/free-online-screen-recorder/. Press the Launch Free Recorder button and download the launcher. The online meeting recorder app is available no matter you are the host or participant.

Step 2: Click the Display icon and choose a proper recording area size. If you want to add your reactions to the recording, turn on Webcam; otherwise, disable it. Next, choose the audio source, such as System audio and Microphone.

Step 3: Click the REC button on the launcher once the meeting initiates. Wait for the meeting to finish, and click the Stop button. Then download the recording to your hard drive.

Part 3: FAQs about Microsoft Teams Record Meeting
How do I find recorded meetings in Microsoft Teams?
After recording a meeting in Microsoft Teams, it will be saved to Microsoft Stream. Go to the Chat tab on the left side bar in Microsoft Teams, and you can see all recorded meetings. If you want to download a recording, sign in Microsoft Stream, find it, and select download original video on the portal.
Does Microsoft Teams automatically record meetings?
You can only manually record meetings in Microsoft Teams without third-party tools. If you are afraid of forgetting it, look for a third-party meeting recorder, such as Vidmore Screen Recorder, and take a schedule. Then it will record your meetings automatically.
Are Microsoft Teams free?
The Microsoft Teams provides a free version. You can get unlimited chats, audio and video calls, 10GB file storage for entire team and 2GB personal storage for each member. However, it is only available to account without a paid commercial Office 365 subscription. If you need the full version and more storage, you can subscribe it from $5 per month.
Conclusion
This guide has told you three ways to record a meeting in Microsoft Teams. Sometimes, you have to save important meetings. The built-in record feature is available to the host. If you are a participant, Vidmore Screen Recorder is a good option to record Teams meeting. It is not only easy to use, but also able to record meetings secretly. More questions? Please feel free to leave your message below this post.