6 Best Apps to Record Meetings on Windows, Mac, iPhone and Android
According to a recent survey, cloud-based and online meeting have become one of the most popular services. It helps you keep in touch with your business partners, colleagues and managers when working remotely. There are a lot of online conference platforms without offering record functionality. In result, you have to look for a meeting recorder app for your device. Fortunately, this post will share you a top list of 6 best meeting recorder apps for computer and mobile devices.

Part 1: Top 2 Meeting Recorders on Desktop
Top 1: Vidmore Screen Recorder
As a meeting recorder, Vidmore Screen Recorder can meet all your need no matter you are average people or tech savvy. More importantly, it can produce high quality meeting recordings with advanced technology.
Pros
Record Lync, Zoom, and any other conferences and meetings in a single click.
Add your face and voice to recordings via webcam and microphone.
No recording length, watermark or other limit.
Offer a wide range of custom options
Cons
You have to install the meeting recorder to hard disk.
How to Record Meeting on Your Desktop
Step 1: Install the best meeting recorder
Run the best meeting recorder once you install it to your PC. For Mac users, there is another version. Choose Video Recorder from the home interface. If you just want to record audio from the meeting, select Audio Recorder.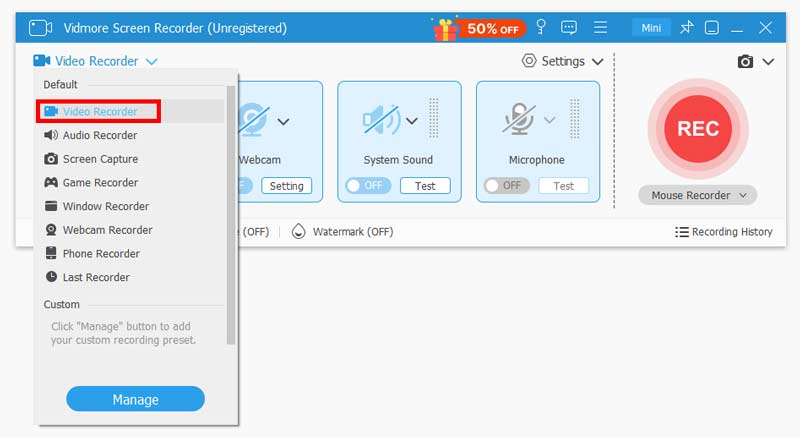 Step 2: Record minutes of meeting
Toggle on DISPLAY and set the recording region based on the meeting window. Turn on System Sound to record meeting along with audio. The Webcam and Microphone options are used to capture your face and voice during meeting recording. You can decide to enable or disable them. When the meeting begins, click the REC button to start recording it.

Tip: If you wish to get more options, click the Gear icon to open the Preferences dialog.
Step 3: Save meeting recording
Click the Stop button whenever you want to stop the meeting recording. Then you will be taken to the preview window. Play the recording and remove redundant frames by Clip tool. Finally, click the Save button to save the meeting to your computer.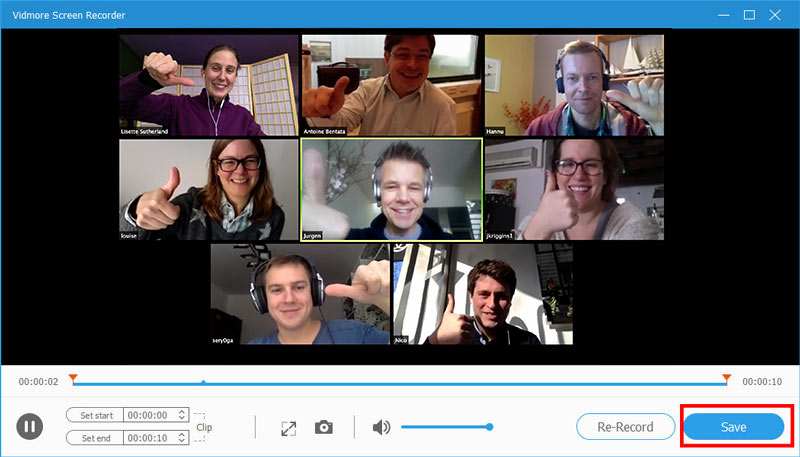 Top 2: Vidmore Free Online Screen Recorder
If you do not like to install software on computer, Vidmore Free Online Screen Recorder is the best meeting recorder app. It lets you record everything online.
Pros
Completely free of charge.
No watermark or recording length limit.
Capture your reactions along with meeting recording.
Offer basic custom options.
Cons
1. It does not include video editing features.
How to Record Meeting Online
Step 1: When you need to record a meeting, open a browser and visit https://www.vidmore.com/free-online-screen-recorder/. Click Launch Free Recorder button to get the launcher.

Step 2: There are four icons on the launcher. Enable Screen and System audio while disable Webcam and Microphone if you just record meeting. To add your reactions, turn on Webcam and Microphone as well.

Step 3: Click the REC button when your meeting initiates. Hit the Stop button until the meeting finished. Then download the recording file.

Part 2: Top 4 Meeting Recorder Apps on iPhone/Android
Top 1: AZ Screen Recorder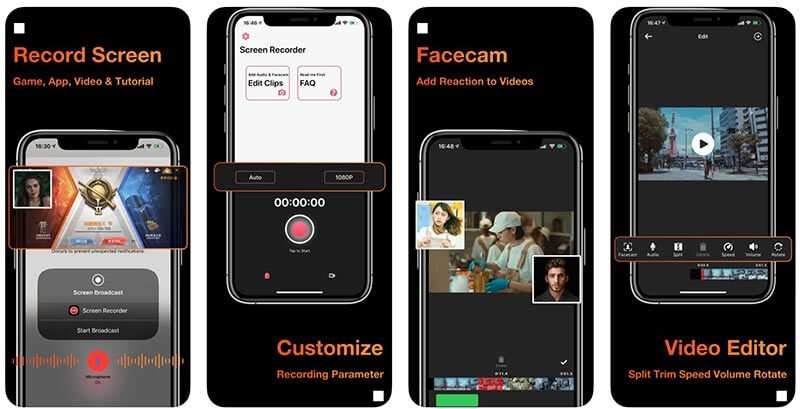 Platform: iOS and Android
Price: Free with in-app purchase
AZ Screen Recorder is an all-in-one meeting recorder app for both iPhone and Android devices. In addition to record online meetings, it also provides video editing functionalities and video conversion.
Pros
Record meetings along with audio.
Save online meetings secretly.
Trim, rotate and edit meeting recordings.
Share meeting recordings directly.
Cons
You have subscribed it after the free trial.
It requires iOS 12.0 or later.
Top 2: Record It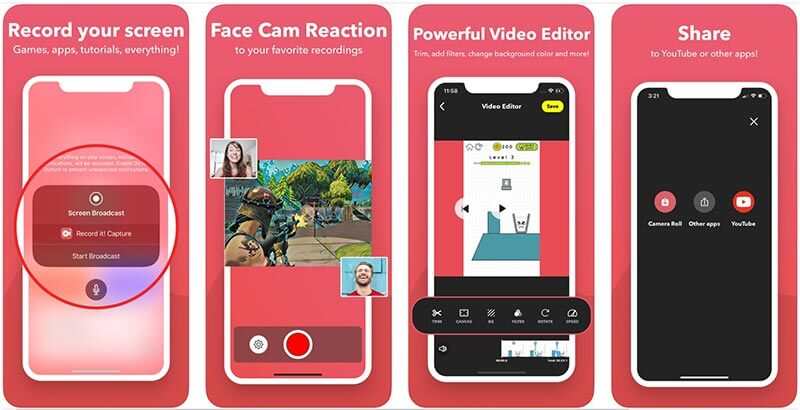 Platform: iOS and Android
Price: Free with ads and in-app purchase
As its name indicated, Record It is a simple meeting recorder app available to both iOS and Android devices. For mobile-first, it is a convenient way to save meetings no matter you are host or participant.
Pros
Record meetings on mobile device by one tap.
Add face-cam reactions to recordings.
Include a video editor.
Manage meeting recordings simply.
Cons
The video share is limited to three minutes for free version.
It is only available in English.
Top 3: ADV Screen Recorder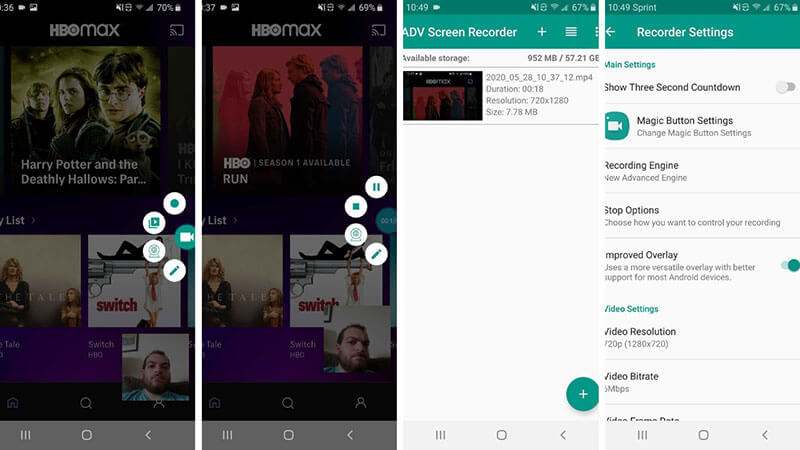 Platform: Android 5.0 and above
Price: Free with ads and in-app purchase
ADV Screen Recorder is a meeting recorder app for Android users. It is a good choice for beginners to record online meetings on smartphone or tablet. Moreover, it supports both front and back cameras.
Pros
Record meetings with two engines.
Full control meeting recording.
Draw on fly with your favorite color.
Add text on recordings.
Cons
It is too simple for advanced users.
The video editing is limited.
Top 4: TechSmith Capture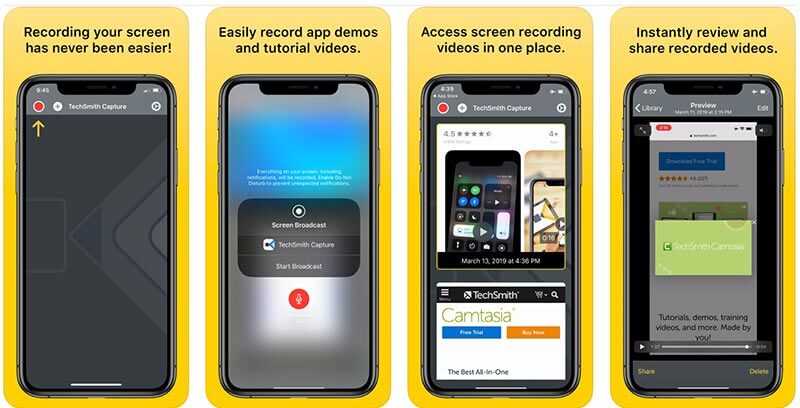 Platform: iOS 12.4 or later
Price: Free
TechSmith Capture is the best meeting recording app for iPad and iPhone. If you have limited budget, it is a good choice since there is no in-app purchase, subscription or other limit in the app.
Pros
Quickly record meetings on iOS.
Keep all meeting recordings organized in library.
Transfer recordings to Camtasia over Wi-Fi.
Cons
It does not provide video editor.
It is not available to old iPhone.
Part 3: FAQs of Meeting Recorder Apps
Is there a voice activated recorder app?
There are several audio recorder apps for iPhone and Android devices that can be activated by voice, such as Voice Activated Recorder and more.
How to record a meeting secretly?
The built-in recording function in online meeting services is usually available to host. Moreover, other participants will get the notification. To record a meeting secretly, you have to use a third-party meeting recorder.
Can I use my phone as a meeting recorder?
With a video or audio recorder app, you can turn you phone to a meeting recorder device.
Conclusion
Now, you should master at least top 6 meeting recorder apps for Windows, Mac, iPhone and Android devices. They can help you capture meetings, presentations, and webcam. Vidmore Screen Recorder, for example, is not only easy to use, but also able to save meetings in high quality video files. More problems? Please feel free to leave a message below.