How to Use Bandicam Without Lag When Recording?
Have you ever experienced lag issue while recording with Bandicam? I bet you have. Even though Bandicam claims that it has less lag than other screen recording tools, it is still a common thing for users to encounter video lagging.
So, in this post, we will guide you on how to fix Bandicam lag issue.

Part 1. Simple Ways to Fix Bandicam Lag
Here are the solutions that you can try while reading.
1. Reduce Resolution & Switch to Windowed Mode
It would help if you could change the video resolution to a lower one in the settings of game, streaming video or anything you want to record. To increase the FPS, you can also change the display mode to windowed.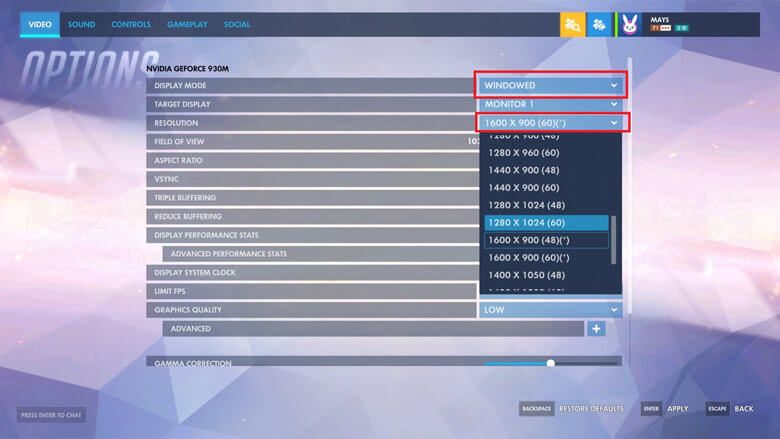 2. Adjust Bandicam Settings & Change Recording Mode
Modifying video settings, like video size, FPS, codec and quality, in Bandicam is also an effective means to improve recording lag.
Step 1. Find the Video tab in Bandicam. Under this tab, you can see Settings in the bottom right corner.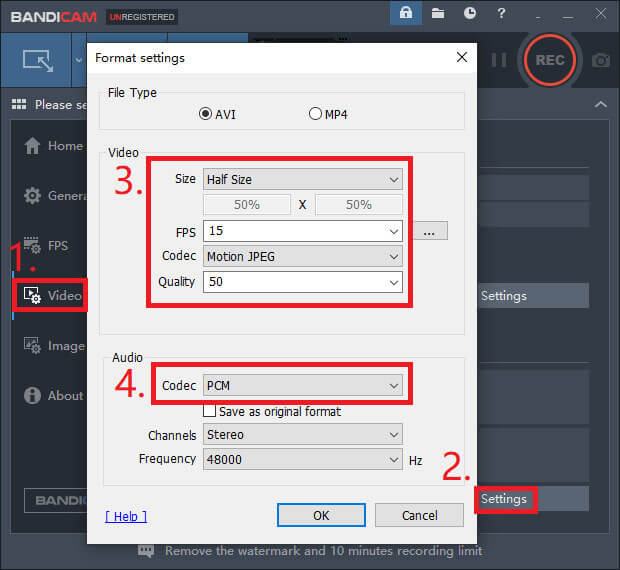 Step 2. As shown in the picture above, you can change the Size from Full Size to Half Size. Then decrease the FPS from 30 to 15 and the Quality from 80 to 50. Besides, you can try the Motion JPEG and PCM codecs for video and audio. Click OK.
Step 3. Go back to the interface of video tab. Then the other Settings button. Please disable the Secondary Sound Device.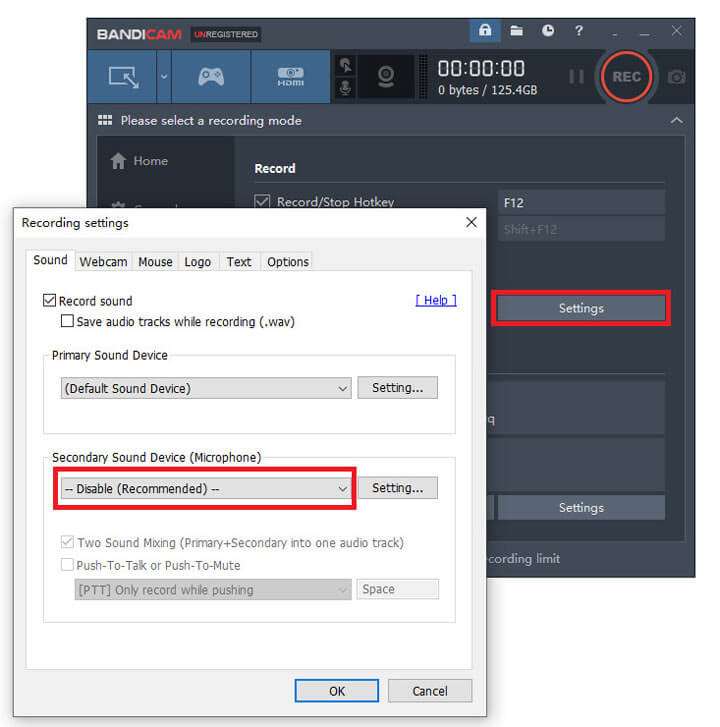 Sometimes, you can reduce lag of Bandicam by switching the recording mode from Game Recording to Screen Recording or vice versa.

3. Other Solutions
If the graphics card is in the secondary slot of your computer motherboard, please move it to the primary slot.
If one of these encoders (Intel® Quick Sync Video H.264 Encoder, Nvidia® CUDA™/NVENC H.264 Encoder or AMD VCE H.264 Encoder) is available on your computer, you can enable it for a higher performance.

If you have lag problems when recording streaming videos, you can try Chrome or Firefox instead. As for Internet Explorer or Edge users, please check the Use software rendering instead of GPU rendering option. Then try again.
It is true that you can get a great recording with no lag, if your computer and system are good enough. Because recording videos actually requires plenty of system resources, such as CPU, GPU, and RAM. In order to reduce lag, you can upgrade your OS, graphics card, CPU, etc.
However, you should know that replacing hardware is not a cheap option. So, other than that, is there a cheaper way to solve the recording lag issue? Please see below.
Part 2. Best Bandicam Alternative with No Lag
Vidmore Screen Recorder, the best alternative to Bandicam, which can help you solve the recording problems perfectly. You can record and create your own video or audio masterpieces. It's easy to use for YouTubers, game players, participants of online meetings/lectures, etc.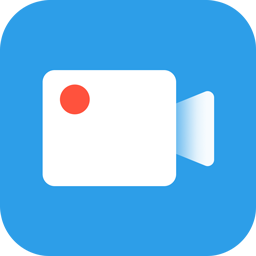 Vidmore Screen Recorder
Record full screen or selected area of your computer with high quality.
Support multiple output formats, like MP4, MKV, WMV and even GIF.
Add text, arrows, shapes, mouse effects, etc. to your recording.
Take screenshots and set recording schedule according to your needs.
Compatible with Windows 10/8.1/8/7 and Mac OS X 10.10 or above.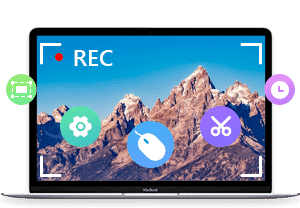 Step 1: Download and open Vidmore Screen Recorder on your computer. Select Video Recorder for screen recording.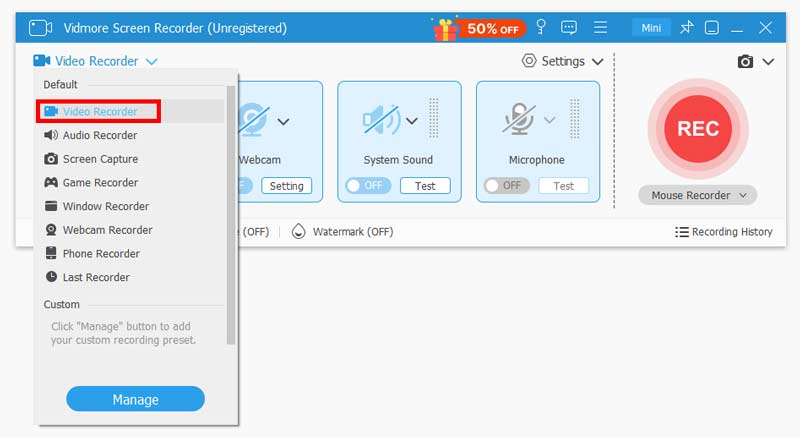 Step 2: Adjust screen size, and enable system sound and microphone. If you don't need to record webcam, just disable webcam option. Then you can click REC and start your recording.

Step 3: During the process of recording, you can add text and shapes with ease.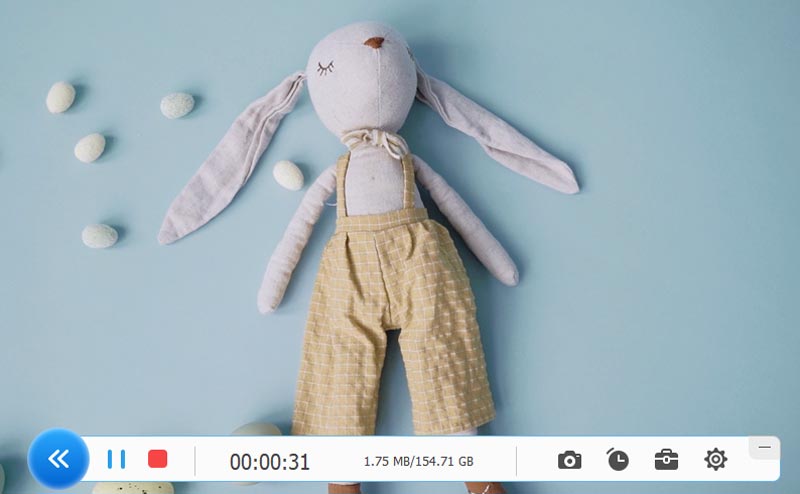 Step 4: If you stop the recording, you can preview the video before saving it to your computer.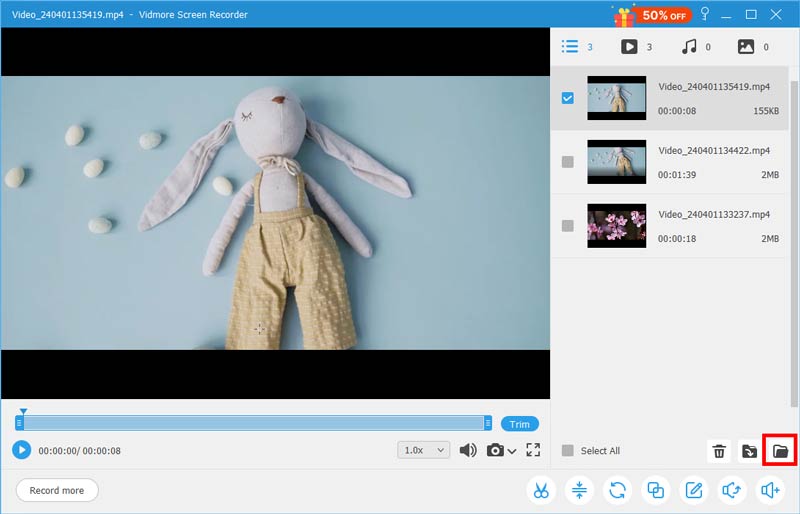 Part 3. FAQs of Stopping Bandicam Lag
Q1: Can I use Bandicam on Mac?
No, you cannot use it on Mac. But Mac users can download Vidmore Screen Recorder to record screen on Mac.
Q2: Can Bandicam record Sims with no limit?
If you have purchased its license, then you can record Sims with no limit. If not, you will have several limits on time length and watermark.
Q3: How much does Bandicam cost?
For 1-PC license, you need to pay $39.00. And the prices vary according to how many computers you want to install Bandicam to.
Conclusion
Hope this post can help you stop Bandicam lag. And if you are tired with Bandicam, Vidmore Screen Recorder will be your best choice to capture your screen activities without lagging. If you still have any questions, please contact us. We will help you find the answer.