Top 7 Best Anime Sites to Watch Anime Online for Free
Are you keen to watch anime shows and eager to look for a reliable anime site to watch your favorite anime series online? Enjoying anime on the internet can be a great way to stream or watch anime at any time or place. There are a lot of sites for anime; however, you may need to pay more attention on looking for an anime site when it comes to the safety, quality and ads issues. Thus, in order to save your time, I pick up top 8 best anime sites of 2021 in this post, and you can check the list below to stream anime episodes online in a safe way.

Top 1. KissAnime.ru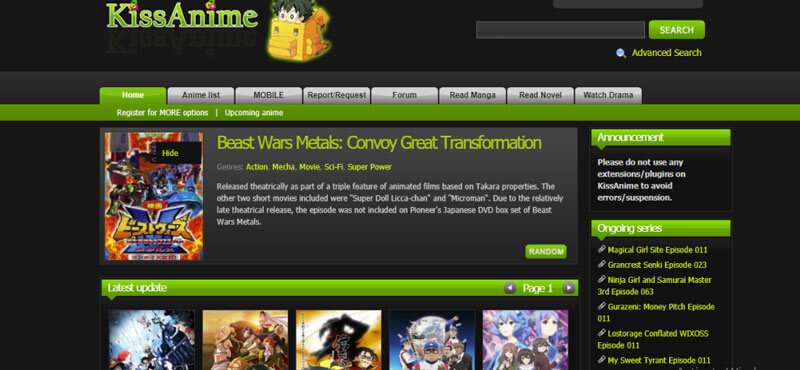 KissAnime.ru is one of the most popular and best anime websites loved by lot of anime fans. The quality of anime series is varied from 240p to 1080p, and the viewers can select the picture quality according to their preference. And all anime shows are dubbed and subbed in English. What's more, the most advantage of this site is that you can watch anime online free without registering the website or purchasing a premium membership. But if you need to download anime, the registration is required. It is also available in app on Google Play Store, so you can watch your favorite anime shows on mobile phones at will.
Top 2. 9Anime

9Anime is another popular anime sites from which you can stream any of your favorite anime videos on this site. You can see pick up anime from genres such as Action, Adventure, Fantasy, Horror, Sci-Fi, Romance, etc. or from other tabs such as Newest, Genre, Types, Most Watched and Upcoming to help you quickly find the one that you'd like to watch. And you can stream the videos with different quality, like 240p, 480p, 720p and even in 1080p.
Top 3. Crunchyroll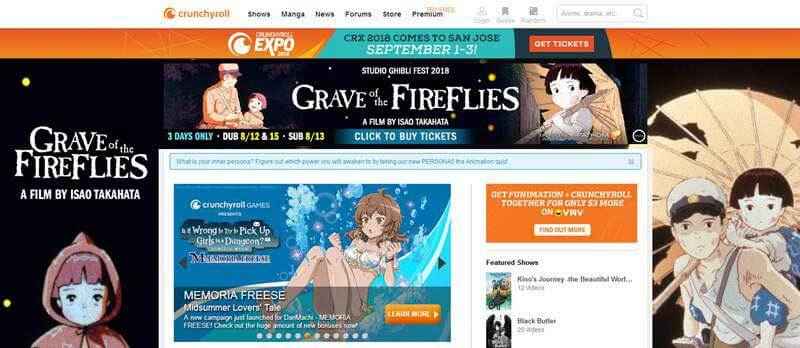 Crunchyroll is a legal website for anime episodes online. Viewer can choose the anime shows from the latest news, all new anime, all new drama and forum effortlessly. More than 25.000 anime shows on this site are free to stream coming with three ad breaks and low video quality of 480p. You can watch series like Naruto free on Crunchyroll. However, it does provide a premium membership for watching and enjoying anime episodes with ad-free experience as well.
Here you may like: How to Record Zoom Meetings without Permission
Top 4. Anime Door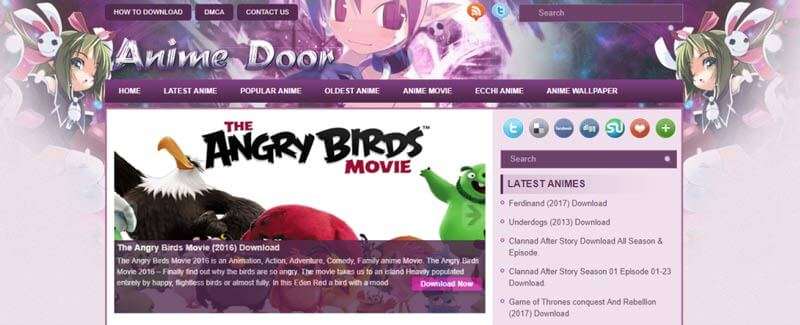 Anime Door is counted in top best anime sites to stream English dubbed anime movies online for free. It comes with the cleanest interface, and very easy to access find your favorite anime movies. Unlike above-mentioned sites, this site is only to download anime shows. You will get several server links to download your desired anime. What's more, you are provided with many anime categories which you can browse to download anime from a particular category. So Anime Door can also be one of the best anime sites for downloading anime.
Top 5. GoGoAnime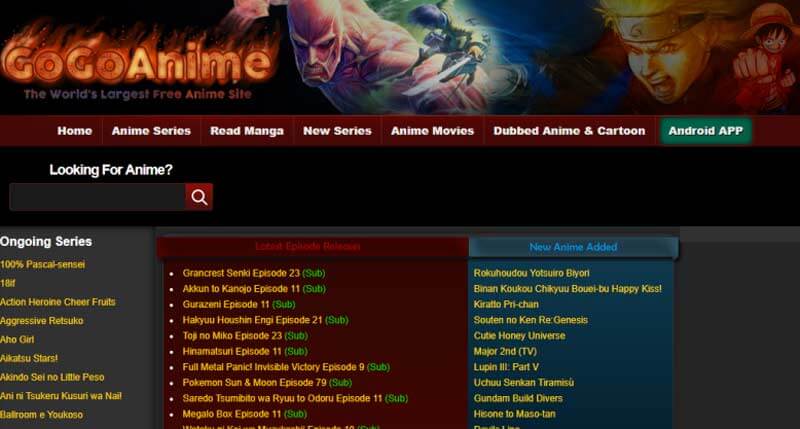 GoGoAnime is one of our favorite sites to watch free anime movies online as well as you can download anime series in a hassle-free way. On its homepage, you can easily find anime series, cartoons, movies and the latest Japanese and Korean episodes. Or you can choose an anime show from the tabs like Recent Release, Recent added, Popular Ongoing Update, etc. If you'd like to enjoy the best anime episodes on your smartphone then you can download GoGoAnime app from Google play store.
Top 6. Anime Freak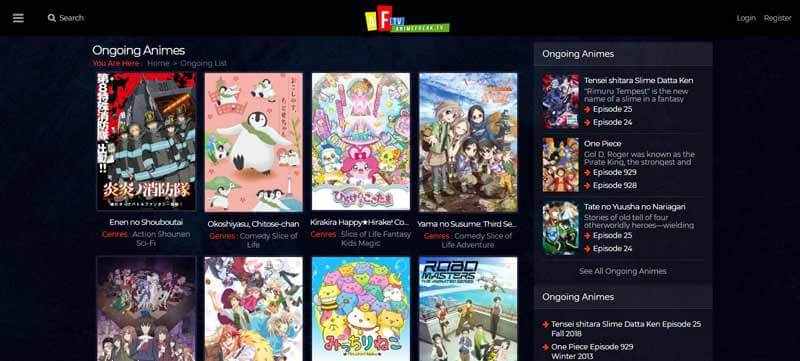 Anime Freak is also one of the anime websites which contains more than 10,000 episodes of different anime series like Naruto, Bleach, Fairy Tale, etc., all at one place. It offers both dubbed and subbed Anime series and the biggest advantage is it is absolutely free to stream anime videos online. The home page provides a user-friendly experience by providing you with easy navigation of all the anime series episodes. You can find your favorite anime series from popular categories such as Genre, Popular Anime, Latest Episodes, and Latest Anime Series. You just need to sign up and then you can enjoy your favorite animations. Although it doesn't charge you anything for watching anime series, it sometimes will display ads which maybe bring you a bad viewing experience.
Top 7. Hulu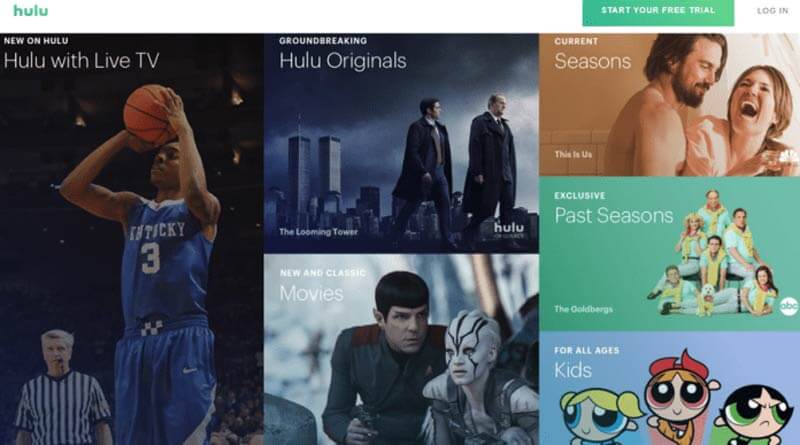 Also, Hulu has a range of anime series and movies. All the episodes on this website have HD quality. However, you must be aware that it is a legal website and not free to access the website. The membership fee costs $7.99 per month. And you also need to note that Hulu is not yet available in all parts of the world. if you are not from America, Europe or Asia, you might need to use VPN to access this website.
Best anime sites recording software you may need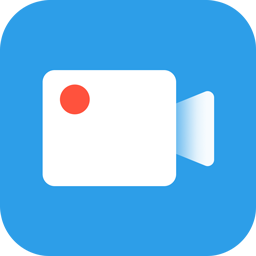 Best Anime Recorder
Record anime series from different anime websites with high video & audio quality.
Capture anime shows without time and number limitation.
Support recording anime audio or music files only.
Take screenshots with full screen or customized area.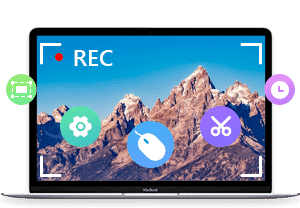 FAQs of the Best Anime Sites
1. What is anime?
The word anime comes from the short form of animation. Technically, anime is a synonymous word for Cartoon but when it comes to seeing it from the user intention then the word anime refers to the cartoon which comes from Japan, so instead of using this word for all country cartoons, Anime is the word which is used for Japanese Cartoons exclusively.
2. What are some good sites to view dubbed anime?
Kiss Anime, 9Anime and GoGoAnime are great choices to watch dubbed anime shows.
3. How do I record anime episodes?
You can use Vidmore Screen Recorder to record your favorite anime shows for easy playback. Also, it supports recording FaceTime call, Webinar, online video or music and more effortlessly.
Conclusion
I hope you find this list useful. The above best anime sites are all available to watch anime videos online. If you prefer to enjoy great quality and ad-free anime shows, you can purchase a premium membership to have a better experience. Leave us a message if you have any questions related to this post.