How Long Can Instagram Reels Be? [A Video Length Guide]
Reels are short, entertaining video content you can make and share with others on Instagram. They are like little movies where you can tell stories, showcase cool things, or have a good time. It is a way to share quick and exciting videos with your friends and followers on the platform. Did you know that Instagram Reel has a specific length?
This post will introduce Instagram Reel length and the reason behind the time limitation it has and offers. Besides that, it will present different ways to help you meet the video length requirement. Are you excited to get to know all of these? If yes, please read and proceed to the following parts.

Part 1. Introduce Instagram Reel Length
So how long can Instagram Reels be? They can be as short as 15 seconds or as long as 60 seconds. It is a quick way to show something cool, funny, or interesting without making a long video. It is all about being creative and catching people's attention in a short amount of time.
Part 2. Why Instagram Reel Has Length Limit
Instagram Reels have a length limit, so they cannot be long. It is because Instagram wants these videos to be quick and exciting. Short videos are more interesting for people to watch and easier to enjoy and share. Imagine if the videos were too long; they might get boring or take too much time to watch. So, having Instagram Reels' time limit will keep things fun and snappy.
Part 3. How to Let My Video Meet Length Requirement
1. Vidmore Video Converter
Do you want to share your content with just the right video length? Sometimes, it might be too long when you are excited to share a video on any platform. That is where Vidmore Video Converter comes into play! This program is a helpful tool that can help you make sure your videos meet specific length requirements. It allows you to easily trim your video to the right length, not too short or long.
With Vidmore Video Converter, you can easily edit your video and remove any extra parts you do not need. This way, you can keep your audience engaged without asking them to watch a long video. Indeed, Vidmore Video Converter can be your helpful tool to make sure your videos fit the time requirement.
Step 1. To begin with, go to Vidmore Video Converter's official website to download the program. After downloading, install the program on your computer for complete access.
Step 2. Launch the program to get started. On the main interface, navigate to the MV tab, click the Add Files button, and import the video files you desire to trim.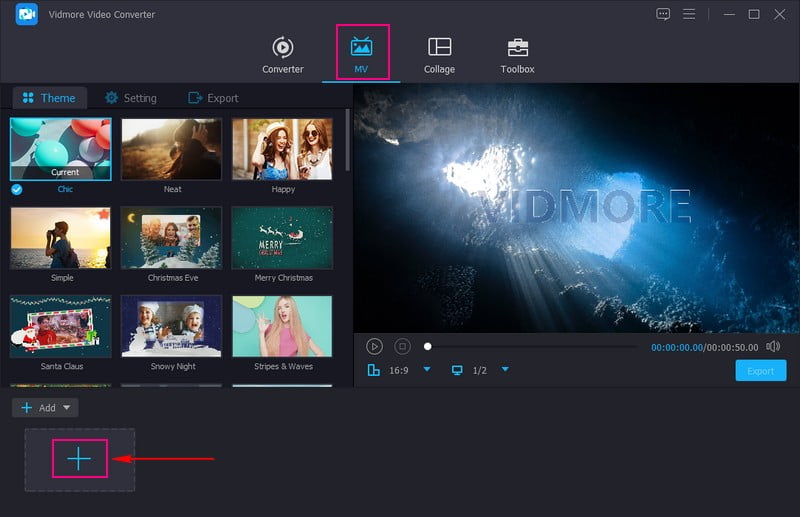 Step 3. Once the video file is uploaded, hit the Trim button above the imported multimedia section.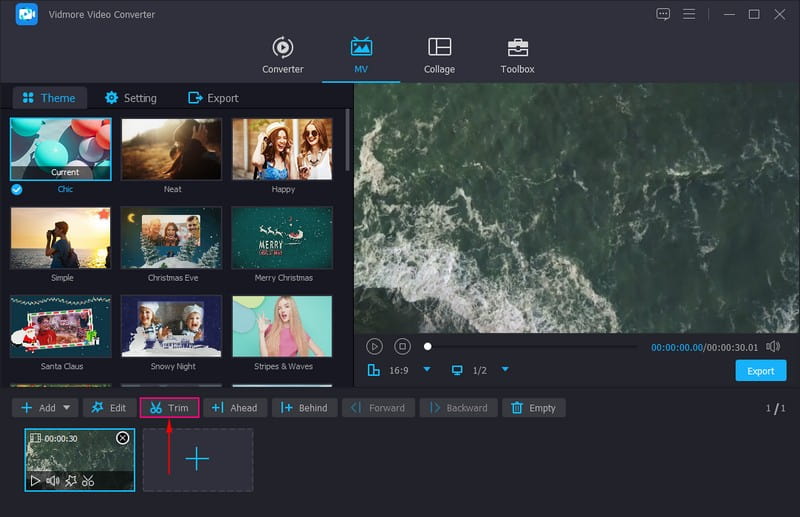 Step 4. You can leave out the unnecessary beginning and ending parts of your video from the Timeline. The highlighted parts will remain, while the unhighlighted parts will be omitted from the video. In addition, you can put a checkmark beside Fade in & Fade Out to apply the effect to your video.
On the left-hand panel of the interface, click the Add Segment button to remove unwanted parts from different video sections. If you want to slice the video into multiple segments, click the Fast Split button. Once settled, hit the Save button to trim your video successfully.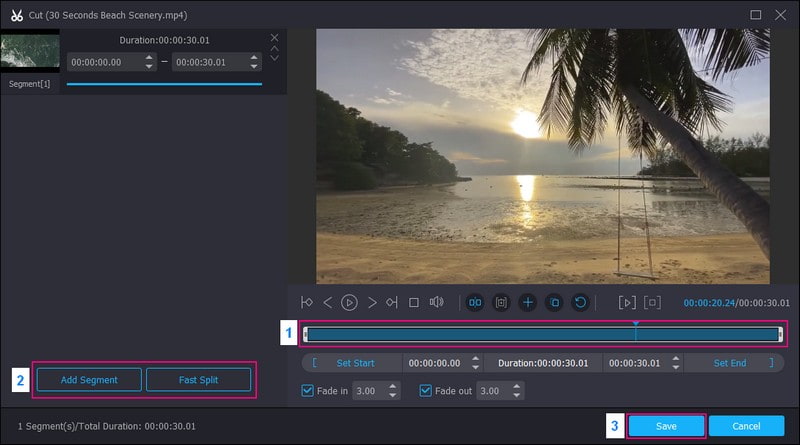 Step 5. Before you export your video, you can use the program's other editing features to enhance your creation further. When satisfied, click the Export button, then Start Export, and your trimmed video will be saved in your desktop folder. Check it out, and upload it on your social media accounts.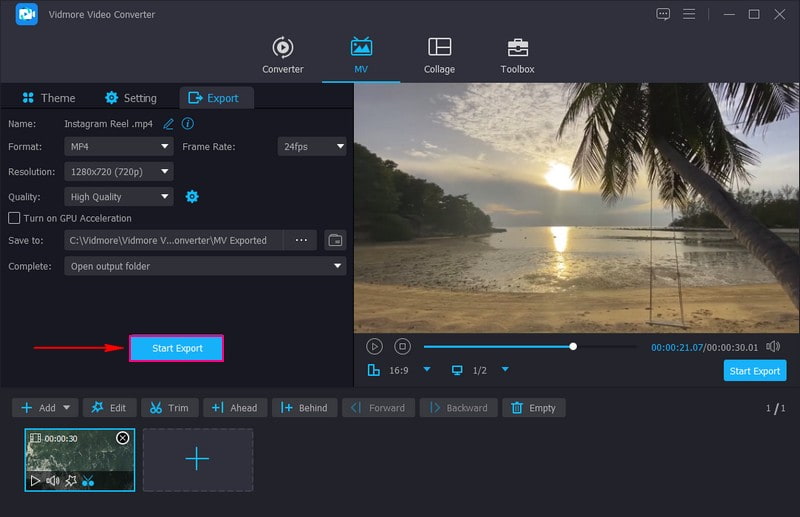 2. Vid.Fun
Say hello to Vid.Fun, it is the ultimate tool for effortlessly trimming videos to fit specific length requirements. Did you get a video that is too long? No worries! Vid.Fun's got your back. It is designed to help you easily cut and modify your videos, ensuring they fit the desired length perfectly. This program helps you keep your videos engaging within the correct time frame, whether you share a momentous occasion, a creative project, or a fun snippet. This application ensures your content remains engaging and well-fitted.
Step 1. Install Vid.Fun from the Play Store using your mobile device. Once installed, proceed to open the program to get started.
Step 2. Hit the Cut button from the editing features presented on the main interface. It is the primary feature you can use to trim your video. Then, select a video you want to trim from your phone gallery.
Step 3. When the video is imported, use the Slide bars from the Start to End to highlight the necessary parts of your video. The unhighlighted parts are the ones that will be left out of your video.
Step 4. Once you are done trimming and getting the video length requirement you need, press the Export button to save your video. Afterward, your edited video will be saved on your phone gallery.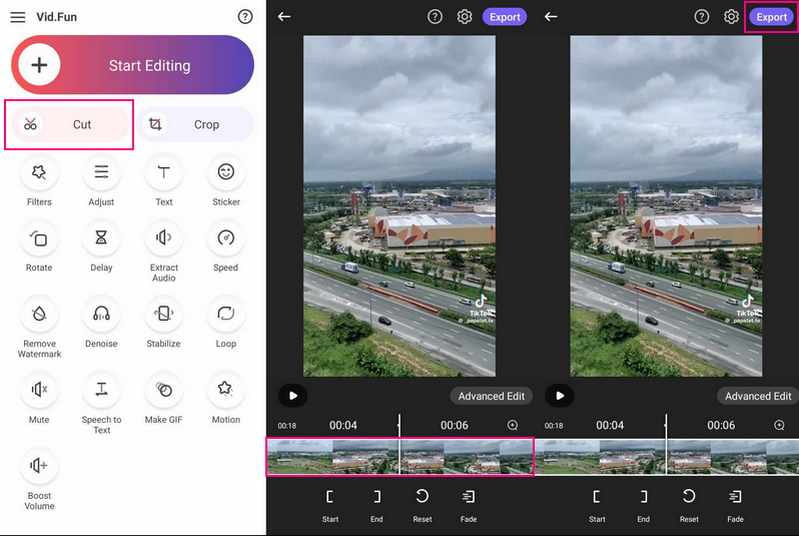 Part 4. FAQs about Instagram Reel Length
Can I post a 5-minute reel on Instagram?
Instagram Reels had a maximum length of 60 seconds (1 minute). It means you could not post a 5-minute Reel directly on Instagram.
What is the best duration for reels?
The best duration for Reels can depend on the nature of your content and your audience's preferences. Keeping your Reels between 15 to 30 seconds is often recommended. This length allows you to deliver your message, showcase your creativity, and entertain your audience effectively without losing their interest.
Does IGTV still exist?
IGTV still exists, an Instagram feature allowing users to upload and share longer videos. IGTV videos can be up to ten minutes long for most users, and verified accounts can share videos for up to sixty minutes.
Are Reels Different from Stories?
Reels are longer than Instagram Stories and focus on creative and entertaining content. While Stories disappear after 24 hours, Reels can be shared on your profile for extended periods.
Can I use Reels for business purposes?
Many businesses use Instagram Reels as a creative way to engage with their audience, showcase products, share tutorials, and display their brand personality.
Are Reels public?
If you have a public Instagram account, your Reels can be seen by anyone on the platform. Only your followers can see your Reels if you have a private account.
Conclusion
You have learned how long a reel can be on Instagram from the abovementioned information. So, remember, when you are making a video for Instagram Reels, it can be as short as fifteen seconds or as long as sixty seconds. That is when you have to share something extraordinary and catch people's attention. If you want to keep your video meet the required length requirement, you can have Vidmore Video Converter. It can help you trim and remove unnecessary parts and further edit your video hassle-free.