How to Trim a Video to Post on Instagram in 4 Plausible Approaches
Everyone has different experiences and unique stories to share. And suppose you are one of those people who are into video blogging, otherwise known as vlogging. In that case, Instagram is a perfect site to share them. This social media platform encourages online users to express their thoughts and feelings through photos and videos.
Interestingly, it features stories where you can post an event that made your day which will last for 24 hours. On that note, did you wonder, can you trim Instagram stories or videos? If so, we will teach the procedure of how to get this done using the practical yet convenient programs you can use immediately. Learn further about them after the jump.

Part 1. How to Trim Instagram Story Videos
You might be wondering how you can trim movies or videos appropriate for stories, post feed, or reels on Instagram. Fortunately, you can trim videos inside Instagram. Therefore, you don't need to install additional apps to generate videos fit for the uploading requirements of Instagram. With that said, we will introduce you to how to cut Instagram story videos natively.
Step 1. First off, launch the Instagram application on your Android or iOS device.
Step 2. From the main interface, tap on the Plus symbol at the bottom of your screen. This will lead you to the gallery or phone library.
Step 3. Then, browse through your gallery and pick the video you would like to feature for Instagram, Story, etc. Once done, tap Next at the top right corner of the screen, then continue to the Post option.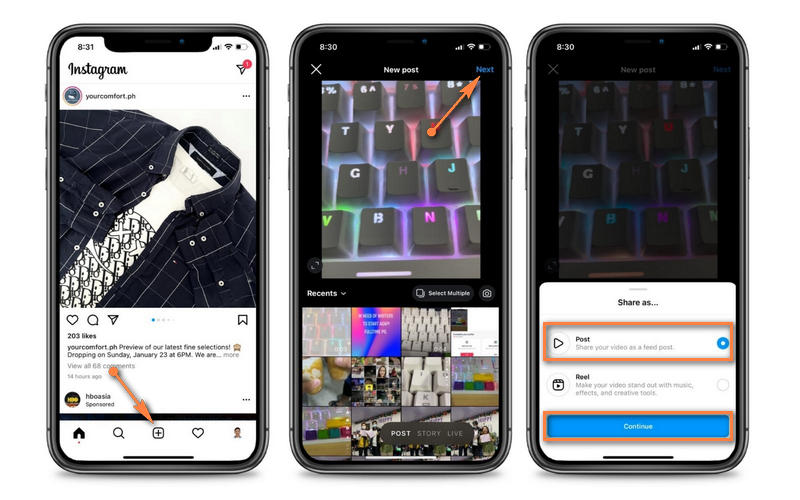 Step 4. Now, tap on the Trim tab underneath the preview to trim the video. It should display a slider that will help you adjust the beginning and ending time of the video.
Step 5. Select the video portions you wish to cut and hit Next. After that, you will be given options to post it to other sites. Toggle on to enable the options and tap Share to finish the process.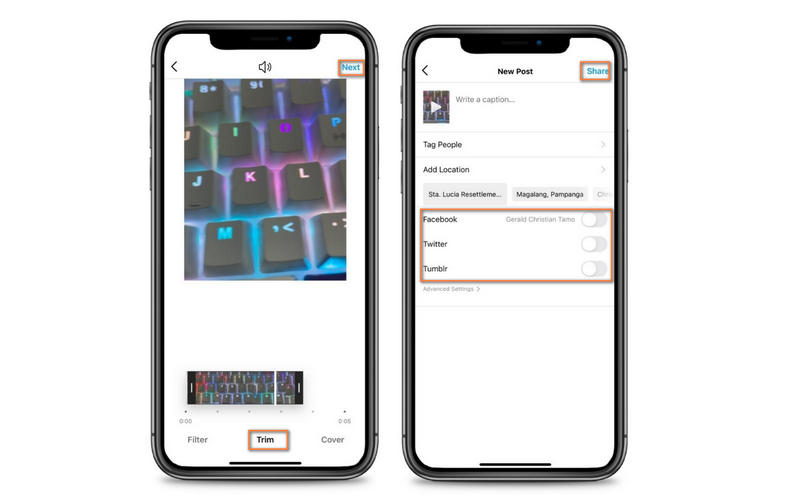 Part 2. Best Alternatives to Trim Video for Instagram
1. Vidmore Video Converter
Suppose you are into a method that lets you professionally cut video and create an Instagram-worthy video. In that case, Vidmore Video Converter is a go-to app. It comes with several aspect ratio options you can employ in your videos. There is 16:9 (Widescreen), 1:1 (Instagram), 9:16(Portrait), 4:3 (Standard), 21:9 (Cinema), which makes it easier for you to share Instagram videos. Not to mention, you could customize your preferred ratio according to your requirements. On the other hand, you could also crop the video to fit the size of the screen you will view or stream it. Let's learn how to trim and crop videos on Instagram.
Step 1. Launch the app on your computer
Download the app on your computer by clicking the Free Download button. Follow the onscreen setup to install the app. Once installed, launch the tool to start cutting.
Step 2. Import a video clip
To upload, go to the MV tab first and click the Plus symbol from the upload area at the bottom of the window. When it opens the folder, browse and pick your target video to cut for Instagram.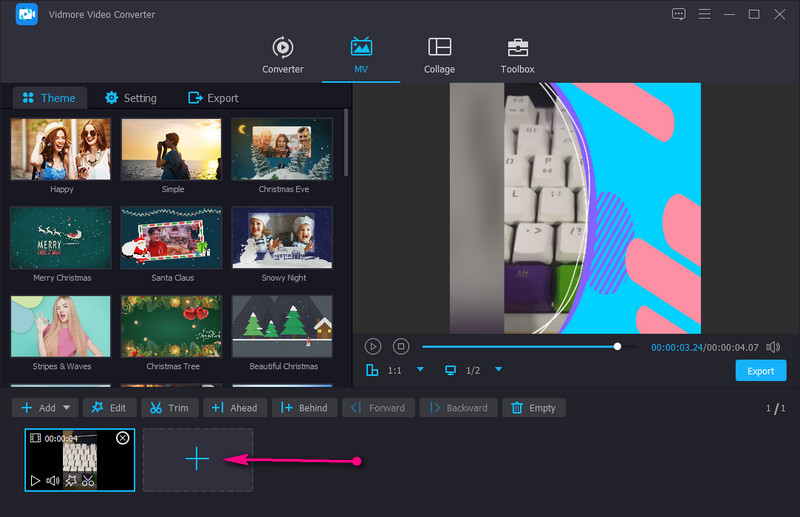 Step 3. Trim the uploaded video
Underneath the Themes section, there is a set of tools. Choose an aspect ratio and click Trim to launch the Cut window. Now, adjust the left or right slider by dragging backward and forward. You can also set the time duration by typing the exact starting and ending times. You may also apply themes to your video as you wish. Once done, click the Save button if you are happy with the results.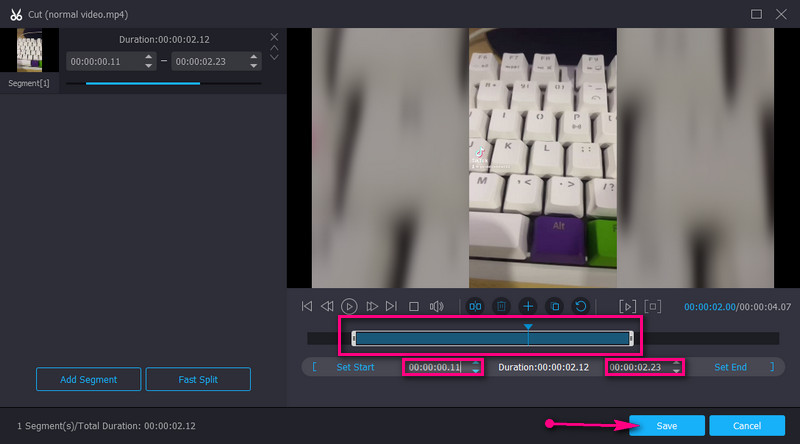 Step 4. Export the trimmed video
Now, go to the Export button and adjust some output settings according to your needs. You are given the ability to change that format, resolution, frame rate, quality, output directory, etc. Once all set, click the Start Export button to finish and save the video.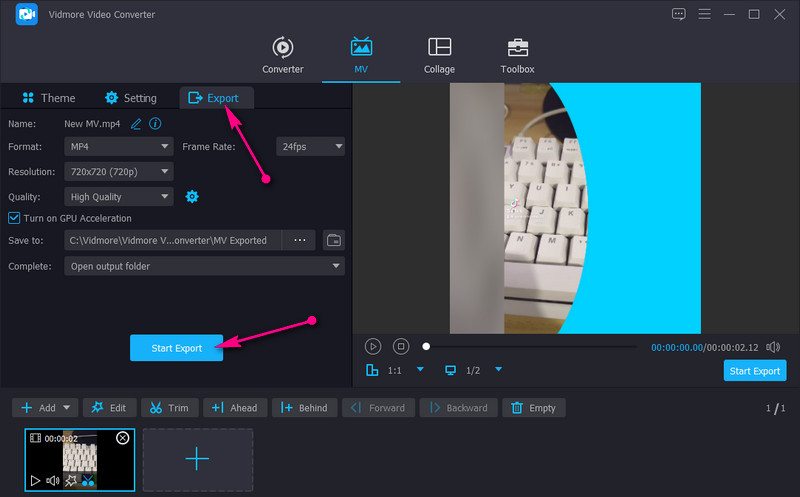 2. Ezvid
Ezvid is a worthy app to cut Instagram videos. It has a simple and organized user interface that lets you accomplish your cutting jobs in a matter of seconds. In like manner, it uses handlebars when cutting videos. Besides this, you can also record screens, webcam, games, and so on. What's so interesting about this program is that you can convert text into speech with its voice synthesis feature. Follow the setup guide on how this tool cust videos and Instagram stories.
Step 1. Install and launch Ezvid, then upload a media file into the app.
Step 2. Highlight the video from the timeline and drag the left or right side to select portions.
Step 3. Hit save video to apply the changes finally.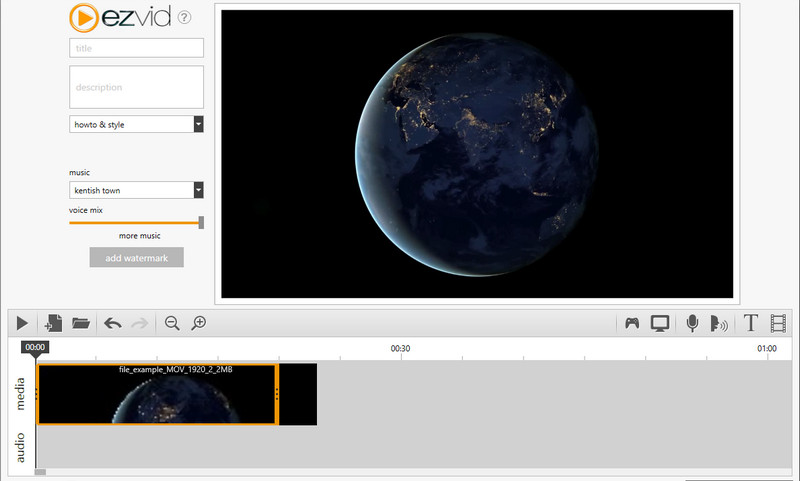 3. Pavtube
Pavtube offers a handful of features that novices and professionals can benefit from. It splits the interface for cutting video where the left side is the original file. At the same time, the right section displays the preview. Moreover, the program lets you cut frame by frame to select the cutting portions precisely. For simplified instruction, refer to the steps below.
Step 1. Download and install the tool. Open the app and import your selected video for Instagram.
Step 2. Select the video and edit the video by clicking the Pencil icon from the menu.
Step 3. Now set the start and end points using the slider. Then, hit OK once finished.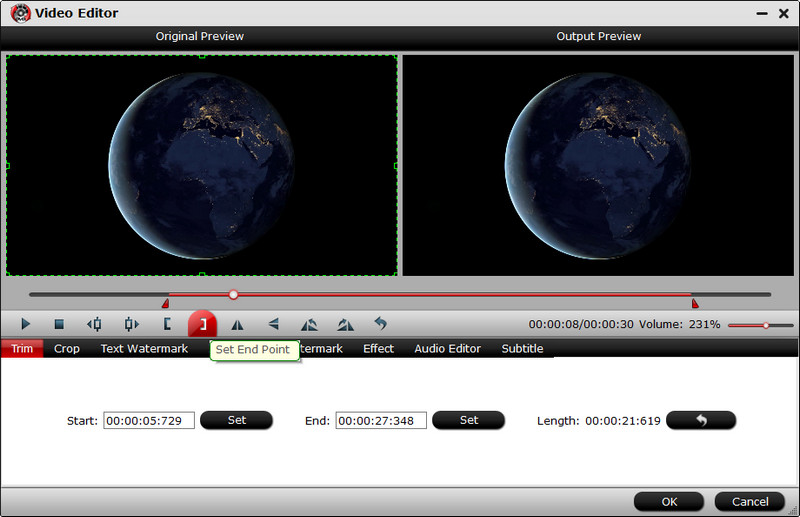 4. Clipchamp
You can also cut videos online for Instagram using Clipchamp. What makes it great to use is that you can begin with a template for Instagram, gaming, and special events. On top of that, you can import files from various local and cloud storage platforms. Not to mention, you can upload from your phone directly via scanning a QR code. To use it, have a glance at the walkthrough below.
Step 1. Launch Clipcham on a browser and upload your chosen video. Drag it to the timeline and start cutting the video.
Step 2. Highlight the video and adjust the slider to cut the video. You may also choose to add some enhancement elements. Maximize the toolbar on the left side of the tool's interface.
Step 3. For the last step, click on the Export button at the top right corner to confirm and save the changes.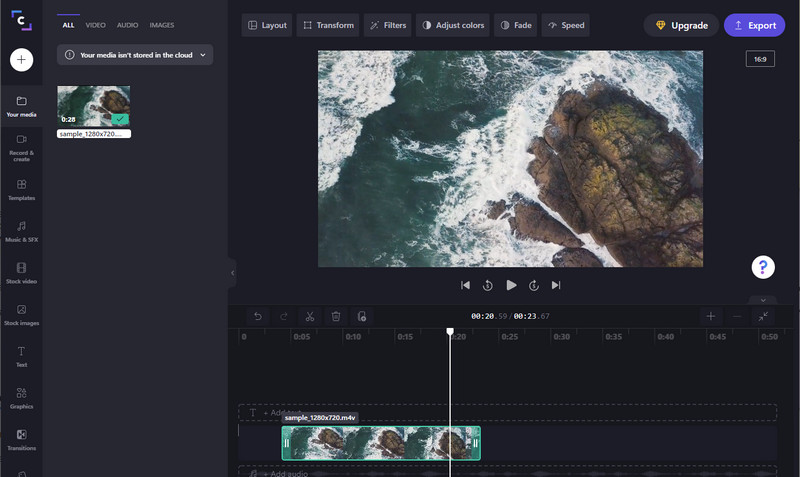 Further Reading:
4 Easy Ways to Trim a Video on Mac
How to Compress a Video for Instagram Upload
Part 3. FAQs on Trimming Instagram Videos
Can you trim Instagram stores?
Unfortunately, Instagram does not offer trimming capability for stories. But you can upload a pre-recorded video that is already cut using another program from your phone library. However, if you are looking for the best app to cut videos for Instagram stories, you can rely on Vidmore Video Converter.
How do I trim a video on Instagram?
As mentioned, Instagram can natively cut pre-shot videos from your device. This helps you trim videos that are longer than 60 seconds video length. Hit the Plus button at the bottom-most part of the Instagram app and upload the video. Select Post from the Share as an option, and then you will be given options for trimming a video. Use the track bar to adjust the starting and ending points.
Why does Instagram trim video not working?
One of the reasons you cannot trim videos on Instagram is the video length. It may be that the video is too long. Better yet, opt for a program that will help you shorten lengthy videos. Otherwise, you will get the same result when trying to trim on Instagram.
Conclusion
So, how do you cut a video on Instagram? By now, you should have figured out how this is done. You can do it using the default method or choose from the recommended alternatives to cut videos and Instagram stories.