Get to Know the Instagram Reel Size & Ways to Achieve It
Imagine you have a video you want to share on Instagram. But there is a secret; it must be the right size to look fantastic on people's phones. That is where Instagram Reel Size comes in! It is like a special rule for how big your video should be. When you follow the standard, your video will fit perfectly on Instagram, and everyone can enjoy it without problems. So, let's dive into the world of Instagram size and make your videos pop!

Part 1. Instagram Reel Size
Instagram Reel size refers to the dimension that your video should have. Regarding Reels, the recommended size is 1080 pixels in width and 1920 pixels in height. It forms a ratio of 9:16, creating a taller and more engaging format ideally suited for the smartphone's vertical scrolling experience.
Part 2. Instagram Reels Aspect Ratio
The aspect ratio for Instagram Reels is 9:16. It is a vertical orientation, suitable for viewing on mobile devices. It fits nicely within the Instagram app. Using the 9:16 aspect ratio for your Reels ensures that your videos appear complete without any important parts getting cut off. Instagram Reels' aspect ratio is designed to be taller than they are wide, which makes them an excellent fit for the vertical scrolling nature of Instagram.
Part 3. How to Make Video Size Meet Instagram's Standards
1. Vidmore Video Converter
Are you into making videos for Instagram? You might know that Instagram has rules about how big videos should be. But do not worry; there is a handy tool called Vidmore Video Converter that can help. This program is like a magic tool for videos. It can help you change your video's size to fit just on Instagram. One cool thing it does is cropping. So, let's say your video is too wide or too tall for Instagram.
Vidmore Video Converter can help you cut off the extra parts, making your video fit Instagram's size rules. This way, your video will look great and not be too big or too small when people watch it on Instagram. It ensures your videos look awesome on Instagram, so your friends and followers can enjoy them without trouble. It is like having a magic tool to make your videos Instagram-ready!
To learn how to make video size meet Instagram's standards by cropping on Vidmore Video Converter, rely on the steps provided:
Step 1. First and foremost, visit the Vidmore Video Converter's official website, and download the program. Once downloaded, install the program on your desktop by following the on-screen instructions.
Step 2. Open the program to get started. When opened, select the MV tab and click the (+) button to import your video.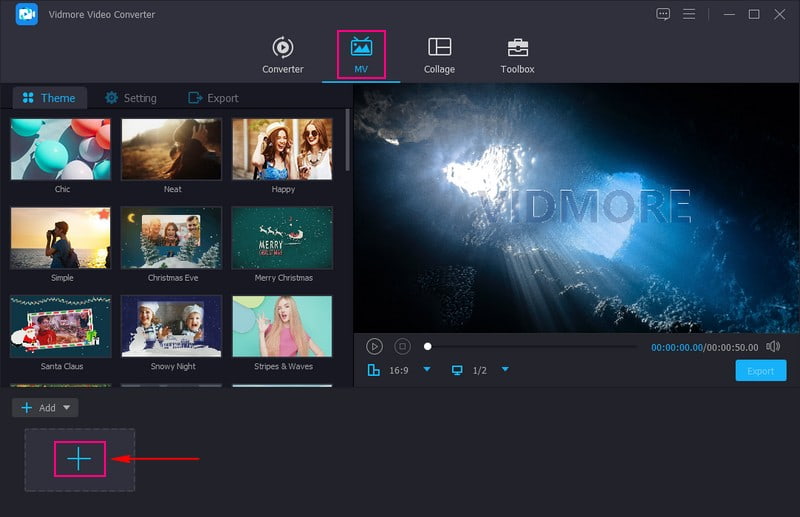 Step 3. For your video to meet Instagram standards, your video must undergo cropping. To do that, click the Edit button above your imported file, and it will direct you to the Rotate & Crop option. You can crop your video from the preview screen by dragging the border on the necessary parts. Besides that, you can set your standard size by entering the correct number on the crop area.
Moreover, click the Aspect Ratio drop-down menu, and select 9:16 from the list, which is the standard ratio of Instagram. In addition, click the Zoom Mode drop-down menu, and choose the one you prefer to appear your video on the screen. When satisfied, click the OK button to apply the changes you made.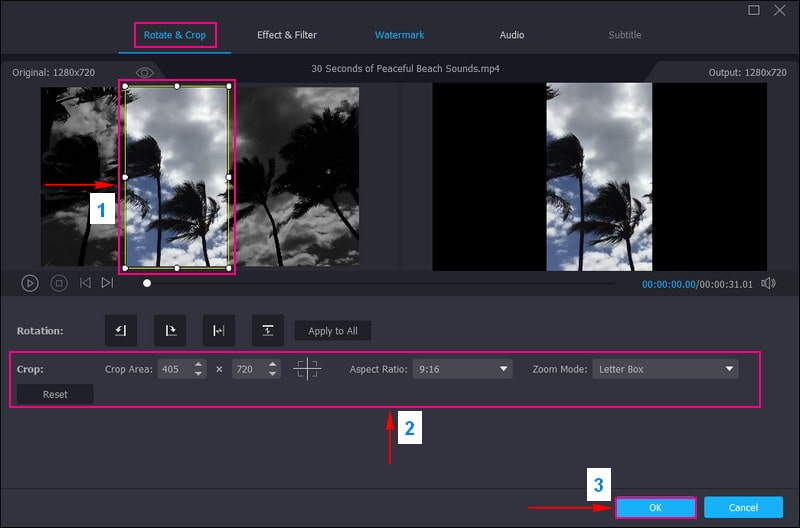 Step 4. If you want to enhance your video further, use the other editing features, like Effects & Filters, Watermark, Audio, and more.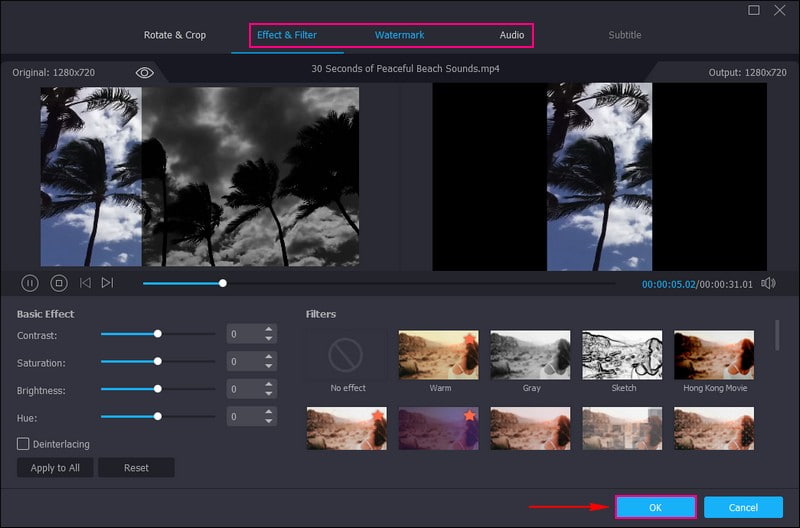 Step 5. Once done, click the Export button, and modify the Video Settings, such as Format, Frame Rate, Resolution, and Quality. Then, hit the Start Export button to save your cropped video on your local drive.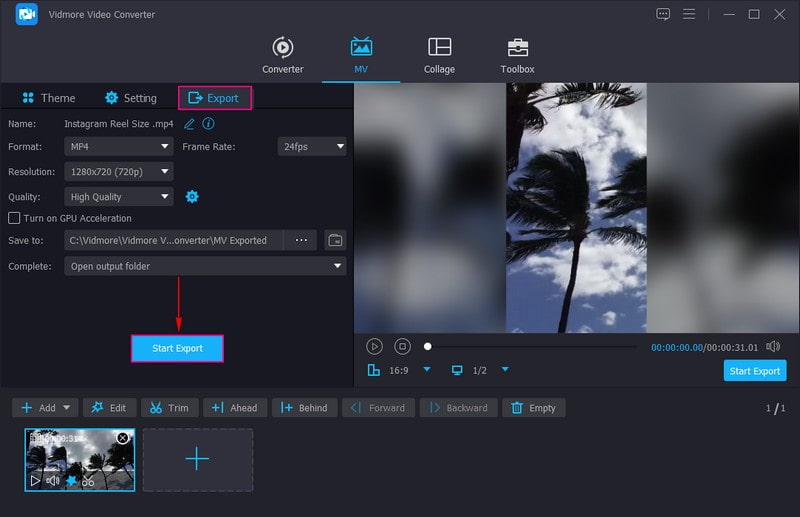 2. Vid.Fun
Vid.Fun is like a special helper for your videos. You know when you have a big picture and want to cut a bit off the sides to fit it into a frame? Well, that is exactly what Vid.Fun does for your videos on Instagram. This application helps you snip off the extra parts so your video fits perfectly. This way, when your friends or followers check out your video on Instagram, they see the whole thing without any parts missing. Vid.Fun ensures your videos are the right size for Instagram so that you can share your fun moments smoothly.
To learn how to make video size meet Instagram's standards by cropping on Vid.Fun, count on the steps presented:
Step 1. To begin with, install Vid.Fun on Play Store using your mobile device. Once done, run the program to start the process.
Step 2. On the main interface, click the Crop button from the list presented. It is below + Start Editing and beside the Cut buttons. Please select the video you want to crop to meet the video size of Instagram's standard.
Step 3. Drag the border from the preview screen and place them on parts of the frame you want to save. On the lower corner of the preview screen, you will see aspect ratios for various social media platforms. Please select the aspect ratio suitable for Instagram, which is 9:16 from the list.
Step 4. Once satisfied, hit the Export button to save your edited video. If you like, you can share your video on Instagram, Facebook, YouTube, TikTok, and Twitter.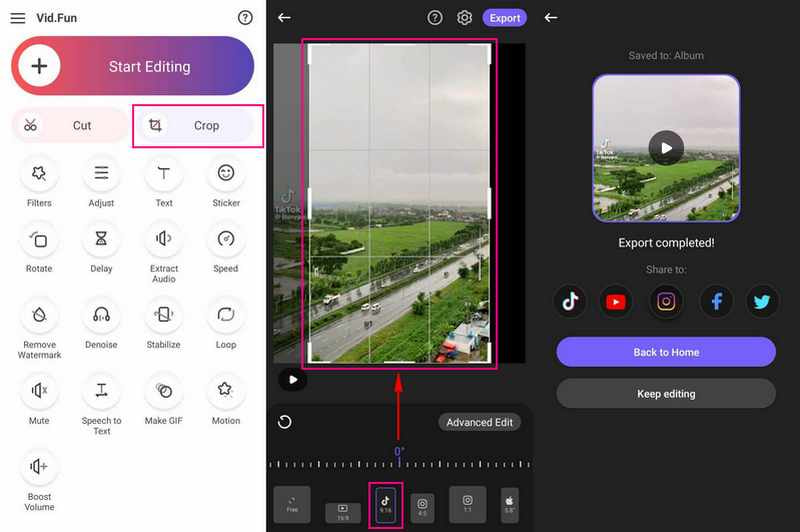 Part 4. FAQs about Instagram Reel Size
How do you post a 16:9 Reel?
Open Instagram, click the (+) button to create a new post and choose your 16:9 video from the gallery. Edit and modify the crop to fit the 16:9 ratio, add a caption and tags, and share your post.
Should I use 16:9 or 4:3 for the Instagram video?
Using 16:9 or 4:3 might cut off parts of your video or make it look odd. So, go for 9:16 to make your video look good on Instagram.
Is 16:9 best for Instagram?
No, 16:9 is not the best for Instagram. It is better to use the taller 9:16 because it fits the phone well. This way, your videos would not be cut off or look strange on Instagram.
Can I add borders to my video to fit the 9:16 aspect ratio?
You can add borders, but it might not provide the best viewing experience. It is better to modify the actual content of your video to fit the ratio.
What happens if I do not use the correct aspect ratio for Reels?
Your video might get cut off, missing parts, or not displayed on Instagram, making it less engaging for viewers.
Conclusion
Knowing the correct Instagram Reels aspect ratio ensures your video looks fantastic on smartphones and will not be cut off. So, stick to the 9:16 aspect ratio, and your Reels will be ready to shine. If you want to meet the standard size of Instagram, you can use Vidmore Video Converter to help you. It can crop your video directly on the preview screen or set up a crop area. Besides that, it offers editing features to enhance your video's appearance before uploading it on social media platforms.