What is Video Bitrate, and What is its Function?
You may have worked on a few videos before and encountered the term bitrate a few times. You might wonder what bitrate is, its function, and how it relates to video quality and overall user experience. Do not worry; there are so many readers like you who have these doubts too. In this article, we will present comprehensive information about video bitrate. In addition, we will introduce a program you can rely on to modify your video's bitrate. To learn more about this, continue reading.

Part 1. What is Bitrate in Video
This section will present necessary information regarding video bitrate. You will gain background about its function or role in the video. So, what is bitrate in the video?
Bitrate is the number of video data transferred at a specific time. It primarily affects the quality and size of the video. So, the higher the bitrate, the better quality, and the larger it will be. For streaming videos, bitrate is commonly described in megabits per second and audio in kilobits per second. Bitrate deals with the speed at which your file is being processed.
Part 2. Video Bitrate for 1080p and 4K
This part will provide the video bitrate of 1080p and 4K video resolution. The 1080p resolution is a high-definition video with 1,920 pixels horizontally and 1,080 pixels vertically. In contrast, 4K resolution is an ultra-high definition video with 3,840 horizontal pixels and 2,160 vertical pixels. How about their corresponding video bitrates?
1. SDR Uploads
| | | |
| --- | --- | --- |
| Type | Video Bitrate: Standard Frame Rate | Video Bitrate: High Frame Rate |
| 1080p | 8 Mbps | 12 Mbps |
| 2160p (4K) | 35-45 Mbps | 53-68 Mbps |
2. HDR Uploads
| | | |
| --- | --- | --- |
| Type | Video Bitrate: Standard Frame Rate | Video Bitrate: High Frame Rate |
| 1080p | 10 Mbps | 15 Mbps |
| 2160p (4K) | 44-56 Mbps | 66-85 Mbps |
The corresponding video bitrate for 1080p and 4K relies on whether it is a standard or high frame rate. In addition, you have learned that there are two sets of standards: SDR uploads and HDR uploads.
Part 3. How Does Bitrate Affect Video Quality
Video bitrate affects video quality in numerous ways. It is the key measurement of any video file size. Second, low bitrates result in poor video quality. In contrast, high bitrates result in high-video quality. Nonetheless, using an extremely high bitrate is a waste of bandwidth. To further explain, an unreasonably high bitrate can strain your desktop hardware and data bandwidth, which may lead to glitching. In particular, the maximum bitrate for 1080p for high-definition bitrate is 10,000 - 15,000 kbps.
Part 4. What is a Good Video Bitrate
This section will present the considered good bitrate for videos, depending if it is a full or regular high-definition video. So, what is a good video bitrate? Please, check out the following information.
For full high-definition videos with a standard resolution, input bitrate between 3,500 to 5,000 kbps.
For regular high-definition videos with a standard resolution, input bitrate between 2,500 to 4,000 kbps.
The input bitrate is between 4,500 to 6,000 kbps for high-resolution high-definition videos.
For regular high-definition videos with high resolution, input bitrate between 3,500 to 5,000 kbps.
Part 5. How to Adjust Video Bitrate
You have mastered the importance and function of bitrate in every video from the above information. Indeed, it determines the quality and size of your video, depending on your selected video bitrate. Therefore, you must focus on your video's outcome to make it look clearer, crisper, and more detailed on screen. With that, you must choose a program to help you pick your desired video bitrate. Did you know that Vidmore Video Converter can excellently do that for you?
Vidmore Video Converter primarily works as a converter with several built-in features, like movie and collage maker, and a section consisting of various tools. It supports numerous popular video formats, such as MP4, MOV, MKV, AVI, WMV, WEBM, MXF, M4V, ASF, MPEG, DV, VOB, and more. Besides that, it supports numerous video resolutions, which you can add to your video to appear more realistic on screen. In addition, it has a separate option where you can modify your video's bitrate. You can select whether from high-quality, standard, or customized video output. Amazing, right?
So, without further ado, learn how to adjust your video bitrate using the powerful Vidmore Video Converter:
Step 1. To begin with, download the program from the official website. After that, proceed to install the application to have complete access. When installed, launch the program to get started with your task.
Step 2. On the main interface, head to the Converter tab, and you will see a button where you can add your video file. Hit the (+) sign, which will open your desktop folder, and select the video file you want to adjust the video bitrate.
Step 3. Once your video is placed in the converting section, press the Profile icon on the right side of your imported video file. Here, you can change your video's format, resolution, and more according to your preference. After that, hit the Gear icon, which will open a new window to change your video's output.
Under the Video settings, you can select your preferred Video Quality, whether High-Quality, Standard or Customize. You can modify the Encoder, Frame Rate, Resolution, and Bitrate here. You can set your preferred bitrate or input between 3,500 and 5,000 Kbps, the standard bitrate. Once settled, press the Create New button to save the changes you made, which will be applied to your video.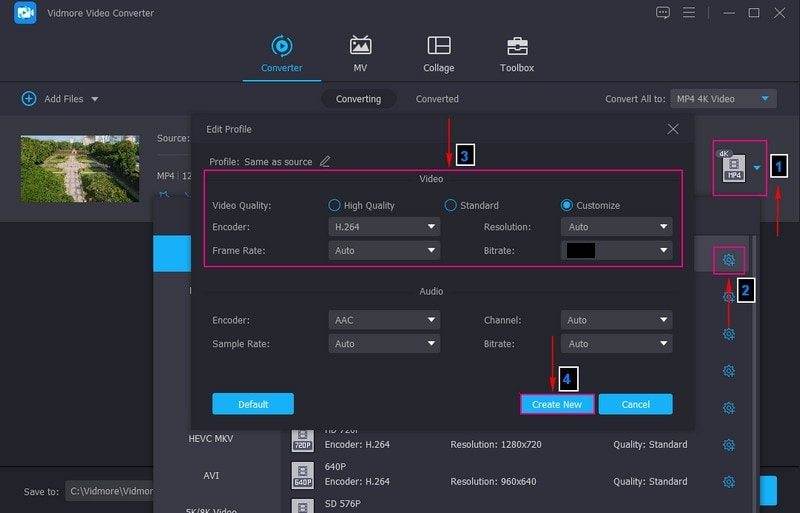 Step 4. Once done, hit the Convert All button to process your video, which will be saved on your desktop folder afterward.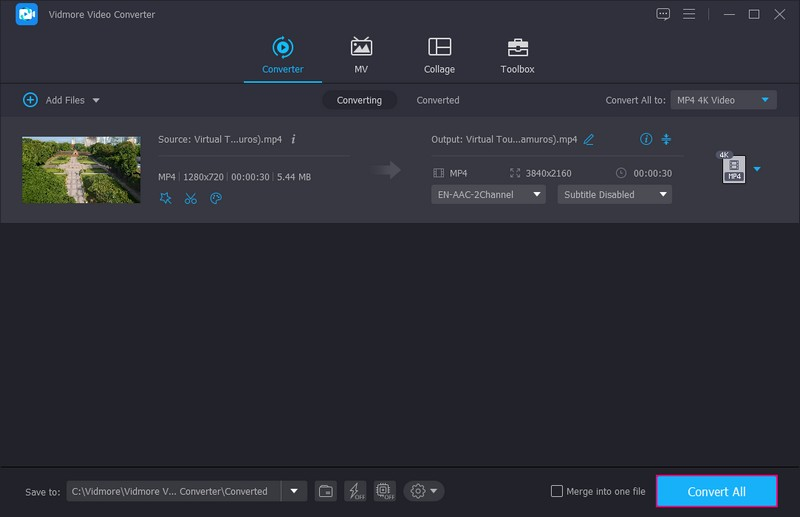 Part 6. FAQs about Video Bitrate
Is it okay to use a too-low video bitrate?
Using too-low or high bitrate can lead to poor image quality or cause too much buffering when being played. If you only have limited bandwidth, consider reducing your video's bitrate and resolution accordingly.
What is the video bitrate calculator?
The video bitrate calculator estimates how high of a bitrate you need to encode a video. This tool will tell you what you should input on your bitrate settings for encoding videos, live streaming, and more.
What is the best video bitrate for OBS?
If you prefer pixel-perfect live streams, you must set the video bitrate to 4,000 kbps. It is the optimal video bitrate for live streaming in full high definition.
Conclusion
You have learned video bitrate and how bitrate affects video quality. Ensure that you keep the above information in mind to apply the knowledge you have gained to your future video works. With that, you can produce a high-quality video that will appear more detailed on screen. In addition, you can use Vidmore Video Converter to help you accomplish your task to have the better-video quality you desire. It will not disappoint you but instead offer you a better user experience.