What is Audio Compression: Everything You Need to Konw
When you have an audio file that is too large, sending it via email or over the internet on a social media platform takes work. You cannot send your audio duet to its size; you will encounter a message saying your audio file is too big. It is a common problem for every user, whether you are a typical music listener, musician, or podcaster. Is there a way to reduce your audio file size? To answer your query, yes - there is a way to reduce audio file size, and that is through audio compression. So, what is audio compression?
This post will present comprehensive information entirely about audio compression, which can be a help for you. Besides that, it will provide an audio compressor tool that you can access to reduce your audio file size. Without further ado, continue reading to find out more about this information.

Part 1. What is Audio Compression
What is audio compression? This question is what this part will answer and provide information about.
Audio compression reduces the dynamic range of a vocal, instrument, or any audio recording. The term reduces the dynamic range, creating a difference between soft sounds at loud sounds. The soft and loud parts are now closer together in a volume, and natural volume variations will become less noticeable. After undergoing audio compression, you will hear the sound clarity of the instrument, vocal section, and part of the track. With that, it is more stable than the raw file that has not gone into compression.
But you must have at least a basic knowledge of compression settings before you undergo audio compression. It will help you maneuver these settings to get the best of your audio. Compressing audio will be easy for you when you become familiar with these controls and parameters. So, how does audio compression work?
1. The Threshold is the point where the compression will start to take effect. The part will compress if the level of decibels you set passes. But it will only compress the part if it reaches your level.
2. The Knee helps the Threshold become smoother on the transition from compressed to non-compressed. Some audio compressors provide selectable soft and hard knees, but others support one. Choose the soft knee to offer a higher compression, which works best for a less noticeable transition.
3. The Compression Ratio presents the total compression applied to the signals. The most commonly known compression ratio audio is unity with a 1:1 ratio. But you can also use a ratio, such as 2:1 for the gentle compression and 10:1 for aggressive compression.
4. The Attack time lets the compressor know how fast the compression will begin after reaching the Threshold. There are two kinds of attacks, which are slow and fast. In a fast attack, you will have a distorted sound. In contrast, the slow attack emphasizes the details of the signal, making them more aggressive and sound bolder.
5. The Release is the opposite of the Attack. It reaches the compressed state after releasing the non-compressed signal and will return to the origin. Also, it has two examples, which are slow and fast releases.
6. The Make-up Gain applies the boost you need to bring back the original signal level. With that, it will make the sound louder and make up for the loss after undergoing compression.
Part 2. Uses of Audio Compression
This part will present information about the uses of audio compression. With that, you will know the advantages of audio compression.
When you compress your audio, your audio file size will be reduced. For that reason, it will not consume much of your device's space or storage. Some social media platforms or messaging applications have a maximum file limit they can only support. And so when you compress your audio, you can send it because the platform can hold the file size of your audio. Besides that, when you undergo compression, it will maximize the potential of your audio because you can change the audio settings.
Part 3. How to Compress Audio Easily
Vidmore Video Converter is a powerful multi-format video converter capable of converting numerous formats to other formats and devices. It has a built-in movie maker rich in templates for various occasions. Its collage maker enables users to combine pictures and videos on one screen. Besides that, it has twenty-four tools in one section, which users can access for advanced editing.
One of the tools available in that section is the audio compressor, which can reduce your audio files to the proper file size you desire. It enables you to reduce the audio file size by entering a particular size, using the arrow keys, and dragging the pointer from the line bar. In addition, it permits you to select a higher number of bitrates to have a better outcome of sound quality. On top of that, this program can compress your audio in seconds and hassle-free. The straightforward process of compressing your audio using this program can help you achieve your goal - quickly.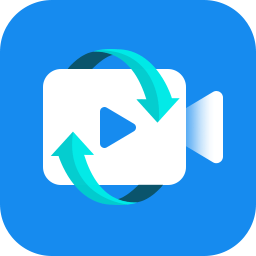 Vidmore Video Converter
Compress your audio files to the proper file size you need.
Provide numerous editing options beneficial for the audio & video editing process.
Contain a built-in converter, ready-made themes, collage makers, and more.
Support a bunch of audio and video file formats.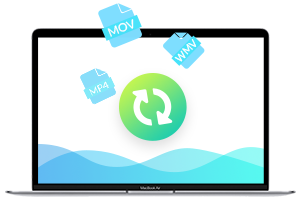 To learn how Vidmore Video Converter audio compression works, follow the steps provided.
Step 1. Download and Install Vidmore Video Converter
Visit the Vidmore Video Converter's official website using your browser. From the main interface, click Free Download and enable the following options to install the program on your desktop. After the installation process, run the program to get started.
Step 2. Select Audio Compressor
Once you open the program, you will be directed to the Toolbox tab. Here, search for Audio Compressor from the list of tools presented. It is placed third at the top next to the Video Compressor to find it quickly. This tool is your primary need to compress your audio files to your desired file size.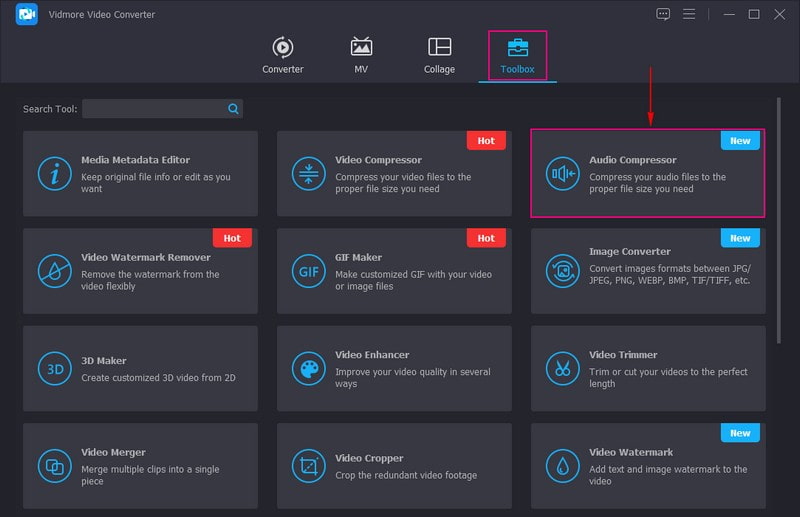 Step 3. Upload Audio to Compress
You are moved to a new window, which requires adding the audio file you want to compress using the program. Hit the (+) sign at the center part of your screen to open your desktop folder. Then, select the audio file you want to undergo the compression method.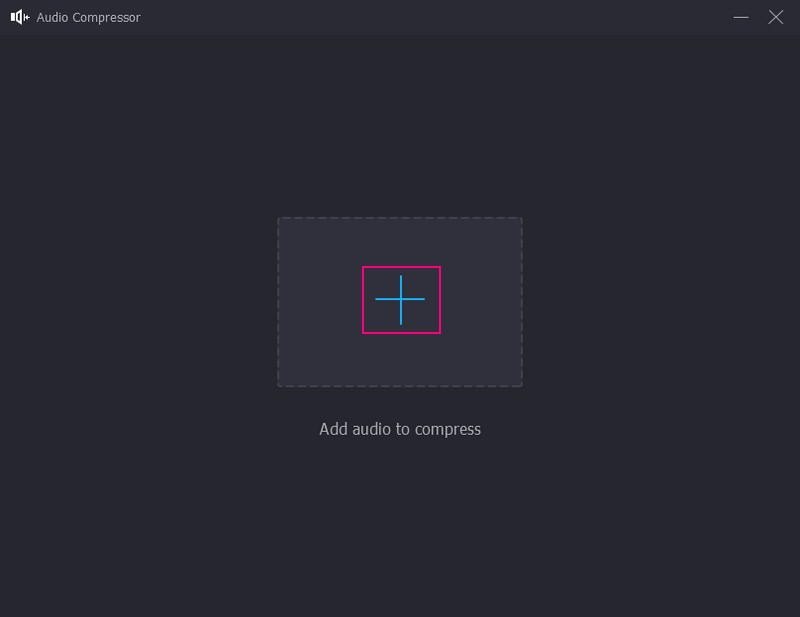 Step 4. Reduce Audio Size
You are directed to the main compression section. You will see the Name, Size, Format, Channel, Sample Rate, Bitrate, and Duration of your audio file.
Head to the Size option and reduce the audio file size based on your preference. To do that, you can enter your preferred size or use the arrow keys to decrease to reduce the file size. Besides that, you can drag the pointer and place it based on the size you want to achieve. The good thing is that you can immediately see the file size number beside the line bar.
In addition, if you want to have a better outcome of the sound, then select a higher bitrate number. Head to the Bitrate option, tap the drop-down menu list and select the KBPs you want on the list.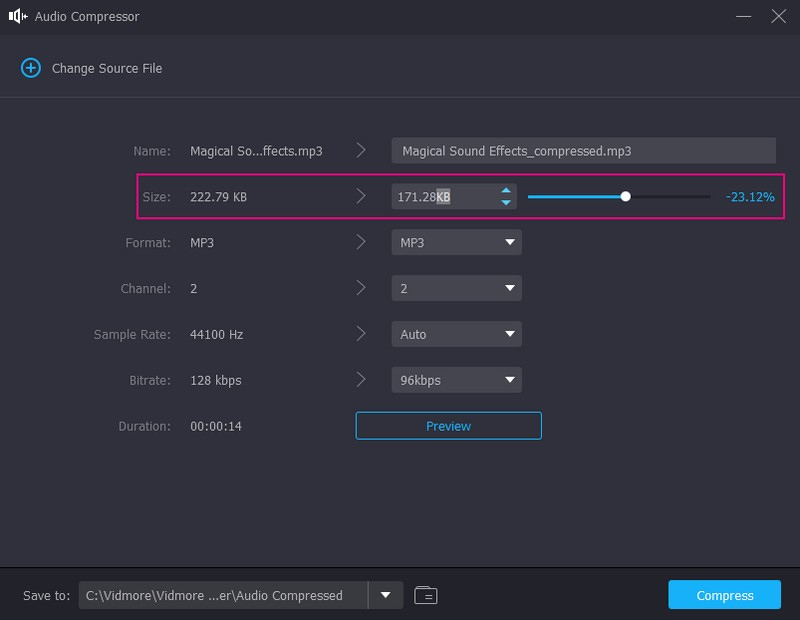 Step 5. Compress Audio File
Once you are done adjusting your audio file size, press the Compress button, and the compression procedure will begin. It will only take 1-3 seconds to compress your audio - as fast as that. After that, a folder will appear where your compressed audio output is on your screen.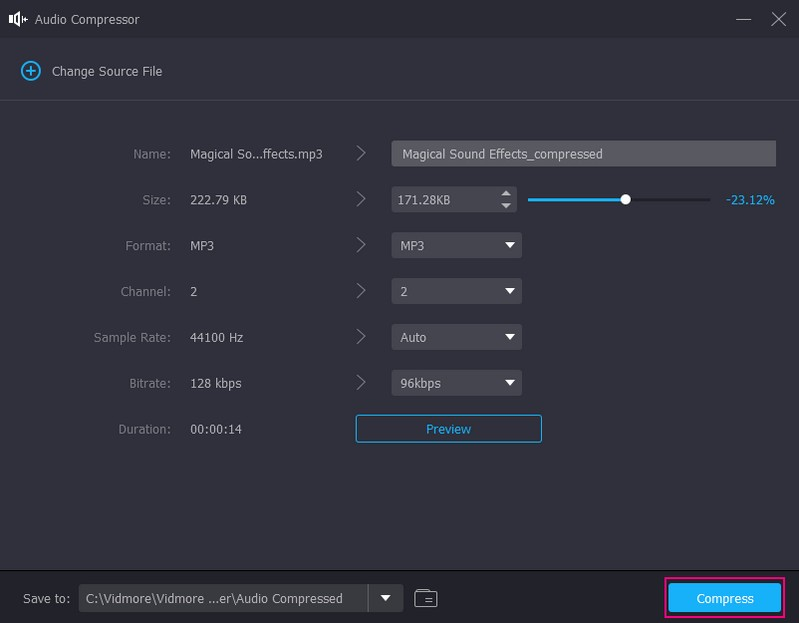 Part 4. FAQs about Audio Compression
Does compression reduce audio quality?
When you compress lossy formats with a lower audio bitrate, you will lose a good chunk of the audio file data. As a result, you will get a smaller file size, making it easier to share with messaging applications. Besides that, the compressed audio file will be easy to play or stream. However, you will lose some of the overall sound quality.
What affects the size of an audio file?
Lossless and lossy compression are the two kinds of audio compression that affect the audio file size.
What is the least compressed audio format?
The least compressed audio format is Waveform Audio File Format (WAV). It is the most commonly used lossless and uncompressed audio format by Microsoft Windows devices.
Conclusion
Thank you for making it to this part of the post. With that, you gained a broad knowledge of audio compression. Indeed, the audio compression is a massive help for different reasons, and the top reason is to reduce your audio file size. Aside from the comprehensive details about audio compression, this post also provides an audio compressor tool you can access. Vidmore Video Converter has a built-in Audio Compressor tool, allowing you to reduce the audio file size to the proper size you need. It is straightforward, and you can quickly get the compressed audio in seconds.