3 Best Media Players for GroPro Videos: Play Videos With Ease
When your demand for video shooting goes beyond air or a static state, the GoPro camera might be the first tool you think of. Using this camera, you can shoot videos underwater, in space, during extreme sports, travel vlogs, and more. However, you will need an equivalent GoPro Video player to playback and show off those videos. Do you have anything in your mind that can play GoPro videos?
This article will present GoPro Video Players that you can use to play GoPro videos accessible for various desktop devices. Proceed to the following details to check the presented video players without further ado.

Part 1. What is GoPro Video
GoPro videos are videos recorded using GoPro Cameras, which are compact, durable, and versatile. The GoPro cameras are popular among adventures, content creators, and sports enthusiasts due to their ability to capture high-quality videos. These versatile cameras capture action-packed video footage in various conditions and environments.
GoPro videos typically showcase various activities, such as outdoor adventures, extreme sports, travel vlogs, underwater exploration, and more. They capture the excitement and thrill of these experiences, providing viewers with a first-person perspective or unique angles. In addition, GoPro videos are known for their high-energy, immersive nature and the unique perspective they showcase to viewers. It makes it a popular choice for capturing thrilling moments and sharing with others.
Part 2. Best 3 GoPro Video Players
To play your GoPro videos, you need a video player that supports the file formats of GoPro videos. GoPro camera records video in two different formats; MP4 and HEVC. There are other file formats that GoPro uses, depending on the model you use. This section will present various video players, allowing you to view and play GoPro videos. Take a look at the best GoPro video players presented.
1. Vidmore Player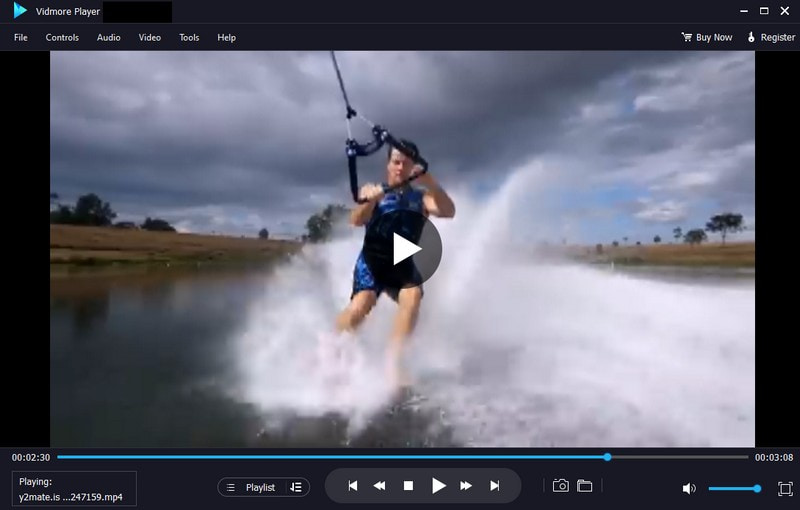 When searching for a video player, you must consider that it offers basic and advanced functionalities. With that, you are not only limited to the basic functions but instead can access advanced functions to improve your viewing experience. Did you know that Vidmore Player checks all the mentioned qualifications?
Vidmore Player is a universal media player that can play numerous audio and video formats, ISO files, DVDs, Blu-ray discs, and more. It has a separate option for customized control for the title, chapter, volume, playback, and more. Also, you can change the audio and video track and channel, add a subtitle, apply effects, and select your preferred screen size. In addition, you can take a snapshot of your favorite scene in the video, which will be saved on your desktop folder. Indeed, it is the best media player for GoPro videos that offers everything you need in a video player.
Supported Operating Systems: Mac & Windows
Pros:
It has an understandable interface where options can be easily navigated.
It provides various screen sizes.
It allows users to modify the video's basic effects.
It offers control parameters to use the video player easily and hassle-free.
It allows users to take a snapshot while the video is playing.
It offers numerous languages around the globe.
Cons:
Subscribe to the paid version to have complete access to the basic and advanced functionalities of the video player.
2. VLC Media Player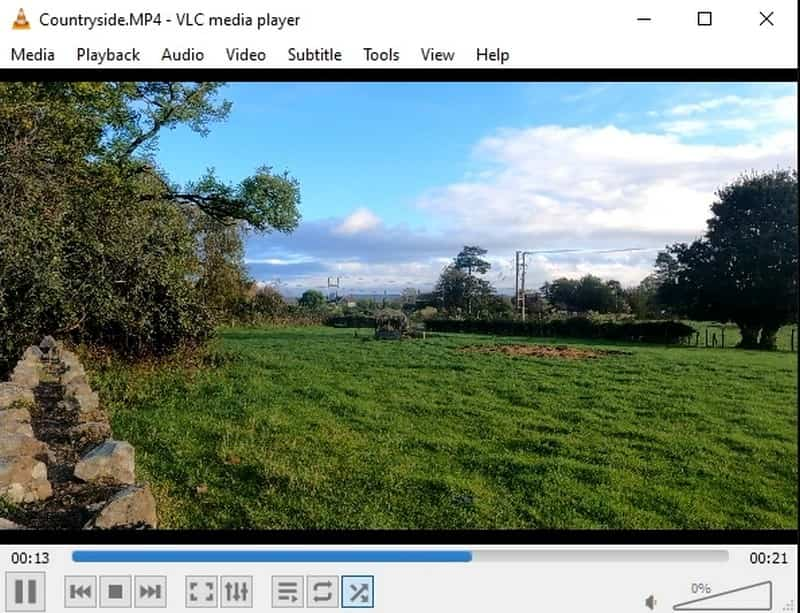 If you prefer a free and open-source cross-platform video player, you can count on VLC Media Player. This video player plays most multimedia files, DVDs, Audio CDs, VCDs, and various streaming protocols. You do not have to worry about whether your desktop can support HEVC or higher-definition files. It is because VLC Media Player supports many video formats. Therefore, you can play your GoPro videos, as the player can hold MP4 and HEVC formats.
Supported Operating Systems: Linux, Mac & Windows
Pros:
It is a free and open-source video player.
It supports numerous video file formats, including MP4 and HEVC.
It works on all platforms.
It provides audio and video stream download options.
It offers customizable conversion profiles.
Cons:
Users encounter an issue about playing GoPro videos on the video player.
3. 5KPlayer
5KPlayer is one of the best GoPro players that can open GoPro Here 8/360 video files directly on your desktop. It supports MP4 and HEVC with hardware decoding utility to boost 4K video playback performance. It lets you play GoPro or any 4K 30fps, 48fps, and 60fps in various formats without lagging, chopping, or other issues. Indeed, 5KPlayer is the best video player for GoPro 4K video that can help you easily play your GoPro videos without errors.
Supported Operating Systems: Mac & Windows
Pros:
It is free to use.
It can play GoPro videos without encountering issues.
It offers a built-in hardware speed.
It is suitable with all significant and audio formats.
It can play 8k video formats without a glitch.
Cons:
It needs to be clarified for first-time users.
Video playback stutters while using the rewind or fast button in the Mac version.
Below is the comparison table of the three abovementioned video players:
| | | | | |
| --- | --- | --- | --- | --- |
| | Usability | Price | Recommended For | Supported Inputs |
| Vidmore Player | Satisfied | It starts at $29.95 with a free trial version. | All levels of experience. | GoPro Videos, Digital Media Files, Blu-rays, DVDs, ISO files, etc. |
| VLC Media Player | Average | Free | Intermediate | GoPro Videos, MP4, MKV, etc. |
| 5K Player | Average | Free | Intermediate | GoPro Videos, HEVC, MOV, etc. |
Part 3. How to Play GoPro Videos on PC
To learn how to play GoPro videos on a PC using Vidmore Player, proceed to the step-by-step process below.
Step 1. To begin with, Download and Install Vidmore Player on your desktop. When installed, launch the video player to get started.
Step 2. Connect your GoPro camera to your desktop using a USB cable, or insert the SD card into your desktop's reader. Please turn on your GoPro camera and ensure it is in playback mode.
Step 3. In Vidmore Player, press the Open File button to open your desktop folder and select your GoPro video file.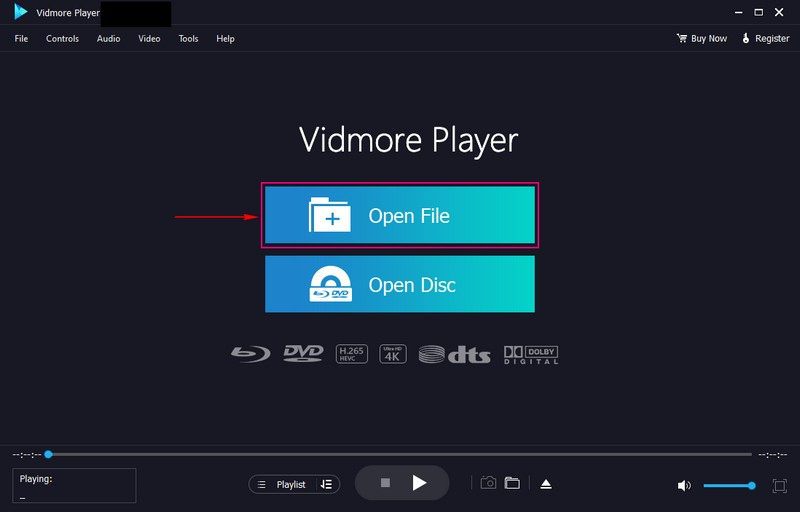 Step 4. Your GoPro video is now playing on the player window. Go to the Controls tab; you can control the menu, title, playback, volume, and chapter here. Move to the Audio tab if you want to disable or change the stereo mode to mono, left and right, and reverse stereo. Head to the Video tab to select your preferred screen mode, like normal size, full screen, half size, and more.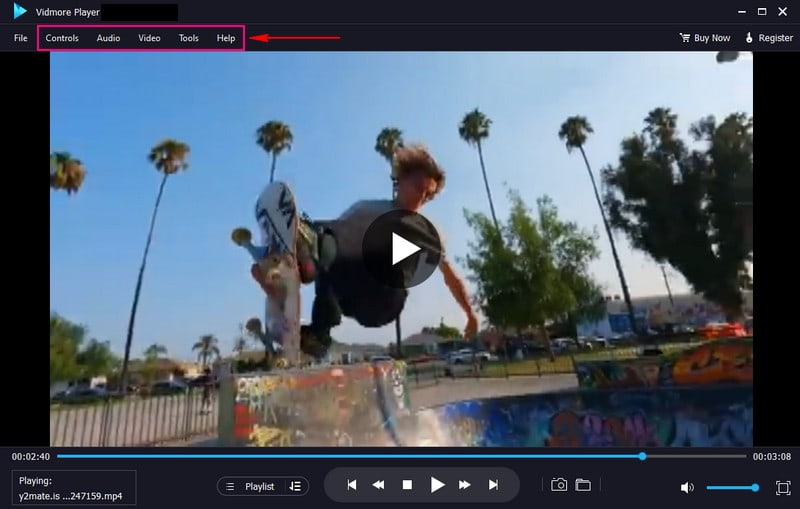 Step 5. You can use the playing buttons under the player window to control the playing video, like play, stop, or fast forward.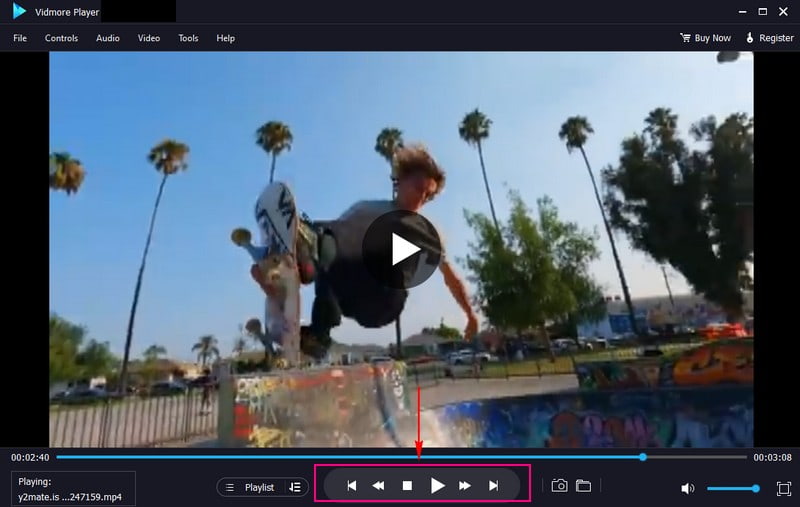 Part 4. FAQs about GoPro Video Player
Why my GoPro videos won't play on my computer?
You cannot play your GoPro videos on your computer because it could result from a faulty SD card reader, port, or cable.
Is GoPro can record audio?
Yes, GoPro has a built-in microphone that works just fine with casual use, allowing anyone to record video with sound.
Why can't I play GoPro videos?
You must check if you are playing a video directly from the GoPro camera's SD card. If so, copy your video from the SD card to the hard drive and try again.
Can you transfer GoPro files via USB?
If you do not have an SD card reader, you can use the USB cable provided with your GoPro to import video. Ensure that your GoPro is turned on, and then plug the cable into your GoPro and computer USB port.
Why can't I view GoPro files?
You cannot view your GoPro files because it is recorded in a resolution that is too high for your mobile device.
Conclusion
This article presented necessary information about GoPro videos, which are videos captured by GoPro cameras. In addition, this article taught you how to play GoPro Videos on a PC using Vidmore Player. Undoubtedly, Vidmore Player can play GoPro videos with ease without encountering problems. Besides that, it can play your GoPro videos and offers advanced functionalities beneficial for a better viewing experience.