4 Leading HEVC Video Players for All Platforms [100% Workable]
We have witnessed advancements in video playback technology with the growing popularity of videos. A video codec is one of the advancements that offer a smooth viewing experience. High-Efficiency Video Coding, or HEVC, is a specialized video compression standard. It is a part of the MPEG-H project and the successor to the widely used advanced video coding. With the rise of high-definition and ultra-high-definition video, HEVC comes in.
This post will provide comprehensive details about the format and various HEVC video players you can use. Without further ado, please go check them out.

Part 1. What is HEVC
High-Efficiency Video Coding, or HEVC, is an advanced and efficient codec suitable for streaming 4K/8K video. It is designed to offer better video quality at lower bitrates than AVC, the predecessor. The compression is 50% more structured than AVC, maintaining half or double the video quality at the same bitrate. The idea of HEVC is to provide the same level or rate of image quality as AVC but with better compression.
HEVC offers the same video quality as H.264 at a smaller file size or higher video quality at the same file size. It can encode and decode videos in resolutions up to 8K, making it suitable for high-resolution screen displays. It performs better than H.264 regarding high motion, fast action, or complex visual content. Besides that, it can retain more information and reduce noticeable distortion in the video quality, resulting in a better viewing experience.
HEVC is widely used in several applications, including video streaming services, mobile devices, video conferencing, and broadcasting. However, the level of support may vary depending on the specific program or device version.
Part 2. HEVC Video Player for Computer
1. Vidmore Player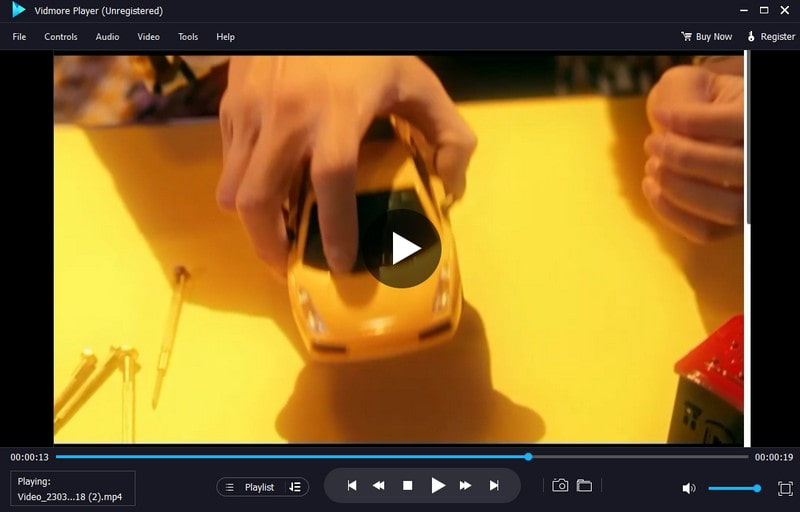 The leading H265/HEVC video player on desktops that can play HEVC is Vidmore Player. This video player is an all-around media player that can play Blu-Ray movies, audio and video formats, DVD discs, folders, and ISO files.
Vidmore Player enables you to control the video you are playing. You can change the viewing screen to full screen, normal size, half size, double size, fit to screen, and more. You can modify the audio and video tracks, effects, channel, subtitles, etc. In addition, you can take control of the menu, title, chapter, volume, and playback when playing video. On top of that, it provides perfect sound processing and high-quality image playback. You can adjust the image effects, like brightness, hue, contrast, saturation, and gamma. Did you know you can take a screenshot while playing the video? Because this video player has a snapshot option, where you can take a picture of anything on your screen.
This video player undeniably offers a broad range of multimedia playback options for extraordinary playback performance. So, what are you waiting for? Feel free to install the program on your device.
Pros:
It supports numerous video file formats and can play HEVC format.
It is compatible with Mac and Windows PC.
It allows users to take a screenshot and adjust image effects.
It allows the users to play the video using different video screens.
Cons:
Avail of the paid version to have complete access to the software.
2. VLC Media Player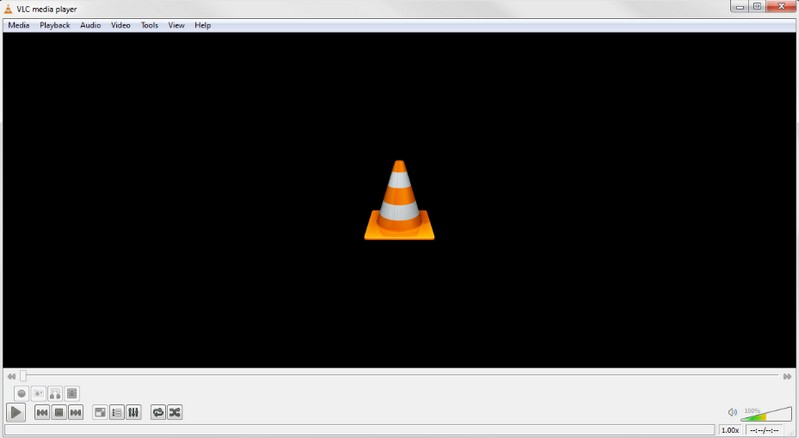 VLC Media Player might be familiar to you, knowing it is a worldwide media player on almost all platforms. This program supports various video formats, including HEVC, and is one the best HEVC video player for Windows 11 and more. However, the old program version cannot play the format, so users are required to download a specific x265. It is a free program library for encoding video streams into the H.265/MPEG-H HEVC compression format. Therefore, users must update the VLC Media Player to the latest version to play the video without experiencing an issue.
Pros:
It can play free media files, discs, and streams on multiplatform.
It supports numerous video file formats, including HEVC.
It can convert audio, video, sync subtitles, and more.
The media loading speed is fast.
Cons
It needs to download codecs for some audio and video formats.
The older version of the program cannot play in HEVC format.
Part 3. HEVC Video Player for Android and iPhone
1. MX Player Pro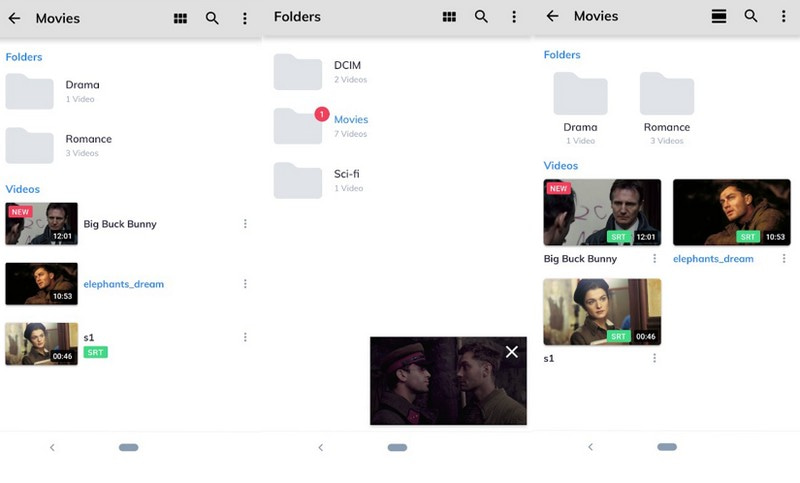 Another famous HEVC player which you can use to play HEVC videos on your Android is MX Player Pro. It is a good video player that supports HEVC video formats. This application is lightweight but still holds heavy video formats without any issues. It supports multi-core decoding, improving the application's performance when playing different videos. If you are looking for a high-efficiency video player, MX Player is a solid option.
Pros:
It has hardware acceleration and supports multi-support decoding.
It supports the maximum types of video files.
It provides all kinds of customization for users.
Cons:
It has a banner ad that distracts users from using it.
It requires users to avail of the paid version for a free-ads application.
2. HD Player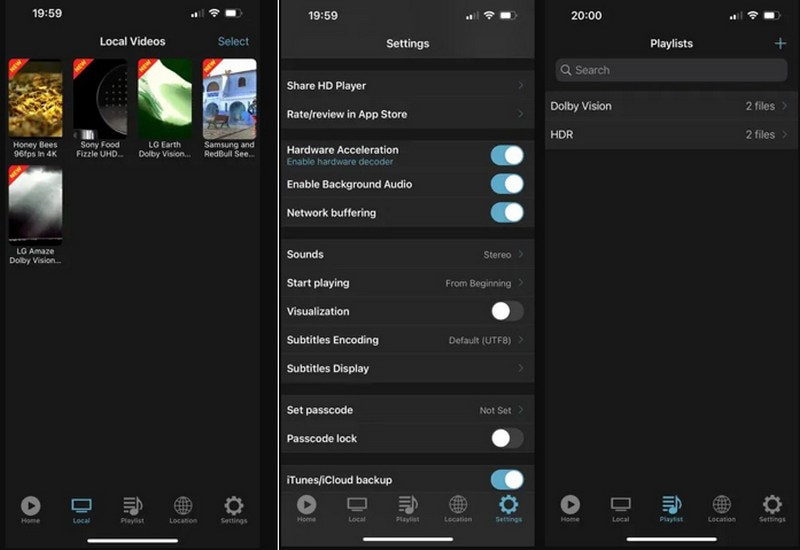 You can rely on HD Player if you prefer a video player that supports most audio and video codecs. This application supports Dolby Vision videos, HDR10+ videos, and a hardware-accelerated HEVC decoder. It supports many playing modes, such as standard, repeat, and shuffle. With that, you can choose what kind of playing mode you want to play videos. In addition, it is supported by muti-core decoding, offering a satisfactory viewing experience. On top of that, it can play the HEVC video format because the video player can hold heavy formats.
Pros:
It can protect your videos with a passcode.
It can start playing from the beginning, or where you stop playing.
Users can manage their videos by creating a playlist.
Cons:
A lot of ads pop up on the screen.
Avail of the paid version to unlock the other features.
Part 4. FAQs about HEVC
Is HEVC a good quality?
HEVC offers better video compression and quality because it is developed to display high-resolution ultra-high-definition videos at a lower bit rate.
What is the HEVC quality level?
HEVC quality is divided into two, which are Main and High. These two tiers are designed to deal with applications that differ in their maximum bitrate.
What browsers play HEVC?
Browsers that can play HEVC are Google Chrome, Safari, Opera, Internet Explorer, Firefox, and Edge.
Can YouTube read HEVC?
Fortunately, Yes! Youtube now accepts HEVC video uploading, allowing users to upload videos encoded with HEVC codec to Youtube.
Why does Chrome not support HEVC?
Chrome does not support HEVC file extension because it involves an extensive licensing process. After all, HEVC is not an open-standard free codec; only those program or devices with a license has access to decode the format.
Conclusion
There you have it! You have learned what are the video players with HEVC codec from the abovementioned parts. This post introduced video players that can play HEVC formats that you can access on computer and mobile devices. But if you want the best HEVC video player, count on Vidmore Player. Its excellent functions allow you to control video playing and take a screenshot. Try it now!