MPV Player Review: Find Out the Key Features & Shortcuts
You can consider a media player the best when it is lightweight, resource-friendly, and provides several functionalities. One of the top-notch media players that checks all the mentioned qualifications is MPV Player. This program offers a high-quality audio and video output and many features that you can use beneficial for a better viewing experience.
This post will provide comprehensive information about the media player. It will present the MPV Player, the installation process, shortcuts, and how to use them. Besides that, it will introduce an alternative tool you can also use. Without further ado, proceed to the following details.

Part 1. What is MPV Player
MPV Player is known for its simplicity, broad range of supported multimedia formats, and high performance. It is available for various operating systems, including Linux, Mac, and Windows. This media player provides a minimalist and lightweight interface, focusing on offering an efficient and smooth playback experience. It supports audio and video formats, including popular ones like MP4, MP3, AVI, MKV, and FLAC. Let us dig deeper into its key features!
Customizable User-Interface
MPV Player allows you to configure and customize the player's interface based on your preferences. It contains options to modify the appearance, keybindings, and layout.
Advanced Playback Controls
This media player offers essential playback options: play, stop, pause, seek, and volume adjustment. Besides that, it provides keyboard shortcuts for convenient control.
Subtitle Support
MPV Player subtitles function supports various formats and offers options for customization, such as font size, style, and synchronization.
Video Filters and Settings
This player provides plenty of video filters and settings to improve the viewing experience. You can modify the video's brightness, saturation, and contrast and incorporate various filters, like deinterlacing, sharpening, and more.
External Codec Support
It can utilize external codecs and plugins to expand its compatibility with additional audio and video formats and enhance its functionality.
Part 2. MPV Player Shortcuts
Are you finding the keyboard shortcuts for MPV? If yes, count on this section. It will present the MPV Player shortcuts to help you control the media player using your keyboard. Without further discussion, go check out the following details.
| | |
| --- | --- |
| Keyboard Shortcuts | Menu Description |
| P | Pause/Playback |
| F | Full-Screen |
| M | Mute |
| V | Toggle subtitles |
| S | Take a screenshot |
| Shift + S | Take a screenshot without subtitles |
| CTRL + S | Take a scaled screenshot with subtitles and an on-screen display |
| ALT + S | Take a screenshot of every frame |
| Q | Used to quit and save your current position |
| O | Showcase progress |
| Shift + O | Toggle show progress |
| Shift + T | Toggle the video window on top |
Part 3. How to Install MPV Player
You must first install the program on your desktop to access the media player. To learn how to install MPV Player, look at the steps below!
Step 1. Visit the MPV Player's official page to download the installer on your device.
Step 2. Select the appropriate version of the media player for your device. If unsure, you can check your system type by right-clicking This PC or My Computer and selecting Properties.
Step 3. Click on the download link for the preferred version. The installer file will begin downloading. Once done, locate the downloaded file and run it. Follow the on-screen instructions in the installer; you can select the installation directory and choose additional options if provided.
Step 4. After completing the installation, MPV Player is ready to use.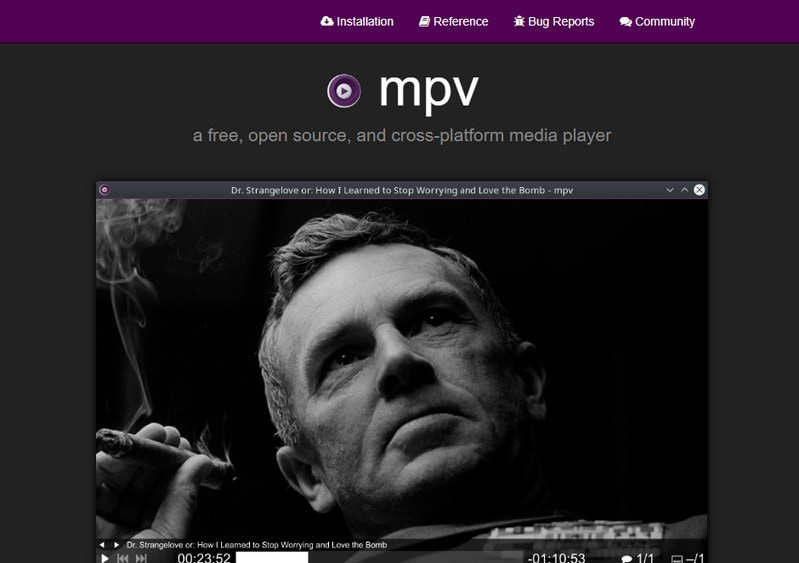 Part 4. How to Use MPV Player
This section will provide an instructional guide to learning how to use MPV Player using shortcuts to control video playback. With that, you can apply the abovementioned shortcuts to help you quickly control the media player.
Step 1. To begin with, open MPV Player using your desktop device. Once opened, head to the File menu and choose Open File or press O on your keyboard. Afterward, it will open your desktop folder and select the video you want to play. Alternatively, you can add your file to the player window using the drag-and-drop method.
Step 2. If your video has subtitles, this media player will automatically detect and display them on the screen. Ensure that the subtitle file has the same name as the video file and can be found in the same folder.
Press V to toggle subtitle visibility. If synchronization is needed, use the J and K keys to modify the subtitle delay.
Step 3. To control your viewing experience, these are the following shortcuts you can apply:
Use the spacebar to resume or pause playback. Use the left and arrow keys to move forward or backward in the video. Use the up and down arrow keys to modify the volume. Press M to mute or unmute the video. Use the F key to enable full-screen mode.
Press A to cycle through available audio tracks, and press B to cycle through available video tracks. Use the R key to rotate the video clockwise by 90 degrees. Press T to toggle the aspect ratio between the original and window size.
Note: MPV Player is highly customizable, allowing you to modify its performance, appearance, and controls by editing configuration files.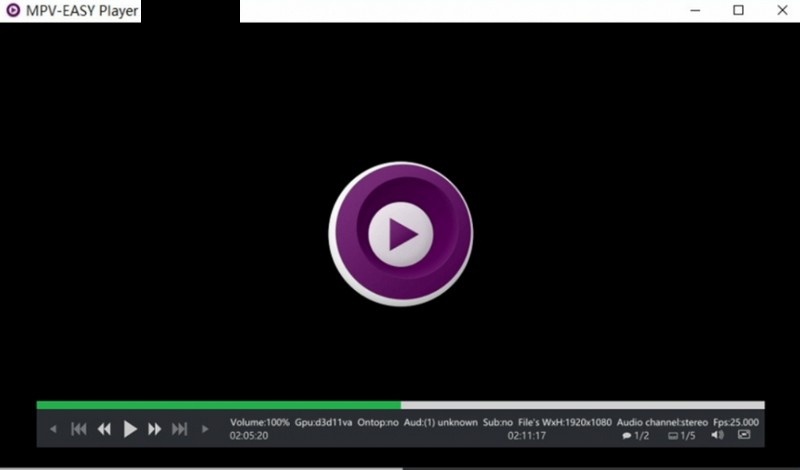 Part 5. MPV Player Alternative
Nothing is better than a media player playing any Blu-ray or DVD, folder and ISO files, and multimedia formats losslessly. Did you know that Vidmore Player supports all these physical media and multimedia files? It is an all-around media player that supports Blu-ray types, such as BD-XL, BD-R, BD-RE, BD-50, BD-25, and more. It can hold DVD types, such as DVD-ROM, DVD-R, DVD+R, DVD-RW, DVD+RW, DVD-RAM, and more. It supports video formats like MP4, M4V, VOB, MPG, MTS, M2TS, WMV, ASF, etc. Besides that, it supports audio formats like MP3, OGG, WMA, WAV, FLAC, M4A, AAC, AIFF, etc.
Vidmore Player provides a range of flexible multimedia playback functions to accomplish extraordinary playback performance. You can take control of audio and video tracks, audio channels, subtitles, and screen size and modify the video effects. In addition, it has a snapshot function, allowing you to take a screenshot of the video you are playing. Afterward, it will be saved in your local folder. This media player guarantees smooth playback of your Blu-ray, DVD, 4K, or common videos without experiencing lagging. It will offer you a satisfactory level of enjoyment and viewing experience.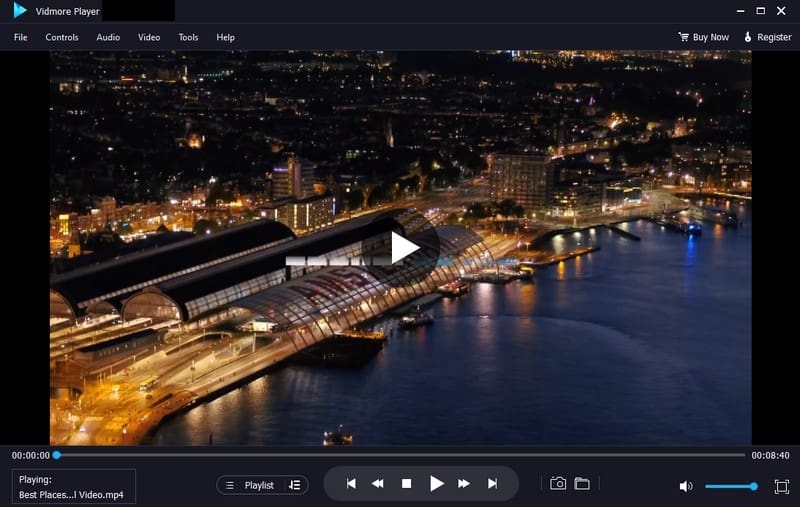 Part 6. FAQs about MPV Player Review
How to change MPV Player settings?
Head to the folder where your mpv. EXE is located. Please make a new folder in it, name it portable_config, and place the file inside the created folder. It is where mpv will read your settings from.
Can MPV Player play DVDs or Blu-ray discs?
MPV Player does not include DVD or Blu-ray playback. However, it can be extended using external libraries or plugins to enable DVD or Blu-ray playback functionality.
Can MPV Player be used for streaming videos online?
Unfortunately, MPV Player does not have native support for streaming videos online. But it is possible to stream videos by providing the streaming URL to MPV Player through the command-line interface.
Does MPV Player support hardware acceleration?
MPV Player uses hardware acceleration capabilities to ensure smooth playback of high-resolution videos.
Is MPV Player lightweight and resource-friendly?
Yes! MPV Player is known for its lightweight nature and efficient resource usage. It is designed to offer high-performance playback even for lower-end systems.
Conclusion
This article presented an MPV Player Review that can help you learn the background of the media player you might need. MPV Media Player is the best in many aspects. Despite its simplicity and freeware software, it still provides numerous features and functions beneficial for many users. Besides that, you have learned the alternative media player you can use, the Vidmore Player. Do not hesitate to download and install the program for complete access and enjoy its unique functionalities!