Various Methods to Play Videos on a Car Screen You Can Rely On
A car screen is an electronic display that offers drivers and passengers various information and entertainment features. One of the entertainment features that it can offer is that it can play videos.
Are you wondering how to play video on a car screen? If so, we got your back. This post will provide comprehensive information beneficial for you. It will discuss some preparations you need to make before playing videos and what kinds of videos can be played on the car screen. Also, it will present ways to play videos on the car screen, which includes conversion if your video file is not supported.

Part 1. Preparations Before Playing Videos on Car Screen
Before playing videos on a car screen, there are numerous preparations you should consider. The preparations included are car compatibility, supported media formats, supported video resolution, and understanding your screen car compatibilities. Here is the breakdown of each aspect:
Car Compatibility
Not all car screens support video playback, so checking whether your car's infotainment or multimedia system has video playback capabilities is necessary. This information can typically be found in the car's user manual or by contacting the manufacturer.
Supported Media Formats
Car screens usually support common popular media formats for video playback. It commonly supports formats like MP4, MKV, WMV, and AVI. However, the supported formats can be varied depending on the car model and multimedia system.
Supported Video Resolution
Car screens have various screen resolutions; knowing the supported video resolution is essential to ensure clearer playback. The common resolutions include 480p (Standard Definition), 720p (High Definition), and 1080p (Full High Definition). But some high-end car screens may even support higher resolutions like 2K or 4K.
Understanding Your Car Screen
Familiarize yourself with the controls and features of your car screen. Learn how to access the media interface, navigate playlists or folders, change playback settings, and connect external devices. Some car screens may have additional features like touchscreens, wireless connectivity, or support for external media devices like DVD players or game consoles.
Part 2. What Kind of Videos Can Be Played on a Car Screen
A car screen can typically play various types of videos, such as recorded videos, downloaded or transferred videos, music videos, and more. Besides that, it can play movies saved on DVDs/Blu-ray discs, TV shows, and even videos from streaming services. Here is the introduction to each type:
Videos
1. Recorded Videos
These videos are typically saved in a compatible format, like MP4 or AVI, and can be transferred to an SD card or USB drive for playback on the car screen.
2. Downloaded or Transferred Videos
These are videos you have downloaded from the internet or transferred from another device onto an SD card, USB drive, or external hard drive. They include movies, TV shows, or video content you legally require. Ensure that these videos are saved in a compatible format and resolution supported by your car screen.
3. Music Videos
It combines audio and video elements to improve the music-listening experience. You can download music videos from various platforms and play them on your car screen. Like other videos, ensure the music video files are compatible with your car screen's resolution.
Movies
1. Downloaded Movies
These videos are commonly downloaded from online sources. A car screen typically plays downloaded videos, provided they are in a compatible format and resolution. There are several aspects to consider when it comes to downloaded movies, including video format, resolution, audio format, and subtitles. To play downloaded movies on your car screen, you must follow resources, such as movie files, storage medium, SD/USB card slot, and file navigation.
2. Movies Saved on DVDs/Blu-ray Discs
If your car has a built-in DVD-Blu-ray player, you can play movies saved on these physical media formats. DVDs commonly have lower video resolution than Blu-ray discs, but they can still offer an enjoyable viewing experience in the car. Ensure your car has the essential disc drive and supports the specific disc format (DVD or Blu-ray).
TV Shows
You can play on your car screen with TV shows saved on storage devices like USB or external hard drives. TV shows are commonly divided into episodes; you can organize them in playlists for easy navigation. Ensure that the video format and resolution of the TV show episodes are compatible with your car screen.
Streaming Services
Some car screens offer built-in applications that can be accessed for streaming services. It lets you access popular video platforms on your car screen, like Netflix, Amazon Prime Video, Youtube, or Huli. Streaming services require an internet connection; you may need a specific service to access the content.
Part 3. Common Ways to Play Videos on Car Screen
Stream Videos from a Mobile Device to a Car Screen
You can use various methods to stream videos from a mobile device to a car screen. Here are some popular methods to achieve this:
1. Mobile Device Connectivity
Most modern car screen supports connectivity options, such as Bluetooth, USB, or auxiliary ports. You can connect your smartphone to the car screen using one of these methods and play videos directly from your drive. Here's how to play video on a car screen from a mobile device:
◆ Bluetooth
Pair your mobile device with the car's Bluetooth system. When connected, you can use the media controls on the car's interface to play videos stored on your device. Note that Bluetooth may have limitations on video resolution and quality.
◆ USB Connection
Connect your mobile device to the car screen using a USB cable. Some car screens support USB media playback, enabling you to navigate your device's file system and play videos directly.
◆ Auxiliary Input
If your car screen has an auxiliary input, you can use compatible audio to connect your smartphone's headphone jack to the car's auxiliary port. This method will only transmit audio, so you may need to use your mobile device's screen to play the video.
2. Mobile Device Mirroring
Another method is to mirror your mobile device's screen onto the car screen, enabling you to stream videos or content directly. This method requires specific features or applications and may not be available on all car screens. Here are two common mirroring methods:
◆ Wireless Screen Mirroring
Some car screen supports wireless screen mirroring technology, such as Apple CarPlay for iPhones and Android Auto for Android. These technologies enable you to wirelessly mirror your mobile device's screen onto the car screen, including video playback. Check if your car screen supports these technologies and follow the respective setup instructions.
◆ Wired Screen Mirroring
You can use wired connections like MHL and HDMI if your car screen does not support wireless mirroring. It requires an MHL or HDMI capable and an available MHL or HDMI input on your car screen. You can mirror your mobile device's screen and play videos directly when connected.
3. Mobile Device Streaming Applications
Some car screens have built-in applications that support streaming services. You can install streaming applications like Netflix, Youtube, or Hulu on your mobile device. Then, stream videos directly from those applications on your screen. This method requires an active internet connection; you may need to sign in to your streaming service accounts.
Play Videos via USB
To play movies via USB on a car screen, you must ensure that the movies are in a compatible format. If not in a proper format, you need your movie file to undergo a conversion process and pick a supported format. With that, consider using Vidmore Video Converter to help you convert your movie file to another format.
Vidmore Video Converter primarily works as a converter infused with plenty of built-in features. This program supports numerous formats, including commonly supported formats of car screens, like MP4, MKV, WMV, and AVI. For that reason, you can convert your unsupported movie file format to a car screen's supported one. Besides conversion, you can enhance the quality of your movie to make it clearer and more realistic on screen.
Are you ready to do all these? If yes, learn how to play video on a car screen from USB below:
Step 1. Download and Install Vidmore Video Converter on your desktop and proceed to launch it.
Step 2. Head to the Converter tab and click the Add File button to import the movie file you wish to convert.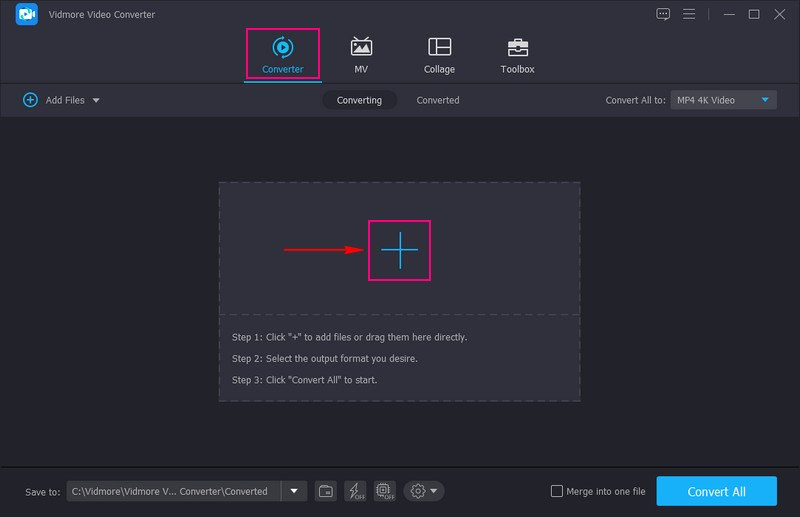 Step 3. Go to the Profile Menu on the right corner of the imported file and select an output format compatible with your car screen. You can pick MP3, MKV, WMV, and AVI, as they are the common car screen's supported formats.
Optionally, based on your car screen's specifications, you can customize the output settings, such as resolution, bitrate, frame rate, and audio parameters. You can do this by hitting the Settings button.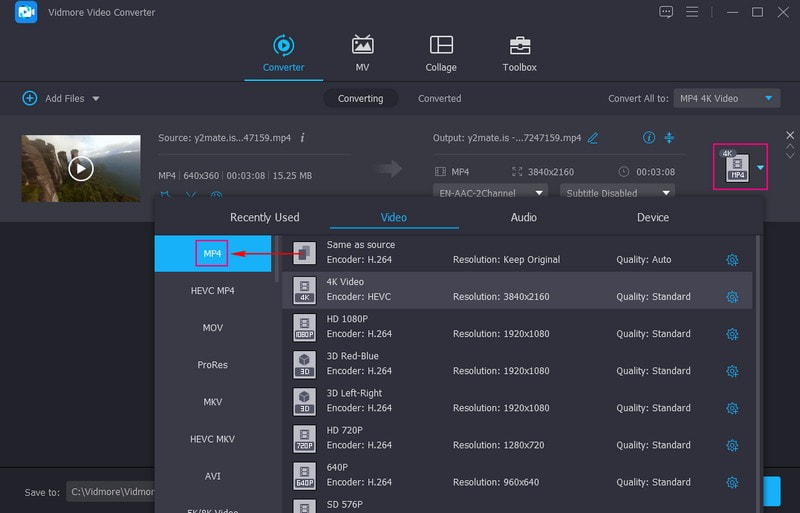 Step 4. Once settled, press the Convert button to begin the conversion process. Wait until the conversion is completed.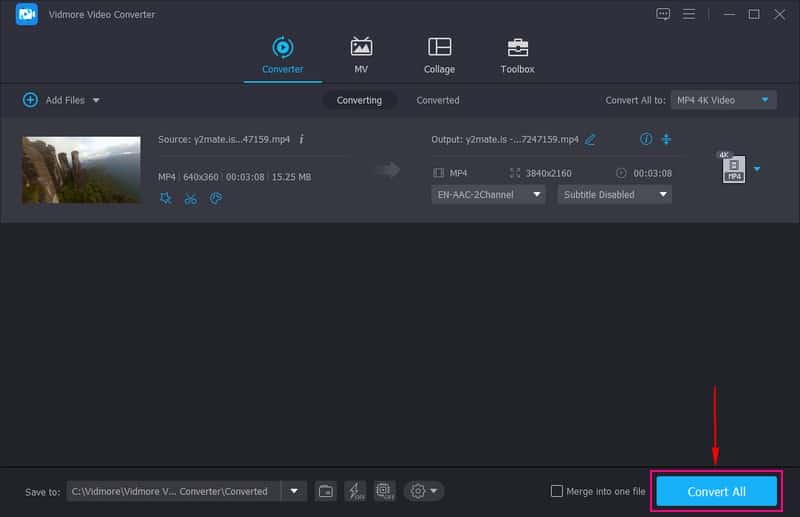 Step 5. Connect your USB drive to your desktop when the video conversion is done. Copy or drag the converted movie file from the Vidmore Video Converter output folder and paste them into the USB drive.
Insert the USB drive into the USB port of your car screen. Then, use the car screen's interface to navigate through the USB drive and locate the movie file. You must access the media interface or source menu and pick the USB drive as the playback source. From there, you should be able to browse through folders and select your desired movie to play.
TV Channel
Playing TV channels on a car screen requires a dedicated TV receiver or tuner and a compatible car multimedia system. Here is the general outline of the steps involved:
Step 1. Install a TV Receiver or Tuner compatible with your car model and multimedia system.
Step 2. Connect an external TV antenna to the TV receiver or tuner. Ensure that the antenna is placed in a location that can receive TV signals effectively, like on the car roof or near the window.
Step 3. Set up the TV receiver or tuner based on the specific instructions, which involves scanning for available TV channels in your area.
Step 4. Connect the TV receiver or tuner to your car's multimedia system. It involves using AV, HDMI, or other audio and video connections.
Step 5. When the TV receiver or tuner is connected correctly, use your car's multimedia interface to access the TV feature. From there, you should be able to browse and select available TV channels and watch when on your car screen.
Portable DVD Player
To play a portable DVD player on a car screen, you must connect the DVD player to the car screen using audio and video connections. Here's how:
Step 1. Place the portable DVD player in a convenient location within the car.
Step 2. Ensure the portable DVD player is powered by its built-in battery or by connecting it to a power outlet in the car.
Step 3. Connect the portable DVD player using audio and video cables to the car screen. The commonly used connections are composite audio and video and HDMI.
Step 4. On the car screen, pick the input source that corresponds to the connection you made in the previous step.
Step 5. Insert a DVD into the portable DVD player and use its controls to play it. The video and audio will be transmitted to the car screen, enabling you to watch the DVD on the larger display.
Part 4. FAQs about Playing Video on Car Screen
What if the video format is not supported by my car?
If your car does not support the video format, you must convert the video file to a compatible format that your car can play.
How to use Apple CarPlay to watch movies?
First, Install AnyDesk on your iPhone and CarPlay from the App Store. Then, connect the two devices to the same Wi-Fi connection. When the application is on both devices, click Settings, then Screen Sharing, and turn to goggle in. Head to your CarPlay, click Remote Desk in AnyDesk, and then enter the ID of your iPhone in the Remote ID field and click Connect. Finally, click Allow and start screen-sharing and watch movies.
How to play Youtube videos on the car screen?
For wireless screen mirroring, ensure your mobile device and car screen are connected to the same Wi-Fi network. Enable screen mirroring on your mobile device and access the screen mirroring option on your car screen. When connected, open Youtube on your mobile device and play videos, which will be mirrored on the car screen.
How to play video on CarPlay?
You must ensure CarPlay compatibility, connect your iPhone, and then access the CarPlay interface. On the CarPlay interface, you will see a collection of compatible applications. Look for a video application like Apple TV, Youtube, or Netflix. Browse and select a video, and proceed to play it.
How to play video on a car screen while driving?
Use Android Auto, which is the simplest method to play video from any Android phone to the car screen.
Conclusion
Finally! You have learned how to play and watch movies in the car using a car screen. This post provided comprehensive information regarding playing videos on car screens. Whatever you prefer to use, you can rely on the abovementioned methods. If the car screen's supported format does not support your movie file, you can use Vidmore Video Converter to help you. It will help you convert your movie file to your desired format, which is still supported by car screen media playback.