DVD Player for Car: Enjoy Movies & Music on the Go
A car DVD player is an audio-visual device designed for use in vehicles. It enables passengers to watch movies, listen to music, and enjoy other multimedia content. Car DVD players typically come in various formats, including headrest-mounted screens, flip-down screens, or integrated units. Do you want to know the specific car DVD player you can add to your vehicle?
This article will list car DVD players with their features and purpose. Besides that, this post will teach you how to create a DVD and play it in your car. Also, it will teach you how to play DVD movies on your car screen. So, what are you waiting for? Check out the following parts!

Part 1. Car DVD Player Recommendation
This section will list the following Car DVD Player that can be used for various purposes. To get to know them, check out the following information.
1. Autotain Headrest DVD Player
It has a dual 9-inch screen, adjustable headrest mounting, built-in speakers, support wireless headphones, USB and SD card slots, and AV input/output. Autotain DVD Player is a dual DVD player for cars specifically designed to be mounted on the headrests, offering individual entertainment for passengers in the backseat. The dual-screen enables users to watch separate movies or share the same content.
2. Sony XAV-AX5000
It has a 6.95-inch touchscreen and is compatible with Android Auto, Apple CarPlay, Bluetooth, USB and HDMI inputs, a DVD/CD player, and AM/FM tuner. Sony XAV-AX5000 provides excellent features, such as a large display, seamless mobile device integration, and excellent sound quality. It is easy to use and offers a user-friendly interface.
3. DBPower Portable DVD Player
It has a 10.5-inch swivel screen, a built-in rechargeable battery, and supports numerous multimedia formats. Besides that, it supports AV output for connecting to car headrest monitors, USB, and SD card slots. DBPower Portable DVD Player is a car headrest DVD player, a dependable option for on-the-go entertainment. Its large screen size, long battery life, and flexibility make it suitable for road trips or keeping passengers entertained during long drives.
4. Pioneer AVH-4200NEX
It has a 7-inch touchscreen and is compatible with Android Auto and CarPlay, Bluetooth, DVD/CD player, USB, and HDMI inputs. On top of that, it has a built-in amplifier that offers good sound quality. Pioneer AVH-4200NEX provides seamless integration of smartphone and multimedia features. It has a sleek design and straightforward interface, making it a popular choice for upgrading the in-dash entertainment system. It is one of the best Bluetooth DVD players for cars; you can add it to your vehicle to play music and video on the road.
5. Rockville RVD10HD Flip-Down Monitor DVD Player
It has a 10.1-inch high-resolution screen, built-in DVD player, HDMI input, USB and SD card slots, wireless remote control, and built-in dome lights. Rockville RVD10HD Flip-Down Monitor DVD Player is designed to entertain rear-seat passengers on the car's ceiling. It provides a large screen size and good image quality, making it ideal for long journeys.
Part 2. How to Create a DVD and Play in a Car
If you want a program to create a DVD that you can play in your car DVD player, rely on Vidmore DVD Creator. This program provides the easiest method to burn DVDs or Blu-ray discs. In addition, it can play all types of videos, including MP4, MOV, WMV, MKV, AVI, FLV, and more. You can edit the DVD video using the built-in video editor burning the DVD, such as crop, enhance, trim, rotate, etc. In addition, it offers various templates, which you can embed into your output before burning. Using Vidmore DVD Creator, you can customize or personalize your DVD using its built-in features. That said, it is the best DVD creator you can rely on to create a DVD. Do you want to learn how to do it?
To create a DVD and play the burned DVD using Vidmore DVD Creator, follow these step-by-step instructions:
Step 1. Visit the Vidmore DVD Creator's official website to download and install the program on your computer. Once installed, proceed to launch the program to start the process.
Step 2. A dialog window will pop up on your screen; choose DVD Disc as your disc type. In the next window, hit the Add Media Files button to upload the video file you want to burn.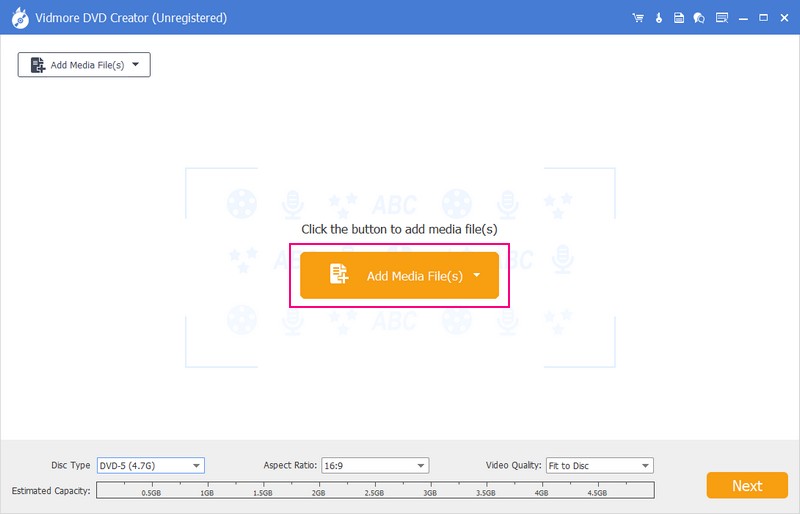 Step 3. When the file is imported, hit a checkmark beside the box of your video file. Before you proceed to the next window, optionally, you can edit and enhance the video files by going to the Power Tools button. Here you can edit Video, Audio, Subtitles, and more.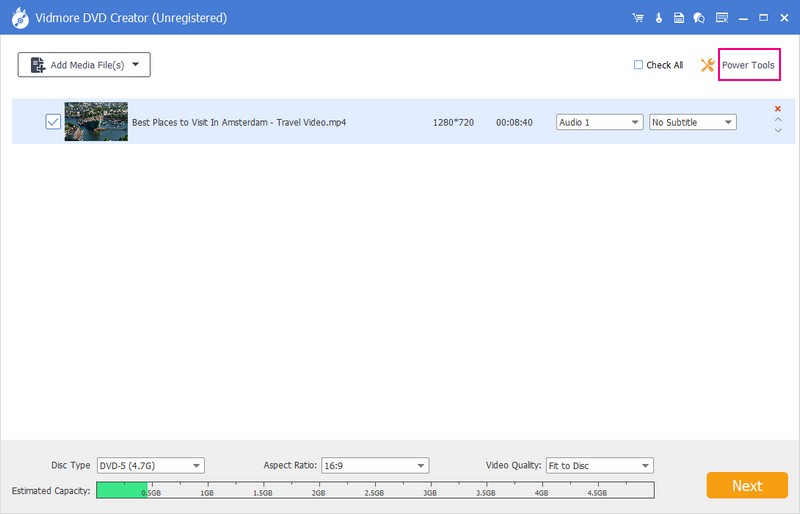 Step 4. In the last window, please choose your desired template based on your preference; it has Holiday, Family, Wedding, Travel, and more templates. Aside from that, it enables you to personalize your template by uploading an image from your local file.
Under the preview screen, you can add Background Music and an Opening Film by putting a checkmark beside them.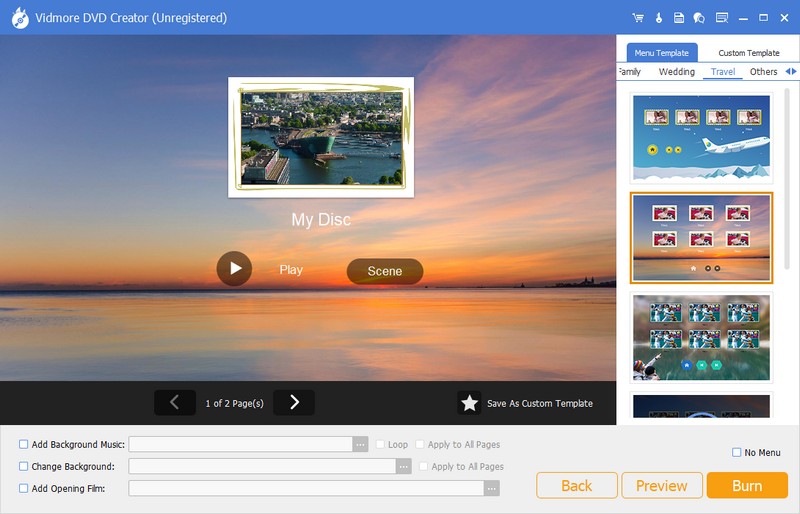 Step 5. Click the Preview button to have a sneak with your output. Once satisfied, click the Burn button to begin the burning process.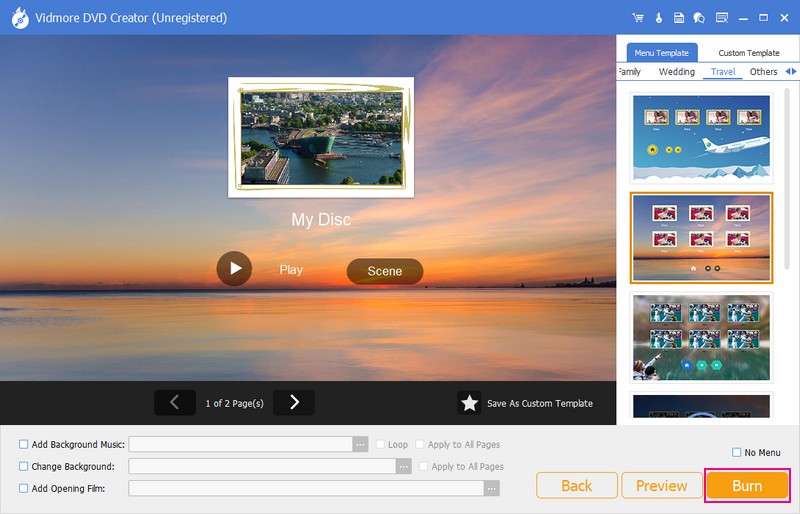 Step 6. After the burning process, eject the DVD from your computer's drive. The DVD should now be played on your DVD car player.
Part 3. How to Play DVD Movies on Your Car Screen
For instance, you cannot play DVD movies on your screen due to incompatibility issues with the file movie format. Therefore, consider using Vidmore Video Converter to convert your movie file to a supported format that can hold your screen car. This program supports numerous video and audio formats. With that, you do not need to worry if your movie file can still be played on your screen because it supports the car screen formats.
Besides that, it offers the following options to enhance video quality: resolution, reduce video shaking, remove video noise, and more. You can make your movie file more precise and realistic on your car screen. Using Vidmore Video Converter, you can convert DVD movies into a compatible format and play the converted videos on your car screen. To do all this, proceed to the steps provided.
Step 1. Visit the Vidmore Video Converter's official website to download the program. Follow the guide on your screen to install the software on your desktop. After that, proceed to run the program to get started.
Step 2. Go to the Converter tab and hit the Add File button to upload the movie file you desire to convert.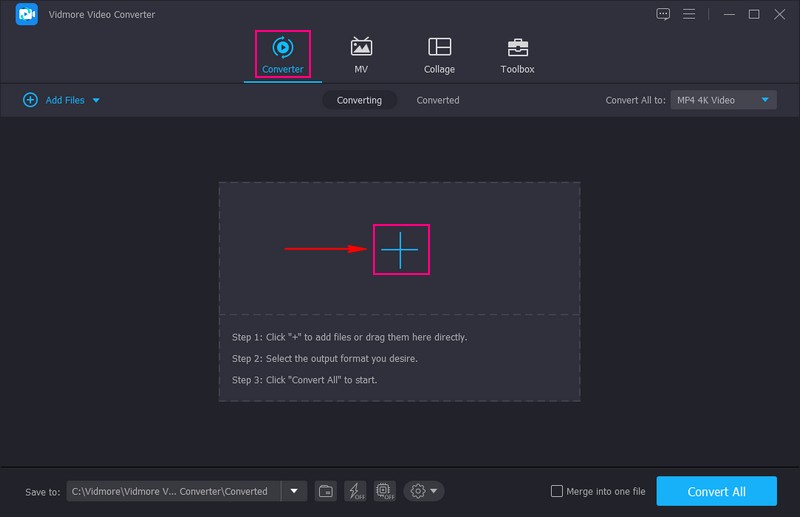 Step 3. Head to the Profile Menu on the right part of the uploaded movie file. Pick an output format compatible with your car screen from the drop-down menu. You can select video media formats, such as MP4, MKV, AVI, WMV,. etc, commonly car screen-supported.
Optionally, according to your car screen specifications, you can customize the output settings, such as bitrate, frame rate, resolution, and audio parameters. You can do that by hitting the Gear button on the right corner of the formats. Additionally, enhance the quality of your movie by upscaling the resolution, optimizing brightness and contrast, removing video noise, and reducing video shaking. You can do that by clicking the Paint button below your imported movie file.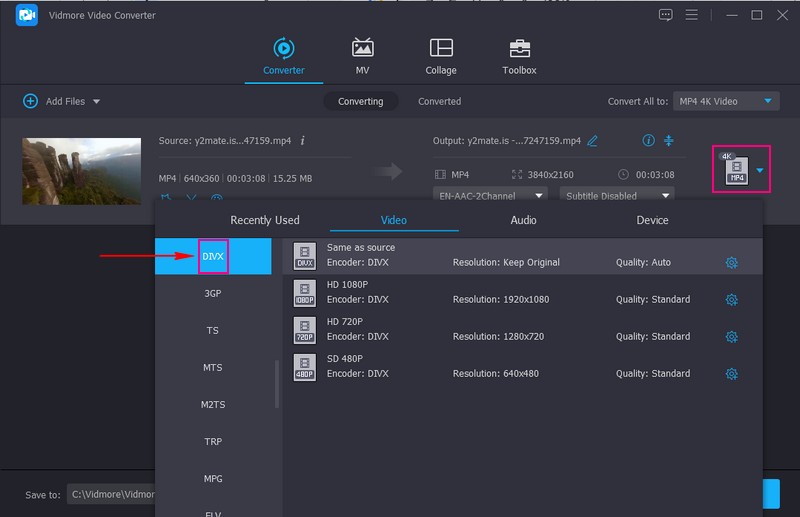 Step 4. When settled, hit the Convert button to start the conversion procedure. Wait until the conversion process is finished.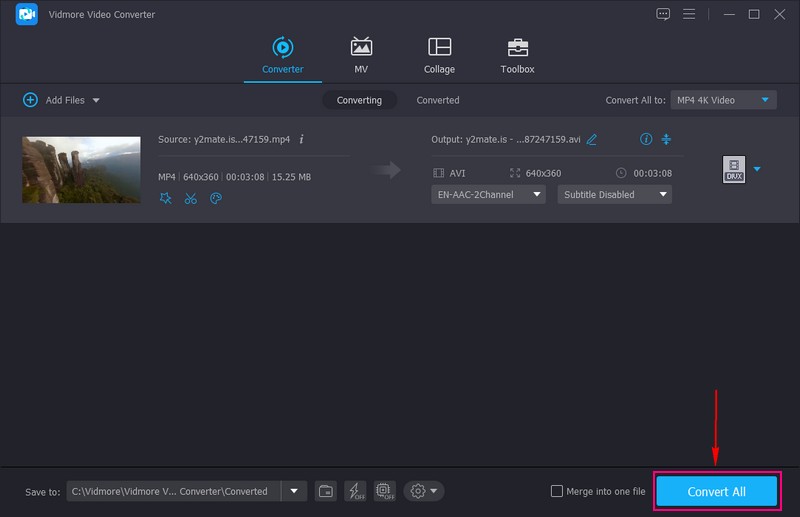 Step 5. After the conversion process, connect your USB drive to your desktop. Copy and paste the converted movie file from the Vidmore Video Converter output folder into the USB drive.
Put the external drive into the USB port of your car screen. Use your car's media system controls to navigate to the USB source and locate the converted movie files. You must access the media interface or source menu and pick the USB drive as the playback source. Select the video you want to play and press the Play button.
Part 4. FAQs about Car DVD Player
Can DVD-R play music in the car stereo?
Indeed, DVD-R can play music in a car stereo, provided that the car stereo supports playback of DVD-R discs. In addition, it can play music files in the format recorded on the discs. Car stereos typically support audio CDs; some may also support WMA or MP3 files burned onto a DVD-R disc.
Can I connect my phone to my car DVD player?
Some car DVD players have built-in functionality or additional ports to connect external devices, such as smartphones or music players.
Can I play a DVD on my car CD player?
No, you cannot play a DVD on a car CD player because car CD players are designed specifically for playing audio CDs. You cannot play DVDs on your car CD player because of the different formats and different structures of DVDs.
Can a car DVD player play Blu-ray discs?
Car DVD players cannot play Blu-ray discs because it requires specialized hardware and laser technology to read the high-definition content.
Can a car DVD player play audio files from CDs or USB drives?
Fortunately, car DVD players can play audio files from CDs or USB drives because they typically support standard audio formats.
Conclusion
Installing a DVD player for a car can improve your in-car entertainment experience by enabling you to enjoy movies, music, and other multimedia content. Whether you are embarking on a long road trip or simply looking to upgrade your car's audio-visual capabilities. If you plan to create a DVD with personal customization, you can count on Vidmore DVD Creator. On the other hand, if you want to convert your movie file to another, you can rely on Vidmore Video Converter. Install them on your computer and enjoy their features!