Discover the IPTV Players to Help You Watch Live TV Programs
IPTV is a service that offers television programming and other video content using Internet Protocol (IP) or Transmission Control Protocol (TCP) suite. When someone mentions IPTV to you, it simply means a TV that can operate using the internet. One of the significant of IPTV is the interactive TV experience that it can provide. To play IPTV, you need an IPTV player to start watching your favorite TV channels and shows, which this post will present. Are you excited to get to know them? Without further ado, check out the following details.

Recommendation: Best Video Player for Windows & Mac
Are you looking for an all-around media player that supports Blu-ray movies, DVD files, and popular audio and video files? If so, we highly recommend Vidmore Player, a universal media player that can play the mentioned multimedia files. This player lets you play Blu-ray discs, folders, and ISO files while maintaining the lossless sound effect and high-definition image quality. With navigational menu support, it can play DVDs, folders, and ISO files.
Besides that, it provides customized control to control the menu, title, chapter, volume, and playback. You can also disable or choose your preferred audio or video track, incorporate a subtitle, and modify the video's basic effects. On top of that, you can select your desired screen size, like normal size, half size, fit to screen, full screen, and more.
Vidmore Player uses advanced audio decoding technologies like AAC, DTS, Dolby, and TrueHD. In addition, you can enjoy smooth playback of your audio or video straightly with surround sound effects. Indeed, Vidmore Player guarantees smooth playback of your DVD, Blu-ray, 4K, or popular videos without encountering an issue.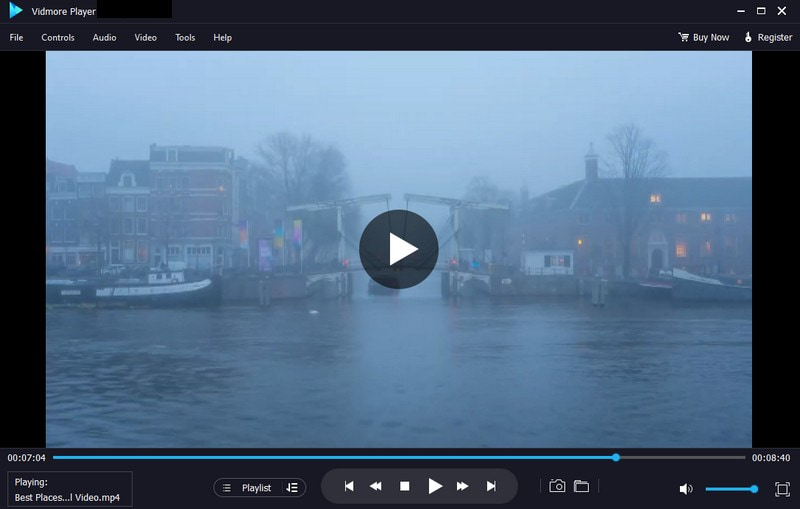 Part 1. What is IPTV
Internet Protocol Television (IPTV) is a digital television broadcasting protocol that uses the Internet to deliver television content to users. IPTV streams television programming over an Internet Protocol (IP) network, such as the Internet. Unlike the traditional television broadcasting approaches that rely on cable signals or satellite.
With IPTV, television content is encoded into IP packets and delivered to the viewer's device. Users can use IPTV services using several platforms or applications that support IPTV protocol. One of the key advantages of IPTV is the ability to provide a broad range of on-demand content and channels. These are live TV broadcasts, TV shows, movies, and interactive features, such as video on demand (VOD), digital video recording (DVR), and catch-up TV. In addition, IPTV also enables interactive services, such as e-commerce, interactive gaming, and interactive advertising.
IPTV has gained popularity because of its convenience and flexibility. It offers extensive libraries of on-demand content. With that, users can select what they want to watch and when they want to watch it. Besides that, it decreases the need for traditional broadcasting infrastructure, like satellites, and cables, making it a cost-effective solution for delivering television content.
Part 2. IPTV Player for Windows and Mac
1. VLC
One of the best IPTV players you can access on Windows that supports various file formats and codecs is VLC Media Player. This program use modules to control and play the output based on your preferences. It is a free IPTV player that offers multiple free encoding and decoding libraries for handling various files and mitigates the need for proprietary plugins. Besides that, it can play media through numerous sources, like local files, network streams, and IPTV.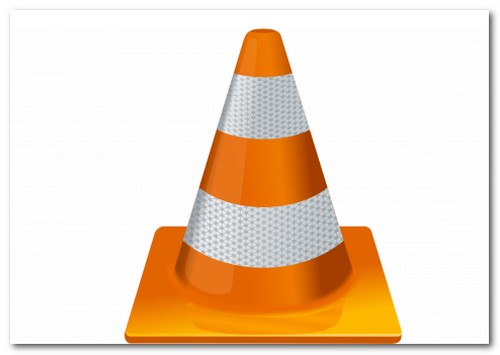 2. Kodi
Kodi is a famous media player that is open-source and free to use. Mac users can install the .dmg file from the official Kodi website. You can watch IPTV using this program by installing IPTV addons. You must install any addon on Kodi and the M3U link of your service provider to stream IPTV channels. In addition, you can also add IPTV credentials in the PVR IPTV Simple Client addon.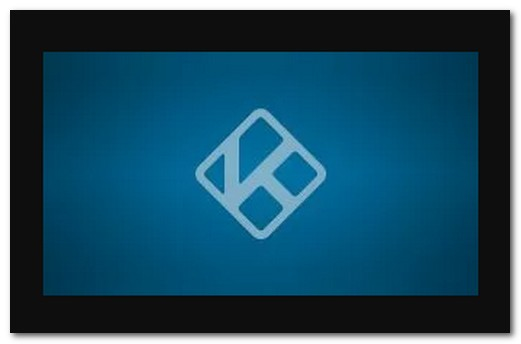 Part 3. IPTV Player for Android and iPhone
1. OTTplayer
OTTplayer is a leading IPTV player for Android, as it is a handy video streaming application. Using it, you can collect all your IPTV in one place, modify the channel order, receive a program guide, and more. Moreover, you can upload and edit playlists and add or delete channel groups. It supports the M3U playlist and HLS, RTSP, TS, UDP, and RTMD streaming formats. Besides that, it offers an easy-synching on all devices and easy playlist management. On top of that, it is an ad-free application so no ads will interrupt your viewing experience.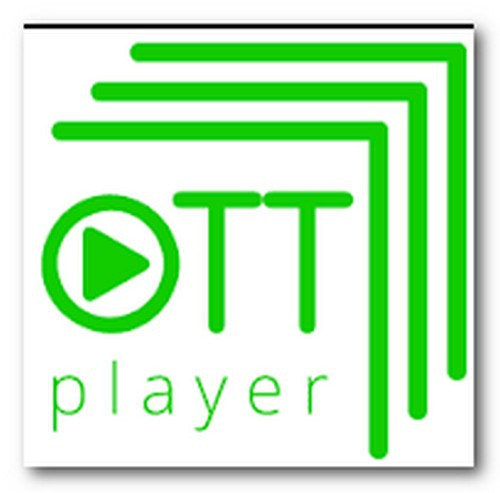 2. GSE Smart PTV Pro
This IPTV app for iOS and Android is a solution for all your requirements. It supports several playlist formats from M3U to XTREAM - CODES API. Using it, you can watch non-live stream services, such as JSON, M3U, and more. Moreover, it provides a GSE playlist manager to manage playlists on the iOS platform. Users can even download HTTP remote playlists to local playlists. In addition, GSE Smart IPTV Pro provides a dynamic language support feature; you can view playlists and more.
Part 4. IPTV Player for Roku
1. XtemeHD IPTV
XTemeHD IPTV provides a great selection of channels from Canada, Europe, the United States of America, and the United Kingdom. It has a user-friendly interface and offers a high-quality stream, allowing users to experience and enjoy a seamless viewing experience. Besides that, the service also includes Video on Demand (VOD) electronic guides (EPG) and content.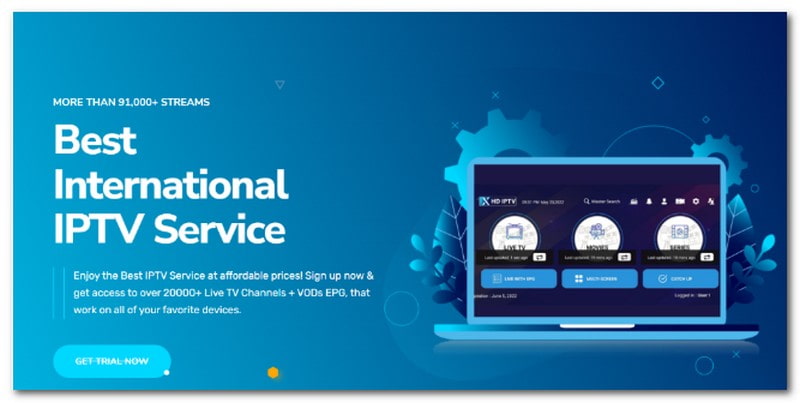 2. VocoTV
VocoTV is an IPTV player for Roku that delivers various channels covering several genres and regions. You can enjoy popular channels from Germany, Europe, the United States of America, the United Kingdom, and more. With excellent streaming quality and a beginner-friendly interface, VocoTV is a top choice for Roku users.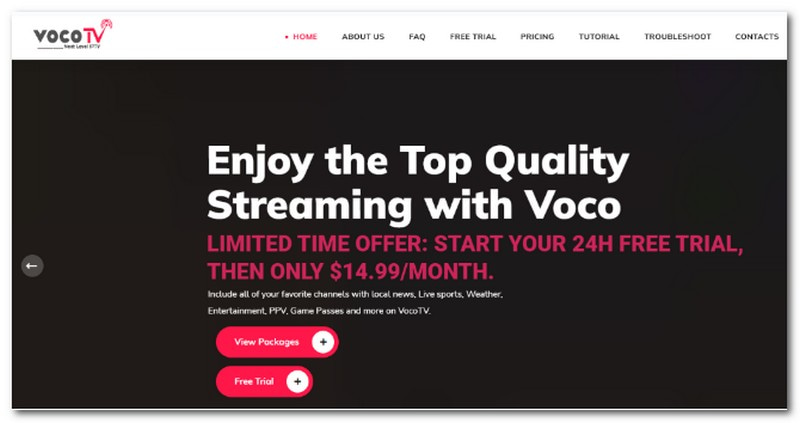 Part 5. IPTV Player for Apple TV
1. GSE Smart IPTV
If you prefer to use an application with powerful tools that support most formats, you can rely on GSE Smart IPTV. It has JSON formats support, M3U formats, Database playlist formats, and more. It is a complete player, and you do not need the support of third-party tools after using it. It is the best playlist manager application for adding your favorite channels, a remote playlist to the database, viewing the playlist's content, and more. With multilingual support, this application has everything you need to enhance your TV-watching experience.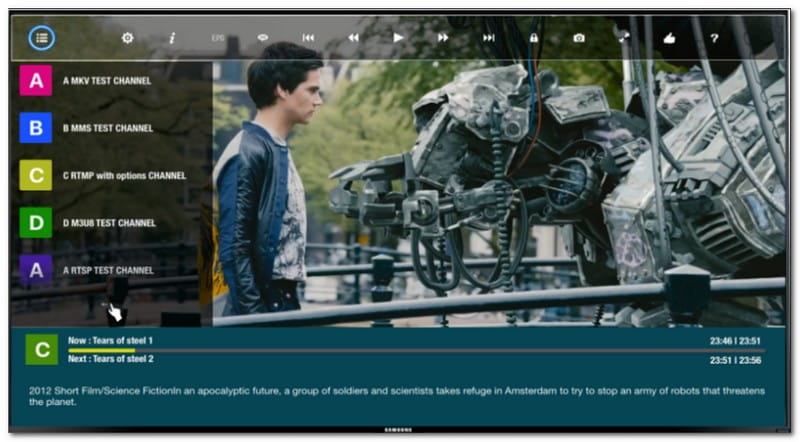 2. IP Television
Suppose you want the best IPTV player for Apple TV that allows you to play television with international broadcasts and more; count on IP Television. It works on an easy interface and provides the largest possible IPTV content. This application is simple to operate and comes with plenty of unique features. You can watch your favorite soap operas, movies, sports, and cartoons. In addition, it allows you to manage playlists, stream them using Chromecast, add channels, remove advertisements, parental control, and more.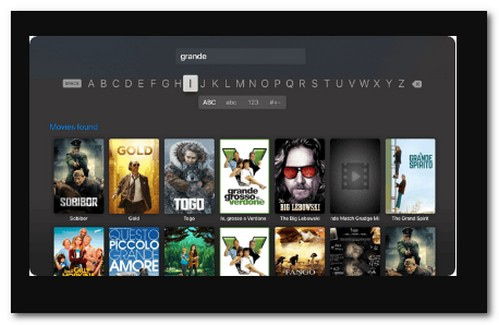 Part 6. FAQs about IPTV Player
Why is my IPTV not streaming correctly?
IPTV relies on a fast and stable internet connection to stream video. If you are connected to a slow or unstable internet connection, you might experience issues, like IPTV not streaming correctly.
How to add channels to the IPTV player?
To begin with, open the IPTV channels tab, select Channels, and then press Add a Channel button. Next, you must fill in essential fields like channel number, name, genre, volume correction, logo, streaming link, etc. After that, press the Save button to add the channel to the IPTV player successfully.
What is the best internet speed for streaming IPTV?
The recommended internet speed for streaming IPTV is 5 Mbps; it is enough for the smooth playback of such a video.
Does IPTV consume the internet?
If you are browsing the internet while watching television, you might need a higher-speed internet connection. But the minimum speed for standard definition is 3 Mbps; for high-definition is 5 Mbps, and for ultra-high definition is 25 Mbps.
How can I improve my IPTV streaming?
If plenty of devices are connected to your internet, consider disconnecting unnecessary devices from your internet while streaming. With that, it will improve your IPTV streaming, as fewer are connected to your internet connection.
Conclusion
There you have it! You have known the following IPTV player applications you can use to play IPTV for various platforms. It is important to note that the accessibility and legality of IPTV services may vary by country. With that, you must ensure that you access IPTV services through authorized providers. In addition, you can use Vidmore Player to play various multimedia files without experiencing any issues.