Effectively Convert AAC to WMV Using Online and Offline Tools
Sometimes we need to play our audio tracks in sync with a particular visual style. It may happen because your device doesn't have an audio player installed. There is also the possibility that you wish to include a picture in your audio recording. We can never be sure. One thing, however, is certain: you must change your file format so you can play it on a video player. And to do that, you will need specific tools to assist you. In light of this, I have written an article to guide you through converting AAC to WMV.

Part 1. AAC vs. WMV
Advanced Audio Coding file is often known as AAC file. It is a kind of audio file that uses lossy audio compression. Compared to the MP3 audio file format, this format offers superior sound quality while having a bit rate comparable to that of MP3. In addition, this audio format belongs to a new generation of audio formats. Many prominent systems, like Apple iTunes, YouTube, and iPods, employ AAC as their default media format.
WMV is an acronym for Windows Media Video and is Microsoft's proprietary digital video format. At first, the WMV format only worked with Microsoft's Windows Media Player. If you see a file with the extension.wmv, you know it was compressed using the Window Media Video codec. Another piece of software known as ASF, or Advanced Systems Format, stores the many audio streams and video streams in WMV format.
Part 2. Best Ways to Convert AAC to WMV
1. Vidmore Video Converter
Vidmore Video Converter is your answer if you want the most efficient method to convert AAC files to WMV format. It is a platform that is usable on computers running either Windows or Mac operating systems. The primary agenda of this tool is to convert, extract, trim, and cut audio and video files. Vidmore Video Converter is compatible with over 200 different file types. In addition, you can modify the parameters of your file according to your tastes. This offline program has a very straightforward user interface, which makes it more approachable for novices to work with.
The process of converting videos using Vidmore Video Converter is brisk and risk-free. It ensures that customers will not have the quality of their files compromised even after the conversion. In addition, it converts files at a very high speed because it has capabilities that speed up the process of converting files. In addition, no limitations are imposed on the maximum file size allowed. What exactly are you looking forward to? Begin the process of converting AAC files to WMV using the procedures that have been provided.
Step 1: You may get the program by clicking the Free Download button on the main page. You must remember to install the launcher and give it permission to run on your Windows or Mac device.
Step 2: Once you are satisfied with the program's state, you should go to the main interface and click the Plus symbol in the center of the screen. It is also okay for you to click the button labeled Add Files. After that, add the AAC file from wherever you save your storage.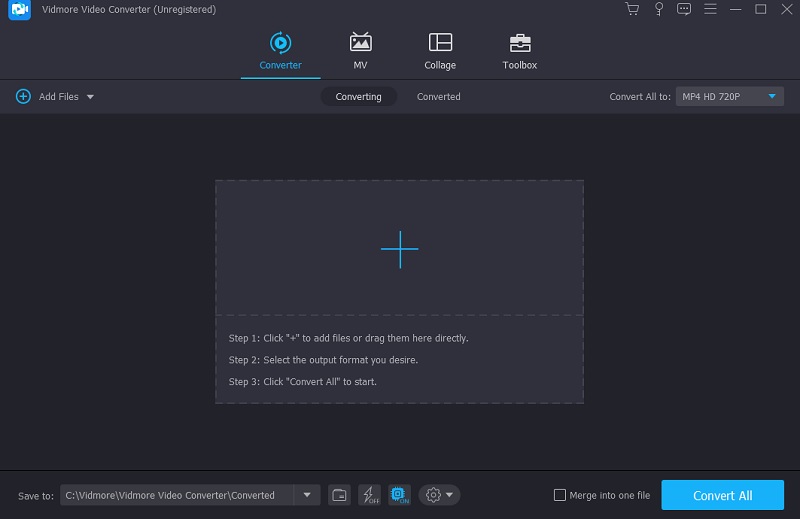 Step 3: Once the AAC file has been added to the window, you may switch to the other available video formats by clicking the arrow on the right and selecting the Video tab.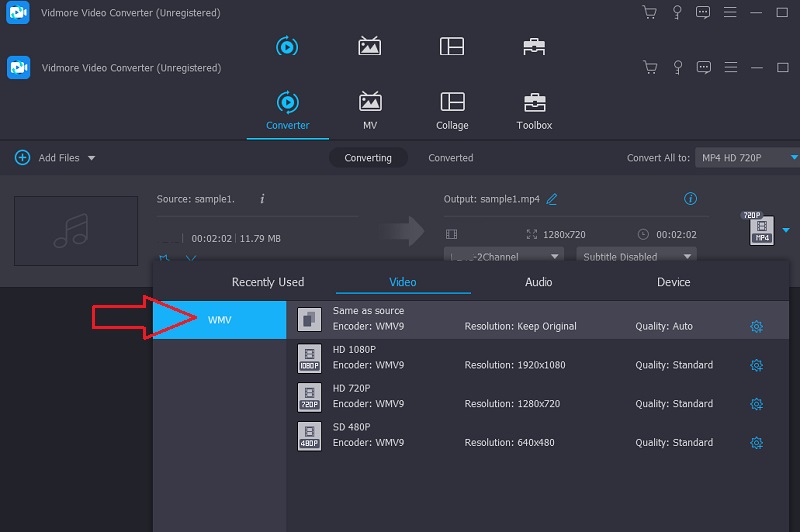 As a result, if you want to change the quality of your file, you should attempt to go to the Settings button and choose the option that corresponds to the change you want to make there. After editing, you may apply the changes by clicking Create New.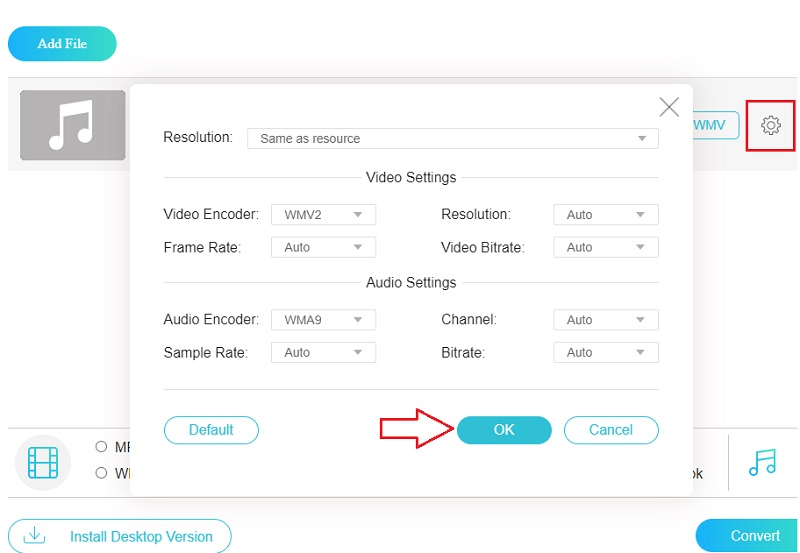 Step 4: We are now in the very final section. To complete it, you need to hit the Convert All button and wait until the fill has been transformed.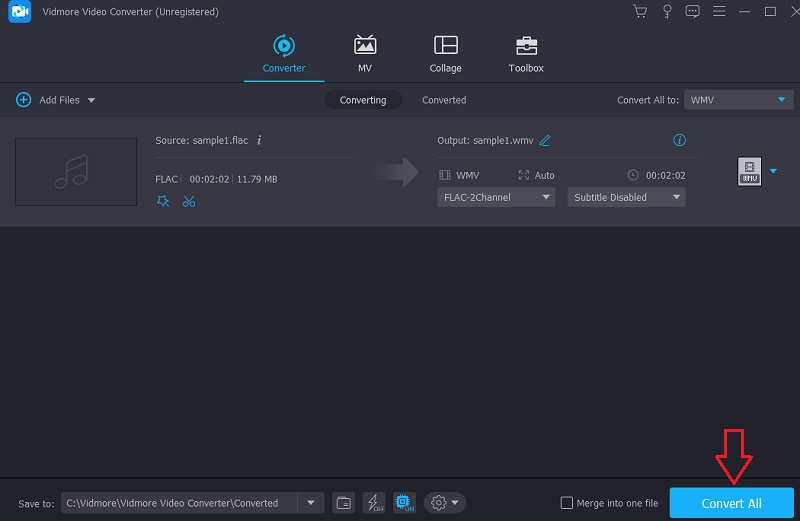 2. Vidmore Free Video Converter
Utilizing an online converter is another time-saving option for converting AAC files to WMV format. And about these tools, Vidmore Free Video Converter is one you have to test! Vidmore now has an internet presence with this website. This platform is available on computers running either Mac OS X or Windows. In addition to that, the UI is much easier to use than the offline version. The free tool lacks a substantial number of editing capabilities. In a nutshell, it is nothing more than a straightforward audio and video converter.
On the other hand, the platform is web-based and can be accessed from any location. No limits are required on the number of videos or audio you may convert with Vidmore. In addition, it allows users to change the characteristics of their files, which in turn enables them to enhance the overall quality of the files they produce. Initially, it will instruct you on how to make the most of the intuitive user interface it provides.
Step 1: You'll need to install the launcher on the leading site of Vidmore Free Video Converter. And then click the button labeled Add Files to Convert before you can proceed with the software. When the launcher is complete, you may add the AAC file by pressing the button again.

Step 2: When you have finished adding the AAC and displaying it on the dashboard, you need to pick the Movie icon on the sidebar and then choose the WMV format from the menu bar.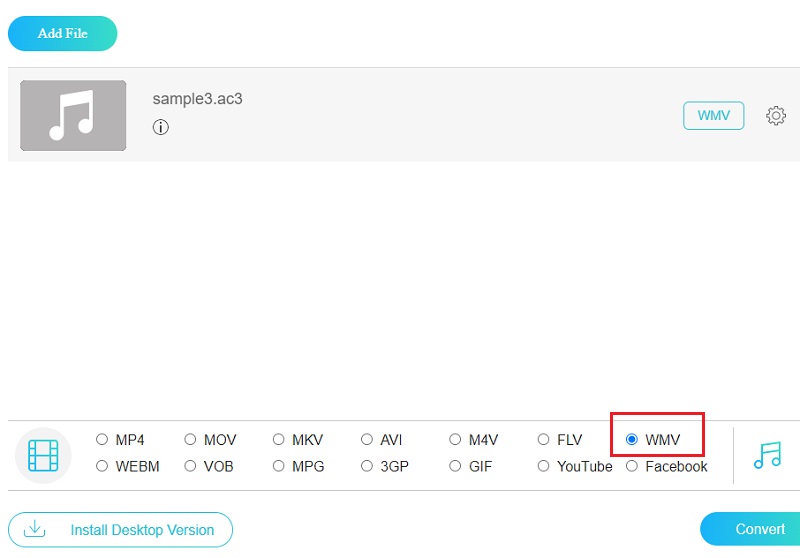 Step 3: You can also change the frame rate and bitrate of the file. To do this, go to the menu and choose the Settings tab. After making changes to the options, you can save your changes by clicking the OK button.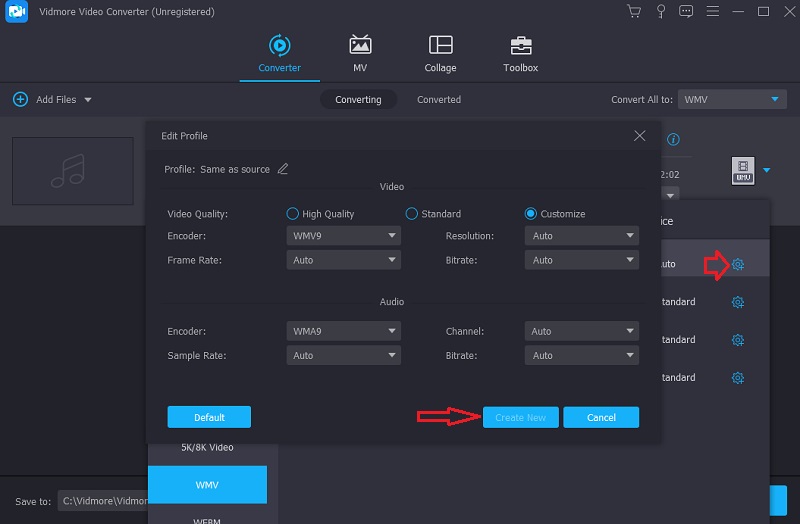 Step 4: Simply selecting the Convert option using the drop-down menu will bring the process to a fruitful and satisfying end.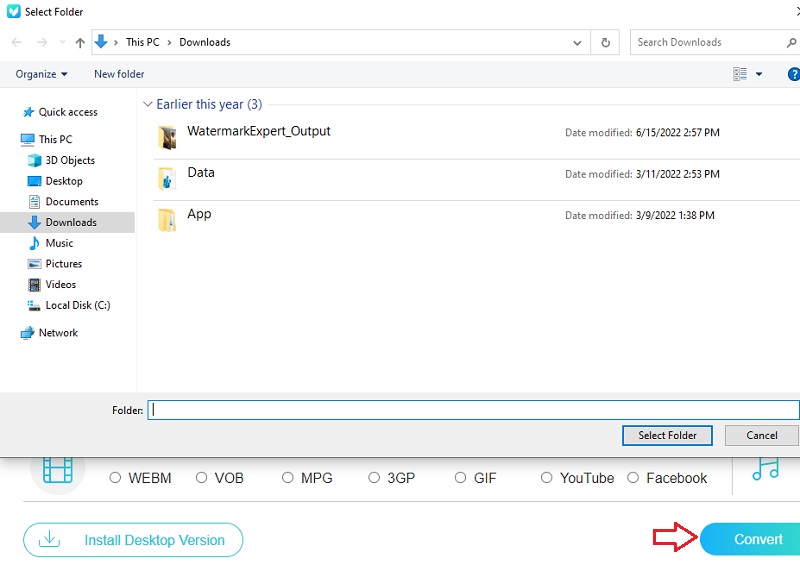 Part 3. FAQs About Converting AAC to WMV
What makes the AAC file suitable?
Compared to MP3, it has superior sound quality, and its responsiveness to high frequency is much improved.
Is WMV a suitable format?
The Windows Media Video (WMV) format is widely used on the internet. It is considered to be one of the most popular video file types. This format can save films of very high quality, but it will compress them to lessen the file size and free up space on your computer or portable hard drive.
What are some terrible things about WMV?
It is challenging to locate a media player that runs on Linux or Apple capable of running WMV files.
Conclusions
That takes us to the conclusion of the discussion! You may convert AAC to WMV format with the help of the programs that are available both online and offline. The toolkit that is just mentioned is the one that you should use.