Download Best 10 Free WMV Player for Mac and Windows
WMV is the Microsoft Windows Media video format introduced in 1999. As a mandatory video format for Portable Media Center devices, WMV can be opened by Xbox 360 and Windows mobile phone with Windows Media Player.
Is there other WMV player software that can open WMV videos?
We have a straight-up YES for this.
After trying out 45 different free WMV player apps on Windows and Mac, and have come up with this best 10 list. Read on and find the best one from the list for you.

Part 1. Best 10 Free WMV Video Player for Windows and Mac
Windows Media Player (Windows)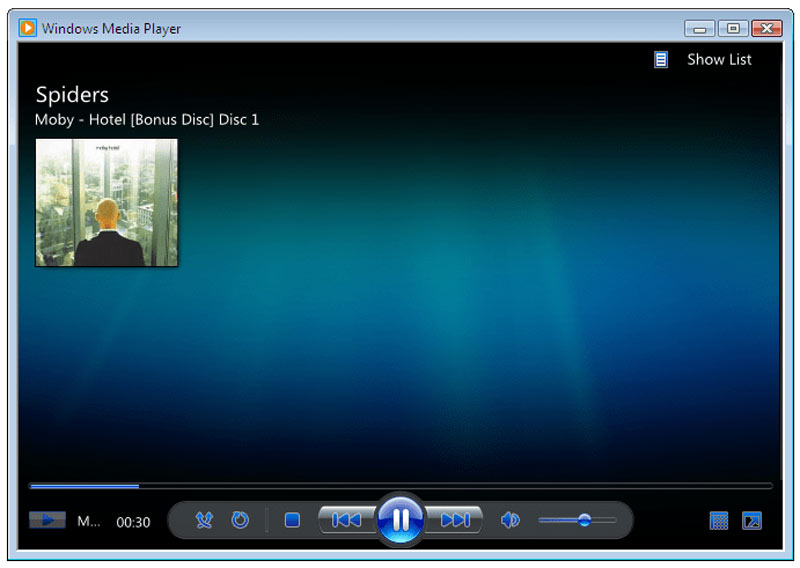 Windows Media Player can be the official WMV player from Microsoft. It is available for Windows-based devices like Windows computers, Windows phones, etc. Besides the WMV supports, it also supports other formats' playback like H.264, AVCHD (MTS/M2TS), MP4, MOV, AAC, FLAC, ALAC, 3GP, etc. Moreover, it can play DVDs on a Windows computer.
Its sync feature allows you to connect, share, and sync media files with portable handheld devices and game consoles.
There's only one caveat: The interface of Windows Media Player remains unchanged and old style.
Vidmore Player (Windows/Mac)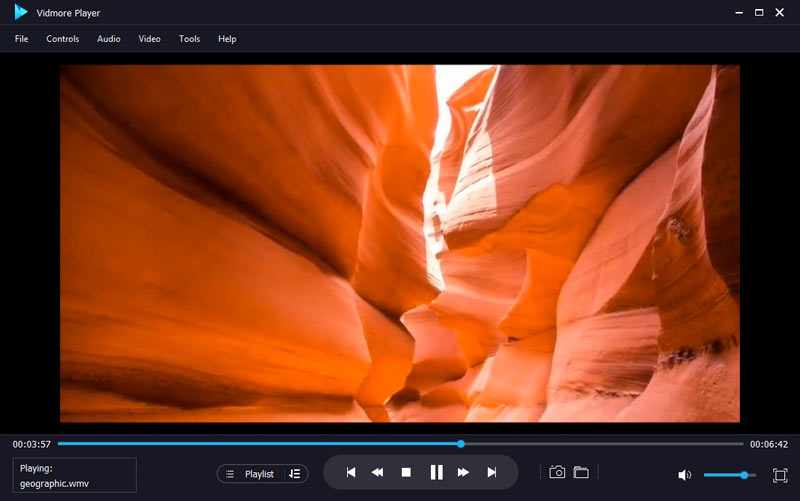 Vidmore Player is an easy-to-use media player. It has a wide range of video and audio format support. Compatible with all the video codecs (WMV7, WMV8, WMV9, VC-1) of WMV, it plays WMV files smoothly on the computer. Apart from that, it can also play MP4, MOV, MKV, AVI, WebM, MP3, WMA, WAV, etc., even the 4K videos are supported. To manage your WMV files playback, you can create a playlist to navigate the videos quickly.
The added bonus of this WMV video player is that you can upgrade to play Blu-ray and DVD movies from any region on Mac and PC.
VLC Media Player (Windows/Mac/Linux/Android/iOS)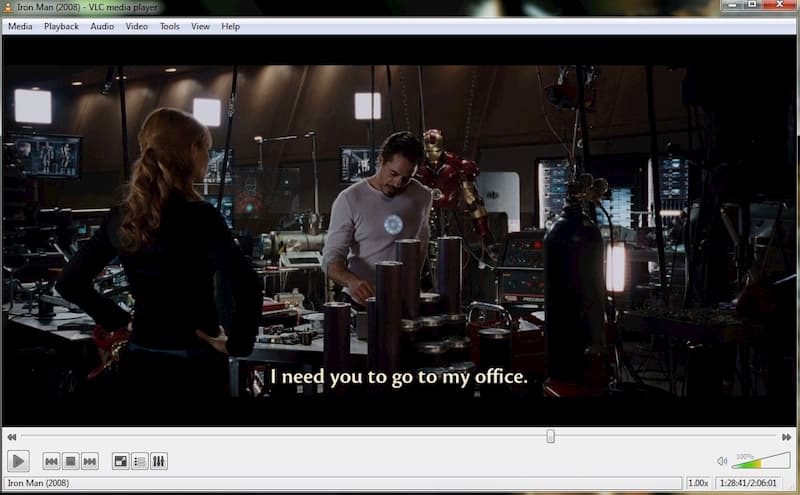 VLC Media Player is an open-source media player that can play almost all media files including WMV, MP4, MOV, etc. This application is designed as a player to play video, audio, DVD, and Blu-ray. One of its highlights is VLC Media player is working across the platform, and you can play WMV videos on Windows, Mac, iOS, and Android phone.
There are other features you can benefit from VLC that are recording a WMV video, converting a WMV video, and ripping a DVD movie to save as a WMV video.
GOM Media Player (Windows, Mac, iOS, Android)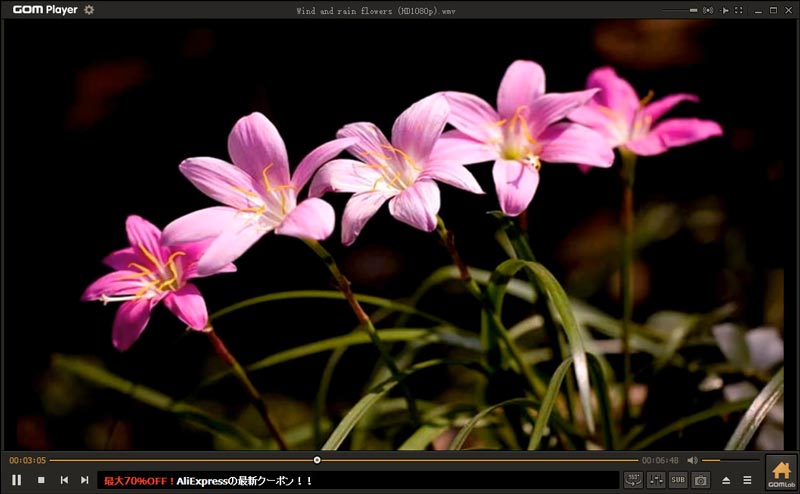 GOM Media Player is a free media player that supports various formats like WMV, AVI, MP4, MKV, FLV, MOV, etc. Different from other WMV player, this WMV file player software can automatically search and sync the subtitles for the movie being played from its subtitle library. Beyond that, it can play 360-degree videos in your possession. In other words, you can play a WMV video in 360° with your VR device.
For Windows users, this software also allows you to find codecs to play damaged files.
5KPlayer (Windows, Mac)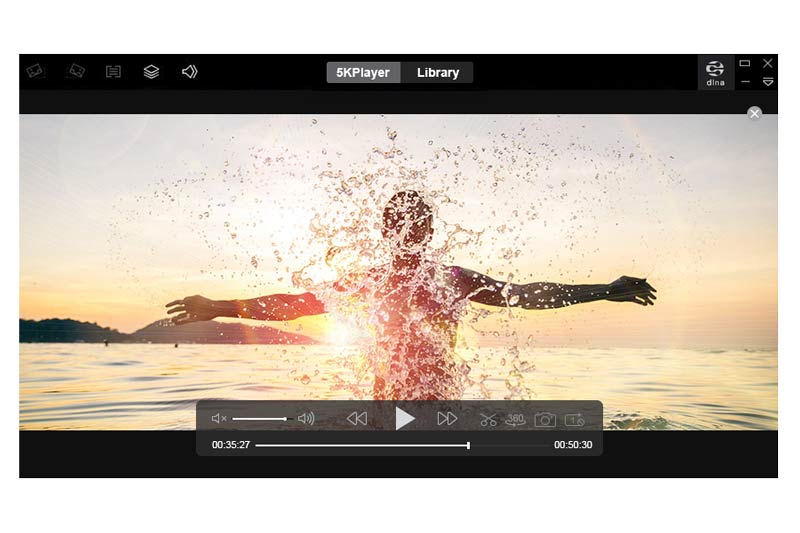 5KPlayer, is a mixture of the free UHD video player, music player, and online downloader. With this free WMV player, you can play 4K/1080p and 360° videos. Like VLC, it also supports DVD playback and IPTV. One more feature of this free WMV video player is that it can wirelessly stream video and audio via AirPlay & DLNA.
It's also noteworthy to point out that the installation process of this freeware is very slow, and you should wait patiently, and its interface may be confusing for beginners.
Media Player Classic (Windows)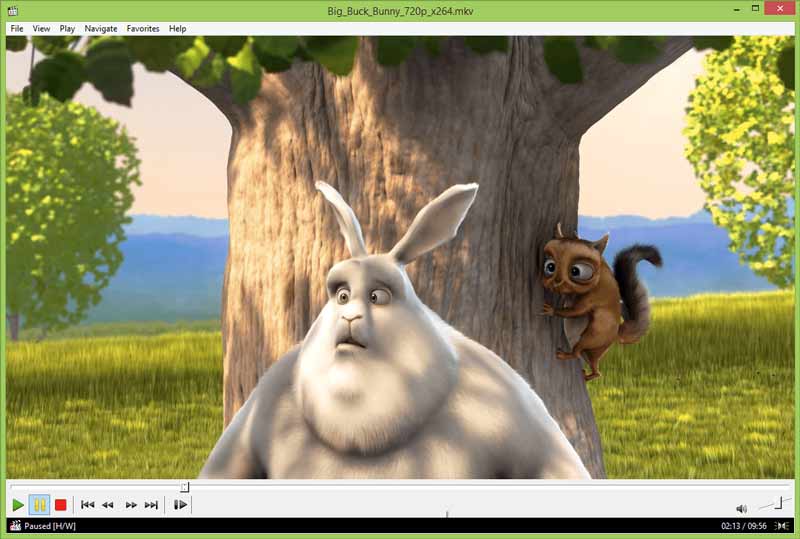 Media Player Classic, also named as Media Player Classic - Home Cinema (MPC-HC), is a free MWV media player for Windows. Like other players listed on this page, it supports all common video and audio files. Based on the original Guliverkli project, this free player contains many additional features and bug fixes. This tool also adds the feature to custom toolbars.
One playback feature that other WMV players do not contain is that it supports TV programs recording and playback if you plug a supported TV tuner card.
One thing you should know is that MPC-HC was discontinued in 2017.
KMPlayer (Windows, Mac, iOS, Android)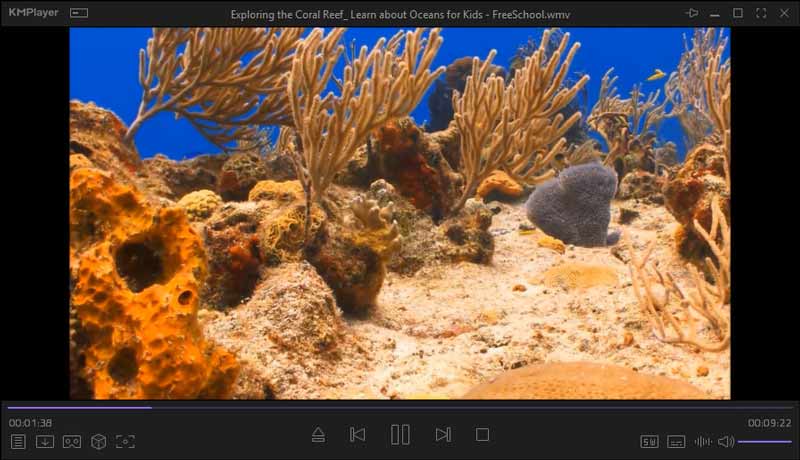 KM Player is a free HD video player. It supports WMV videos in H.264/MPEG-4 AVC. Like most WMV video player, it supports playback settings for the subtitles, playback speed, etc. Also, its equalizer lets you enjoy rich audio easily. While playing a media file, it allows users to record a video, audio, and take a screenshot.
Moreover, KMPlayer lets you select parts of a video as favorites, do various A-B repeats, remap the keys, overlay screen controls, etc.
We should make it a point to note that the 3D format was discontinued in March 2015 from KMPlayer.
RealPlayer (Windows)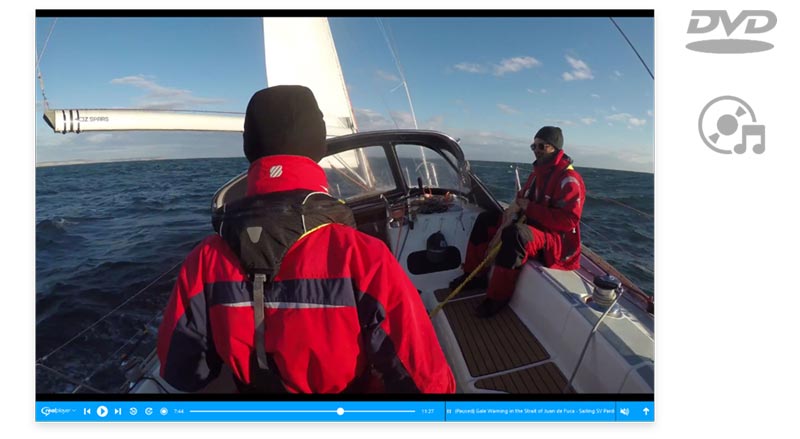 RealPlayer, formerly RealAudio Player, RealOne Player, and RealPlayer G2, is a free cross-platform WMV media player application. Supporting the most popular formats, it can play WMV videos on Windows, Mac, Linux, Unix, etc. It is an old media player dated back to 1995, and now has developed many new features like video downloader, web browser, visualizations, equalizer, CD ripping, media converter, etc.
However, some Windows 10 users report an installation failure. This WMV player maybe not stable on Windows 10 computer.
MPlayer (Windows/Mac/Linux/Android)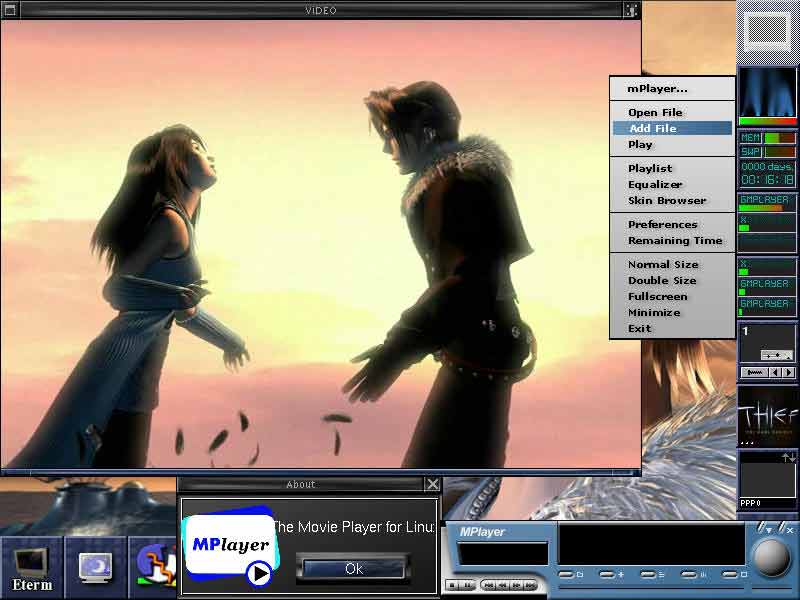 MPlayer is an open-source media player that runs on many systems. Apart from the common video and audio playback for WMVASF/WMA, AVI, MPEG/VOB, QT/MOV/MP4, you can also use this free WMV player to watch CD, SVCD, and DVD. Another great feature of MPlayer is the wide range of supported output drivers like X11, Xv, DGA, OpenGL, SVGAlib, fbdev, AAlib, DirectFB, etc.
The last update date of this WMV player was on April 18, 2019, and the free software offers no service support.
PotPlayer (Windows)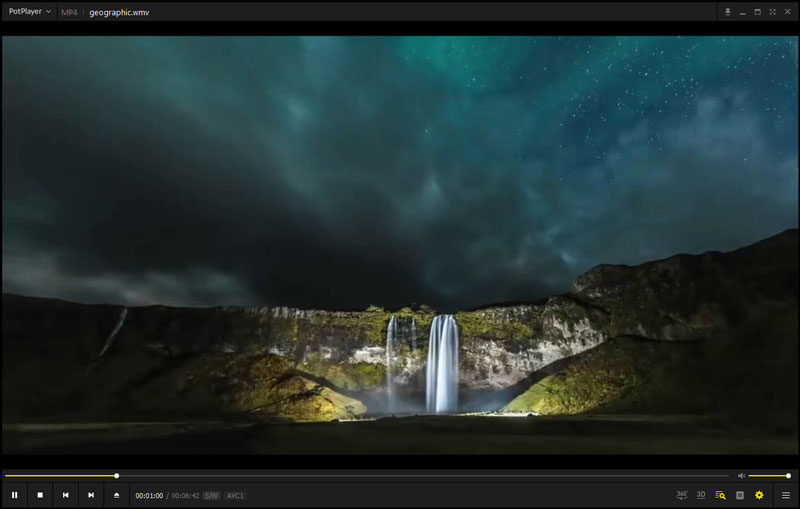 PotPlayer is a free WMV player with enhanced H/W acceleration by using DXVA, CUDA, QuickSync. Apart from 2D video playback, it also supports 3D playback using your 3DTV or PC. While playing WMV movies, this freeware offers various settings to optimize your playback experience through subtitles, video effects, audio, filters, display ratio, frame, etc.
Though it is a free video player, it gives you more control of WMV playback via its customization.
Part 2. FAQs of WMV Player
Can you download Windows Media Player on a Mac?
Yes, you can. Mac users can download Windows Media Player version 9 on Mac. However, Microsoft has cancelled the Mac version development since Windows Media Player 9.
Can you play WMV files on a Mac?
Yes, apart from downloading a WMV player on Mac listed on this page, there are other 2 methods to play WMV files on Mac. 1. You can download Windows Media Components for QuickTime to play Windows Media files. 2. Convert WMV to QuickTime supported MP4, or MOV.
Can WMV play on Android?
No. WMV format is not supported natively on most Android devices. If you want to play WMV files on Android phone, you need to install a WMV player APK on Android. Or convert WMV to Android natively supported video formats like MP4, 3GP, etc., with a video converter.
Conclusion
WMV is the widely accepted format on Windows Media Player, and it can be opened on Windows Media Player. For one reason or another, Windows Media Player is not the best solution to play WMV videos and other movies on PC and Mac. This page collects the best 10 WMV player on Windows and Mac. You can read the review of them and pick up the best one as you need.
Leave your recommended WMV player, if you have any good suggestion.