Convert AC3 to DTS With These 2 Online and Offline Programs
Have you encountered playing your file on a particular device, but it shows that it is not supported? It happens mainly on home theater devices, especially if your file is AC3. That is why most users convert their files into another format compatible with home theater devices, DTS, or Digital Theater Systems. If you are also experiencing the same thing, this post will help you convert AC3 to DTS.

Part 1. Why You Need to Convert AC3 to DTS
To know why there is a need to convert AC3 to DTS. You need to know their definitions first.
What is AC3?
AC3 is also known as Dolby Digital, and it is the name for audio compression technologies. AC3 is a file extension for surround music files AC3 for DVDs, Blu-ray players, HDTV programming, and home entertainment systems. This format also contains up to 6 discrete sound channels. AC3 is highly compressed and small in file size, but the sound effect is faithfully preserved as the original DVD.
What is DTS?
On the other hand, Digital Theater Systems is a collection of multichannel production techniques. This format was developed by a corporation in the United States specializing in digital surround sound. This format was initially designed for theater and consumer purposes. The DTS format supports up to five full-bandwidth speakers, which leads to improved sound quality.
That is why it is necessary to convert AC3 to DTS due to its limitations. Because the AC3 file is compressed, the audio quality is reduced. However, DTS addresses this issue by providing a simple method for storing audio elements on another Compact Disk. You should then synchronize the audio with the visual. It not only frees up more space but also allows for higher bitrates. DTS can provide greater detail than AC3, and the space and movement effects will be more noticeable and of higher quality.
Part 2. How to Convert AC3 to DTS With Quality Output
The easiest AC3 to DTS converter, which you can use both online and offline, is included in this section. See the steps below for further information.
1. Vidmore Video Converter
The simplest AC3 to DTS converter that you may purchase for your Mac and Windows device is the Vidmore Video Converter. If you are an amateur and desire to convert your file into another format, this software works best. It is due to the pleasant built-in interface of Vidmore. You don't need to have a lot of skill for video converters since you can learn the editing tools quickly.
Aside from AC3, Vidmore also supports many kinds of music and video formats such as WAV, MP3, AAC, M4A, M4R, MP4, MKV, and many more. Another thing is you may change the bitrate, sampling rate, and channel of the file that you have. Lastly, Vidmore Video Converter functions at its finest without an internet service provider.
To ultimately aid you with your assignment, below is an example of converting AC3 to DTS using this program.
Step 1: Download the AC3 to DTS Program
Before you start, you need to start the program's installation process. Begin to install it by clicking the Free Download button below. Then, allow Vidmore to operate on your device so you can start adding your AC3 file.
Step 2: Upload AC3 File From Your Folder
After the software operates on the device, you will be prompted with a simple interface. To access the Folder, just hit the Add Files button or press the Plus to sign in to the screen's middle. From here, you may look for and upload files.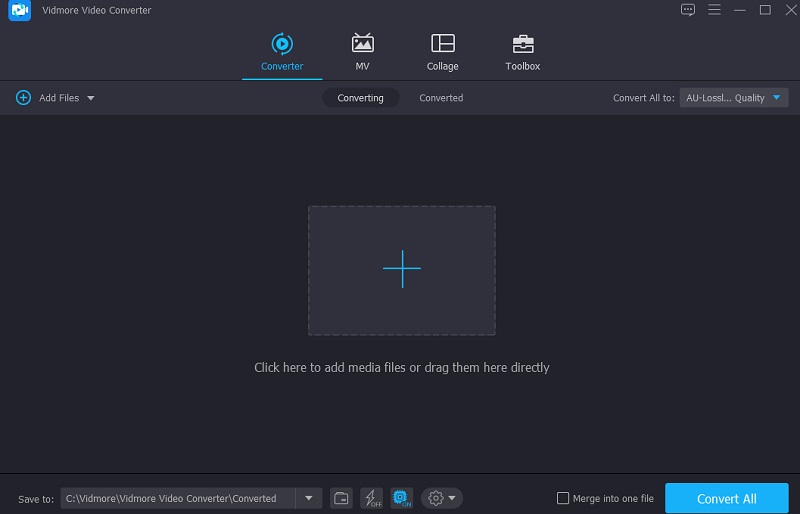 Step 3: Choose DTS as New Format
You may change the format of AC3 after it has been uploaded by selecting it from the drop-down menu on the side of the window. Then, pick the DTS format from the list from the drop-down menu that appears below the Audio tab.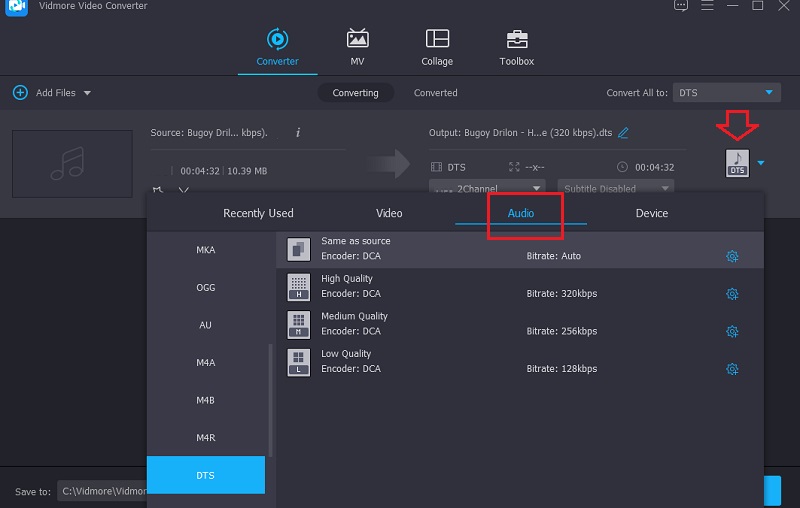 After you pick the DTS format, you will be given the option of adjusting the audio quality to your preference. With a single click of the Settings button, you may change the Bitrate, Sample Rate, and Channel settings. Click on the Create New button after you're finished customizing the audio to your taste.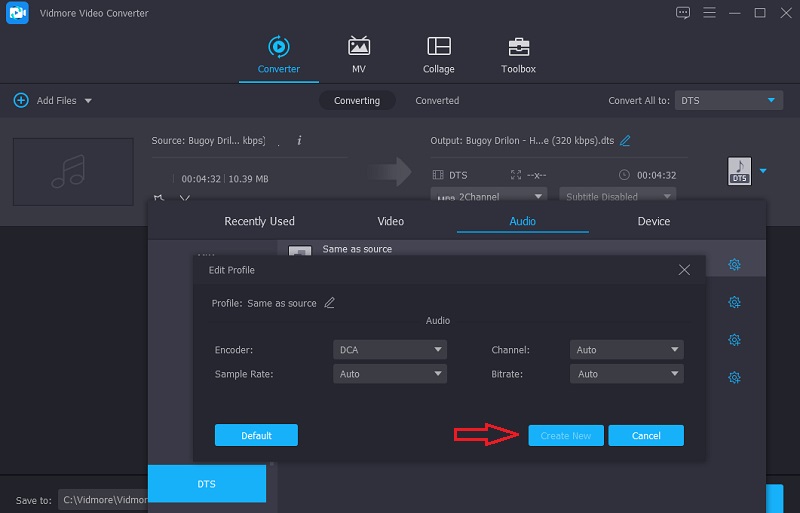 Step 4: Proceed to the Conversion Process
When you're through with the audio quality improvement, click on the Convert All button in the drop-down menu. After that, you'll have to wait for the process of conversion to be finished.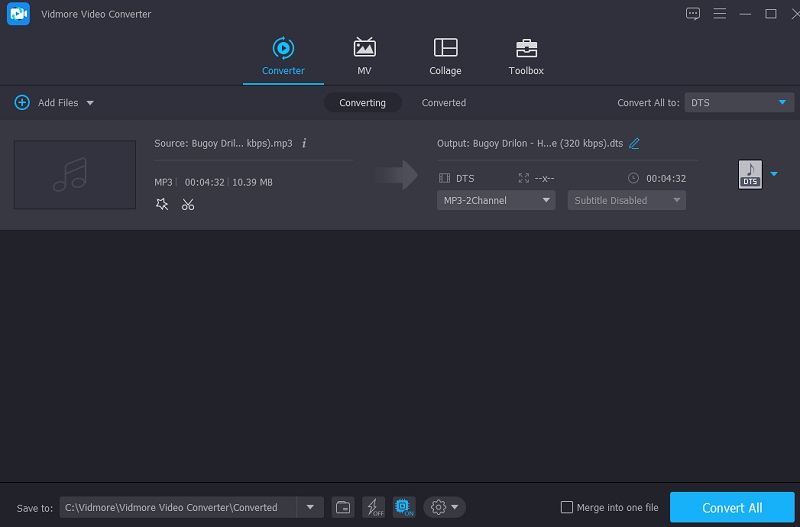 2. Online Audio Convert
Suppose you lack storage space on your device, and you urgently want an AC3 to DTS converter. In that case, you may use an online program such as Online Audio Converter to solve your problem. This program enables you to convert your submitted file into one of 30 different file formats, with a file size restriction of 2GB per upload. Another advantage of this tool is that it features an easy-to-use UI.
Step 1: Navigate to your browser and type Online Audio Converter into the search bar. Then, touch the Open Files button and choose your AC3 file to upload.
Step 2: Following that, choose your preferred format from the list of available formats on the same interface and select the file size.
Step 3: Finally, tap the Convert button to save your file's modifications.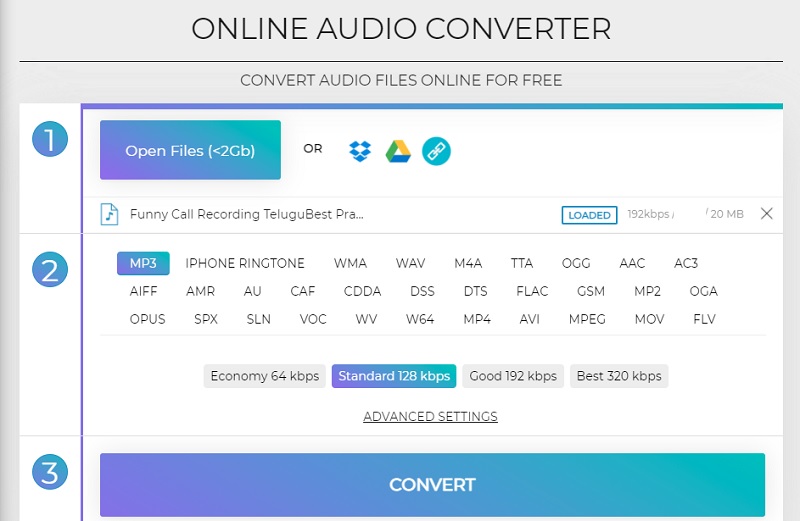 Further Reading:
Guide to Convert AC3 to AIFF Using the Excellent Programs
Best 3 AC3 Mergers to Combine Individual AC3 Files Into One
Part 3. FAQs About COnverting AC3 to DTS
What is the good advantage of an AC3 file?
AC3 has just full-range channels and significantly improved audio quality.
What is the significant difference between AC3 to DTS files?
Both have a comparable sound quality and depend more on the output device. However, others argue that DTS is somewhat higher. According to the same sources, DTS is more precise and more transparent than AC3.
Is DTS sound worth the cost?
DTS is widely regarded as the greatest spatial audio available technology because, as per most users, it delivers a realistic audio experience unlike any other.
Conclusion
We cannot deny that both AC3 and DTS are audio formats that give excellent audio quality to your soundtracks. On the other hand, if your media device doesn't support AC3 files and you want to play it on your home theater, it is suggested that you choose DTS. The DTS format is very suitable for your home cinemas, and it provides excellent surround sound. You don't have to be concerned because you can quickly convert AC3 to DTS in just a snap. All you need to have is the right set of tools, Vidmore Video Converter.