Best AIFF to M4A Converters for Mac and Windows Computers
When talking about AIFF, the better sound quality might first come to mind. This format is usually found in Mac OS, and it adopts lossless compression technology in disposing of audio files. Yet as we know, lossless and uncompressed files consume ample space, which is a deal-breaker for many. Hence, you may want to convert it to compressed audio but still have high audio quality. In this case, an ideal format is M4A.
This file format provides high audio quality in a portable file size compatible with iTunes, iPod, and iPhone. Now you do not have to bother about the disk space of your drive; save it for other essential tasks as you can AIFF to M4A conversion can be done quickly and easily. Continue reading to learn about how to get this job done and commendable tools to use.

Part 1. General Knowledge about AIFF and M4A
In case you want to learn further about AIFF and M4A, here is some necessary information concerning these formats.
What is an AIFF audio file?
Apple created AIFF, short for Audio Interchange File Format, to store sound data with various bitrates for different use cases in PC and other utilities. It is seen chiefly in Mac systems and is supported by its applications. Technically, AIFF files are uncompressed and lossless, producing excellent sound quality yet taking up too much space. Furthermore, it offers support for metadata information such as author, title, name, album, etc.
What is an M4A audio file?
MPEG 4 Audio, also known as M4A, was also a file extension developed by Apple. An unprotected AAC audio file with lossy compression produces better sound quality in relatively smaller file size. As a matter of fact, it is equivalent to M4R with only distinctions where M4R represents iPhone ringtones. Fortunately, it is possible to convert AIFF to M4A easily and quickly. Find out the right tools by reading through the post.
Part 2. How to Convert AIFF to M4A Effortlessly
Converting AIFF to M4A is just a piece of cake when you have the right tool. But since there are a lot of candidates online, you might be wondering which program to use. As such, this part encompasses offline and online programs to help you convert in whichever way you prefer.
1. Vidmore Video Converter
Vidmore Video Converter is a remarkable media converter suitable for Mac and Windows users. Thanks to GPU-powered encoding, this program converts media files in a few seconds without sacrificing the quality. Also, there are tons of available formats for output audio, including M4A, M4R, AAC, ALAC, AC3, MP3, and many other popular formats. It also comes with an audio editor to cut, trim, split, or merge audio files. Apart from that, you can customize the output parameters by adjusting the sample rate, bitrate, and channels to get an accurate output result. Check out the following steps and learn to transform AIFF to M4A on Mac or Windows PC.
Step 1. Obtain the AIFF to M4A Converter
First off, grab the latest version of Vidmore Video Converter by clicking on any of the Free Download buttons given below. Have the app installed and run it on your computer.
Step 2. Add an AIFF file
After that, click the Plus sign button from the program's main interface to upload a file. Or, press the Spacebar key to open the file folder and upload your target AIFF file. You may also drag and drop the file that you wish to convert.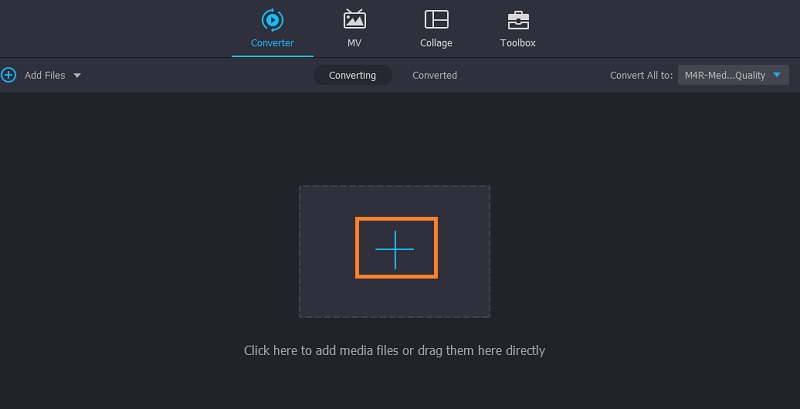 Step 3. Choose a file format
Next, choose a file format for the file that you are converting. Simply go to the Profile menu and forward to the Audio tab. From the audio formats, select M4A and select a profile setting that suits your liking.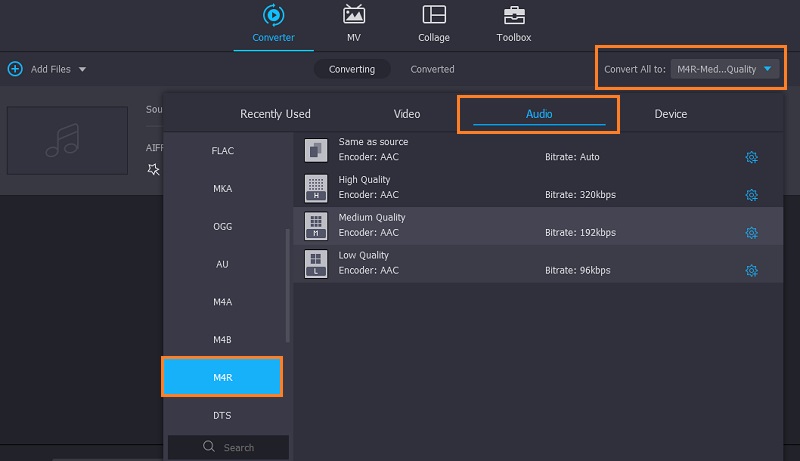 Step 4. Convert AIFF to M4A
After selecting the proper settings, start the conversion process by clicking the Convert All button at the bottom right corner. It should begin immediately, and the file will automatically be saved on the file destination.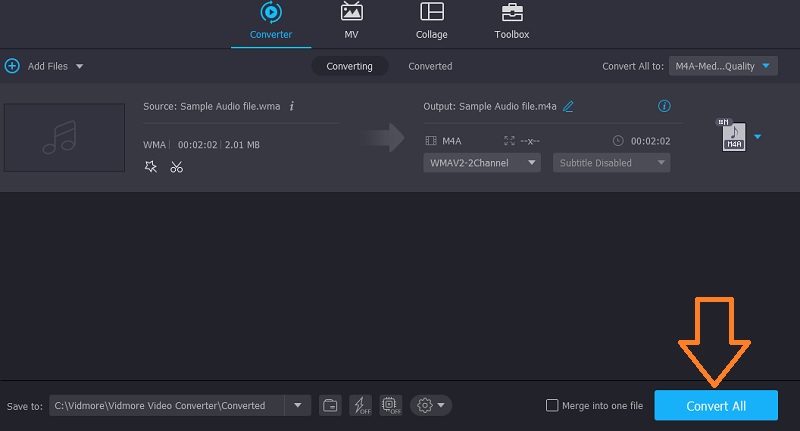 2. Vidmore Free Video Converter
Vidmore Free Video Converter is for those users who do not like to install too many apps on their computers. This is a converting tool based on the web, allowing you to convert AIFF to M4A on Windows and Mac without any limits and even registration. This program also comes with a basic audio editor that enables you to change parameters like bitrate, channel, and sample rate. To figure out how you can transform AIFF to M4A, have a glance at the following instructions.
Step 1. Install the Vidmore Launcher
Begin by downloading the Launcher of the tool. To do this, click the Add files to convert button from the tool's main page. Next, install it on your computer and start the launcher.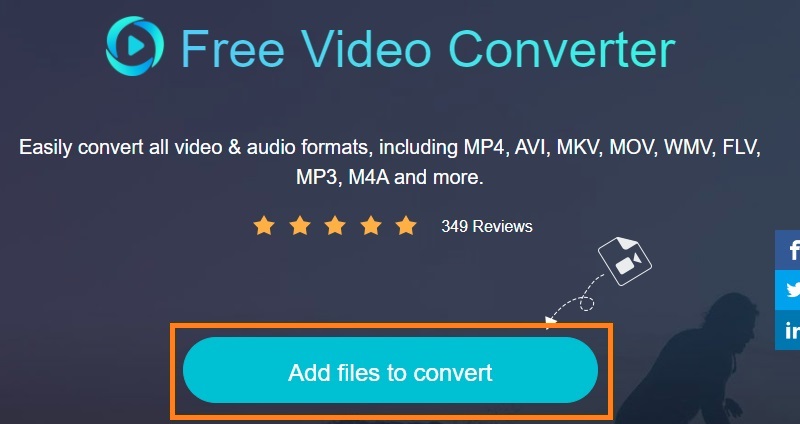 Step 2. Import an audio file
When the launcher starts, locate and select your target audio file. Then you should see it in the conversion area. Click the Add File button at the upper left portion if you wish to add more files to convert.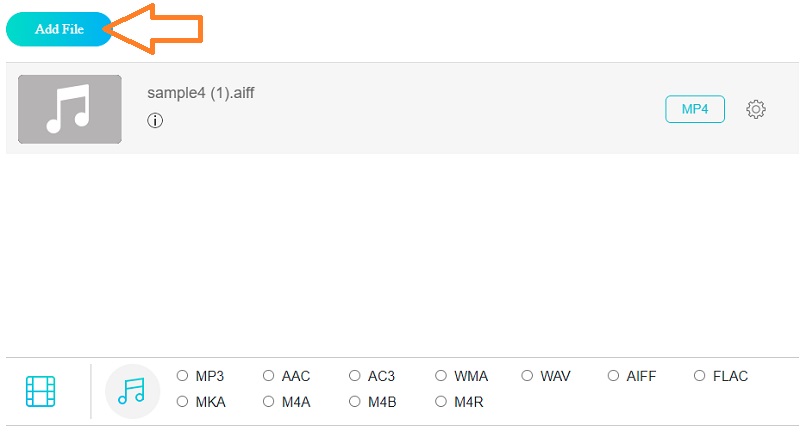 Step 3. Select a file format and convert
Now, click on the Audio format option. Then it should show a list of available formats in the tool. Tick on the M4A and hit the Convert button, and the conversion process should commence.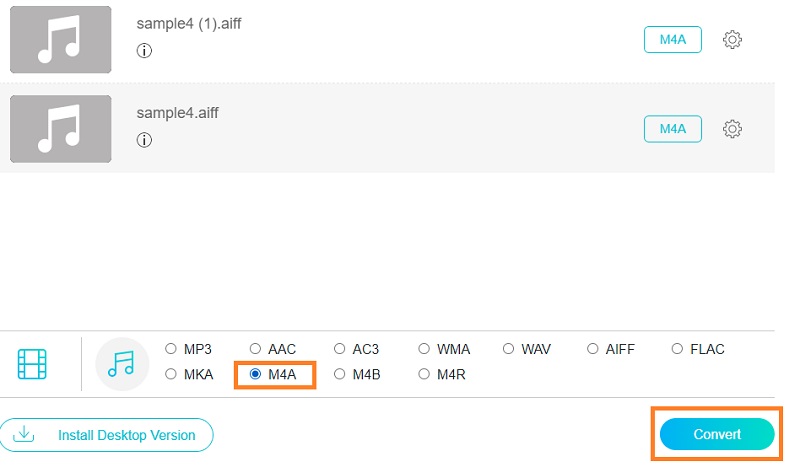 Part 3. Which Way is Better?
If your primary concern is which method you will utilize, a table illustration might help you. This covers different categories to compare and contrast the two outstanding tools.
Operating System
Formats Supported
Capabilities
Conversion Speed
Vidmore Video Converter
Windows 7 and later macOS Catalina and later
MP3, WAV, WMA, M4A, M4B, M4R, AAC, AC3, MKA, AIFF, FLAC, CUE, RA, MP2
1. Audio editor 2. Change audio parameters 3. Edit audio metadata
Convert multiple files not more than 1 minute
Vidmore Free Video Converter
Windows, Mac, and Web
MP3, AAC, M4A, AC3, FLAC, WMA, WAV, AIFF, M4B, M4R, MKA
1. Customize audio profile 2. Convert from webpage 3. Single and batch conversion mode
It depends on how the internet is stable
These programs are undoubtedly helpful in converting AIFF to M4A. They both support various audio formats. However, if speed is an essential factor for you, Vidmore Video Converter is probably your tool. Unlike Vidmore Free Video Converter, you can expect a swift conversion as it is not dependent on the internet connection, which sometimes would cause interference in the conversion process.
Part 4. FAQs of AIFF to M4A
What is AIFF used for?
AIFF files are primarily famous for Mac systems that can maintain excellent quality sound but use an encoding scheme that produces a relatively large file size.
Can I play AIFF files on PC?
Yes. Some programs can play AIFF files that can be a native app and downloaded on PC. These include Windows Media Player, VLC, and iTunes.
Does iTunes support M4A?
Generally speaking, yes. iTunes supports M4A, allowing you to stream your favorite M4A files in iTunes either from your Windows or Mac computer.
Conclusion
The two tools reviewed above are pretty efficient in converting AIFF to M4A. Moreover, they have additional functions that give you the freedom to make further changes to the audio you are converting. Looking closely at these programs, Vidmore Video Converter seems to be more potent for its practical functionalities. You can manage and edit files more flexibly with this tool.