Convert M4R to M4A with Assistance of the Best Software
M4R is a file extension that is used exclusively for iPhone ringtones. You can usually buy an M4R from iTunes. You will not be able to play them on any player or device unless authorized by iTunes. Now, you have the desire to play it like you would play MP3 files. For this instance, you need to reformat the file from M4R to M4A. Read through this post and get knowledge on how to get this job done.

Part 1. M4A vs. M4R
Converting M4R to M4A is pretty straightforward. Before diving into how this conversion process works, let us learn more about these two formats in detail.
What is the M4A file?
M4A is a filename extension intended to represent the compressed audio file in the MPEG-4 container. It uses either AAC (Advanced Audio Encoding) or ALAC (Apple Lossless) as its encoding scheme, developed as the successor of MP3. This is because it can improve sound quality with the same file size as an MP3 file. What is so good about the M4A file is it does not adhere to the Digital Rights Management protection. Meaning the file is unprotected, unlike M4R. Furthermore, you can freely transfer and flexibly edit the file as you like.
What is an M4R file?
In actual fact, M4A is the same as M4R as we look closely at the lossy algorithm of the two filename extensions. They both belong to the MPEG-4 family and are compressed using AAC, which compresses audio files in high quality while reducing the file size. On the other hand, M4R usually lasts for 40 seconds only. Also, it uses DRM to protect the file from copyright. Considering what comprises this format, it is believed that M4R is a renamed file of M4A.
Move on to the next part to learn how to change M4R to M4A.
Part 2. How to Convert M4R to M4A Easily
1. Vidmore Video Converter
The first M4R to M4A converter that you can use is Vidmore Video Converter. This professional desktop program enables you to convert from and to all popular audio/video formats. Plus, you can convert files in batch mode, allowing you to upload and process multiple files efficiently. Also, rest assured that the quality of the audio remains the same as the original. Besides, you can adjust the output quality as it grants you the capability to change the sample rate, bitrate, and channel. You will indeed find this tool valuable as you explore more of its features.
Below is a clear instruction on how to use this program.
Step 1. Install and launch the app
Before utilizing the app on your device, download it first. There are Windows and Mac Free Download buttons. Just choose according to your needs. Install and launch the app afterward.
Step 2. Add an M4R file
After that, click on the Plus sign button or press the Spacebar on your computer keyboard. It will open a folder on your computer and then you can upload a file. Also, you may drag and drop the files to upload.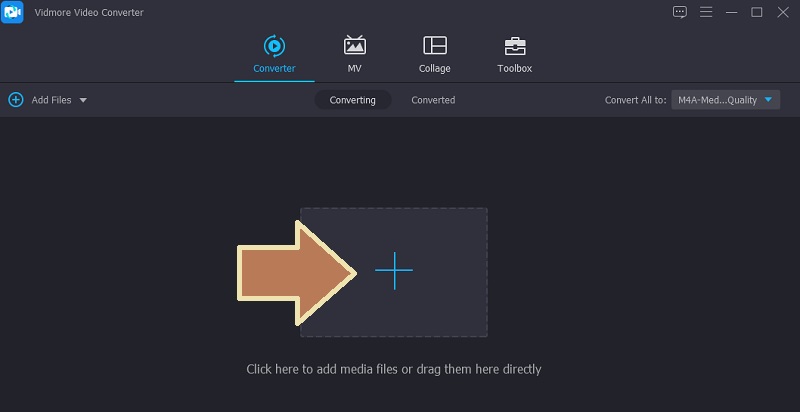 Step 3. Choose a file format
Now, open the Profile menu at the upper right portion of the interface. Then forward to the Audio tab and select the M4A format from the left side panel. Next, select an audio profile that fits your preference to finish the process of choosing an output format.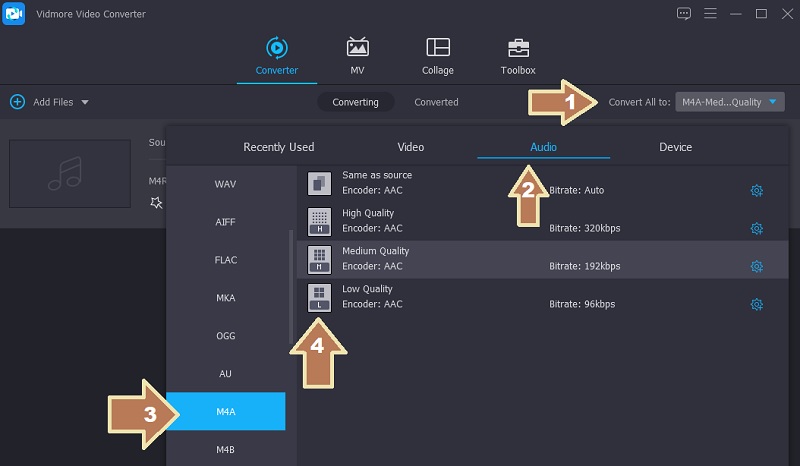 Step 4. Initialize the conversion process
After following the above steps, click the Convert All button to initialize the conversion process. Shortly, the audio playback should be ready. You may directly check the processed files by going to the Converted tab on the same page.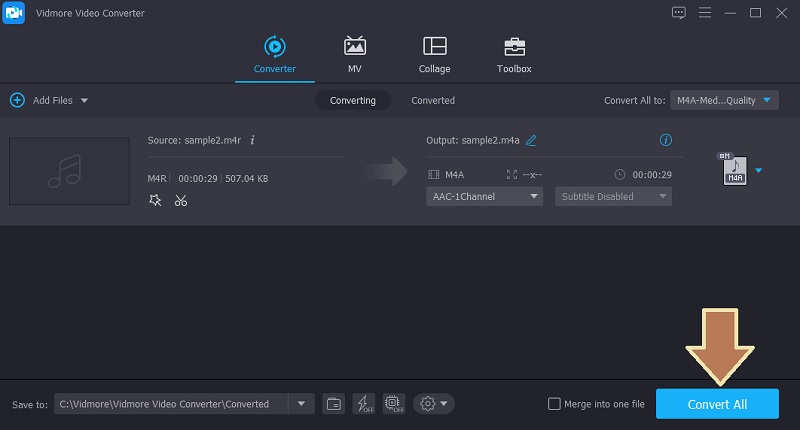 2. FILEZIGZAG
Another program that can assist you in converting M4R to M4A is FILEZIGZAG. It offers convenience since there is no need for installs. You can access the site and convert via the browser directly. It also supports batch conversion and provides support for document conversion. However, you can only upload ten files maximum per batch. This program is free to use and does not require you to register for an account. To demonstrate the process of how to convert M4R to M4A online, you can take a look at the steps beneath.
Step 1. To start, visit the program's website and click the Browse for Files to open a file folder on your computer.
Step 2. Select the M4R file you wish to convert and select an output format from the Target Format drop-down.
Step 3. After that, click the Start Converting button, and the conversion task will commence immediately.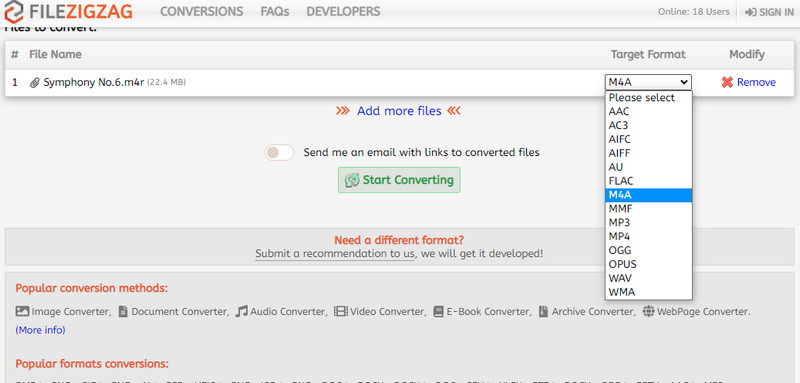 Part 3. Which is the Best M4R to M4A Converter
To help you weigh which option is more appropriate for your needs, here is a comparison chart that you might find helpful.
Ease of Use
Fast-speed
Audio Quality
Windows and Mac
Supported Conversion Formats
Vidmore Video Converter
The user interface is intuitive
Converts files in a matter of seconds
Maintains original quality
Supports both operating systems
Supports many video and audio formats
FILEZIGZAG
Does not require much time to learn
Depending on the stability of the internet
Not guaranteed quality after conversion
Supports Mac and Windows
Works for a few conversion formats
Part 4. FAQs of M4A to M4R
How do you play M4R files on Windows?
iTunes comes with a Windows counterpart allowing you to play M4R files. On the other hand, you can play M4R files copyright protected using a free media player like VLC.
Can I convert M4A to iPhone ringtone?
Yes. M4A files are also suitable for use as ringtones. It is just that you need to reformat it to M4R.
How do I open an M4A file?
Any player that can play MP4 should be able to play M4A files. As stated above, M4A is the audio file that an MP4 typically contains.
Conclusion
In this post, we offer the two best M4R to M4A converters. This includes offline and online methods. Vidmore Video Converter presents a better option since it does not need an internet connection to process files. In addition, it comes with many supported formats and tools you will find helpful. In any case, you choose between the two appropriate for your needs.