AMR to WMA Converters Online and Offline You Should Master
An AMR, also known as an Adaptive Multi-Rate codec file, is a human speech audio compression developed for the purpose of phone voice recordings. In addition, it appears most among VoIP applications, which is helpful to make calls via the internet connection instead of using a standard phone line.
The major issue here is that you can only listen to AMR files on cell phone devices. If you wish to listen to it on other players and devices, converting it to another format is the solution. We suggest you turn it into WMA. As we know, the WMA audio format is compatible with almost all audio players and devices. Plus, it compresses audio files while preserving the quality. On that note, we outlined a list of AMR to WMA converters you can use immediately.

Part 1. Optimal AMR to WMA Converters
1. Vidmore Video Converter
When it comes to choosing the best choice for AMR to WMA audio converter, Vidmore Video Converter should be included in your list. The desktop program offers an intuitive user interface that makes it easy for green-hand users to maneuver the tool even without prior experience. Moreover, it can convert any video format to popular and new audio formats you can think of. Apart from that, a wide range of portable formats is supported, allowing you to export to iPhone, iPad, Samsung, and other portable formats.
Over and above, the tool is integrated with extra features, such as a video trimmer, rotator, compressor, etc. Indeed, Vidmore is a functional program for your every media manipulation purposes. Find out how this tool works by following the procedure below.
Step 1. Grab and install the app
This AMR to WMA converter is free to download. To get it, click the Free Download button that corresponds to your computer's operating system. Following that, follow through with the wizards and prompts to install the app properly. Afterward, launch to start using the program.
Step 2. Add audio files
Upon launching, you will see the upload icon that looks like a Plus button. Click on the said button to open up your device's folder. Next, browse your media files and look for the audio you wish to convert. After selecting a file, click on the Open button from the folder window.
Step 3. Set WMA as the output format
This time, go to the Profile menu in the upper right portion of the interface. Drop down the menu, and you will see a list of formats. Head to the Audio tab, and on the left side pane, select WMA. You may also use the search bar to locate your target format instantly. Next, select a quality that fits your requirements and initiate the conversion process.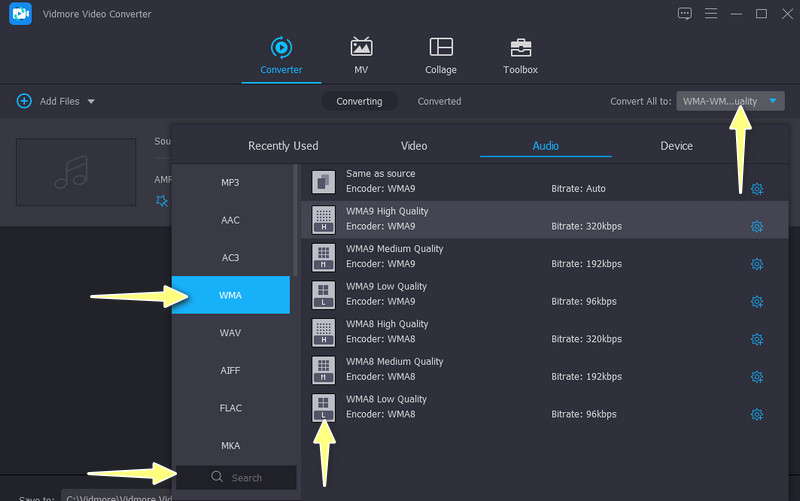 Step 4. Start the conversion process
After selecting the audio format and quality, set an output directory and by clicking the output folder icon. Lastly, click the Convert All button at the bottom right corner of the interface. When the conversion process finishes, an output folder displays the resulting file.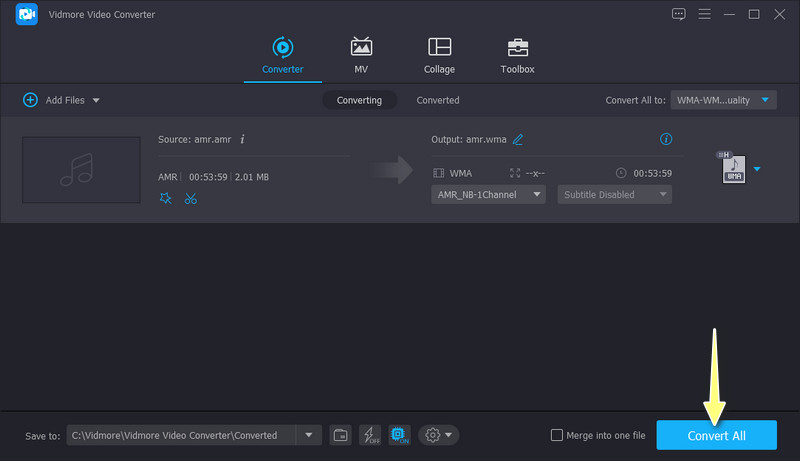 2. VLC Media Player
Another AMR to WMA converter you can master to help you convert audio files is VLC Media Player. You read it right. This app is primarily for streaming audio and video files. Yet, it features a converter that will assist you in converting your AMR to WMA files. In like manner, it accepts almost all audio formats. However, there is a limited supported output format. Lucky for you, WMA is one of them. Learn how to convert AMR to WMA, please refer to the simplified guidelines below.
Step 1. Download and install the VLC Media Player on your devices. Run it afterward.
Step 2. Upload an audio file by clicking the Media option at the top left corner. Go to Convert/Save, and a dialog box will appear. Hit the Add button and import the audio you would like to convert.
Step 3. Next, click the Convert/Save at the bottom of the Convert window and go to the New Create profile menu. Now, navigate to the Audio codec and mark the Audio checkbox.
Step 4. On the Codec drop-down option, select WMA and click the Create button. From the format selection, select your newly created profile. Hit the Start button to initialize the process.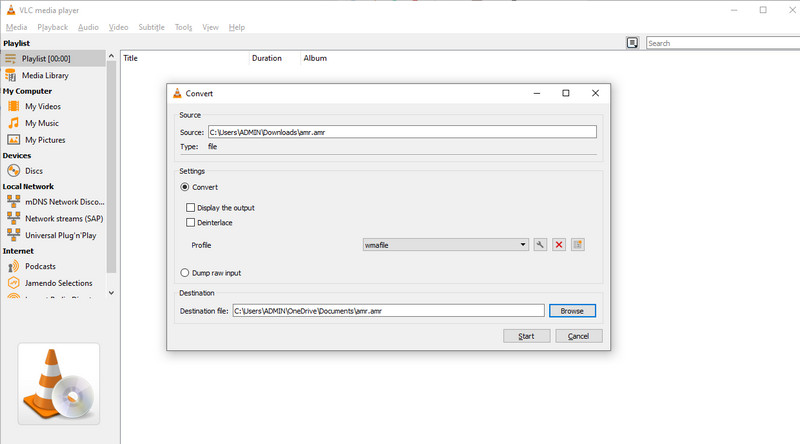 3. CloudConvert
If you are looking for an online AMR to WMA converter online, CloudConvert might be a good tool. This is a web-based app that facilitates audio and video conversion. Furthermore, it allows for the customization of audio files. With it, you can adjust the bitrate, volume, sample rate and even shorten the audio file using the trimmer. Most of all, it can convert files in batches and individually.
Follow the simple instruction to convert your AMR files to WMA online.
Step 1. Enter the tool's name on the address bar of your preferred browser.
Step 2. Tick the Select File button from the web page and select your target audio file.
Step 3. Set the output format to WMA and configure some settings by clicking the wrench icon.
Step 4. Once satisfied, click the Convert button to begin the conversion process.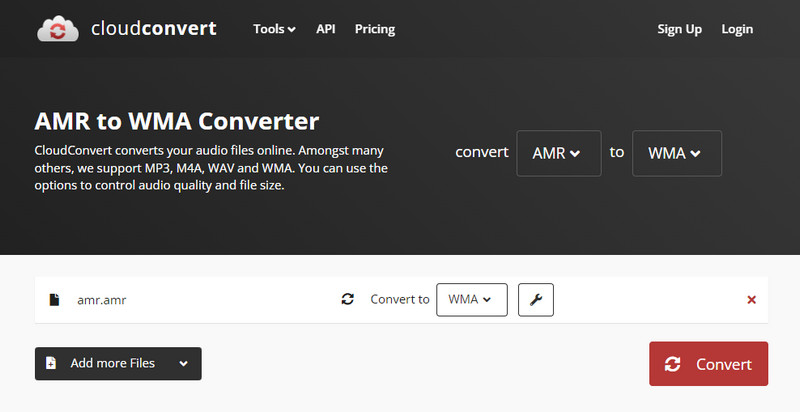 Part 2. AMR vs. WMA
It is common sense that each audio format comes with advantages and disadvantages. In line with that, you may wonder which format is better. AMR is specially developed for speech coding and is used for storing spoken audio. What is more, it is the chosen format for 3GPP and 3G cell phones to store voice recordings. In fact, it is best for compressing and storing voice recordings compared to WMA files.
However, when it comes to compatibility, WMA deserves attention. Not to mention, it has no rival in terms of sound quality. Some audio files have poor sound effects lower than 128k. But with WMA, you can expect better sound effects lower than this bitrate. Thus, if you wish to preserve the quality of your compressed audio, WMA is an excellent option.
Part 3. FAQs on AMR to WMA
Can I open AMR files in Windows Media Player?
Unfortunately, Windows Media Player cannot play AMR files. Nevertheless, some programs support this format. You can rely on Apple QuickTime Player and VLC Media Player.
Is AMR lossless or lossy?
AMR files are lossy in nature. Despite this, it has a superior speech quality making it suitable for GSM or Global System for Mobile Communications.
How do I convert AMR files to MP3?
With the acquisition of the above programs, you can easily convert AMR files to MP3. Some programs do not support AMR as an input format but with these programs, you can import AMR and export it to MP3 files.
Conclusion
If you wish to make this conversion simple, you can consider these AMR to WMA converters to your account. In addition, there are desktop and online programs so you can choose which method suits your preferences well. Yet, the best among these three is Vidmore Video Converter because of its added features and efficient conversion process.