2 Best APE to AAC Converter You Can Rely Upon Online and Offline
We all know that APE files are not available on all devices. As a result, if we ever want to play some APE files on our favorite media players, we will not do it. Good thing audio converters are created! You won't have to be limited when playing your APE files because you can convert them to one of the popular formats that can play on most devices, such as AAC. Spend time reading this post because we will give you the most recommended online and offline tools to convert APE to AAC.

Part 1. What Are APE and AAC
What is an APE file?
A format for lossless audio Monkey's Audio (.ape files) is also referred to as an APE codec or MAC format. The .ape file extension denotes it. It means that it does not waste audio data like lossy audio formats such as MP3, WMA, AAC, and others do. As a result, it can create digital audio files that faithfully reproduce the original sound source when played again.
What is an AAC file?
Part 2. How to Convert APE to AAC Easily
At this point, we will give you the most recommended online and offline solutions to convert APE to AAC.
1. Vidmore Video Converter
If you're searching for an audio and video converter of exceptional quality, look no further than Vidmore Video Converter. This software works well on Windows and Mac computers. This program has a more user-friendly interface than other audio and video converters. You can use this program to convert APE to AAC regardless of whether you are a student or a professional who has to do so.
With its simple-to-use yet sophisticated editing features, you may adjust the quality of your audio while still taking into account the bitrate and sample rate. The device typically functions even without an internet connection. Finally, it saves you time by speeding up the conversion procedure. Using these four simple methods, you can quickly convert APE to AAC.
Step 1: Acquire the APE to AAC Converter
Before proceeding with the following steps, please download and install the software by clicking one of the icons below. It will help if you run the launcher after it is correctly installed. Once the program is installed and running, you can immediately open it and begin using it.
Step 2: Add APE Files
You will be brought to the main interface when you first run the software. Click the Add Files button to begin the process. Alternatively, you can send it directly to your library by clicking the Plus sign in the screen's center. To convert a file, locate it in the list and click on the file you wish to convert.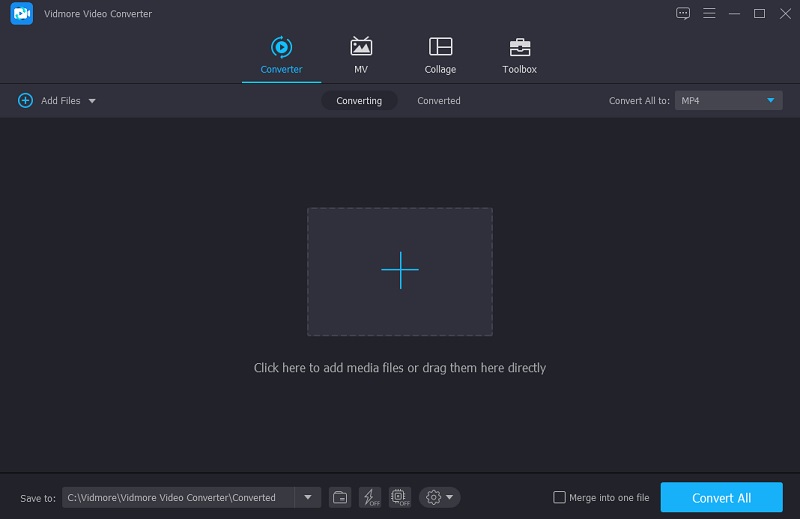 Step 3: Choose the AAC Format
Once the APE file has been uploaded, you can listen to it by selecting a format from the drop-down option on the right side of the screen, as seen below. Then, click the Audio tab and select the AAC format from the list.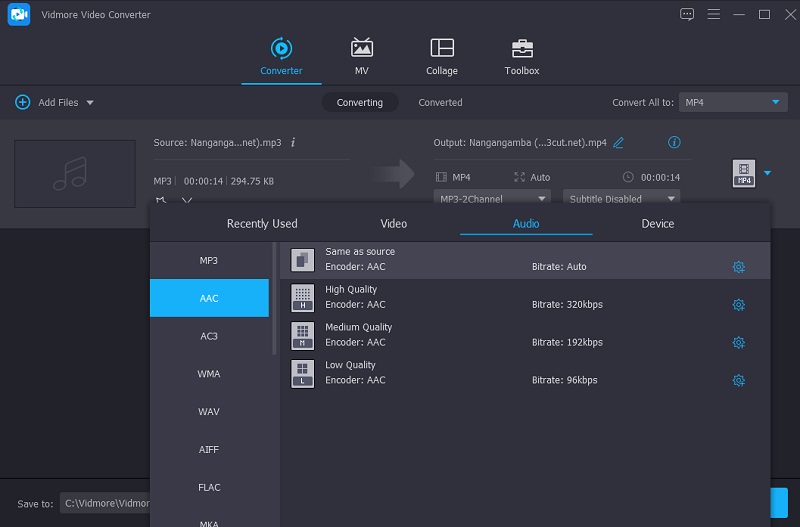 Following the AAC format selection, you have the choice of reducing or maintaining the audio quality. Select the Settings button on the right side of the format and go through the Bitrate, Sample Rate, and Channel choices using the drop-down arrows. Following that, click the Create New button to start the procedure.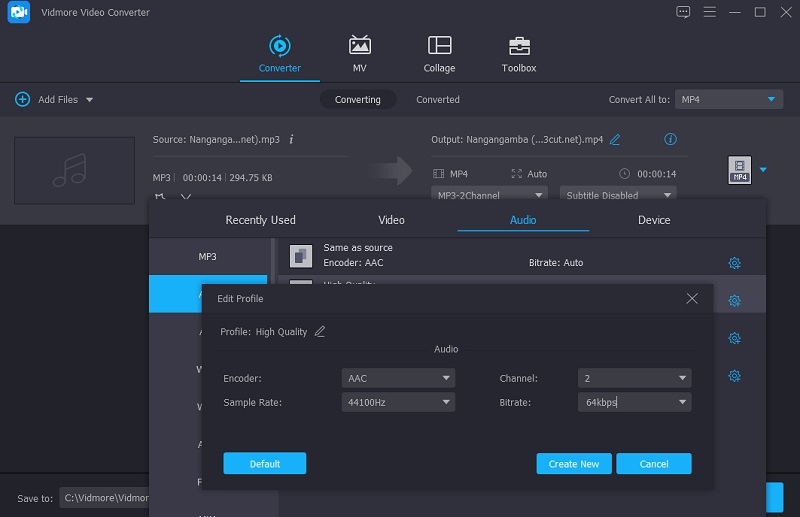 Step 4: Convert APE to AAC
After the audio quality enhancement is complete, the conversion procedure will begin. To convert everything, click the Convert All button. As a result, you'll receive an AAC file!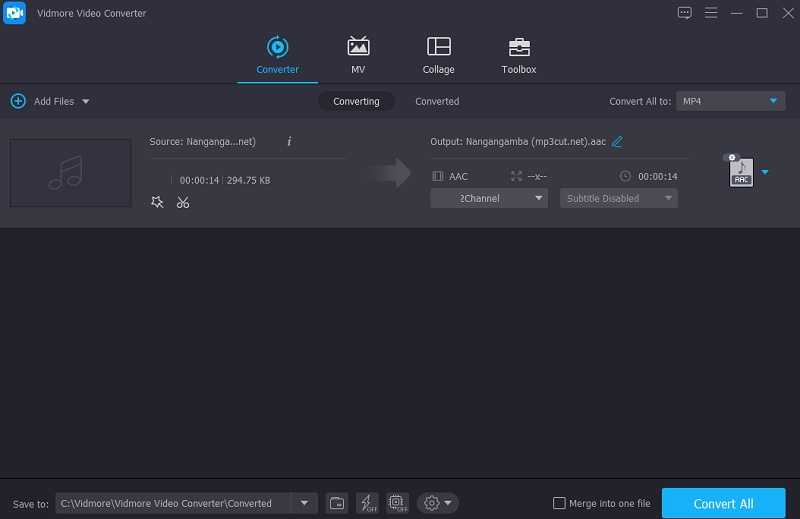 2. Vidmore Free Video Converter
If you're seeking an APE to AAC converter online, you've come to the right place. Given that Vidmore Free Video Converter looks to be the program you're searching for, you've come to the right place. This web-based utility's user-friendly interface enables you to convert your APE files into the format of your choice in a matter of minutes. As a result, you will receive your converted file quickly. This program is even more interesting because it converts files without imposing any size constraints compared to other online converters and editors.
If you find this a helpful resource, the following is a technique that will walk you through the procedure step by step.
Step 1: On the Vidmore Free Video Converter's official website, click on the Add files to convert and install the launcher buttons to start the conversion process.
Step 2: By pressing the Add files to convert button a second time, you can select another APE file from your Library and have it converted that way. It is possible to convert many audio files simultaneously by selecting the Add File option. It will save you time and effort.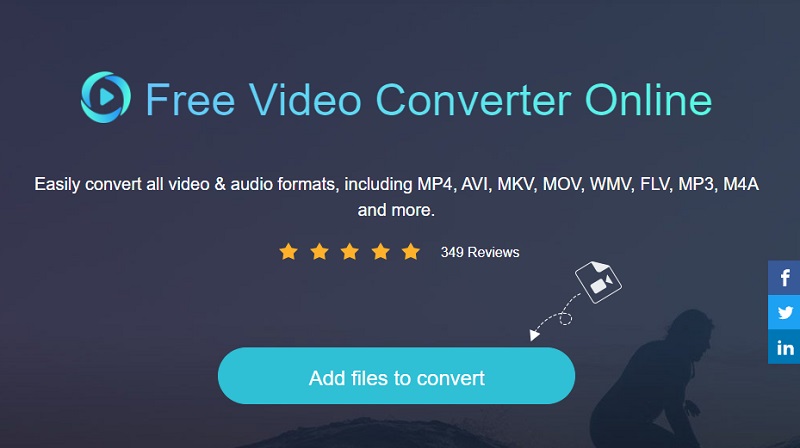 Step 3: Pick the Music icon in the right corner of the screen. After you've done that, it will present you with a range of different audio file formats from which to choose based on your preferences. You may select the AAC format for your audio file from the drop-down menu.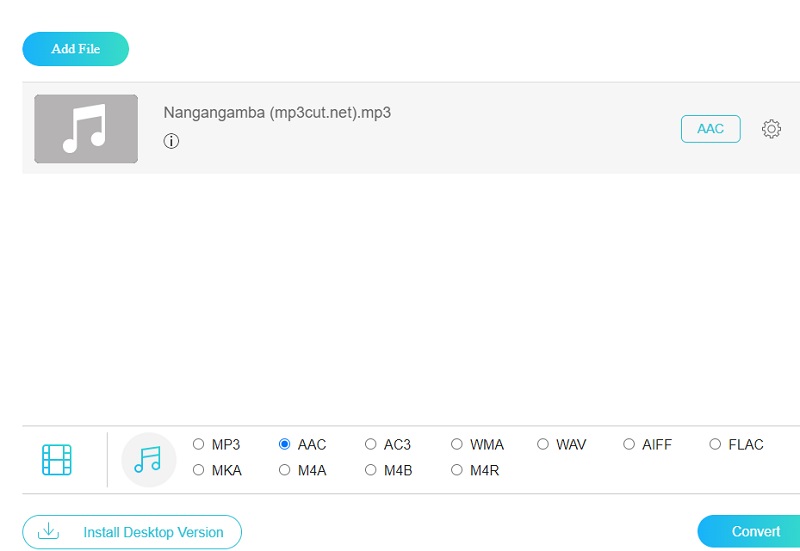 Modify the Bitrate, Sample Rate, and Channel settings as necessary by clicking the Settings button on the right side of the audio and choosing the appropriate choice from the drop-down menu. When finished, click the OK button to bring the window to a close.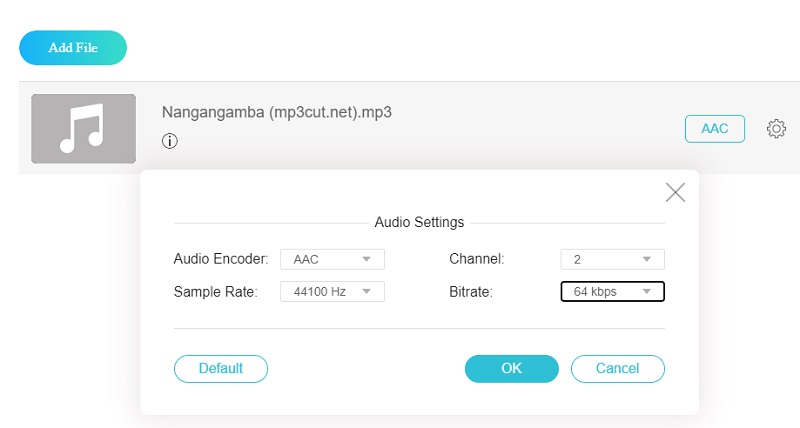 Step 4: To make the changes, select the Convert tab and the destination folder for your file, then click the Select Folder button. It will convert your audio tracks to AAC format within a few seconds.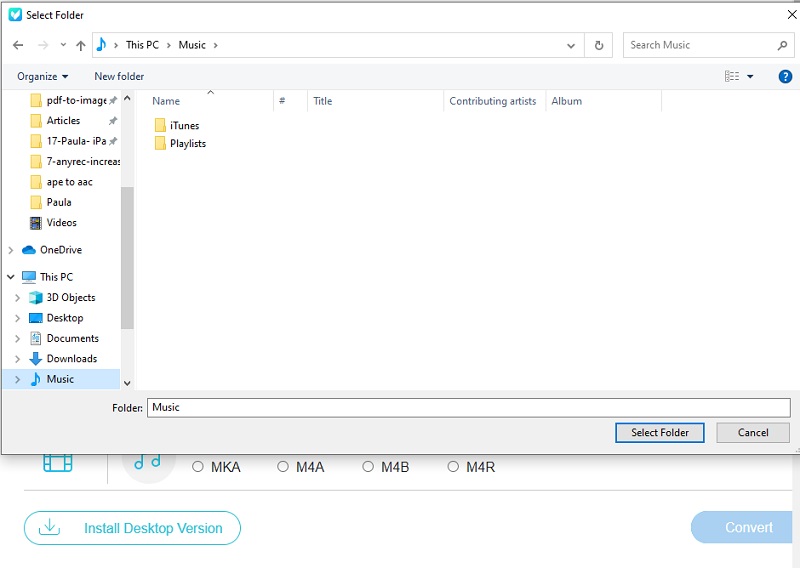 Part 3. Which Way Is Better?
This section provides a straightforward demonstration of the similarities and differences between online and offline APE and AAC converters. Examine the alternatives to see which is preferable.
| | | |
| --- | --- | --- |
| Important Features | Vidmore Video Converter | Vidmore Free Video Converter |
| Easy to use | | |
| Support many file formats | | |
| High conversion speed | | |
| Multiple editing tools | | |
| Support plenty of platforms | | |
Part 4. FAQs About APE to AAC
Is it true that AAC uses more battery power?
AAC uses a large amount of power. As a result, it can significantly reduce the battery life of smartphones and Bluetooth headphones.
Is AAC 256 a sufficient quality?
The bit rate of an audio file is measured in thousands of bits per second, or kbps, in the audio industry. A greater bit rate is preferable, which means that a 256 kbps AAC file is preferable to a 128 kbps AAC file.
Is AAC or MP3 a better format?
AAC gives better quality over MP3 at the same bitrate, even though AAC also employs lossy compression. At the same bitrate, MP3 has a lesser rate than AAC.
Conclusion
With these APE to AAC converters, keep your favorite audio tracks in great shape. Using these easy steps, you can get the most out of either an online or offline solution.