AU to MP3 Converter: Top-Notch Tools for Converting AU to MP3
AU file is a digital audio file associated and introduced by Sun Microsystems. It is a lossless audio file format generally used on Sun and other Unix-based machines. Moreover, this format consists of a header, annotation block, and the actual audio data. Besides, this can also be associated with the Audacity audio file. The only way to open this type of file is by using Audacity.
The primary issue of this format, though, is the compatibility. You can not listen to the audio file you edit on Audacity unless you use the appropriate player. Your best option is to convert it to formats compatible with almost all devices and media players in such scenarios. Undoubtedly, MP3 file format will come into mind. That is why in this guidepost, we will teach you the best AU to MP3 converters free and online tools. Read through the article to get the necessary information.

Part 1. Best AU to MP3 Converter
Vidmore Video Converter is a multi-purpose video and audio converting program. You can use it to convert files to other formats supporting almost all media formats. The tool is fully workable on Windows and Mac systems. What is more, users are given the ability to edit the audio profile such as audio bitrate, sample rate, channel, and more. On the other hand, you can select from the preset quality for an instant conversion process.
Furthermore, it also lets you convert audio files in bulk without restriction to the number of converts. Best of all, the quality of the audio is preserved. You may refer to the step-by-step procedure of this AU file to MP3 converter below.
Step 1. Free download and launch the tool
First off, grab this AU to MP3 converter program by clicking on the Free Download buttons. Follow the on-screen setup to install the app. Then, you can launch the tool to reach the main interface.
Step 2. Import an AU file to the program
Next, click the Plus sign button on the main interface to open your file folder. After that, look for the AU file you intend to convert and upload. Or drag and drop the target AU from your audio folder to the upload area. You should see its thumbnail after successfully uploading the AU file.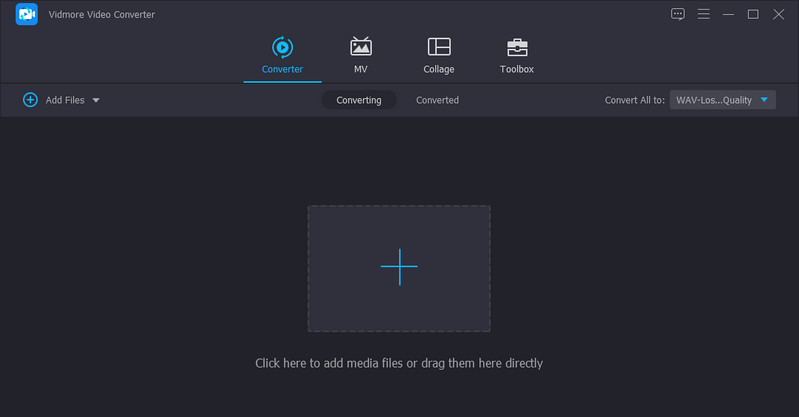 Step 3. Choose output format
Then, go to the Profile menu to see the list of available formats. Now navigate to the Audio tab and select MP3 on the left side panel of the options list. If you wish, you can also convert MP3 to AU by uploading an MP3 file and selecting AU as the output format.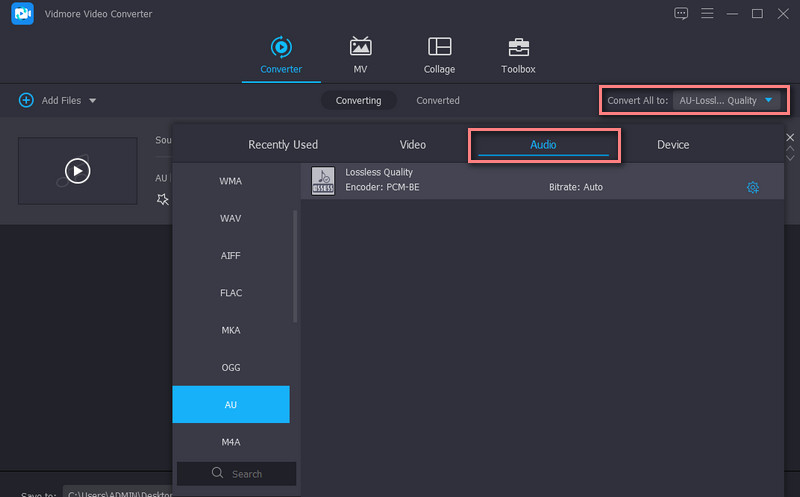 Step 4. Convert AU to MP3
Click the Convert All button to the AU to MP3 conversion task when everything is set. The converted audio file will be stored on the selected destination allowing you to preview them instantly.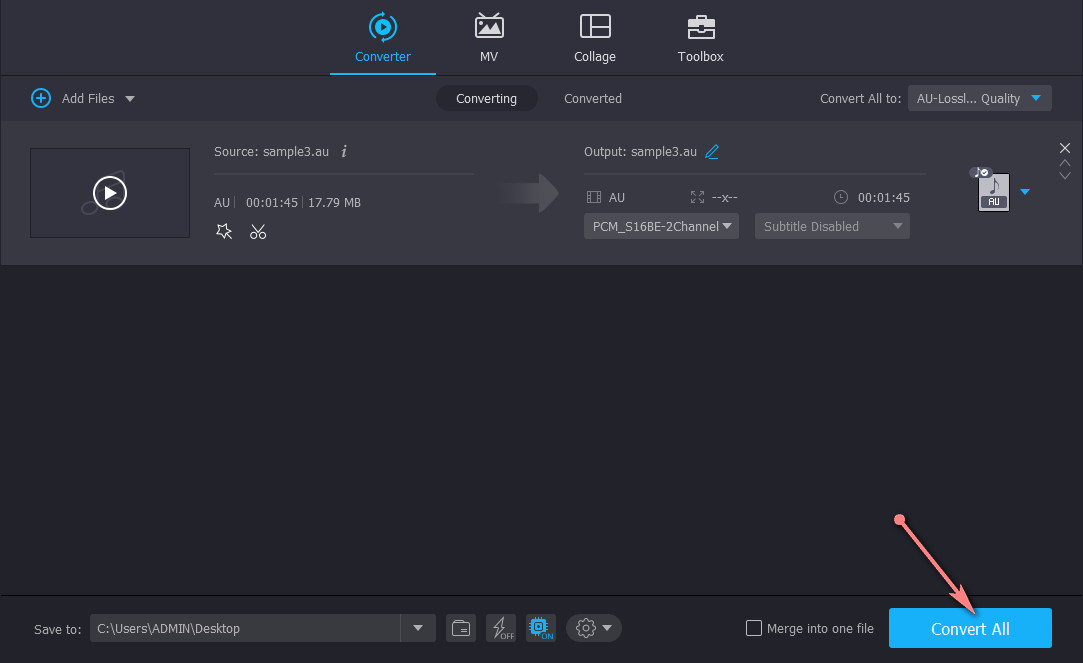 Part 2. Free Online AU to MP3 Converter
The following program you can use is Vidmore Free Video Converter Online. This web-based app allows you to convert audio and video files without downloading an application. Although it is an online program, it does not fall behind in converting speed and additional features. In like manner, you adjust the output of the audio file convert files in bulk without file size. Therefore, if you need to transform AU files to MP3 anytime, anywhere, you should go with Vidmore Video Converter. The only drawback you might encounter with this tool is the conversion speed. Unless your network status is stable, you may not be able to get the output immediately. Find out below how AU format sound is converted to MP3 using this program.
Step 1. Access the tool's website
First and foremost, launch the program's website using a web browser to access and get to the tool's main page. Click the Add files to convert button for a quick installation of the launcher.
Step 2. Add an AU file to the online app
Now, click the Add files to convert button to load an AU file. After successfully adding an audio file, you will see its thumbnail on the converting panel of the program.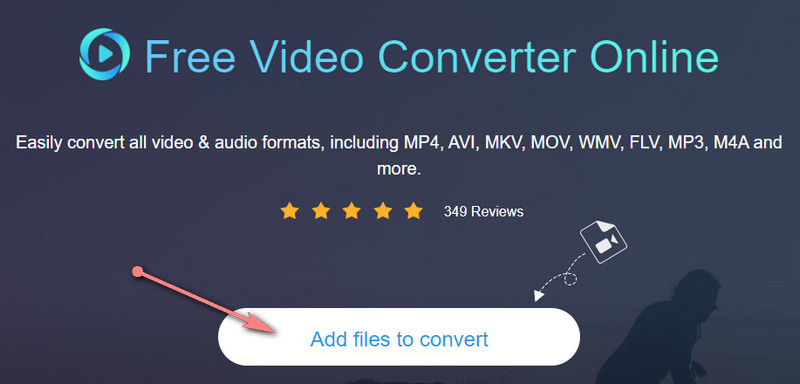 Step 3. Select an audio format
Now, click on the Music icon that looks like the symbol of a note, and you will see a list of audio formats. From here, please tick on the MP3 radio button to select it as the output format.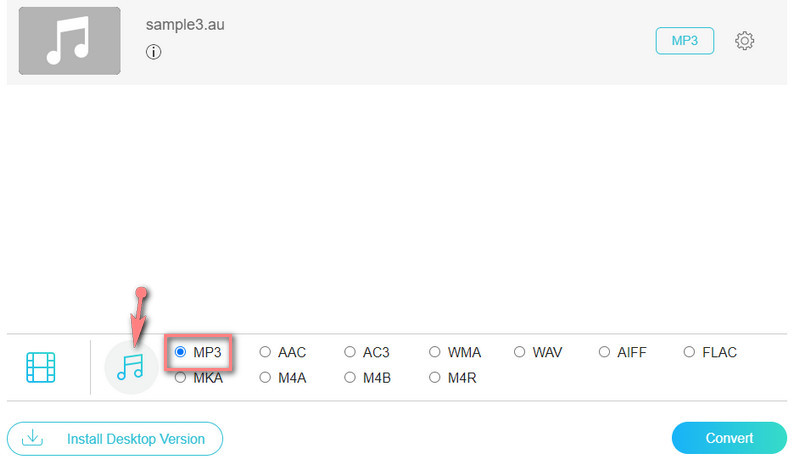 Step 4. Initiate the conversion process
Before the actual conversion process, you may hit the Gear icon to modify some output settings. Then, click the Convert button to initialize converting from AU to MP3. By then, you can play your favorite AU files on almost any device.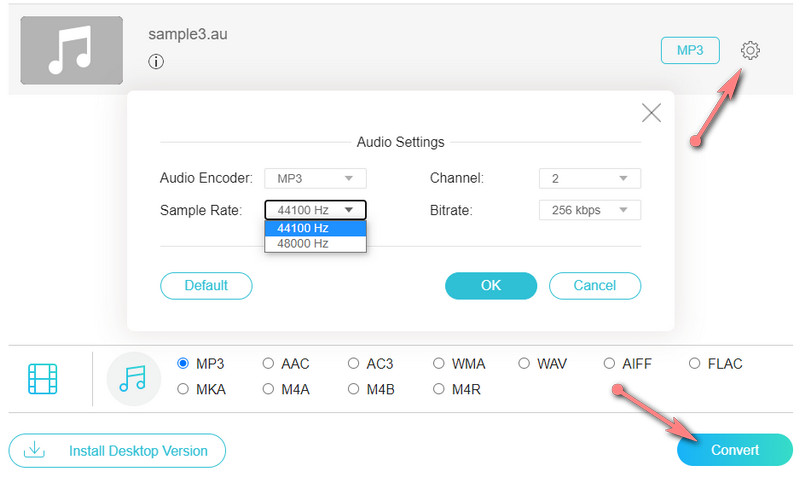 Further Reading:
How to Efficiently Convert AAC to MP3 with or without iTunes
How to Add and Edit Tags to MP3 Files on Windows and Mac
Part 3. Comparison Chart of the Two Converters
In this section, we put up a table with the key aspects you should consider when choosing the best software programs.
Tools

Vidmore Video Converter

Vidmore Free Video Converter Online
| | | | |
| --- | --- | --- | --- |
| Platform | User-friendly | Conversion speed | Batch conversion |
| Windows and Mac | | 100% | Supported |
| Web | | Depends on the network status | Supported |
Indeed the desktop version is the recommended program, especially if you need to convert in bulk without interruption. This works offline and does not need an internet connection to convert files. Besides, you can access more features for your audio and video editing jobs.
Part 4. FAQs on Converting AU to MP3
What is an AU file?
AU files can be associated with an audio file produced by Audacity, which is an open-source and cross-platform audio editor. This is a proprietary program wherein only Audacity can open this format. These files are usually saved as .aup files.
How do I open an AU file?
Playing AU files can be pretty challenging when you are unaware of the capable programs that can open this format. Apparently, you can use Audacity to open AU files. Meanwhile, more apps can help you open AU files, like VLC media player.
Can I play AU files on Windows?
Yes. In fact, you can play AU files and other formats using a native Windows app named Windows Media Player. This program can stream AU, MP3, WAV, WMA, AIFF, ASF, and CDA audio file formats. Therefore, you do not need to download extra programs.
Conclusion
Those are the complete software solutions for you to convert AU to MP3 on Mac, Windows, and online. There is no doubt the best tool you can use is Vidmore Video Converter, as it enables you to work offline, allowing you to convert losslessly and instantly. Also, the conversion speed is not affected by the network status for converting files that is uninterrupted.