Convert FLAC to AAC: Walkthrough to Turn FLAC Files to AAC
FLAC is a file extension intended to compress lossless audio files. Naturally, it preserves the quality of the file without losing any data since it is a lossless format. However, this excellent format cannot be the best choice for compatibility and file size.
On the other hand, AAC is a type of digital audio format that adopts lossy compression. Thus, you can store more audio files when using AAC. Although AAC loses some data, it ensures satisfactory sound quality, especially at a low bit rate. Equally important, this format is compatible with the majority of devices, audio systems, and players. Through this post, you will discover some of the best tools to convert FLAC to AAC. Continue reading to learn more.

Part 1. How to Convert FLAC to AAC Losslessly
For an excellent converter with a lossless quality conversion, Vidmore Video Converter is a go-to software. With its supported audio/video formats, it can do almost all media conversion at high speed. This program also integrates batch conversion without any limitation regarding the audio file's number and file size. Moreover, you can come up with a professional output file using the app's audio profile editor. Above all, the tool supports batch convert FLAC to AAC that is particularly helpful when converting many files at once. Therefore, you should have no problem when trying to convert FLAC to AAC on Mac. With that being said, below are the instructions on how to transcode FLAC to AAC using this software.
Step 1. Download and install FLAC to AAC Converter
Before anything else, grab the app's latest version by clicking any of the Free Download buttons. Ensure to get the installer that corresponds to your computer OS. Install and launch it on your computer.
Step 2. Add audio files to the app
After launching the app, click the big Plus icon in the middle of the interface to upload an audio file. Or, drag and drop the chosen FLAC file into the program to upload.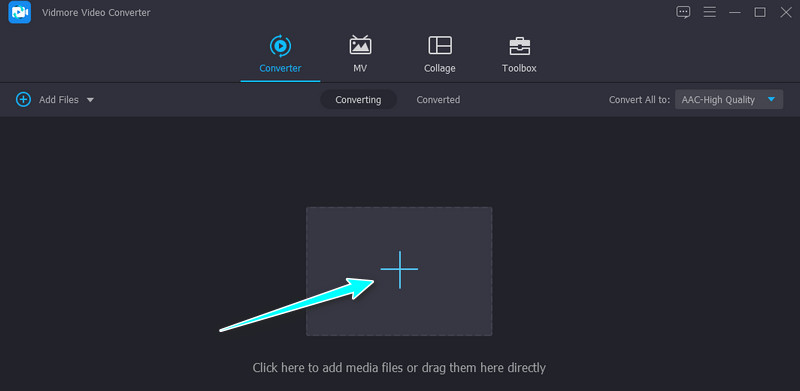 Step 3. Open the Profile list
Once done, open the Profile list, and it will present format choices. Choose the Audio tab to open the panel for audio format options. Then on the left panel, select AAC, and then you should see a list of audio profiles. Choose the profile that suits your needs.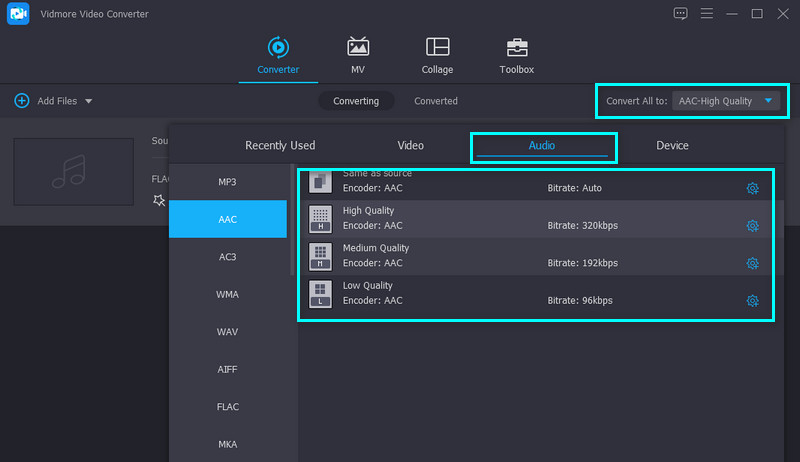 Step 4. Start the conversion process
Finally, carry out the conversion process. To do this, click the Convert All button, and it should start converting the FLAC to AAC. When the process ends, it will show a folder that shows the output file.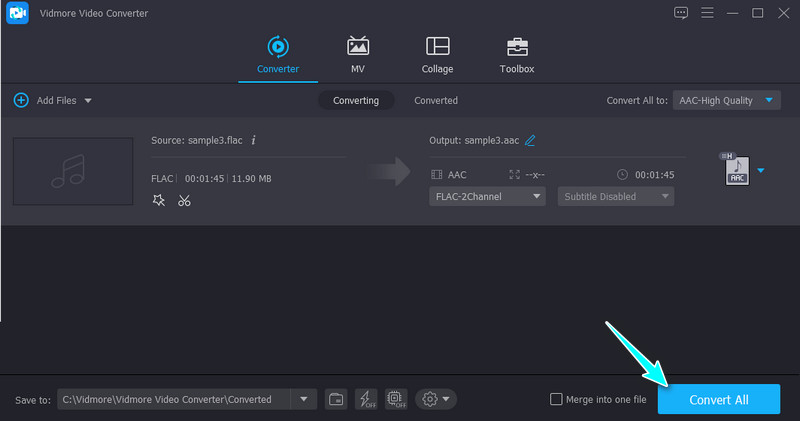 Part 2. How to Convert FLAC to AAC with Freeware
1. FFmpeg
Besides the previous tool, you can also convert FLAC to AAC using FFmpeg. Although it does not have a GUI like people are accustomed to using, it can effectively do the job well. Instead, it runs on a command prompt where text is the mode of communication with the application. Basically, you will need to have basic knowledge about commands for conversion. Nonetheless, here is how FFmpeg FLAC to AAC conversion works.
Step 1. Download FFmpeg on your computer and install it to start using.
Step 2. Once the installation finishes, launch Command Prompt. Then, check if the FFmpeg is installed by running it into the command prompt.
Step 3. After that, navigate to the folder where your FLAC files are saved while still using the command prompt.
Step 4. Finally, enter this command: ffmpeg -i input.flac output.aac and press the Enter key to start the conversion process.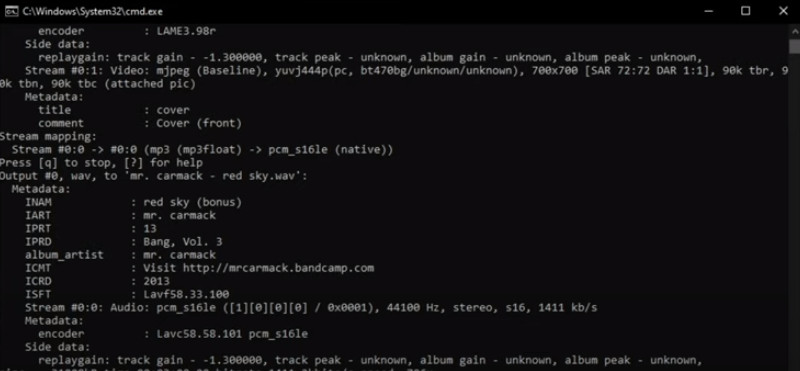 2. Foobar2000
Aside from being an audio player, Foobar2000 also works as a converter that supports a vast collection of formats. It can handle audio formats like MP3, AAC, AIFF, Apple Lossless, OGG, WAV, and many other formats. With it, you can choose to change the interface and find the best design interface that suits your preferred workplace. Aside from that, it supports ripping audio CDs and various tagging capabilities that you can employ to your audio files. Below are the simple steps to convert FLAC to AAC for free.
Step 1. First of all, download Foobar2000 and run it on your computer. Make sure to get its installer from the official website to have the latest version of the app.
Step 2. Forward to File and click on Open or press CTRL + O to open a folder. Browse the file that you wish to convert and upload it into the program.
Step 3. Right-click on the file and hover your mouse to Convert. Select Quick Convert. Then, choose AAC that has the appropriate setting for your needs.
Step 4. Hit Convert at the very bottom of the panel, and it should start the conversion process immediately.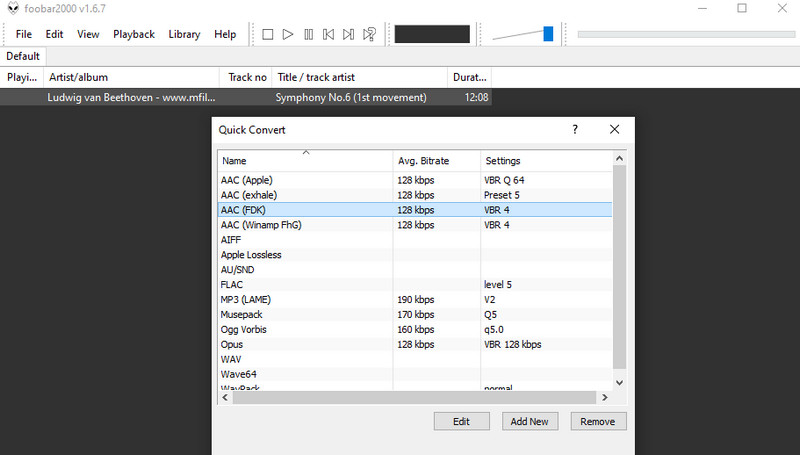 Part 3. Comparison Chart of the Converters
It is given that each program reviewed in the post can convert FLAC to AAC. Yet, there are some aspects that need further evaluation to help you choose the right program for you.
Vidmore Video Converter

FFmpeg

Foobar2000
| | | | |
| --- | --- | --- | --- |
| Platform | Ease of use | Editing Tools | Best for |
| Windows and Mac | Intuitive | Crop, split, edit, MV maker | Advanced user and beginner |
| Windows, Mac, and Linux | Complex | Video cutter and trimmer | For experienced user |
| Windows and Mac | A bit complicated | Cropping | For beginner |
Part 4. FAQs of FLAC to AAC
How to Convert FLAC to AAC on iTunes?
Just add the FLAC files to the iTunes library. Then modify the import settings and set it to AAC Encoder. This is an ideal option for Mac users, yet it can be a bit complicated for green-hand users.
Does FLAC support multi-channel audio?
Yes. FLAC does support multi-channels. Specifically, it supports from 1 to 8 channels per audio stream, improving the quality of the audio when playing them on different speakers.
Is AAC good quality?
AAC is supposedly a replacement for MP3 that has a much higher quality compressed in a portable size.
Conclusion
Neither format is inherently better than the other as each does different things and offers unique features. If you want an audio file with a smaller file size yet produces satisfactory sound, converting to FLAC to AAC is a nice move to make. And, this will not be a problem as you can employ the above tools to get this job done.