Best FLAC to AC3 Converters for Mac and Windows Computers
In place of FLAC files, you might want to change it to AC3 to play your MKV with FLAC audio track on various platforms and devices. One of the features of FLAC is that it offers true-CD quality rips half the size of the original file. You will even appreciate it when playing on speakers and headphones. However, compatibility might be an issue for this format.
In this case, you can use AC3 files with excellent quality supporting various channels for a superb experience when playing on devices. Plus, it supports many devices and platforms for flexible enjoyment. Be guided on how to convert MKV FLAC to AC3 using the great programs that this article will introduce you.

Part 1. Benefits of Converting FLAC to AC3
You may have gone through a situation wherein you cannot play MKV FLAC with audio on your chosen MKV player. Some MKV videos have FLAC as their soundtrack because of the bit-perfect copy of this audio format while reducing the file size. Yet there are cases when FLAC audio track is demuxed from Bluray .m2ts movies.
Such MKV files with FLAC files demuxed from Bluray do not support most media devices and players. Hence, converting FLAC to AC3 audio track is a great option that you can employ to enjoy them on different devices while having the same quality and audio effects. In the following section, you will learn the reliable FLAC to AC3 converters for Windows and Mac.
Part 2. Notable Converters to Transform FLAC to AC3
1. Vidmore Video Converter
For a lossless audio track conversion, Vidmore Video Converter is a trustworthy app to use. This can settle your need for converting FLAC to AC3, WMA, WAV, OGG, and other popular audio formats. Moreover, it is capable of transforming files to device-supported formats such as iPhone, Samsung, Huawei, HTC, Roku, Chromecast, etc. If you have higher requirements, you can also edit the parameters according to your standards. The tool enables you to modify the channel, sample rate, and bit rate. To operate this FLAC to AC3 Converter, follow the guide below.
Step 1. Install and run the program
First things first, click on the Free Download button that corresponds to your computer operating system to get the program. Open the file extension and follow the on-screen setup to properly install the app then launch it on your computer.
Step 2. Import FLAC audio files
Next, click the Plus sign button from the main interface of the tool to add a FLAC audio track. When a folder opens, browse the file and select it to upload. If you wish, you may drag and drop the chosen file as an alternative way of uploading audio files.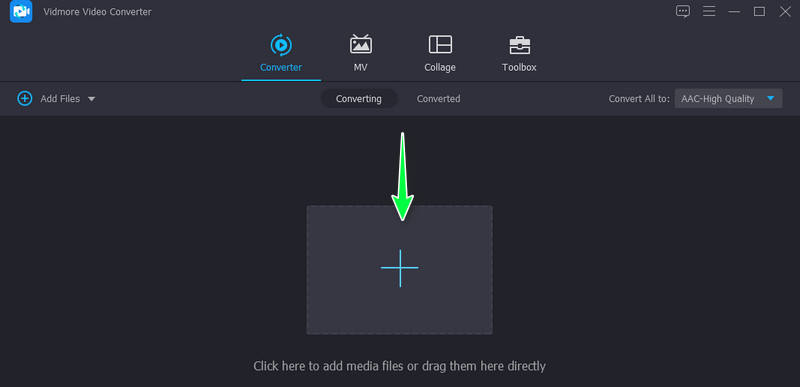 Step 3. Open Profile bar and select an output format
After that, unfold the Profile bar at the upper right side of the interface to see the list of available formats. Now, open the Audio tab and select AC3 format. Then, select an audio profile that fits your preference.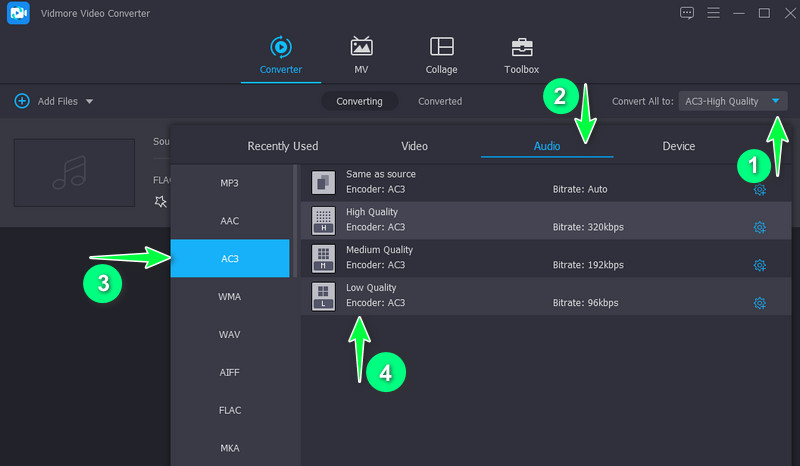 Step 4. Initialize converting files
Once done, click the Convert All button at the very bottom of the interface to start converting files. The output file will be automatically saved on the set file path.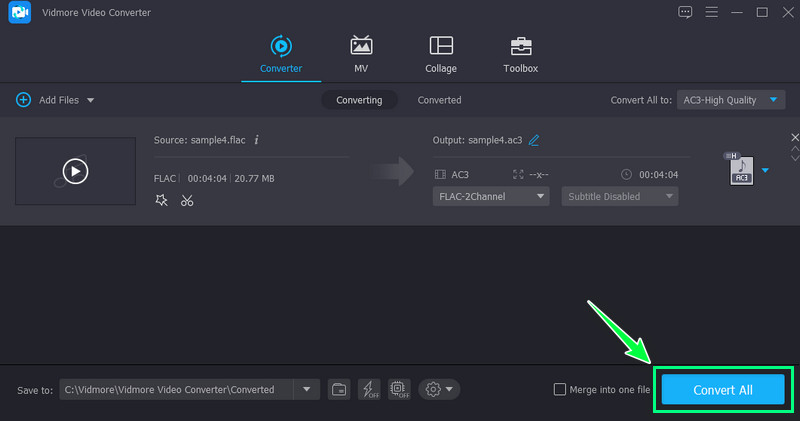 2. Vidmore Free Video Converter
Online tools like Vidmore Free Video Converter is an appropriate solution if you wish to do the conversion without having to download an app that consumes disk space. It allows you to upload videos and songs that you can convert to your desired formats. Besides, the tool comes with helpful features like bulk and single conversion and editing parameters. You also do not need to sign up for membership before you can use the program. In other words, it is totally free and has little to no limitations that it can compete with desktop or offline programs. Nonetheless, take a look at the below steps to operate this online FLAC to AC3 converter.
Step 1. Install and launch the web application
First off, visit the official webpage of the program using a browser. Simply type its link on the web address bar and you should get to the main page. Notice the Add files to convert button. Click on it and hit the Download button to get the Web Launcher, then install it.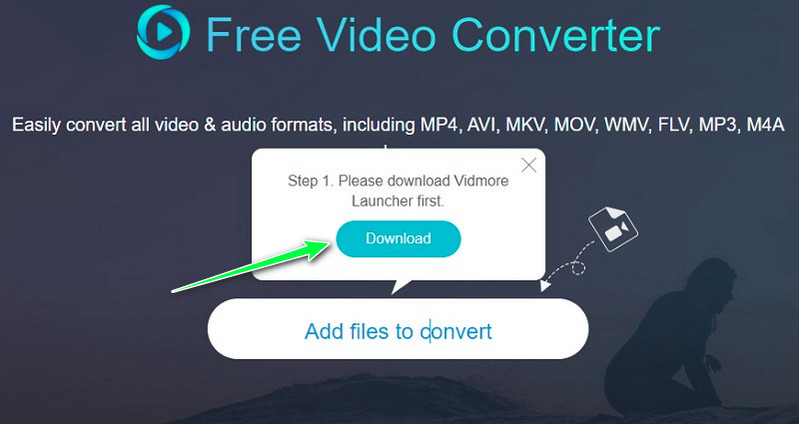 Step 2. Choose the FLAC to convert
After that, it should start running. Then you can browse the FLAC file that you like to convert. Upload the target audio track and add it to the program.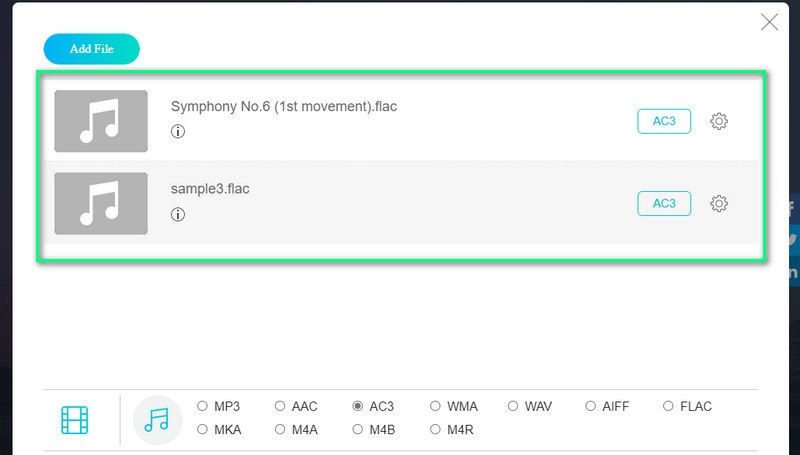 Step 3. Select output profile
Click the Audio format option to select the output file for the chosen sound file. By then, you can choose an output format from the list of choices. Tick the radio button for AC3. You are almost done. You may choose to edit the parameter by clicking the Gear icon.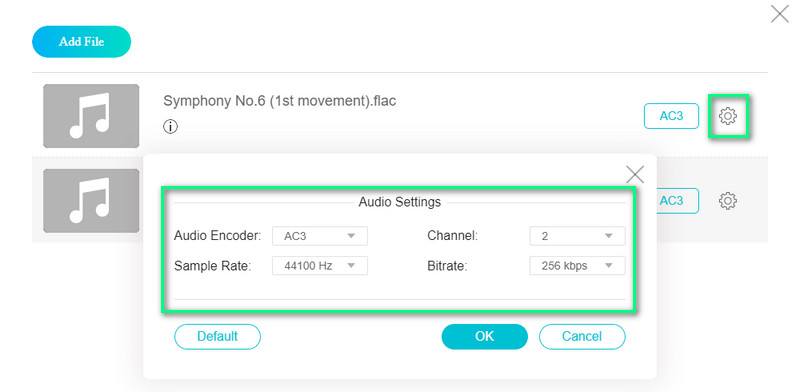 Step 4. Convert FLAC to AC3
When all the configuration is set, click the Convert button at the bottom right corner. You will need to set a file destination then it will start the conversion process afterward.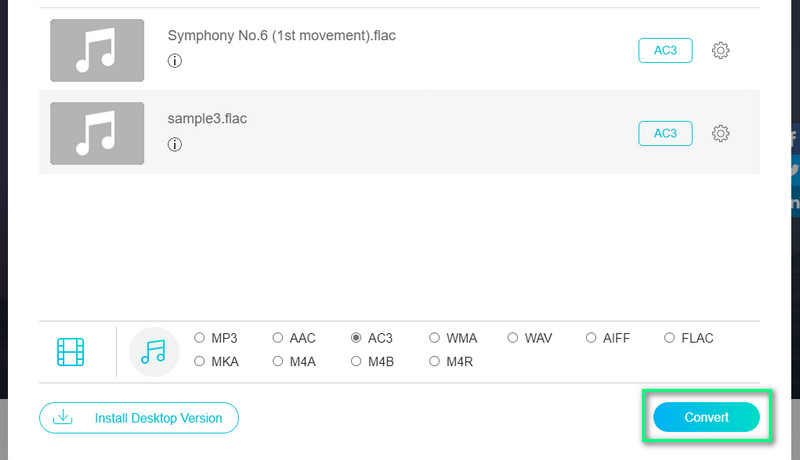 Part 3. FAQs of FLAC to AC3
Important fact about FLAC codec?
FLAC or Free Lossless Audio Codec is a compression codec that intends to compress audio digital audio files. Moreover, the compressed audio file using this audio codec can be decompressed with a complete and perfect copy of the origin.
How do you convert FLAC without quality loss?
Generally speaking, you can not omit the quality loss when converting media files. But you can eliminate the loss of quality using Vidmore Video Converter.
What is AC3 used for?
AC3 supports discrete multiple sound channels intended to produce better audio effects and quality on entertainment systems like speakers. This specifically contains surround sound, including right front, left, front, left rear, right rear, center, and ultra-low track channels.
Conclusion
Those are the two optimum FLAC to AC3 converters you may utilize when changing FLAC files to AC3. Users who do not like to install apps may adopt the online tool. However, these programs are subject to limited features, and internet connection interference can be a dealbreaker. Hence, for a converting tool that is feature-rich, desktop apps like Vidmore Video Converter is the best option.