Convert FLAC to DTS With These Top 3 Online and Offline Tools
Nowadays, when most people want to enjoy the comforts of home theaters, it is preferable to have excellent audio quality to enjoy it even more. Even if your file is in FLAC format, converting it to DTS format is preferable before distributing it. DTS is well-known for providing surround sound capabilities for home theater systems. Suppose you are interested in learning how to convert FLAC to DTS. In that case, it is recommended that you watch the FLAC to DTS HD converters available both online and offline.

Part 1. What are FLAC and DTS
Those interested in learning more about why FLAC to DTS conversion is necessary might look at the following paragraph to explain the formats.
What is FLAC?
FLAC is an abbreviation that refers to Free Lossless Audio Codec. It is an audio file format that provides slight copies of DVDs at a fraction of the size of the original CD. There are several mobile devices, digital music, like the PonoPlayer, and hi-fi devices compatible with it. Unlike WAV, this lossless compression format enables high-resolution sample rates and maintains the information. It consists of about half the space of WAV. It is an accessible format widely accepted as the ideal downloading and storing high-resolution albums. The disadvantage is that Mac does not support it.
What is DTS?
On the other hand, The DTS format is often referred to as the Digital Theater System format. This kind of format is often used in high-definition videos. It is used to support films on DVDs and optical video discs and to accompany films on television. It offers two sound channels, 5.1 and 7.1, enabling the total bit rate in elevated home theater systems. DTS utilizes lower compression in the encoding technique than its Dolby counterpart, which results in higher quality sound. As per some users, as a result of this, DTS gives a more enjoyable listening experience when decoded.
Part 2. How to Convert FLAC to DTS Quickly
1. Vidmore Video Converter
Suppose you value your time and cannot afford to wait for extended periods while converting your audio files. In that case, you may depend on the Vidmore Video Converter to meet your needs. It is the most highly recommended FLAC to DTS converter that you can rely on for your computer. This converter is exceptionally adaptable since you can install it on both Mac and Windows systems. No matter how large or tiny your file is, Vidmore can convert it at a quicker pace. Therefore, it is the first tool that people on the move turn to when they need anything.
Another remarkable characteristic of this tool is that it accepts various file formats, ranging from the oldest to the most up-to-date ones available today. Vidmore is likewise at the top of the list regarding professionalism. Whether you are a beginner makes no difference since this program has a highly user-friendly interface. It will be more beneficial if you follow the guidelines that have been given.
Step 1: Download the FLAC to DTS Converter
Before continuing, first, download and install the program by hitting on one of the Download icons provided below. Operate the launcher when the installation has been completed. You will be able to use the application immediately when successfully installed.
Step 2: Add the FLAC File on the Timeline
After the software has started for the first time, it will take you to the primary interface of the tool. You may either click on the Add Files button or touch the Plus sign in the middle of the screen to be led to the File Manager, which will allow you to browse for and add files.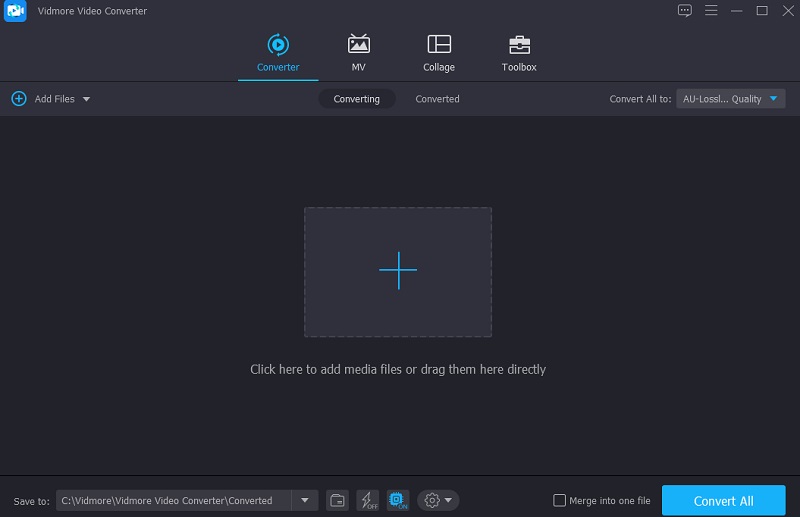 Step 3: Set a New Format
As seen below, once you have uploaded the FLAC file, you may change its format by choosing it from the drop-down option on the side of the display, which is located on the right side of the screen. Then, choose the DTS format from the Format list under the Audio tab.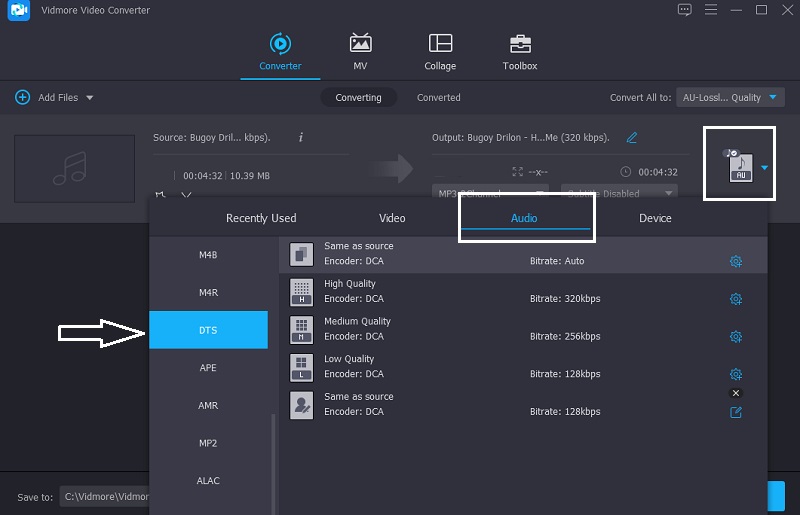 After selecting a new output format, you have the option of lowering or increasing audio quality. You may change the Bitrate, Channel, and Sample Rate by selecting the Settings button and using the drop-down arrows. Then click on the Create New button to get started.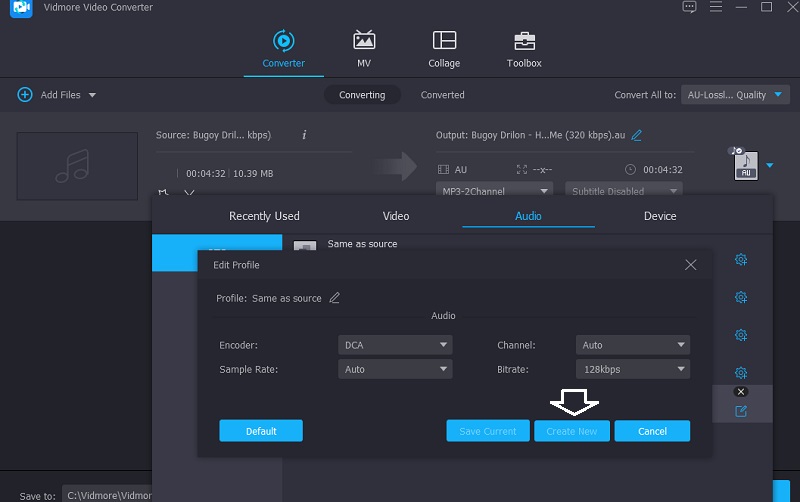 Step 4: Convert File to DTS Permanently
The converting procedure will start when the audio quality improvement step has been completed. Select Convert All from the drop-down option to convert everything simultaneously. You can now sit back and take advantage of sounds from your home theater system.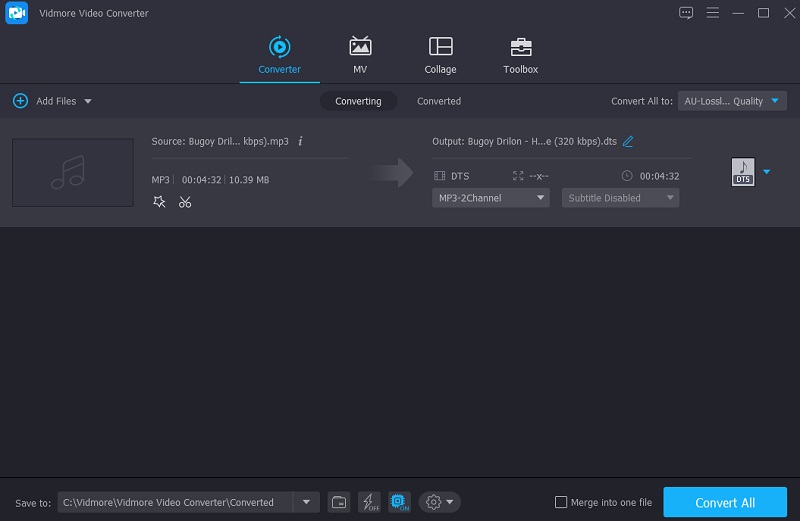 2. FreeFileConvert
If you're not interested in acquiring software, you may access them over the internet. FreeFileConvert is one of the most reputable browser-based tools accessible. You can trust it to perform its functions efficiently. Two of its primary characteristics are an easy UI and converting between various file formats. This browser-based tool supports a range of file types, including audio, video, image, paper, ebook, and graphic files, for a maximum of thousands of potential conversion combinations. Since this is an online tool, the highest storage capacity is 300 megabytes.
Step 1: You must first choose the FLAC file you want to convert. You may choose a file from your computer or your Google Drive.
Step 2: Click on the Convert button once you have selected DTS as the file type from the drop-down menu of available choices. The conversion will begin immediately. You have the option of converting many files at the same time, each of which may be up to 300 MB in size.
Step 3: It will take time for your file to be uploaded and converted to the DTS audio format, so please be patient. You have the option to download the converted file as many times as you like, and you can even remove the file from the Download page.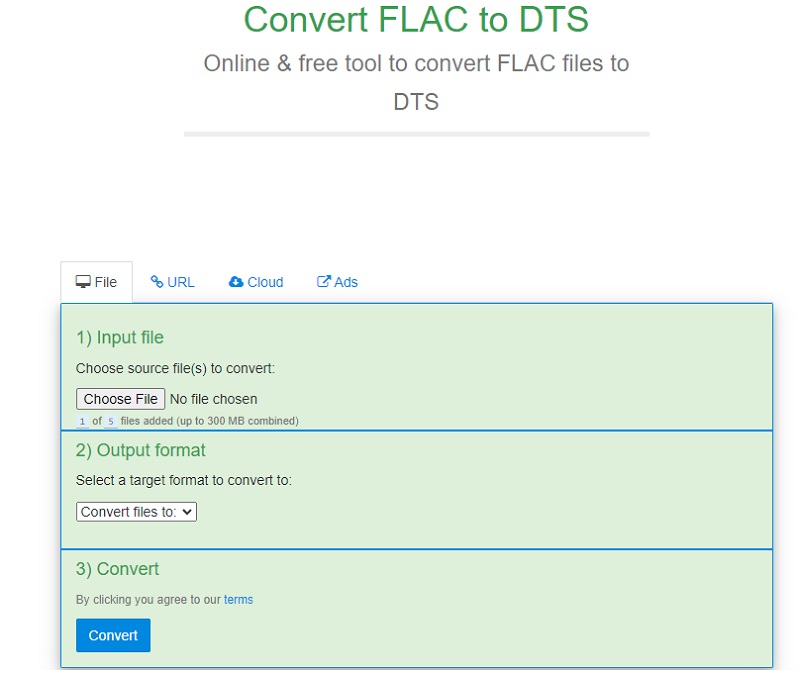 Further Reading:
FLAC to MP3 – 5 Best Methods to Convert FLAC Audio Files with Ease
FLAC Music Player – 12 Best Methods to Enjoy FLAC Music on Windows, Mac, Android and iPhone
Part 3. FAQs About FLAC to DTS Converter
Which format is preferable, FLAC or DTS?
DTS is better because it includes many codecs. A lossy codec produces a compact file but may have audible distortions.
What is the leading edge of a DTS file?
It is more adaptive to change and may be used in various ways. The DTS system may support the bass in improving its sound.
Is DTS more suitable for gaming?
In comparison to other formats, DTS can provide the most outstanding sound technology for gaming.
Conclusion
See? Then why should you compromise for less if you can convert FLAC to DTS? In such a case, you will appreciate your audio file on your home theater much more!