FLAC to M4R: Top Online and Offline Apps You Didn't Know Exist
You are finding a way to make an iPhone ringtone out of your FLAC tracks. We can't deny that FLAC files can preserve the better quality of the audio file. But due to its lossless audio codec, it is not ideal for making it your ringtone since it eats up too much space. Don't lose hope yet. This post will shed some light by reviewing the two optimal solutions to convert FLAC to M4R. You can go for an online application to work with a browser or desktop that supports Windows and Mac computers. Find out more below.

Part 1. FLAC vs. M4R
What is a FLAC file?
FLAC is the abbreviation of Free Lossless Audio Codec developed by Xiph.Org Foundation. It is an audio codec format that compresses audio files with no loss in quality. This is perfect for those people who need to achieve original music tracks. Moreover, FLAC files are accepted by many gadgets and multimedia players. What is so special about this format is that it supports ID2 tags, album artwork, proving the flexibility of its metadata. On top of that, FLAC is robust against errors or error resistance, unlike WAV.
What is an M4R file?
MPEG-4 Ringtone or M4R is a compressed audio file associated with Apple. In fact, it is the file extension for iPhone ringtones. Furthermore, it uses Advanced Audio Coding or AAC to compress audio files. Thus, it produces excellent audio quality in portable file size. Apart from that, M4R files are usually purchased from iTunes, which means you need to shell out some money to create iPhone ringtones.
Continue reading to learn about the three doable approaches to create ringtones out of your FLAC files.
Part 2. How to Convert FLAC to M4R
1. Vidmore Video Converter
The first method you can employ to convert FLAC to M4R quickly is Vidmore Video Converter. This professional software is so powerful that it can convert multiple files simultaneously at a rapid speed. No matter the file size, length, and number of converts, you can process them at the same time while retaining the pristine quality. It also provides a profile editor aside from the media converter. With it, you can edit the parameters and achieve your desired audio output.
You can also use the app's media editor that enables you to cut and split audio files. For videos, you can add subtitles, boost the volume, add video effects, and so much more. To convert FLAC to M4R, here are the steps that you need to do:
Step 1. Open the FLAC to M4R Converter
Start by downloading the latest version of the converter. There are two buttons for both Windows and Mac OS. Please choose the appropriate Free Download button and have it installed on your computer. Open the tool once the installation is done.
Step 2. Upload a FLAC audio file
After launching the app, hit the big Plus button in the middle of the interface to upload your target FLAC file. Browse through the folder and select to upload into the app. You can also drag and drop from the folder into the upload area of the app to add the FLAC file.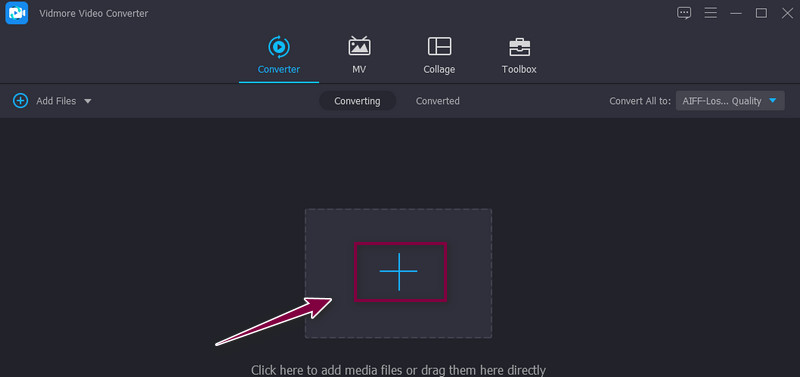 Step 3. Select an output format
Click on the Profile menu to see the list of available audio formats. Forward to the Audio tab and select an output format from the format options on the left side panel. In this case, choose M4R. Then a list of audio profiles should occur on the right panel. Select a profile of your choice or customize the existing by clicking the Custom Profile button associated with the selected profile. Hit OK to save the settings.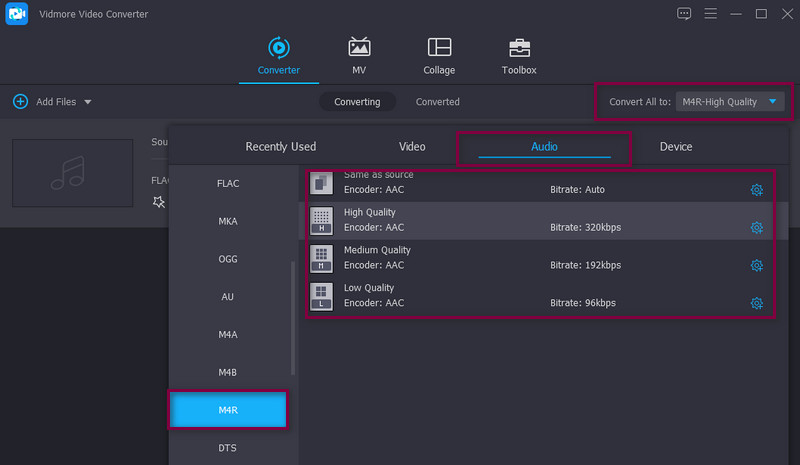 Step 4. Start the conversion process
Fold back the Profile menu and hit the Convert All button to begin converting FLAC to M4R. When the conversion finishes, a folder will pop where you can check the output file or audio playback.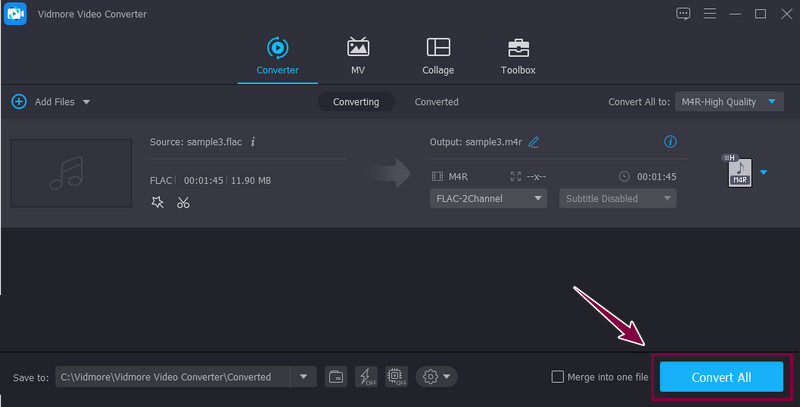 2. Vidmore Free Video Converter
As the name implies, Vidmore Free Video Converter is a free online converter that you can use to convert FLAC to M4R quickly. Using this program, you can turn any audio file into various file formats like M4R, M4A, WMA, AAC, WAV, MP3, etc. There is no need for you to install extra software, a browser, internet connection, access the page, and be ready to use. The best part is you can also customize audio/video parameters to achieve a professional media output. On the other hand, here is detailed instruction in converting FLAC to M4R using this tool.
Step 1. Download and launch the application
Go to the website of this online program using a browser available on your computer. To use the tool efficiently, download the Launcher by clicking the Add files to convert button followed by the Download button from the popup. Kindly open the file extension and have it installed on your computer.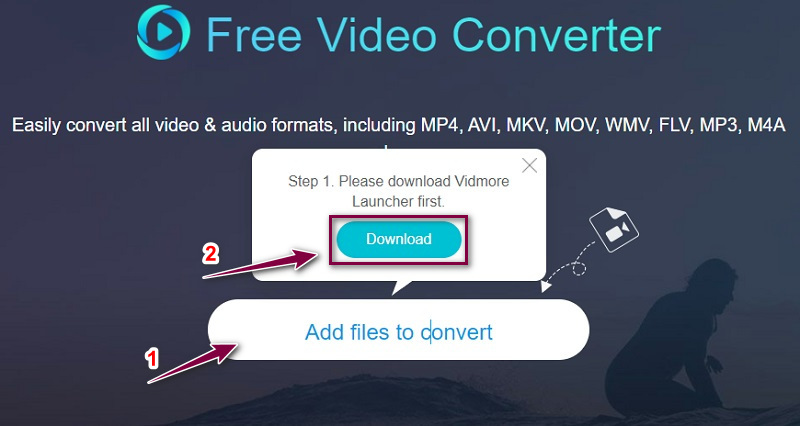 Step 2. Load FLAC audio file
When the tool launches, it will prompt you to load a file by opening a folder. Browse and select the FLAC file that you would like to convert.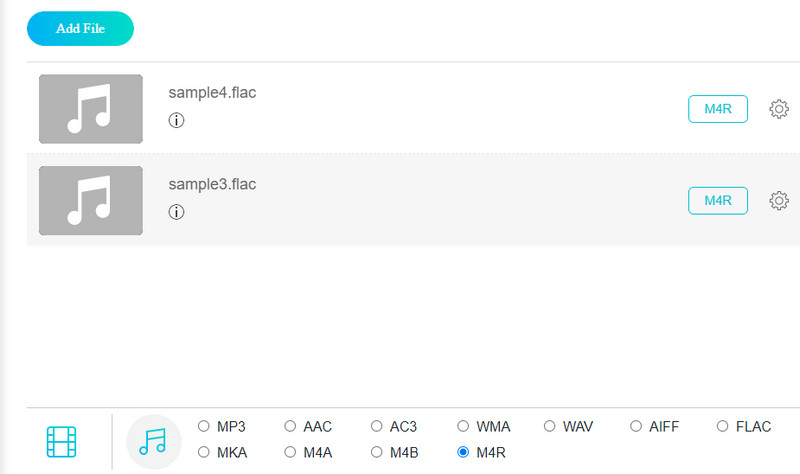 Step 3. Choose a format for the output file
Now go to the Audio format option after uploading the FLAC file. From here, tick on the M4R radio button. You can make other changes to the output of the file. Simply click the Audio settings icon, and it will present the parameter editor. Modify the sample rate, bitrate, and channel as you like, then hit OK to confirm the changes.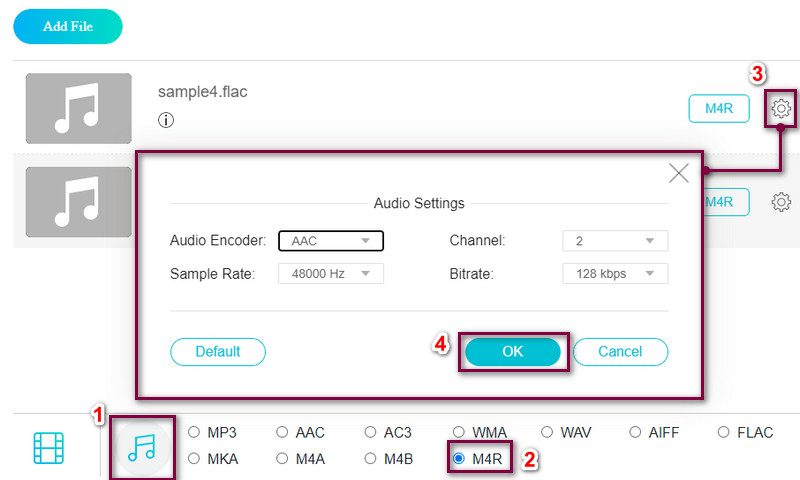 Step 4. Convert FLAC to M4R
If you are through with the changes, you can then start converting files. Click the Convert button at the bottom right corner, select a path to store the output file, and the conversion process will commence immediately.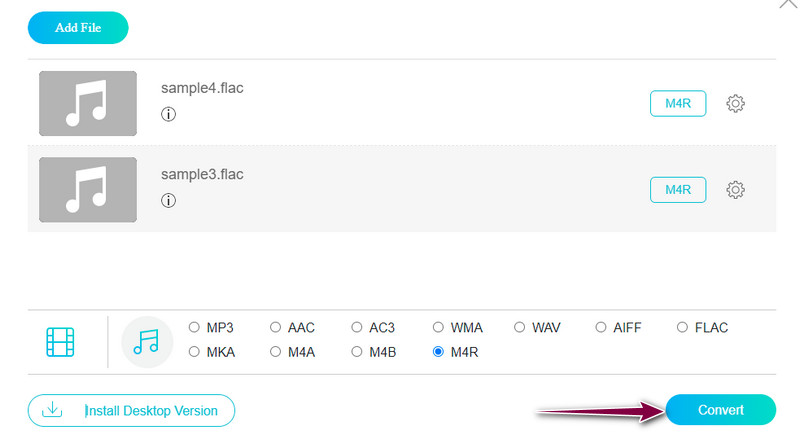 Part 3. FAQs of FLAC to M4R
What is FLAC used for?
FLAC files are open-source formats that offer bit-perfect quality CD copies at half the size. It is mainly used for compressing audio files down half the original size.
How to change M4R to MP3?
This can be done with the help of an audio converter. But most of the time, there is a loss of quality upon converting files. If you wish to have little to no quality loss, you should go with Vidmore Video Converter.
How do you play M4R files?
Since M4R files are native to iTunes, this player should be able to play your M4R files. Regardless of the OS, you can play the M4R files on your Windows and Mac computer.
Conclusion
These are the best methods that you can adopt to convert FLAC to M4R. You can go for an offline program that enables you to convert media files with or without an internet connection. On the other hand, you can go offline to directly convert files without installing software.