Useful MP2 to WAV Converters: Free Online and Offline Programs
MP2 file is an audio format for MPEG Layer II compressed audio file. It is usually used for television and digital radio realms. One of its advantages is it uses a lossy compression which reduces the file size of the audio.
However, many users prefer to play it on portable devices. There are players that support this format but not all applications can play this format. Unlike the WAV file which is widely accepted by most portable devices and players. Despite this, you can still enjoy your MP2 files through the conversion method. In this post, we will demonstrate how to convert MP2 to WAV using some of the best audio converters there are.

Part 1. Best Way to Convert MP2 to WAV
There are certainly a bunch of programs that can help you convert MP2 to WAV effectively. However, if you are looking for a more functional option, Vidmore Video Converter is developed just for your needs. Upon using this program, you will be able to access the capability to convert music at a high speed without any quality loss. Benefiting from the hardware acceleration, you can convert multiple files at once even without tweaking some configurations. The best part is it has a built-in media editor that enables you to enhance and edit videos or audio. With it, you can merge several songs in a single file or add visual effects, or subtitles to the video as you like. For you to be able to convert MP2 to WAV using this program, here are the guided steps you can follow.
Step 1. Acquire the MP2 to WAV converter
First and foremost, get this MP2 to WAV converter download by clicking one of the Free Download buttons provided below. Install and launch the app afterwards.
Step 2. Load an MP2 file
Next, click on the Plus icon to upload an MP2 file. Alternatively, you may add files by dragging and dropping the files into the program. Once the file is added, you may proceed to select a media format for the conversion.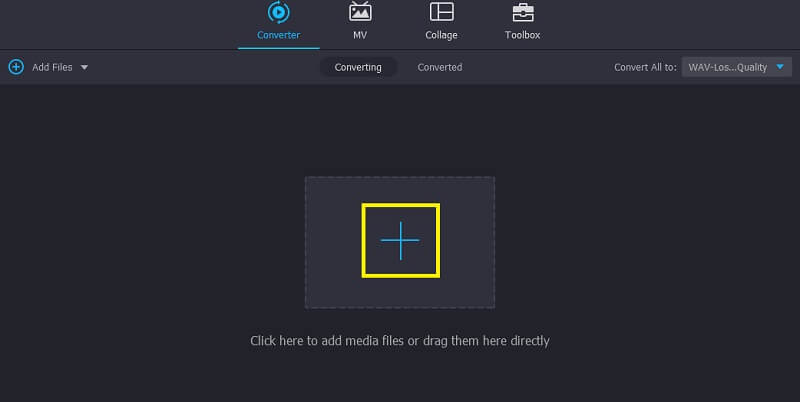 Step 3. Set WAV file as the output format
After that, go to the Profile menu next to the Convert All to option. From there, select the Audio tab and browse through the audio formats. Look for WAV and set it as an output format.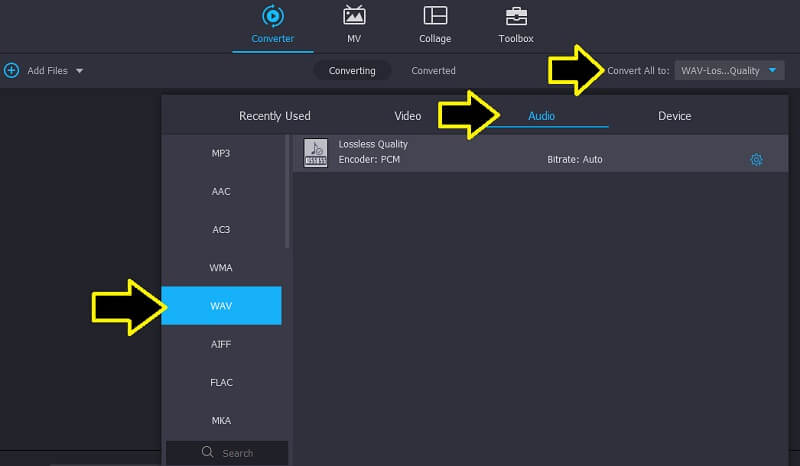 Step 4. Commence the conversion process
Once everything is set, set an output location where you wish to save the converted audio and click the Convert All button to start. After following all the above steps, you should be able to successfully convert MP2 to WAV.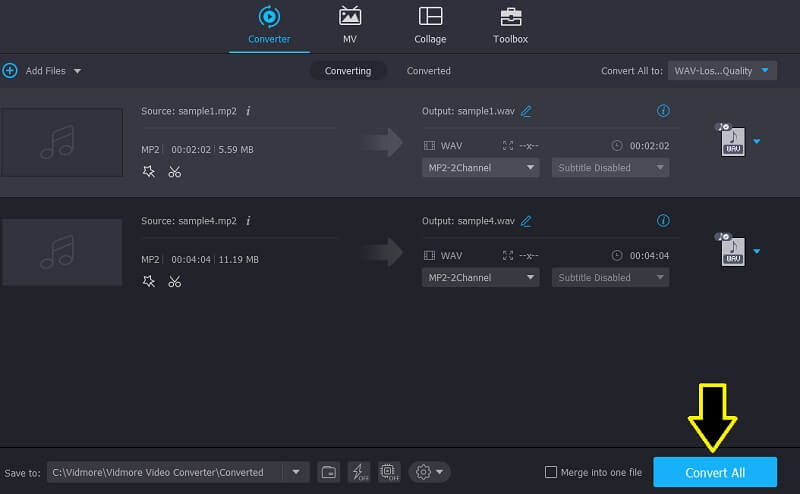 Part 2. How to Convert MP2 to WAV for Free
1. Vidmore Free Video Converter
Without any installation or membership needed, Vidmore Free Video Converter is one of the best MP2 to WAV converter free tools that provides great convenience. Also, taking into account the unlimited number of converts, it surely hits the soft spot of online users. As a matter of fact, this tool is very easy to maneuver. That means you don't need to have technical skills to use this app. As soon as you get to the web-app you can operate it in no time without even asking for help from others. In case you are wondering, this tool also works for converting video to audio. Provided you have access to the internet and a browser, you are good to go. Now to help you navigate this tool, you may refer to the steps below.
Step 1. Go to Vidmore Free Video Converter's website and click the Add Files to convert button. It will prompt you to download and install the launcher if it is your first time using the web application.
Step 2. Once the launcher activates, it will enable you to upload your MP2 file from the folder that will pop up.
Step 3. After uploading a file, choose the WAV format by going to the Music option.
Step 4. Press the Convert button to save the changes and the conversion process will shortly start.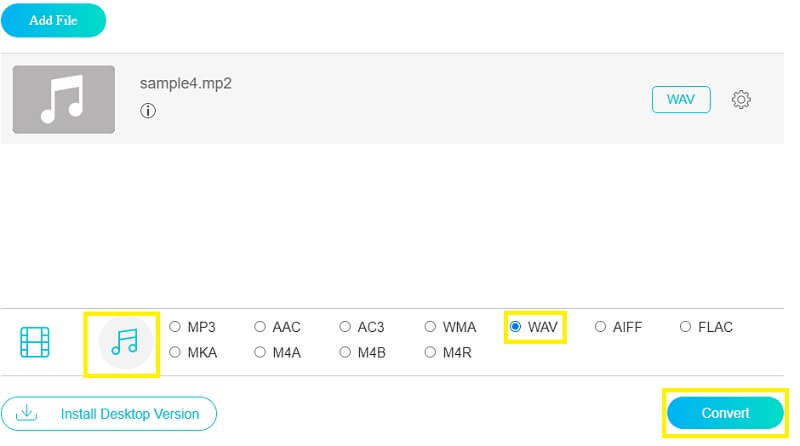 2. Convertio
Another free tool that you can employ for converting MP2 to WAV. Since the tool also works on a browser, you will be able to perform the conversion process either on your Mac and Windows PC. Prior to that, users may set some parameters according to their preferences. You can adjust the audio channels, frequency, and volume. In addition to that, you may cut or trim the audio as you like making it the best MP2 to WAV converter free program. To utilize this app, take a glance at the instructional guide below.
Step 1. First off, visit the official page of Convertio using any browser on your computer.
Step 2. Add your target MP2 file by clicking the Choose Files button. This will allow you to upload from your local computer folder. There are also options for you to upload from the cloud storage like Dropbox and Drive.
Step 3. Now choose WAV as the output file and press the Convert button. You may save the final version by clicking the Download button after the conversion process.
3. Audacity
The last app that also deserves the spot for being a completely free program is Audacity. It is an open-source audio editing app that allows you to convert different file formats to other popular formats. Provided you installed FFmpeg into the tool, you can convert from many audio input formats instead of being restricted to WAV or AIFF files. Nonetheless, it effectively converts audio files. That said, here's how this tool works.
Step 1. Launch the Audacity app and upload an MP2 file. Go to File > Import > Audio.
Step 2. Browse through your folder and look for the MP2 file that you want to convert, select it and click the Open button.
Step 3. Once the file is loaded, export the audio file by opening the File menu. Select the Export option and click on Export as WAV. After that, it will immediately convert MP2 to WAV.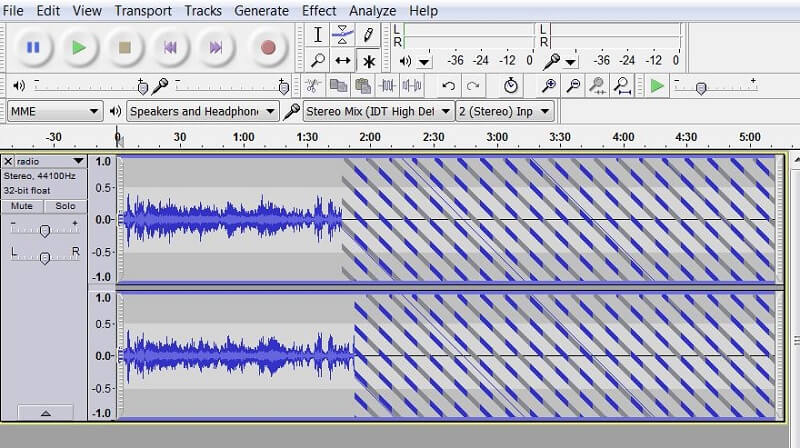 Part 3. FAQs of MP2 to WAV
What is an MP2 file?
Answer: MP2 file or format is a standard audio playback used for television, radio, or broadcasting. It is also a compressed audio file in which the audio data stream is reduced in size.
Can I use SoX to convert MP2 to WAV?
Yes, you can manipulate audio files using SoX. However, you need to have a background in commands or syntax of SoX to achieve your purpose of converting MP2 to WAV in Sox. In other words, you will need to use CMD to manipulate audio files.
How can I listen to MP2 files?
Answer: There are a handful of programs that are capable of playing MP2 files like VLC, Windows Media Player, and iTunes.
Wrap Up
In conclusion, there are a lot of available programs that you can employ to convert MP2 to WAV and be able to play them on your favorite digital audio player yet still with good quality. If you would notice, there are two methods in this post. Depending on your needs, you may choose between the online and offline solutions.