The Most Recommended M4A to OGG Converters Of All Time
Have you ever experienced playing your M4A file on your favorite media player, but it has an error? Same with the experience of other users. But worry not! At this moment, we will give you a solid and reliable solution for you to enjoy your M4A audio tracks to the fullest. By reading this article, you will learn how to convert M4A to OGG. In that way, you will now be able to play your audio tracks on your media players without being restricted to compatibility.

Part 1. Why Convert M4A to OGG
To know why you need to convert M4A to OGG, you must know their descriptions and characteristics first. M4A is a lossless audio format and encoding method designed specifically for Apple systems. M4A is a multimedia file format commonly utilized in iPod players and as a feature of QuickTime media players. The m4a codecs decoder may be obtained in open sources, allowing third-party users to access files in that particular format.
On the other hand, the OGG format is entirely accessible, which is believed to be one of the reasons for its widespread use. By default, the codecs in use allow varying bit rates, and.ogg files are generally playable across a wide range of operating systems. All else being equal, the CD's sound quality is somewhat superior to that of the MP3. That is why there is a need to convert M4A to OGG to be compatible with your media players.
Part 2. How to Convert M4A to OGG on Desktop
Are you finding the most excellent software while maintaining a user-friendly navigation interface? If you're seeking a video converter, Vidmore Video Converter is the one for you. This complete application performs well on Mac and Windows-based computers. Additionally, because of its capacity to edit and convert audio and video into various formats, it is a multi-purpose tool. Therefore, if you are an ordinary person who is new to audio editing and identifying your self-produced audio tracks, Vidmore Video Converter will undoubtedly assist you!
It converts data more quickly, making it even more appealing to all users. Furthermore, you do not need to be a competent editor to use this professional program fully. Look through the instructional material supplied below if you want to learn more about how this incredible tool works.
Step 1: Download the M4A to OGG Software
Before doing anything else, you must first download the utility by selecting one of the Download options provided below. After you've downloaded it, be sure to install it and then start it on your device.
Step 2: Insert M4A Files
Once the application is up and running, launch it. Following the instructions on the main interface, pick Add Files from the left upper corner of the screen and click the M4A file that you want to convert from the list that appears. Alternatively, you may click the Plus button for a speedier solution.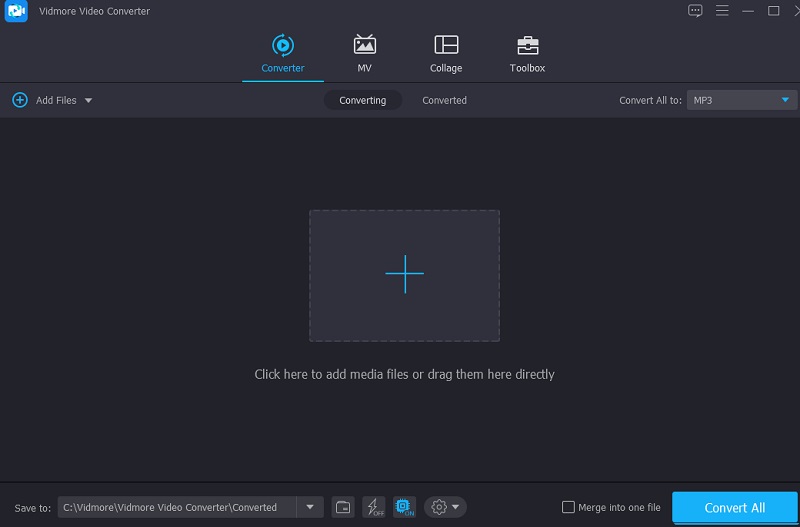 Step 3: Choose the OGG as Format
Once you've added the M4A file to the Timeline, go to the dropdown menu on the right side of the screen and choose the appropriate choice. After that, go to the Audio tab and choose the OGG format from the dropdown menu.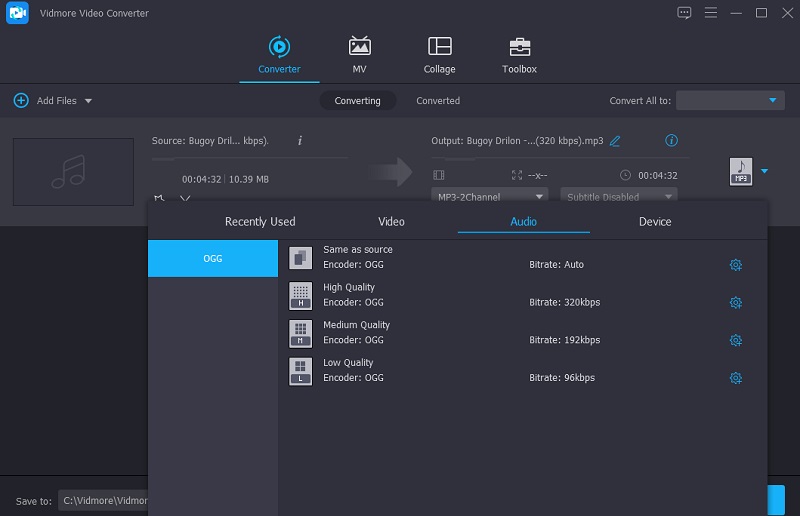 After selecting the appropriate format for your audio file, you may adjust the audio quality by ticking the Settings button to the right of the format and changing the Bitrate, Channel, and Sample Rate. By managing this, you may decide whether to reduce or keep the quality. Once you've made your selection, touch the Create New button.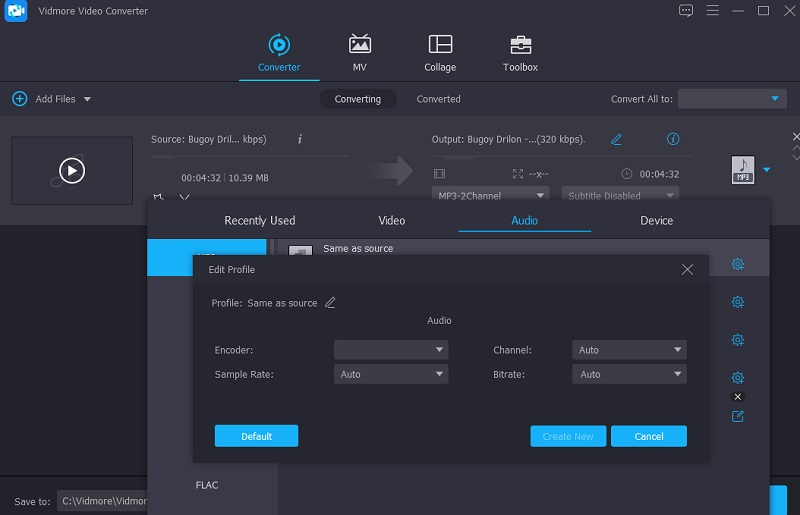 Step 4: Proceed on the Conversion
Then, when you've made all of the necessary edits to your audio tracks, click on the Convert All button to begin the conversion process. Then, after a few seconds, it will successfully convert the M4A files.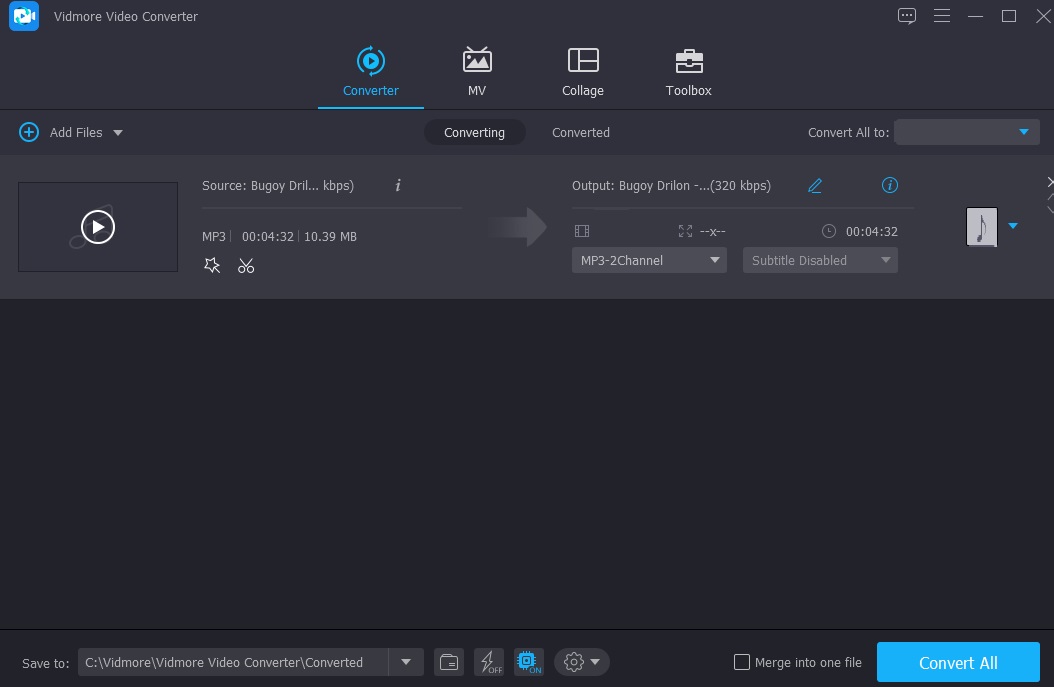 Part 3. How to Convert M4A to OGG Online
If you require a based M4A to OGG converter online, you can choose from these given programs below.
1. Zamzar
When it comes to web-based applications, Zamzar is an excellent choice. The fact that it supports hundreds of file types means that you will not have difficulty selecting the format you desire for your documents. While waiting for the conversion procedure to complete, it may take some time. This tutorial will show you how to convert M4A to OGG with Zamzar.
Step 1: Go to Zamzar's home page and click on the Add Files button, then choose the AAC file that has to be converted from the list.
Step 2: Then, pick OGG as the format you intend your audio to be converted to from the dropdown menu.
Step 3: Finally, you may convert your M4A files by selecting the Convert Now option from the File menu.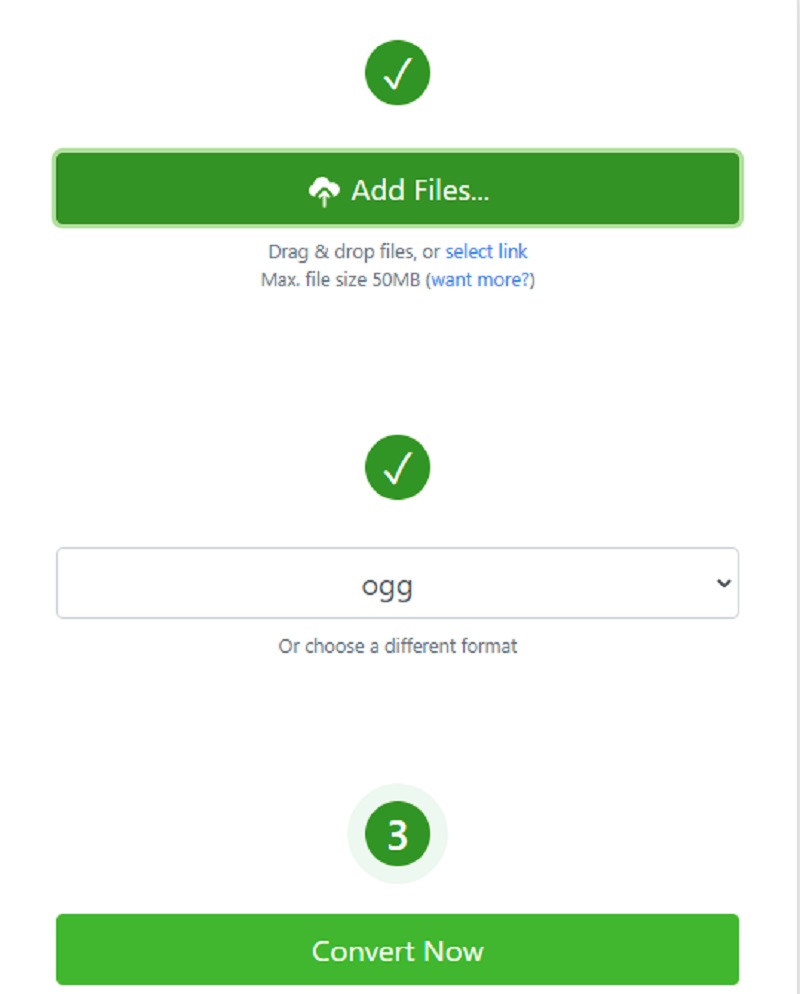 2. Convertio
It is also possible to convert M4A to OGG using Convertio, another browser-based program that you can rely on. This program is likewise available for all platforms. It may be downloaded for free, with only a file size limit of 100MB. It also makes converting simple since it features a simple navigation option. As well as this feature, it also supports several other audio and video formats for you to choose from. Here is a brief overview of navigating around this web-based program, which will help you better grasp how it operates.
Step 1: Go to your browser's search bar and type in Convertio. After you've been sent to the official website, click on the Choose Files option. You will be offered the option of obtaining the file from one of many locations.
Step 2: After uploading your file, pick OGG as the new format by selecting it from the dropdown arrow on the right.
Step 3: After selecting a format for your file, click the Convert button and wait a few moments for the conversion to complete.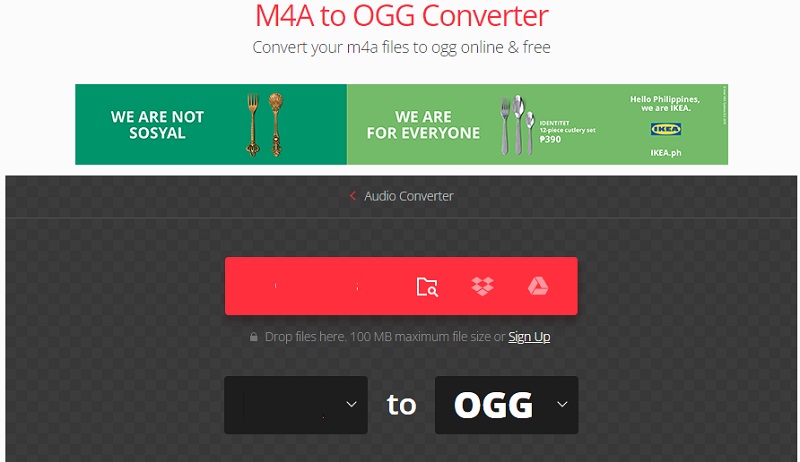 Part 4. FAQs About Converting M4A to OGG
Is M4A the same thing as MP4?
No, an M4A file is a file extension for an audio file stored in the MPEG-4 format. It is all audio. On the other hand, an mp4 file is a multimedia file that includes both audio and video.
Is the quality of OGG files good?
Yes, OGG files are a lossy, size-compressed audio file format that provides high-quality lossy audio.
Which format is superior, MP3 or OGG?
The sound quality of OGG Vorbis is better than that of MP3. There is a significant difference in size between the compressed files for OGG Vorbis and the compressed files for MP3 formats.
Conclusion
You can now easily convert your most loved audio tracks to your media players. All you have to do now is choose from the online and offline M4A to OGG converters from the post above. What are you waiting for? Start using one of the tools above for your convenience.