Convert OGG to WMA with These Jaw- Dropping Online and Offline Tools
Sometimes we want to play our favorite tracks on our audio playback devices but the problem is the compatibility issue. That is why these days it is very essential to have a converter that will help you to change the format of your audio file and convert it into the format that will be compatible with our media players.
You may be wondering how to look for the right converter that you can use. Through the help of this post, you will not have to worry about finding the right tool to help you convert a file as we will provide the online and offline tools to convert OGG to WMA.

Part 1. Why You Need to Convert OGG to WMA
OGG is an open-source media file format.It is a compressed audio file which uses Vorbis audio compression which is free. It is similar to an MP3 but it sounds better than an MP3 file. It is optimized for streaming multimedia and can contain music, video, text, and metadata. While WMA file is Microsoft's response to the MP3 and AAC compression formats, which strive to provide audio files in smaller sizes with minimal quality loss.
You may need to convert OGG to WMA for a variety of reasons. WMA is a popular audio format that can be played on DVD players, Nokia phones, and Playstation portable devices. As a result, converting OGG to WMA for smooth playback on certain devices is often necessary. Aside from that, WMA increases playing effects at low bitrates, allowing for great quality while maintaining a short file size.
Part 2. How to Convert OGG to WMA with Online and Offline Tools
In this part, we will give you the top 2 most recommended online and offline tools so you can convert OGG to WMA with ease. Without further ado, start converting your most loved audio tracks by following the provided steps below.
1. Vidmore Video Converter
Looking for a professional software that is intended for beginners? Vidmore Video Converter is the one! This is a multi-purpose application as it will help you to convert video and audio to different file formats. Nothing to worry about the tool's navigation because it offers friendly editing features. Therefore you won't have to read a lot of tutorials or manuals before you can finally use the editing features of Vidmore Video Converter. No wonder it is loved by most beginners who want to convert their favorite audio tracks.
When it comes to the file formats that it offers, this software offers more than 200 formats for audio and video. If you are conscious of your time, you can count on this tool as it has 50x faster conversion speed for audio and video. You can also easily adjust the bitrate, channel and sample rate of your audio track in just a few clicks. If you found this tool interesting, you can read the step-by-step process below.
Step 1: Acquire the OGG to WMA Converter
Before anything else, you need to click one of the download buttons below. Then after that, click the Install button and launch it on your device.
Step 2: Insert OGG Files
Next step, open the tool and it will show you the main interface of the screen. Then, click the Add Files located at the left upper part of the screen or for a quicker way, you can just click the Plus icon at the center screen and select the OGG files from your Folder.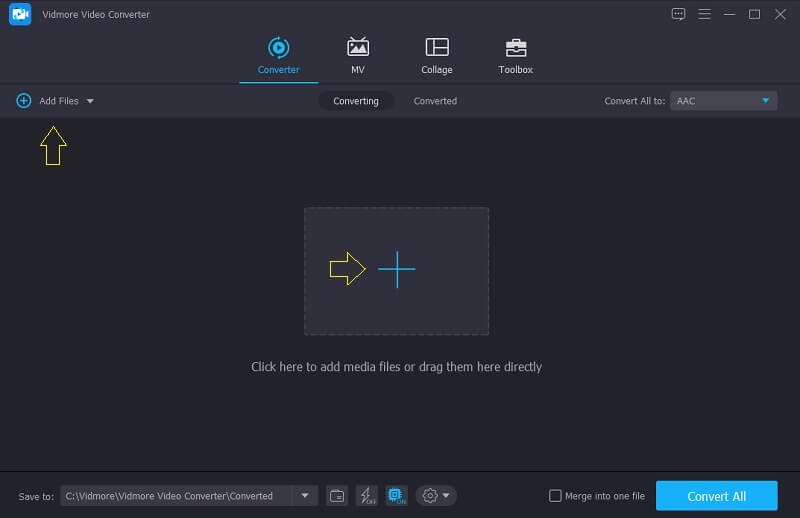 Step 3: Choose WMA as Format
After uploading the OGG file on the Timeline, click the dropdown profile located at the right side of the audio and click the Audio section, then search the WMA as a format from the options given by the tool.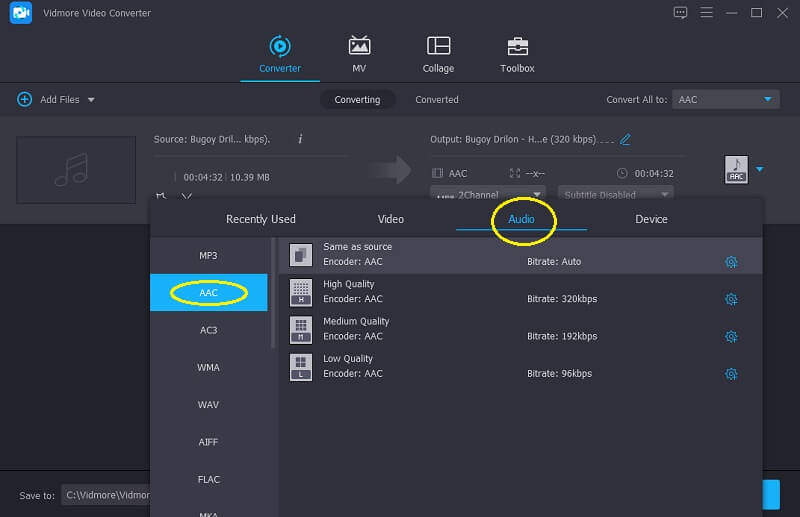 Next, once you have chosen the WMA as format, you can adjust the Audio Settings by means of clicking the Settings at the right side of the chosen format. Then, click the drop down menu of the Bitrate, Channel and Sample Rate to modify them. After that, click the Create New button.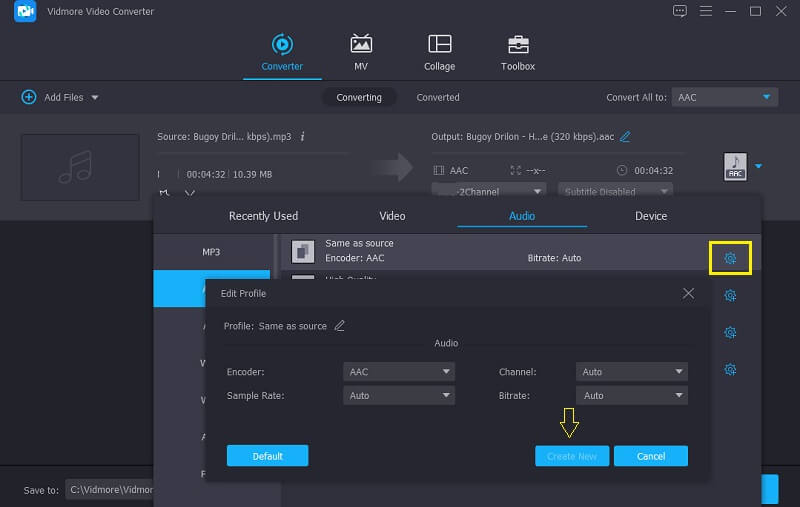 Step 4: Convert the Audio Tracks
And if you are done in modifying the Audio Settings, you can now convert your audio track, simply click the Convert All button and wait for a few seconds to successfully convert your file. And that's all!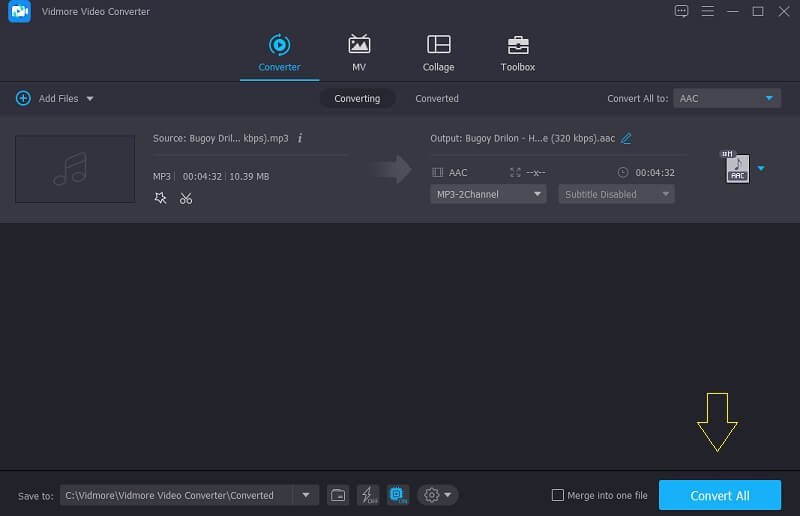 2. Vidmore Free Online Video Converter
The next tool that you can use to convert your OGG files is through this web based application Vidmore Free Video Converter. You don't have to download an app or need to subscribe on their page before you can fully enjoy its editing features. Aside from that, unlike other web-based tools who have restrictions on file size, Vidmore Free Video Converter supports file conversion without a limit.
And if you value your time, it is a great option for you as this tool has faster speed conversion speed for both audio and video. Sound's great isn't it? With that, for you to convert your OGG file to WMA, you can follow the steps below.
Step 1: Go to the official site of the Vidmore Free Video Converter and click the Add files to convert and download the launcher.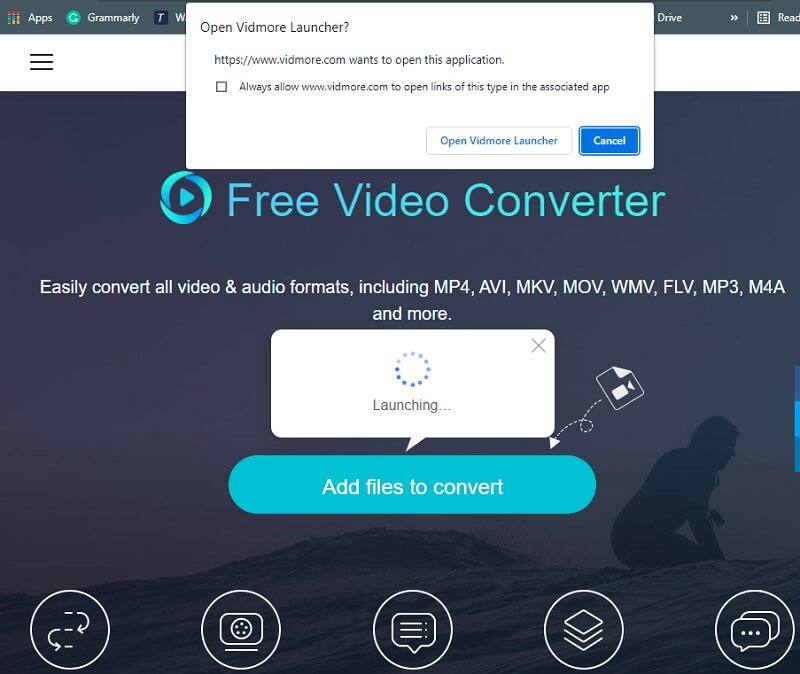 Step 2: After you install the launcher of the web-based tool, tap the Add files to convert again and on your Folder, select the OGG file that you want to convert.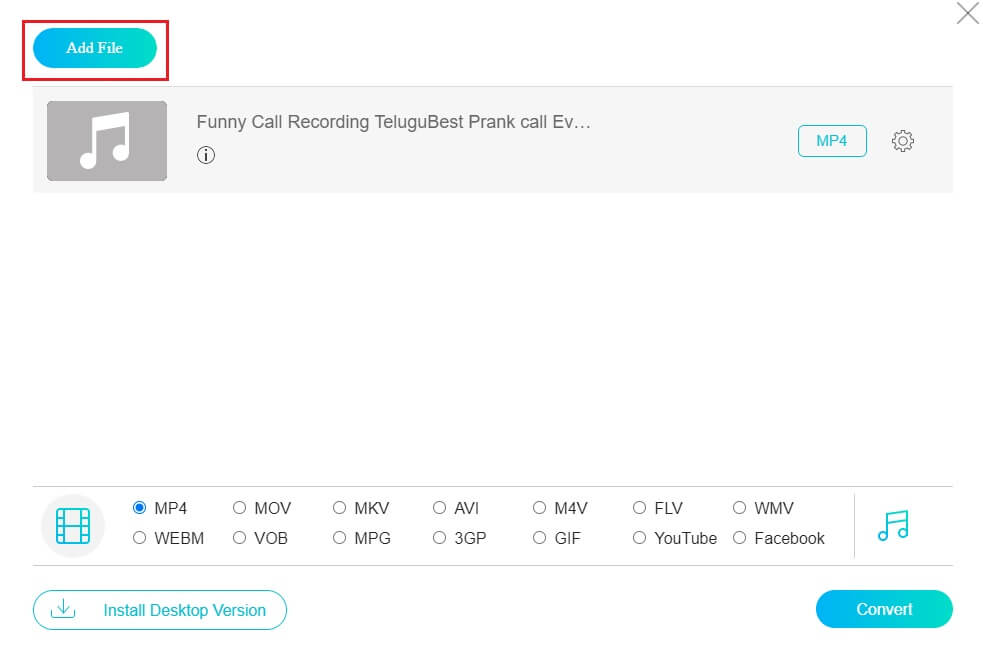 Step 3: Once the audio file is reflected on the main screen, change the format by clicking the Music icon at the bottom part of the screen and clicking the WMA.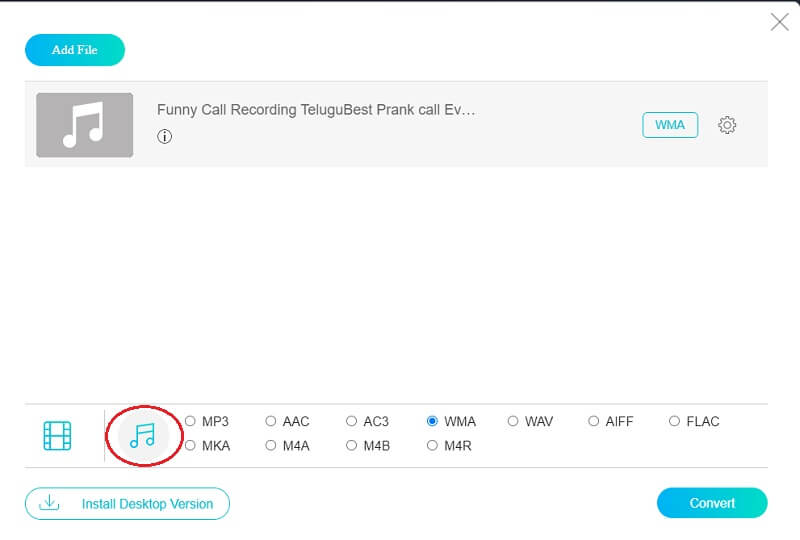 You can also control the quality of your audio tracks by clicking the Bitrate, Channel and Sample Rate by clicking the Settings at the right side of the audio. Once you are done, simply tap the OK button.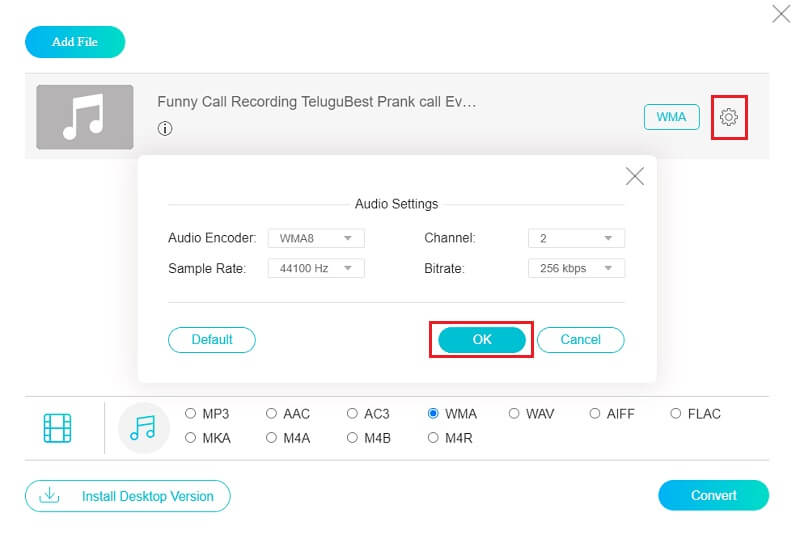 Step 4: If you are finished in adjusting the Audio Settings, you can now proceed in the conversion process, just click the Convert button and choose the file's location of your audio track. Then, click the Select Folder and wait for the process to be done.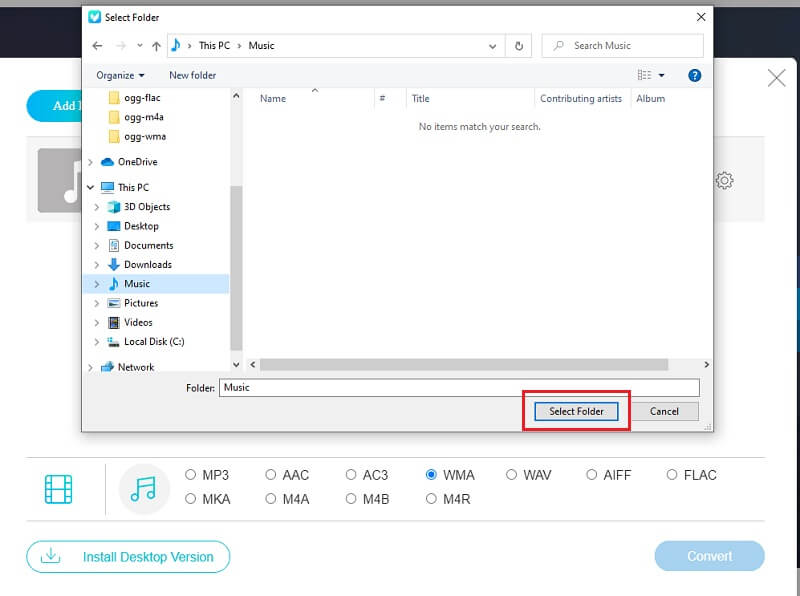 Part 3. FAQs of Converting OGG to WMA
1. Is my audio file worth converting to WMA?
When compared to a normal audio file, WMA produces a better sound quality. So, if you're looking for a better sound quality, you can convert your audio file to WMA. But if you want to play the audio on any device, you can consider converting the WMA file to MP3.
2. What is the difference of WMA and WAV?
WAV stands for uncompressed audio, and WMA stands for compressed audio. WAV commonly uses LPCM to encode data. WAV audio files are lossless, but WMA audio files are lossy. So, you may need to convert WMA to WAV sometimes.
3. What is the best OGG to WMA converter for Mac?
The most recommended OGG to WMA converter is the Vidmore Video Converter. Through this tool, you can easily navigate the bitrate and sample rate of your audio file.
Conclusion
Through the help of this post, you have known the importance of converting a file into another format. And you have also learned the software that will help you to convert OGG to WMA. You can try one of them!