Top 3 Approaches to Convert WAV to OGG Online and Offline Effortlessly
Got problems with the large storage requirement brought to you by WAV audios? The most common resort though is to turn your WAV files to MP3. But there is a better lossy file that you can convert WAV into to get the balance of higher sound quality at a lower bit rate. Having that said, you'll be able to store more audio files without sacrificing the quality of the audio. On that note, here we will have a rundown of the best WAV to OGG converters that you can use with or without access to the internet. Continue reading the remainder of this post to learn more.

Part 1. Professional Converter to Convert WAV to OGG
Producing quality conversion while enjoying useful features is what you can get when you use Vidmore Video Converter. This program is a cross-platform program that enables you to convert WAV to OGG no matter the operating system that your computer is running. So, whether your WAV files are stored on your Mac or Windows PC, you'll have the opportunity to convert your media files. Aside from that, it is a perfect WAV to OGG batch converter since one of its main features is to convert multiple files at the same time. There's no limit to the number of files to convert nor restriction to the length of the audio/video file.
Besides, it can perform at a rapid 50x speed because of the hardware acceleration and optimization of the multi-processor for faster conversion performance. If you hope to lower the bitrate of the audio file, you are entitled to do so. Not only it allows you to adjust the bitrate but also enables you to modify the sample rate and channel. Being that said, here are the steps to convert WAV to OGG on Windows or Mac.
Step 1. Get the WAV to OGG Converter
The first step is to obtain the WAV to OGG converter by clicking the Free Download button. Have the app installed on your computer and launch it.
Step 2. Load your target WAV file
When the app is running, upload a WAV file that you need to convert by dragging and dropping it into the interface of the tool.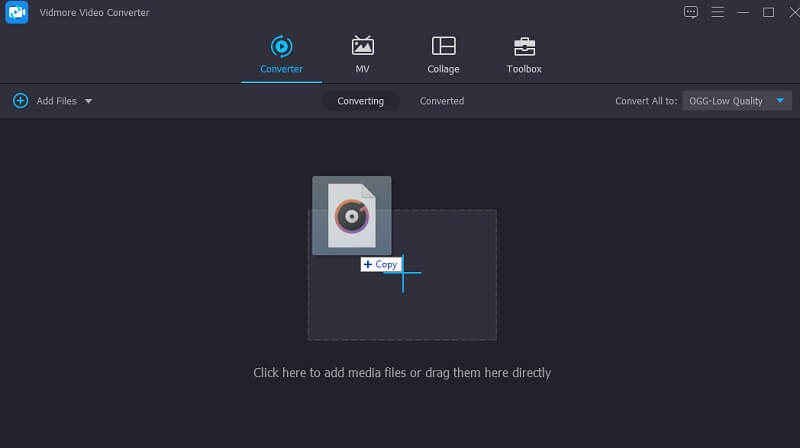 Step 3. Select OGG as the output format
Next, open the Profile menu and click on the Audio tab. Look for the OGG at the left section of this panel then click on the audio format. Select a preset that suits your requirements.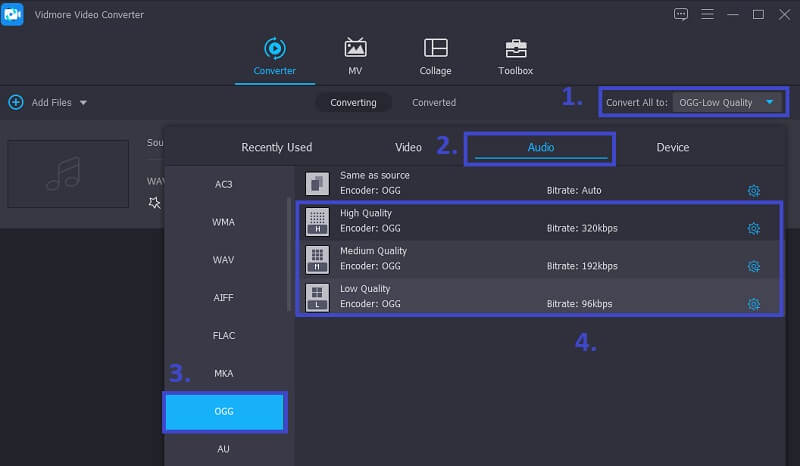 Step 4. Convert WAV to OGG
Once all configuration is done, click on the Browse icon at the bottom of the interface and set an output location where you want to save your OGG files and hit the Convert All button. After the quick conversion, you will be able to check the playback.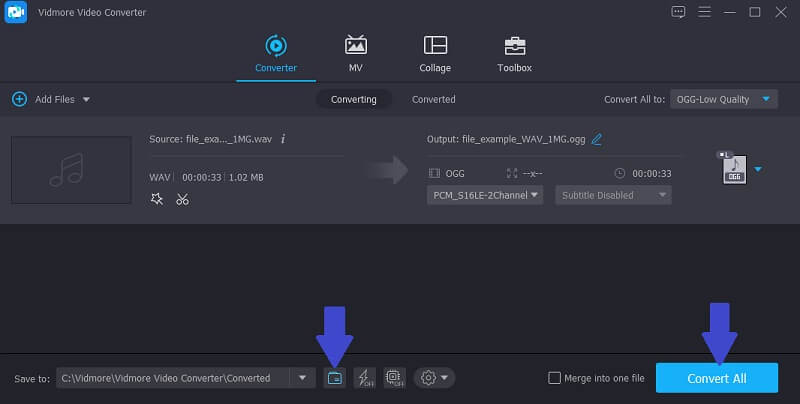 Part 2. How to Convert WAV to OGG Online
On the other hand, you might also want to convert without any installation required. Therefore, in this part, we will introduce some of the best online converters that will help you convert WAV to OGG without any painstaking process
1. Aconvert: WAV to OGG
You can also opt for Aconvert to convert your WAV files to OGG. By using this program, you can select from OGG, MP3, AAC, and many other output audio formats. Not to mention you can customize the bit rate in a fixed bit rate or specify by your required number of bit rates. In addition to that, you can leave the sample rate unchanged or customize it accordingly. To use this WAV to OGG converter without download, you may refer to the following instructions.
Step 1. Go to the official website of Aconvet by using your browser to reach the main page. To do this, simply type this link https://www.aconvert.com/ into the address bar.
Step 2. From the homepage, click on the Audio option at the left menu section. Then you will be redirected to a new panel where you can upload your target WAV file and customize some output settings.
Step 3. Now click the Choose Files button and load the WAV file into the program. Optionally, you may upload from Google Drive and Dropbox or via the link of the WAV file.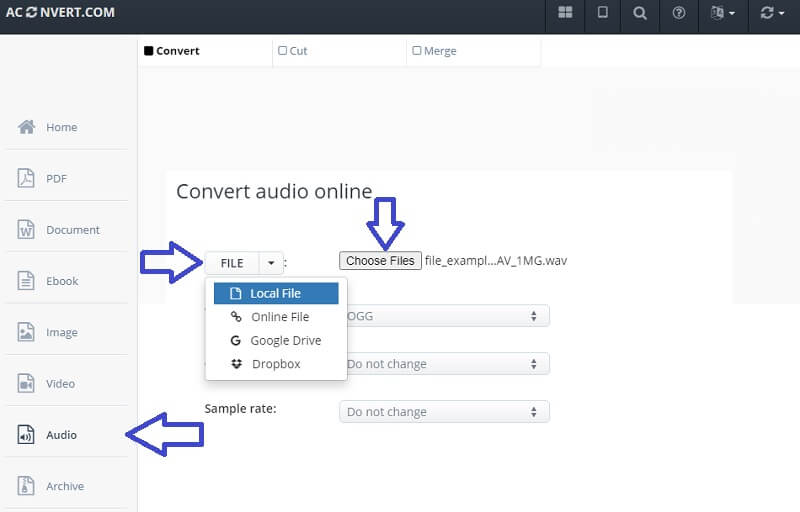 Step 4. Next, drop down the Target format menu and choose OGG as the output format.
Step 5. Adjust the Audio bitrate according to your requirements followed by the Sample rate. You may also leave them unchanged if you don't have specific requirements for the OGG file. Then hit the Convert Now! button to activate the process.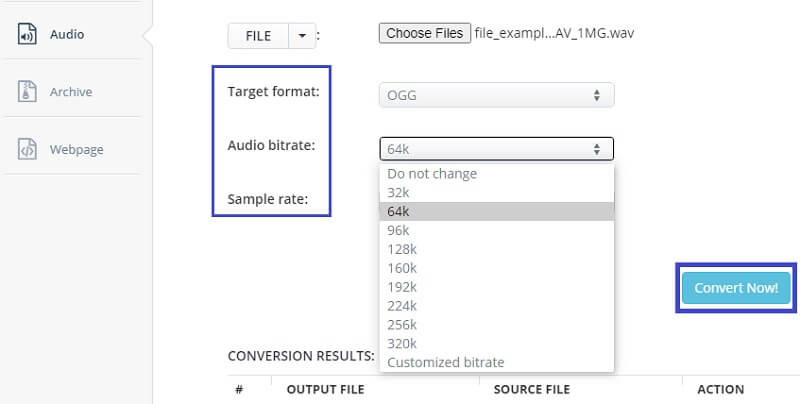 2. OnlineConvertFree
As the name implies, OnlineConvertFree is another utility program that will enable you to convert your WAV files into a lossy OGG audio file online for no cost at all. Audio file conversions like WAV to OGG/MP3, M4A to MP3 are also popular in this online app. Apart from that, it also facilitates batch operation for those users who need to convert more than one file simultaneously. To use this tool to convert WAV to OGG online, we outlined the step-by-step instruction for a complete guide.
Step 1. Launch OnlineConvertFree and click on CHOOSE FILE button to upload a file. You can also drag and drop the WAV that you need to convert.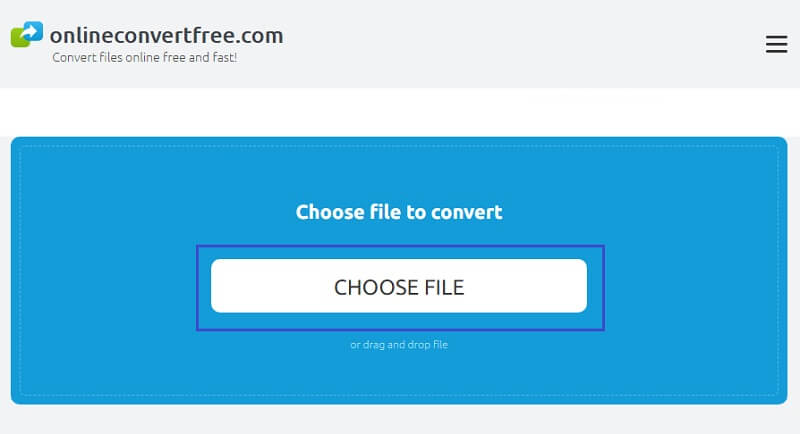 Step 2. Next, open the export menu and select OGG from the Audio tab.
Step 3. Lastly, click the blue CONVERT button and wait for the process to finish. There will be cases when the program fails to upload and convert the file. Just repeat the same procedure to successfully convert WAV to OGG.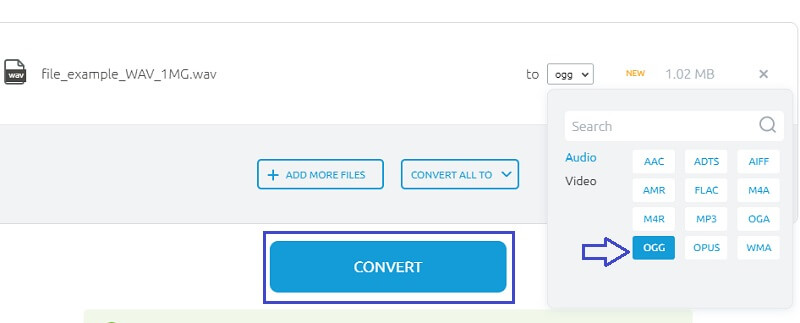 Part 3. WAV vs. OGG
If you are still not sure which format to use, this table of comparison of the two audio formats might help you. We examined both formats by listing their pros and cons. Check them out below.
Pros
Cons
WAV
1. High sound quality
2. Supported on Windows and Macintosh
1. Takes too much space on a hard drive
2. Can't be easily shared over the internet
OGG
1. Lossy compression while maintaining excellent sound quality
2. Free without patents and open source
Provides limited support to many audio players
Part 4. FAQs of WAV to OGG
How can I play OGG on iTunes?
No. By default, iTunes does not support OGG audio files and iTunes also is not an OGG player that is capable of adding OGG files to its library.
How can I play OGG files?
There are some media players that support OGG files. One of them is Google Play Music. You may also utilize a VLC media player to stream OGG.
Which is better, MP3 or OGG?
While MP3 is a popular audio format, the OGG format has a better sound quality. Also, you may adjust the compression of bit rate in OGG whereas MP3 has a constant bit rate compression.
Conclusion
There you have it, those are the top 3 methods to convert WAV to OGG. You can choose between a stand-alone app or a web-based program to accomplish tasks online. Now you'll be able to play your WAV audios in a smaller file size OGG format while maintaining the good quality sound.
WAV & OGG
Convert WAV

Convert OGG

OGG Solutions