OGG to MP4 Conversion: Sensational Tools to Convert Audio Files to Video
You cannot expect your chosen player to open any format. In the case of OGG, MP4 players will not be able to view your OGG files into your MP4 player. Converting OGG to MP4 can make it work. Besides, MP4 is a universal video format, allowing you to play it on almost all media and video players. Find out how to change OGG to MP4 by reading the paragraphs after the jump.

Part 1. How to Convert OGG to MP4 Online
1. Vidmore Free Video Converter Online
If you want a dedicated program that will help you convert media files from the web page directly, you should use Vidmore Free Video Converter Online. This web service enables you to change from audio to video or vice versa. In other words, you can convert between the audio and video formats. Furthermore, users may convert to formats compatible with portable devices, including iPhone, Samsung, Huawei, HTC, and many more. Refer to the guidelines below to convert OGG to MP4 online for free.
Step 1. You must visit the tool's website using any browser on your computer. Launch a browser and type in the program's link to the address bar to reach the home page.
Step 2. Import your OGG files by hitting the Add files to convert button. It will open up the file folder on your computer. Locate and load them into the program.

Step 3. Next, select an output format by ticking the MP4 under the Video format. Consecutively, you may edit the parameters by hitting the Settings icon. Hit OK to confirm the changes.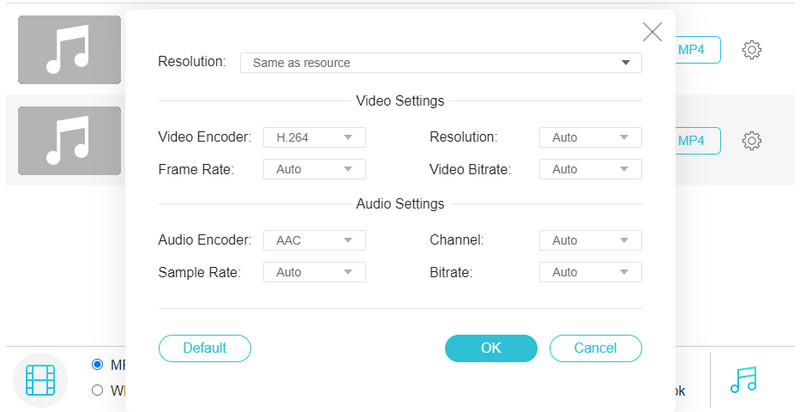 Step 4. When you are through, hit the Convert button to start the conversion process.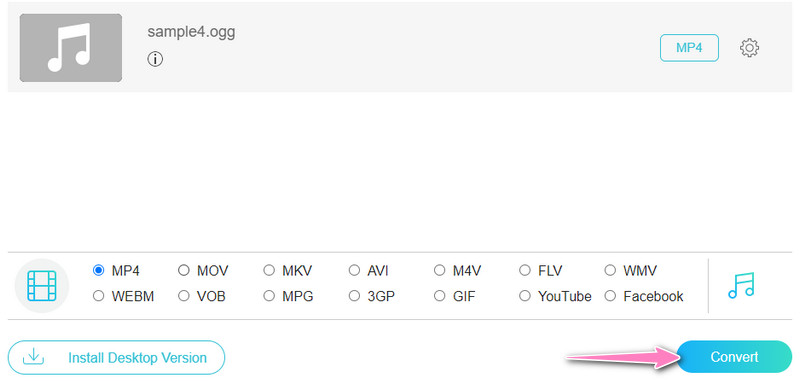 2. CloudConvert
You may be looking for another program to help you change the format from OGG to MP4. In this case, you should try CloudConvert. What makes the tool different from the rest is it comes with advanced options. You can edit the video resolution, profile, fps, codec, audio channels, sample rate, volume, and bitrate. In addition, you may trim the media and add subtitles and watermarks as you like. Now, here is how to convert OGG files to MP4.
Step 1. Head over to the program's site with a browser you commonly use.
Step 2. Afterward, hit the Select File button from the home page and import your OGG files.
Step 3. Then, select the Video tab and the MP4 format to set it as the target format.
Step 4. Next, tick Convert to convert your OGG files to MP4.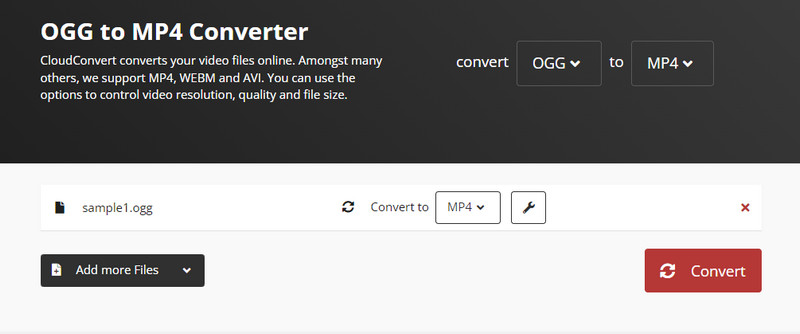 Part 2. How to Convert OGG to MP4 on Desktop
1. Vidmore Video Converter Online
Perhaps you want to convert files in a stable program or do not need any additional tools such as the internet to work. Look no further than Vidmore Video Converter. The program provides users the ability not only to convert files to media format but also to formats compatible with handheld devices. Otherwise speaking, you may export files to iPhone, Samsung, HTC, and Huawei formats. Therefore, you can play your AC3 files on your mobile devices effortlessly. Check out the step-by-step procedure to use this audio converter OGG to MP4.
Step 1. Acquire the OGG to MP4 converter
Begin by acquiring the tool. You can get the right installer from the provided Free Download links underneath. Install and run the program afterward.
Step 2. Import OGG files
Next, tick the Plus sign button from the main interface to open the file folder on your computer. Alternatively, you may import them by dropping them directly into the upload area.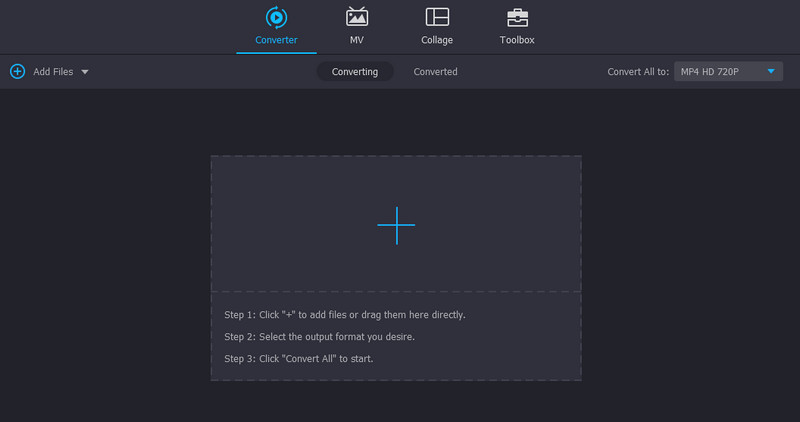 Step 3. Set MP4 as the output format
Now, open the Profile menu and navigate to the Video tab to see all the available video formats. Then, choose the MP4 format followed by the preset appropriate for your needs.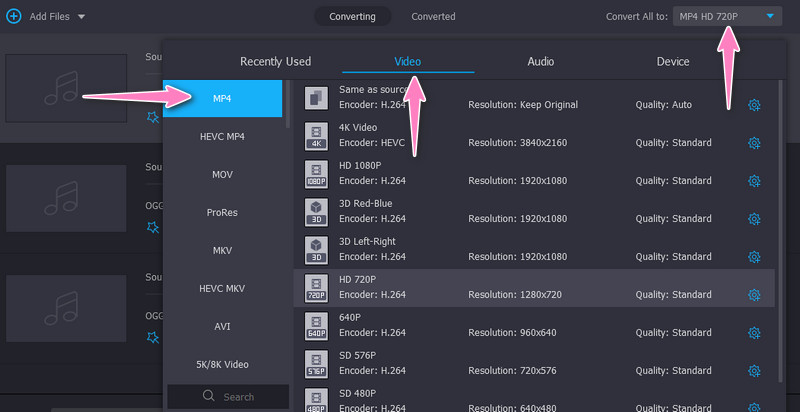 Step 4. Convert OGG to MP4
After confirming the changes, tick the Convert All button to start the conversion process. The conversion speed varies depending on the file size and number you are processing. Anyhow, it should be done in less than a minute or two.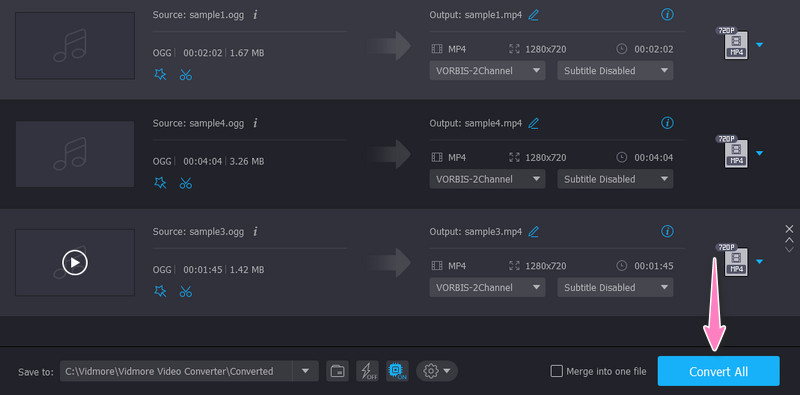 2. AVC Ultimate
AVC Ultimate is a desktop program that offers thousands of output formats. It enables you to convert to many video/audio formats. There are MP4 formats for devices, like TV, Microsoft Products, HTML Embed video, etc. Besides converting, you can also use the app's CD burner, video recorder, and player. Learn how to use this tool by following the steps below.
Step 1. Get an OGG to MP4 converter download for free of this program from its official website.
Step 2. Drag the OGG file you wish to convert directly to the app's interface.
Step 3. You will see the output profile on the above right-side interface, tick the Profile menu, and select MP4 as the output format. Finally, click the Convert Now! button.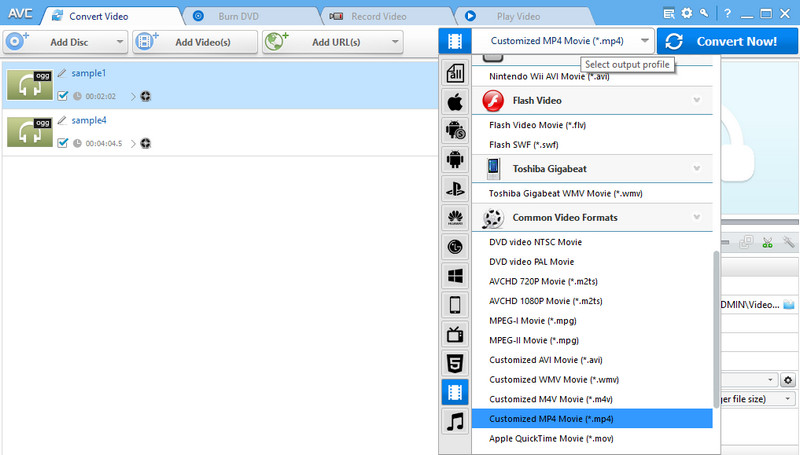 3. VLC Media Player
The last tool that offers conversion from OGG to MP4 is VLC Media Player. It can help you convert OGG to MP4 on Mac, Windows, and Linux PC. Furthermore, it supports common and standard output formats, including MP4, WebM, ASF, etc. You can refer to the steps below to get a hands-on experience of the program.
Step 1. Grab a copy of the program from its official website and install it on your computer. Afterward, launch it to see its working interface.
Step 2. Next, navigate to Media > Convert/Save. Then, the Open Media window will appear. From here, hit the Add button and select the OGG files you wish to convert.
Step 3. At the bottom of the window, hit the Convert/Save button and select MP4 from the Profile menu to set it as the output format.
Step 4. Lastly, hit Start to initiate the conversion process.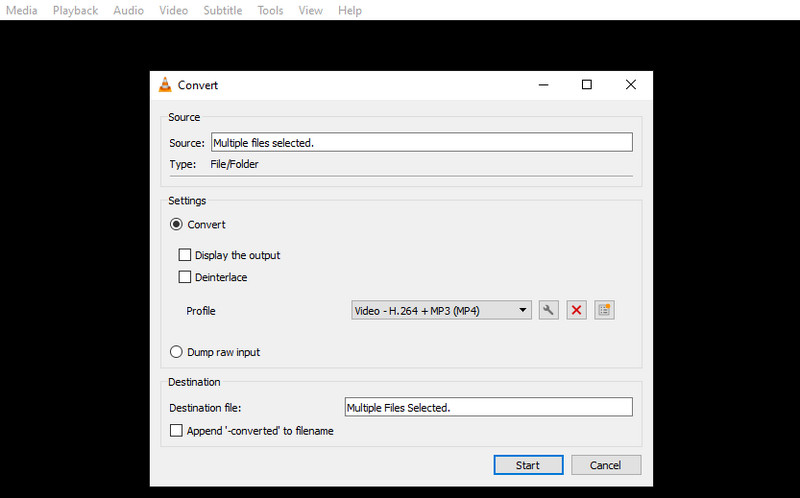 Part 3. FAQs About Converting OGG to MP4
What is OGG?
OGG is one of the container formats that can store audio and video streams. However, not most media players accept or play it without any error. In other words, you need a dedicated program to play it.
Can I convert OGG to MP3?
Yes. If you need to convert OGG to MP3, you can use the following tools discussed above. This conversion will help you make OGG smaller in file size while preserving the quality.
How can I open OGG files in Windows 10?
You can play your OGG files using media players, such as VLC, MPlayer, Xion Audio Player, etc.
Conclusion
Those are the most effective solutions to convert OGG to MP4. Select the right method and program based on your needs. Also, be sure to check the conversion speed by testing out each tool.