Helpful Ways to Convert M4B to AAC for Windows and Mac Computers
If you have lots of audiobooks and you are fond of listening to them, you must be familiar with M4B. It is a file extension used for storing audio files particularly audiobooks. However, M4B is exclusive for iOS devices including iPhone, iPad, and iPod. Also, it has limited support for apps. Hence, it can be impractical if you want to listen to them on other devices or players.
In line with this, you may want to convert M4B to AAC for a maximum listening experience. As we know, AAC has a good performance even at the same bitrate as MP3. Even better, it provides high compatibility allowing you to play across different platforms. Proving its versatility, you can play it on your Windows, Mac, Android, iPhone, and iPad devices. That being said, take a look at the most recommended programs to help you achieve this conversion.

Part 1. What are M4B and AAC
For better understanding of these two audio file formats, we will define each and identify with their purpose. Read on and get the needed information.
What is the M4B file format?
As stated above, M4B is a file extension used for storing audiobooks. This is the common format when you download an audio file from Apple iTunes Store where files are copyright protected. It uses AAC as its encoding and compression method based on the MPEG-4 format. Moreover, this format is protected under Apple's FairPlay DRM, hence the prevention of playing them on any unauthorized devices and systems.
What is AAC file format?
AAC is an abbreviation for Advanced Audio Coding. This format is used as the standard audio container format for compressed digital audio for the MPEG-2 and MPEG-4 video streams. It supports a wide range of channels up to 48 full bandwidth audio channels and an audio frequency of up to 96kHz. Additionally, many platforms adopted it as the default media format including YouTube, iPhone, iPod, Apple iTunes, and many more platforms.
Part 2. How to Convert M4B to AAC Quickly
1. Vidmore Video Converter
Vidmore Video Converter is a feature-rich, cross-platform program that enables you to convert M4B to AAC on Windows and Mac. It has a lightning-speed conversion process even in batch operations. It may be exactly the app that you need especially for the bulk and high-speed converting process. Furthermore, there are no limitations to the number of file converts and file size. At the same time, if you need to access other functions such as editing metadata, audio volume booster, the tool is capable of achieving them. Truly, Vidmore Video Converter deserves the spot as one of the most recommended M4B to AAC converters.
Step 1. Acquire the M4B to AAC Converter
To get started, quickly grab the tool by clicking any of the Free Download buttons underneath. Once done, open the file and have it installed on your computer. Make sure to follow the setup wizard then launch it after the successful installation.
Step 2. Add M4B file to the app
In order to upload a file into the app, click the Plus sign button from the main interface or press the spacebar on your computer keyboard to instantly launch the file folder. Upload your target M4B by selecting it from the folder.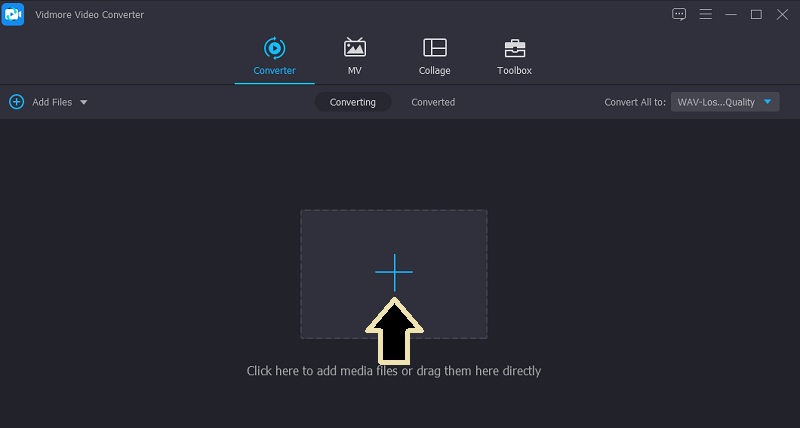 Step 3. Choose AAC as the output format
This time, simply head over to the Profile menu and then open the Audio tab. After that, select AAC on the left section of the tab and pick the right output preset for your needs.
Step 4. Convert M4B to AAC
Before the conversion takes place, you can make some adjustments like editing the media metadata. Finally, click the Convert All button at the bottom right-hand side of the interface for the conversion process to commence.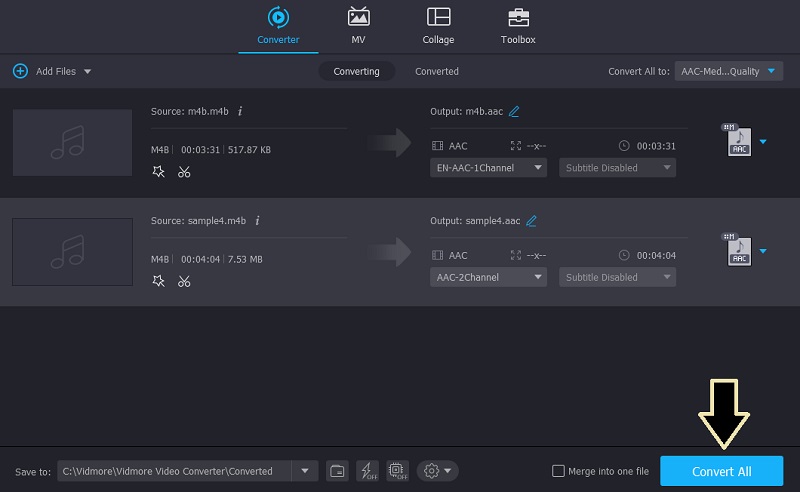 2. iTunes
Yet another good option that will help you convert M4B to AAC is iTunes. You read it right. This does not only allow you to play audio files, TV shows but also convert audio files to AAC, WAV, MP3, and more. After converting the file, you may choose to transfer them to your iOS device. In other words, you can access a conversion and transferring tool in just a single software. Follow the steps to learn how to convert M4B to AAC using this app.
Step 1. On your Mac or PC, launch iTunes and upload the M4B file that you wish to convert by dragging and dropping the file.
Step 2. From the Edit tab, select Preferences followed by the Import Settings option.
Step 3. At this point, open the drop-down for Import Using and choose WAV Encoder. Click the OK button to confirm the changes.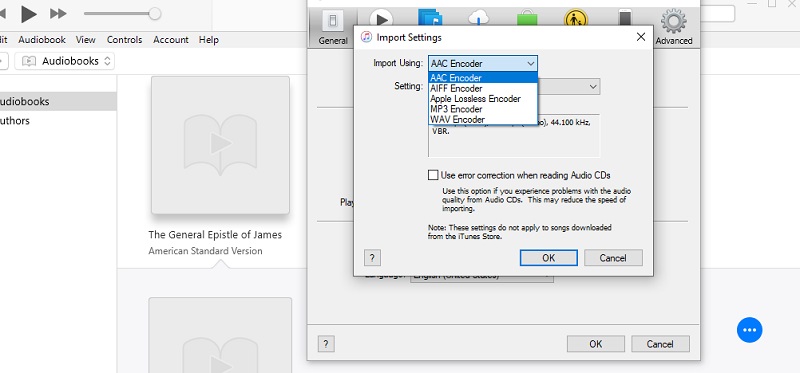 Step 4. Forward to the Audiobooks section and select the M4B audiobook you just uploaded. To start the conversion, open the File menu and point your cursor to the Create AAC Version option.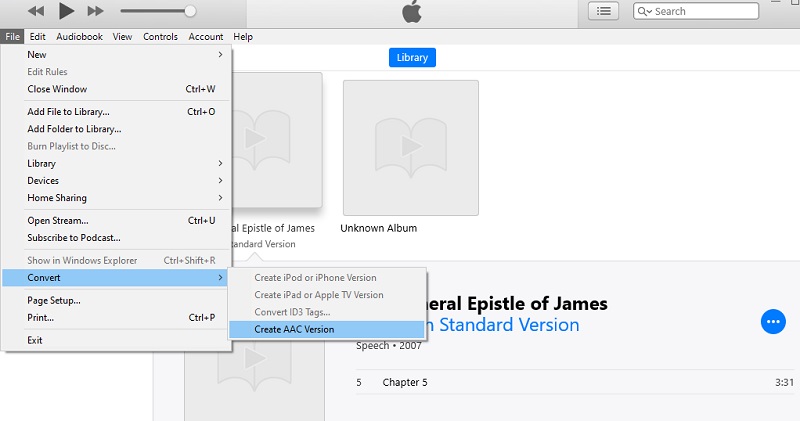 3. Convertio
If you are looking for an entirely free program to convert M4B to AAC, then you should consider using Convertio. What sets it apart from the previously mentioned app is that it enables you to import from cloud storage including Dropbox and Google Drive. Furthermore, it has advanced options to choose the appropriate quality, aspect ratio, codec, and many more settings.
Step 1. On your favorite web browser, access the website of Convertio.
Step 2. Click on the Choose Files button on the same page and then upload your target M4B that would like to convert to AAC.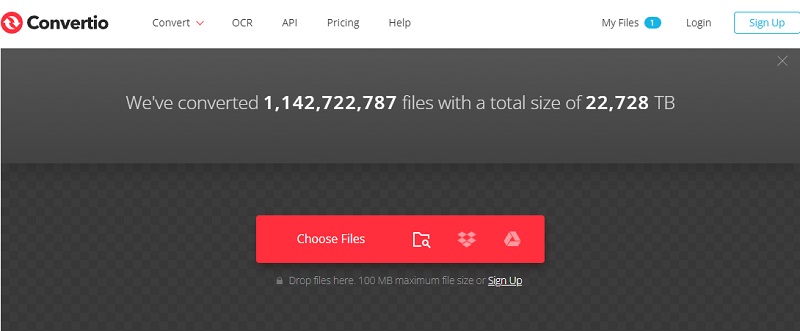 Step 3. Open the format menu by clicking on the drop-down and selecting the Audio option. From here, choose the AAC audio format. Finally, click the red Convert button to initialize the conversion process.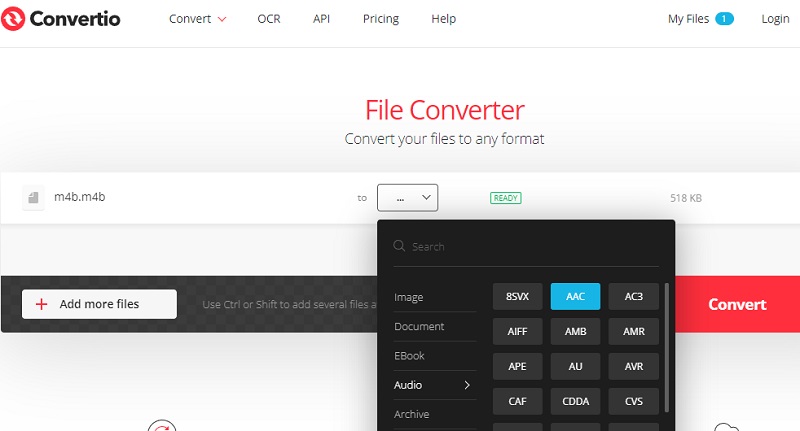 Part 3. FAQs of M4B to AAC
Are M4B and AAC the same?
No. M4B is a file extension format commonly used with AAC. Whereas AAC is an audio encoding system.
Can I convert AAC to M4B?
Yes. You may change the AAC to M4B using the right tool. With Vidmore, you can achieve this conversion task in an easy and fast manner.
How to open M4B on my computer?
Mac users can open the M4B file with the help of iTunes. On the other hand, Windows Media Player works well with opening M4B files.
Conclusion
These are the programs you may employ to convert M4B to AAC. You can choose between these apps depending on your preference. If you need to access more features besides the converting, you should go with Vidmore Video Converter. It can add and edit metadata of an audio file, cut, split, and merge which can be helpful for editing your audio files.