M4R to MP4: Convert Files Easily Using Freeware and Software
You may be experiencing failure in playing M4R files on your Windows device. This type of format is being used as a ringtone file. Therefore, if you want to play your M4R file on another device, you need to use another compatible format on almost all devices. And MP4 is perfect for that position. This article will provide you with a solid solution to your file issue. Learn how to convert M4R to MP4 with these freeware and software converters.

Part 1. Best Way to Convert M4R to MP4
The best choice and probably the best to convert M4R to MP4 is through Vidmore Video Converter. It is an audio and video converter that you can use on both Mac and Windows devices. This program is not a pure converter. Besides, it can also extract, edit and make collages. It also accepts more than 200 file types and M4R, MP4, MP3, AVI, and MOV are some of those file formats.
More and more users enjoy converting their files into different formats because this software provides straightforward editing tools. Unlike other video and audio converters wherein, only professionals can navigate it. Another thing, the Vidmore Video Converter doesn't damage the quality of a file. That is why many are amazed by it.
Here is a simplified instruction on how to convert M4R to MP4.
Step 1: First, you need to get the software by visiting its main page. Once you reach the official website, tap the Free Download and wait until the software is installed. But it doesn't end there. You also need to install the launcher of the Vidmore Video Converter to run correctly on your device.
Step 2: Second, you may now open the software. Press the Add files on the left part of the screen or the Plus icon to upload the M4R file on your device.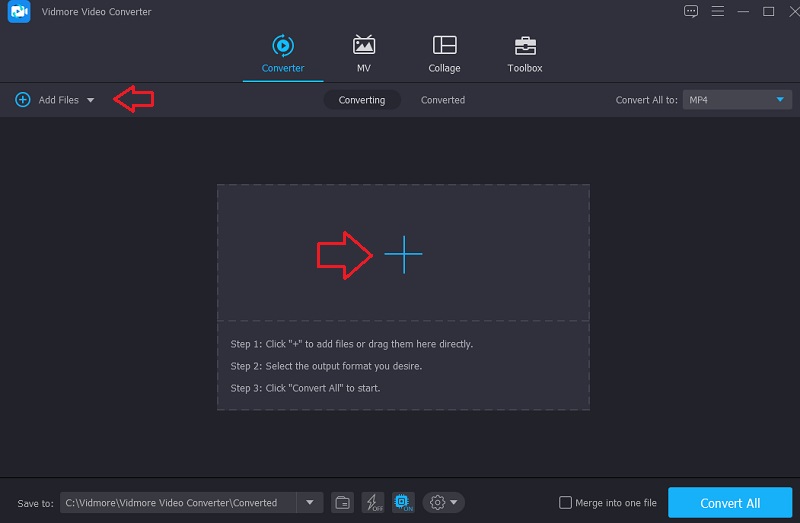 Step 3: After that, you will see a dropdown arrow beside the audio file. Press that and go to the Video section. Tap the MP4 format.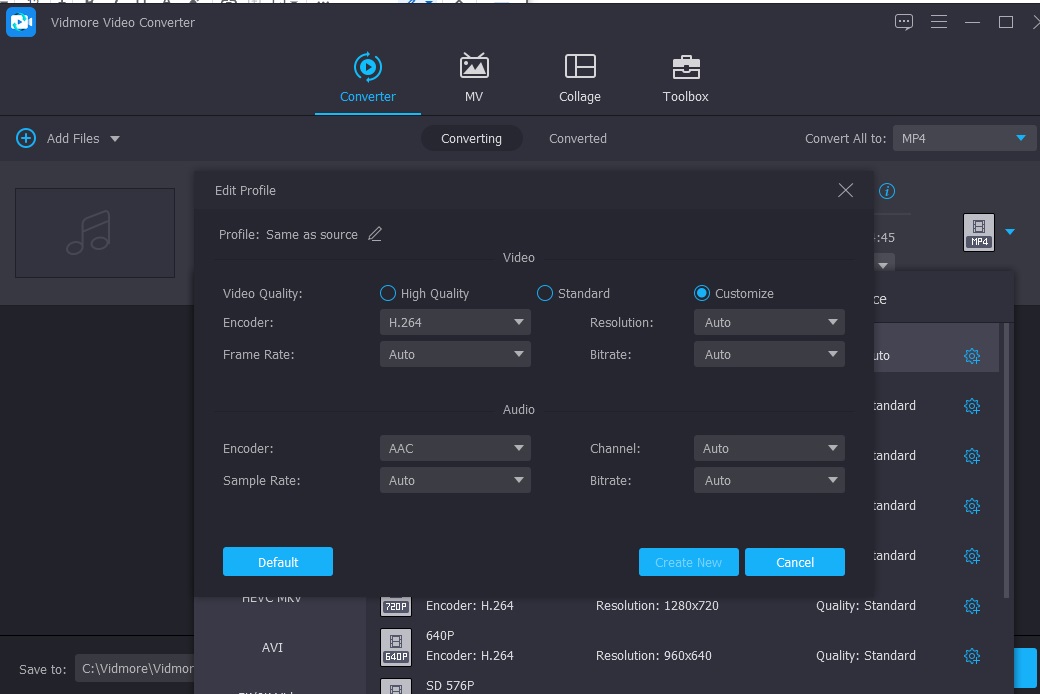 On the right side of the MP4 format, you will see the Settings icon. That icon contains the other details of your file. You may enhance or reduce its size by navigating the bitrate, channel, and sample rate. Once you are fine, press the Create New button.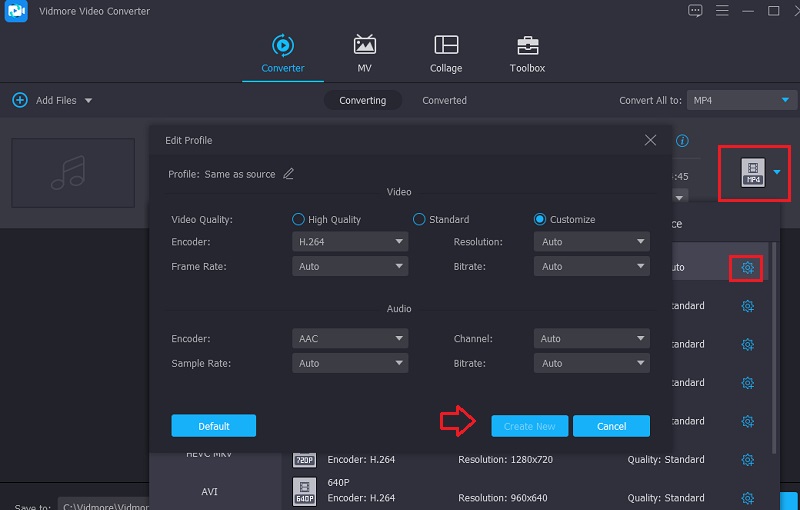 Step 4: To conclude, you now convert it and export it to your folder if you are finished editing your file. Press the Convert All icon to start the conversion.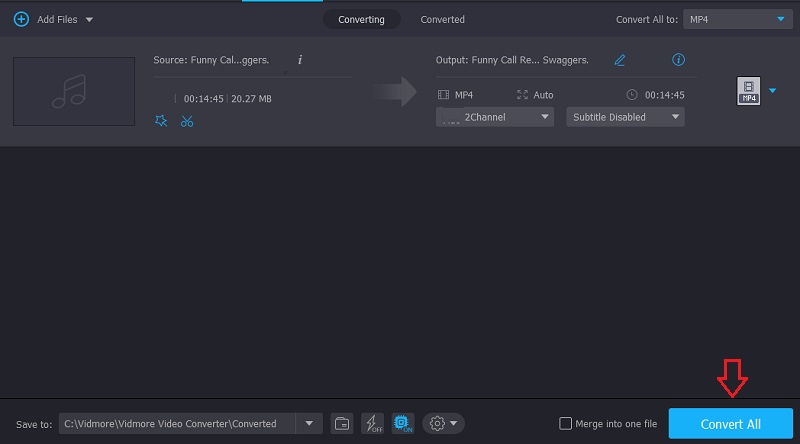 Part 2. Other Ways to Convert M4R to MP4
If your device can't handle installing another software on your device, here are other solutions you can lean on.
2. Zamzar
When it comes to internet applications, Zamzar is an excellent choice to consider as an alternative. Because it is compatible with hundreds of file formats, selecting the most suitable one for your task will be a breeze for you. While waiting for the process to be finished, this step may take some time. In contrast, it can only convert files with a maximum of 50 megabytes in size. This guide will walk you through converting M4R files to MP4 using Zamzar.
Step 1: To upload files, go to Zamzar's homepage and choose the Add Files option from the menu. Choose the M4R data that needs to be converted from the choice that appears in the options list.
Step 2: Choose MP4 from the available audio formats in the dropdown box if you want your recording to be encoded into that type.
Step 3: Last but not least, you may convert your MP4 files by going to the file menu and selecting the option titled Convert Now.

3. FreeConvert.com
FreeConvert.com is yet another dependable internet software that you may use. It can convert music, images, documents, and videos into many formats. This web-based tool offers support for various file formats, all of which are suitable for use with your file. It has a speedy conversion procedure, which means that converting the files you need to convert will take less time.
It makes it an even more helpful tool for users. However, the total limit of a file that may be uploaded using this program is 1 gigabyte. Therefore, to have access to greater file size, you will need to register on their website.
Step 1: Find FreeConvert.com on your internet explorer and then click the button labeled Choose Files located in the center of the page. Following that, you should submit the M4R file.
Step 2: After that, choose Output from the dropdown menu below. Then, browse the list of available formats until you find MP4.
Step 3: After you have decided upon an output format for your file, you can convert it by selecting the option Convert to MP4 and then waiting a while for the procedure to be completed.

4. Convertio
Convertio is another tool that does not cost anything to use. You won't have to spend a dollar to convert M4R files to MP4 format, as this service is provided to you free of charge. You won't have to go through many complex and time-consuming steps to convert your files if you use this solution based on the web. It comes with an interface that may be managed in a highly user-friendly manner and is uncomplicated. It shouldn't be too difficult for you to convert the files you've chosen into several different formats available.
Because it can only process files that are less than 100 MB in size, you should save this converter for the conversion of the smallest files feasible.
Step 1: Go to the website affiliated with the online tool you want to use. You may pick the M4R from the dropdown menu positioned next to the button that reads Choose Files on the page of the official site.
Step 2: After the uploading of your file has been successfully finished, a dropdown selection of available formats will appear on the right of the screen. After that, choose MP4 from that choice.
Step 3: You must finally choose the Convert option to bring the converting procedure to a successful conclusion.

Part 3. FAQs About Converting M4R to MP4
What is the meaning of M4R
Apple developed its unique file extension known as M4R specifically to serve as a ringtone for the iPhone. It is an audio file that has compacted while maintaining a high level of quality, comparable to files with the M4A and MP4 file formats. M4R files are often fewer than 30 seconds in length and are considered short audio files.
Are MP4 and M4V the same?
While MP4 was designed to improve the speed and quality of multimedia applications available on the internet, M4V was built with Apple devices like the iPod, iPhone, and iTunes.
Is MP3 better than MP4?
Both of them have positive and negative aspects to them. The MPEG-4 technology used to create M4A files makes it a highly compressed format. In contrast, MP3 files are less compressed than M4A files. On the other hand, M4A files have a higher quality sound than MP3 files, even at lower bitrates.
Conclusions
Upon seeing the different M4R to MP4 converters, you now have various options on which you will choose in converting your files. But suppose you want to ensure the quality and not be limited when it comes to filing size. In that case, it is recommendable to use a software converter such as Vidmore Video Converter.