Transform MKA to AAC with 4 Commendable Tools for Windows and Mac
AAC is the abbreviation for Advanced Audio Coding that is usually used for compressing digital audio files. It has one of the best performances in terms of low bit-rate compression which is highly recommended in audiobooks. That is the reason why many individuals choose to convert audio files to AAC. The same goes when you want to create high-quality audiobooks out of MKA files. In case you are wondering how you can convert MKA to AAC, check out the following top applications.

Part 1. Recommended Way to Convert MKA to AAC
If you want to convert MKA to AAC using a professional program, you should look no further than Vidmore Video Converter. It has a user-friendly interface that even green hand users can convert files quickly and easily. Also, this is fully compatible with Windows and Mac computers offering support to a wide range of files including MP3, FLAC, WMA, WAV, OGG, and a lot more. In case you want to edit audio files, you can also cut, trim, split, and merge audio files using this program. Underneath is a detailed walkthrough on how to convert MKA to AAC using this app.
Step 1. Install the MKA to AAC Converter
To grab a copy of the app's installer, click on the Free Download buttons below and install the app by following the onscreen setup. After that, launch the app on your computer.
Step 2. Import MKA file
Click the Plus sign button to upload your target MKA file. Pressing the Spacebar on the keyboard works for uploading media files as well. Optionally, you may upload files by dragging and dropping the file.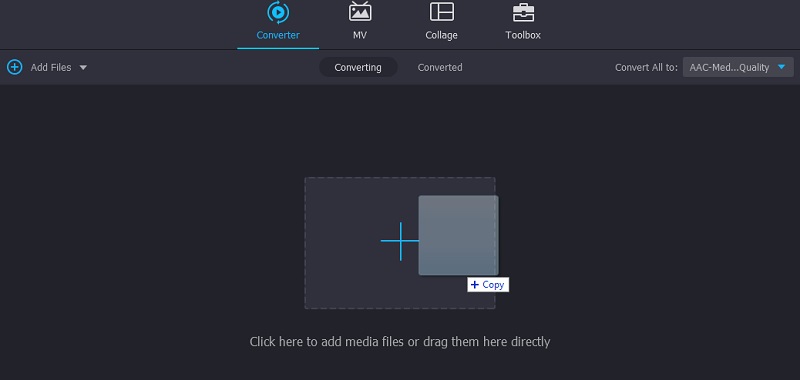 Step 3. Select audio format
Once done uploading, forward to the Profile > Audio. Then a list of available audio formats will appear located on the left section of the window. Simply choose an audio preset that suits your preference.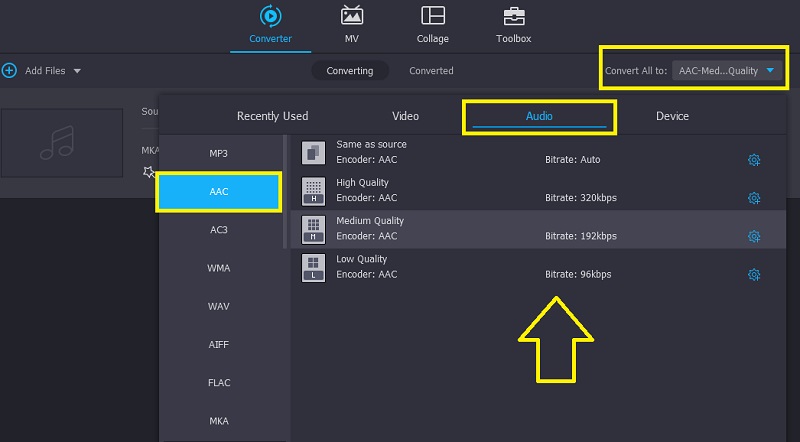 Step 4. Convert MKA to AAC
After that, set a file destination where you can easily locate the converted file. When everything is set, click the Convert All button at the bottom right corner for the conversion process to commence. In a few seconds, the file will be ready for playback.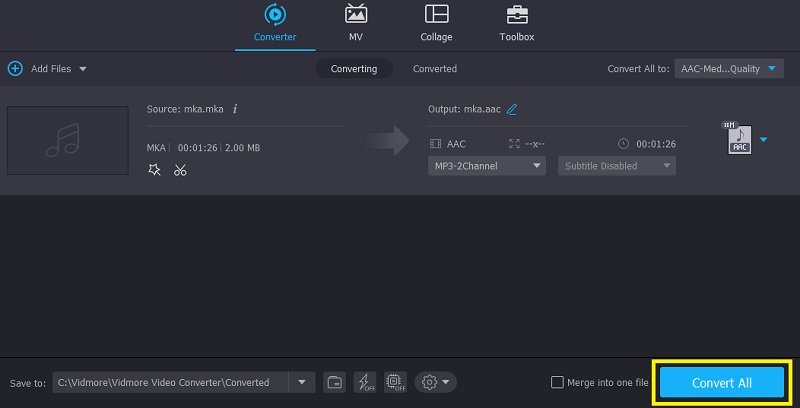 Part 2. Other Ways to Convert MKA to AAC
You can also use other methods aside from the one mentioned above. There is a CLI-based application, and an online tool to cater to every user's preference when converting audio files.
1. Freemake Audio Converter
Freemake Audio Converter supports conversion from MKA to AAC and other audio formats including WMA, MP3, FLAC, M4A, and even OGG. Not to mention it comes with audio presets that are editable so that you can achieve your desired output. In addition, you can create your own preset with customized channels and sample rates. To use it, refer to the given steps.
Step 1. First of all, you need to get the installer of the app by accessing its official website. After downloading the app, install and launch the tool on your computer.
Step 2. After launching the tool, upload an MKA file by clicking the Audio button. It should open the File Explorer on your computer. From here, locate and select your target MKA file.
Step 3. On the menu bar at the bottom of the interface, choose the to AAC option, and a window will pop-up in which you will be able to change the audio output.
Step 4. On the same window, set a file destination for the converted file and hit the Convert button to initialize the process.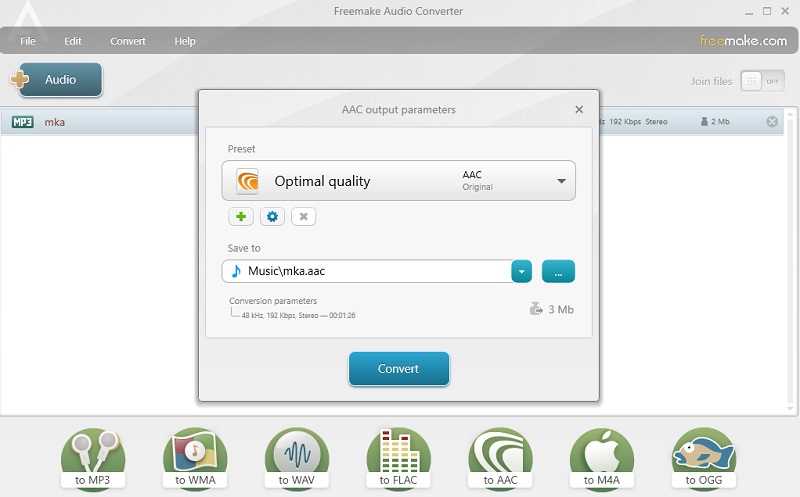 2. FFmpeg
Unlike the aforementioned programs, FFmpeg runs on a command-line interface. That means instead of interacting with GUI, users will use commands to convert MKA to AAC. Nevertheless, it can effectively and efficiently do the job. Besides, it also empowers users to record and stream various digital content. Here is a simplified guide for FFmpeg MKA to AAC conversion.
Step 1. The same drill, get the installer of the program and have it installed on your computer.
Step 2. After the installation, open the Command Prompt and then run FFmpeg to check if it is successfully installed.
Step 3. This time navigate to the folder where the MKA file is located using the CMD commands. Once you reach the folder, type the command ffmpeg -i input.mka output.aac and press the Enter key.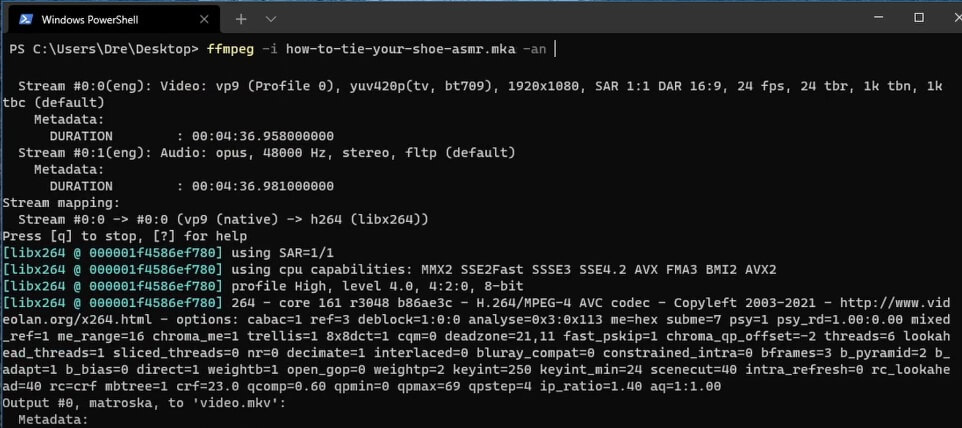 Part 3. FAQs of MKA to AAC
How to make an AAC audio file?
You can create an AAC file from any sound file using the conversion method. One of the tools mentioned above that will simplify this work is Vidmore. In the same way, you may use the tools that are introduced in the latter part if you find it convenient to convert online or you are accustomed to a CLI-based app.
Which is better, FLAC or AAC?
When it comes to file size, AAC obviously is smaller. Yet in terms of sound quality, it is safe to say that FLAC has an excellent sound quality.
Does a file with a .mka extension considered a binary file?
Binary file is characterized by the need for matching software to read and consume it. Just like for MKA that can be played using audio editing software or music player.
Conclusion
Overall, the solutions reviewed are capable of assisting you to convert MKA to AAC. You can go for desktop software, a text-based app, or an online method depending on your conversion demands.