Top 3 MKA to AC3 Converters to convert MKA to AC3 Effortlessly
For some reason, you want to create AC3 files to make a surround sound or to integrate into the film that you are creating. But it so happens that the sound file that you want to incorporate is in the MKA file. Also, you may want to play them on your TV that only supports AC3 files for playing music. One of the feasible and practical ways you can employ is to convert MKA to AC3. Find out some of the workable solutions to get this job done easily.

Part 1. MKA vs. AC3
The illustration below provides the details regarding the difference between MKA and AC3 you should know about.
Definition
File extension
Store content
Compatibility
MKA
Matroska multimedia container designed used to store songs and albums
.mka
MKA can handle an individual song, complete album, and SRT file or subtitle for karaoke.
Compatible with Windows, Mac, and Linux
AC3
File extension for surround sound audio files created by Dolby Laboratories
.ac3
Can only handle audio file
Windows, Mac, Linux, Unix, iOS, and Android
Part 2. Recommended Tools to Convert MKA to AC3
1. Vidmore Video Converter
Packed with all the necessary things together, Vidmore Video Converter is all-in-one software to help you convert MKA to AC3 in a jiffy. The program comes with an easy-to-use interface and is fully compatible with both Windows and Mac computers. Except for conversion capability, the tool provides advanced features that will enable you to edit both video and audio. This enables you to split audio into multiple manageable chunks. Also, you can merge several audio tracks. Aside from that, this also facilitates batch conversion mode regardless of the audio file size and audio format.
Key Features:
1. 50x faster-converting speed compared to similar programs.
2. Customize compression settings.
3. MKA can be converted into the desired formats like AC3, MP3, FLAC, WAV, AAC, AIFF, etc.
4. Audio editing tools: Cutting, splitting, and merging.
5. Preview output in real-time before rendering the file.
6. Edit audio/video metadata information.
Step 1. Download the MKA to AC3 Converter
Before anything else, download and install this MKA to AC3 Converter on your computer. Since the tool is available for Windows and Mac users, you may choose the appropriate OS associated with the following Free Download buttons. After that, install the app and click on the app to launch it.
Step 2. Load an MKA file
This time, click the Plus icon in the middle of the window and then locate the MKA file from the File Explorer that will pop up. Also, you can click the Spacebar on your computer keyboard to upload a file.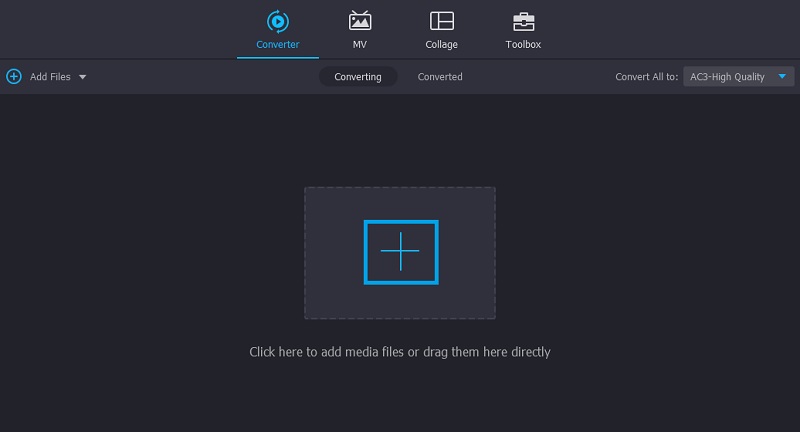 Step 3. Choose an output format
Next, click on the Profile menu to see all formats it supports. Then head over to the Audio tab and then you will see a list of available audio formats on the left section. From here, select the AC3 audio format. Now select the preset that suits your requirements or customize them accordingly.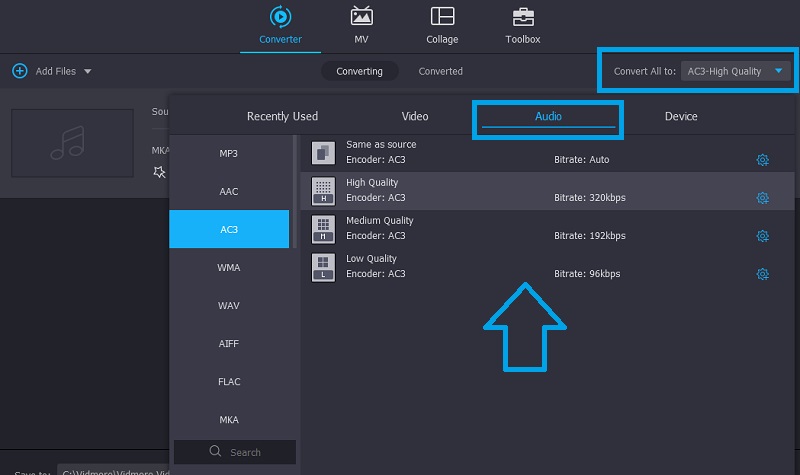 Step 4. Convert MKA to AC3
Once satisfied, select a file destination where you want to save the converted file. Then hit the Convert All button at the bottom right corner to start the conversion process. You can directly check the file on the Converted tab.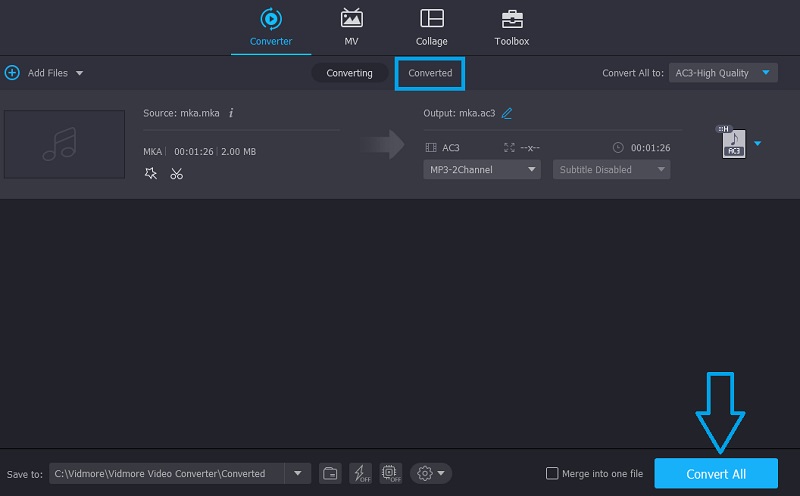 2. Any Audio Converter
Any Audio Converter is likewise an extremely easy-to-use program that supports common audio formats. It also supports device formats including Samsung, iPhone, and other Android product devices aside from the audio file formats. Users are entitled to access basic and advanced audio options that include changing the audio codec, channel, bitrate, and sample rate. Indeed, Any Audio Converter is a feature-rich program allowing you to achieve different tasks in just a single tool. See the simplified steps to learn how to convert DTS MKA to AC3.
Step 1. To get started, download this software from the official website. Install it on your computer system and click on the program to run it.
Step 2. Once the app is running, click the Add button on the main interface of the tool to upload your target MKA file. You may also drag and drop the media files that you are attempting to convert.
Step 3. After uploading, open the Profile menu and select the Music icon which is the last icon from the selection. From here select the AC3 Audio option. Finally, click the Convert Now! button next to the Profile menu to initiate the conversion process.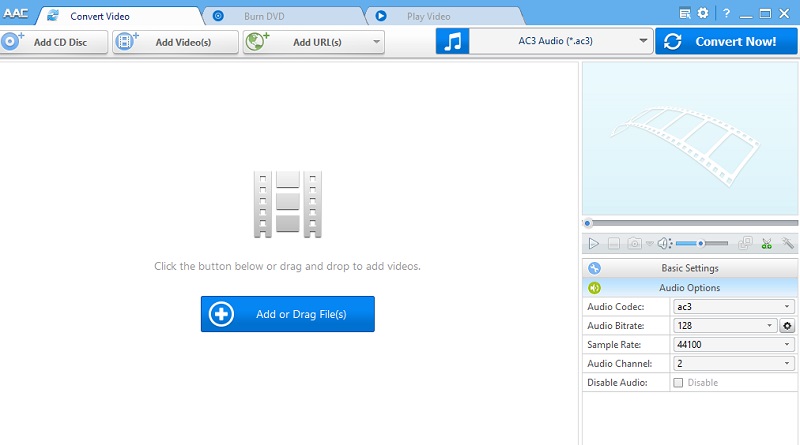 3. Online Audio Convert
Online Audio Convert is an online audio converter service website that allows you to convert almost all major and common audio formats. As long as they don't exceed 2GB, you will be able to convert them using this program. Furthermore, it has diverse methods for uploading media files. You can choose to upload locally, via the link of the media file, or import from the cloud storage like Dropbox and Google Drive. What makes it more desirable for online users is that it gives them access to advanced settings. This includes the ability to cut the best part of the audio, apply fade in and fade out effects, and a lot more. Get a hands-on experience of the tool and convert MKA to AC3 online by following the steps below.
Step 1. Firstly, go to the official webpage of the tool any browser that you are comfortable using or available on your computer.
Step 2. Now choose your desired MKA file that you would like to convert by clicking the Open Files button and uploading it into the program. You may also upload media files via the URL or import them from the cloud storage.
Step 3. From the list of audio formats, select the AC3 audio format. Lastly, click the Convert button followed by the Download button to save the converted file.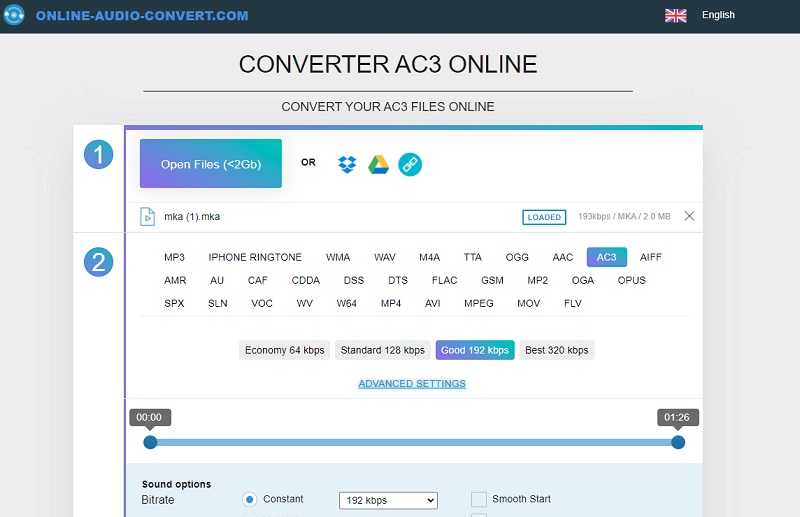 Part 3. FAQs of MKA to AC3
Can FFmpeg convert MKA to AC3?
Yes! FFmpeg has an AC3 encoder that enables you to transform your media files into AC3. However, the quality of converting MKA files to AC3 using FFmpeg is not guaranteed.
Is AC3 the same as AAC?
AC3 and AAC have differences especially in terms of sound quality. AAC is regarded as the successor of MP3 which can produce high sound quality at the same bitrate as AC3. Particularly, at a low bit rate.
What AC3 is used for?
AC3 stands for Audio Coding 3 that contains 6 discrete sound channels. This format is specifically used for surround audio files, which are common for home theaters and cinemas.
Conclusion
Both MKA and AC3 are important for the file, television, and music industry. Hence, if there is a need to play them on such occasions relevant to these industries, you can rely on the audio converters to convert MKA to AC3 and vice versa. Well, you have desktop and online solutions. Therefore, you could choose which method best fits your preferences.