Guide to Turn MKA to WAV with High Quality on Windows and Mac
It is no surprise that MKA files are useful especially when storing an entire music album. Plus, it can contain lyrics or SRT subtitle transcriptions into the audio file. Also, it can save an individual song and allow dividing it into multiple chapters. Yet one of the weak points of this format is that it is not commonly recognized by most media players.
You need special software to make some changes or play it on your favorite devices. The most common solution is to convert it to a popular format like WAV. As we know, WAV files are supported on both Windows and Macintosh. Furthermore, editing and manipulating WAV is not difficult as it does not require decoding and encoding. Check out some of the best MKA to WAV converter programs with their detailed guides below.

Part 1. What are MKA and WAV
What is an MKA file?
MKA belongs to Matroska by the Matroska Association. This is a multimedia container format. Files that have .mka extension are not codec but a container exclusive for audio information. This may contain a complete music album in a single file in which chapters mark each song in the file. This may also comprise subtitles for Karaoke and even cover in JPEG formats.
What is a WAV file?
WAV, short for Waveform Audio File Format, is also an audio file developed in collaboration with Microsoft and IBM. WAV files were derived from RIFF (Resources Interchange File Format) which is commonly used for storing data of sound in chunks. Aside from audio formats, WAV files consist of information about a stereo property, bit depth, sample rate, as well as number tracks.
Part 2. How to Convert MKA to WAV Quickly
1. Vidmore Video Converter
Vidmore Video Converter is one of the best tools that can assist you in converting MKA to WAV either for Windows and Mac. It provides convenience especially when you are in a hurry and you need to convert files in batch quickly without any quality loss. What sets it apart from other converters is that it is integrated with audio editing capabilities like cutting, splitting, trimming, merging, and so much more. On top of that, this enables you to edit or add tags to your audio files like WAV. Not only that, but you can also use it to convert video files and get the playback in no time. Please see the walkthrough below on how to convert MKA to WAV.
Step 1. Acquire the MKA to WAV Converter
First and foremost, grab the tool's installer by clicking any of the following Free Download buttons. Just make sure to choose the appropriate OS for your computer. Then quickly install and launch the program.
Step 2. Load an MKA file
Then upload your desired MKA file to convert by clicking the Plus sign button or pressing the Spacebar on your computer keyboard. You can also choose to upload by dragging and dropping the file into the upload area.
Step 3. Choose an output format
Next, open the Profile menu to see the list of available audio formats. Head over to the Audio tab and then you should see a selection of audio formats. On the left section, select WAV and then it will show several presets. Choose which preset fits your needs.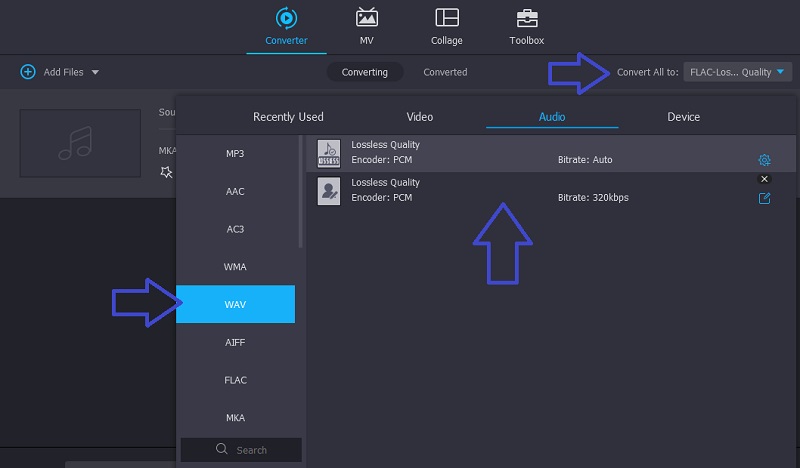 If you wish to edit according to your preference, you can do so by clicking the Custom Profile button. From the dialogue box, you can change the bitrate, sample rate, and channel. Right after modifying the parameter, click the Create New button and select it as your preset.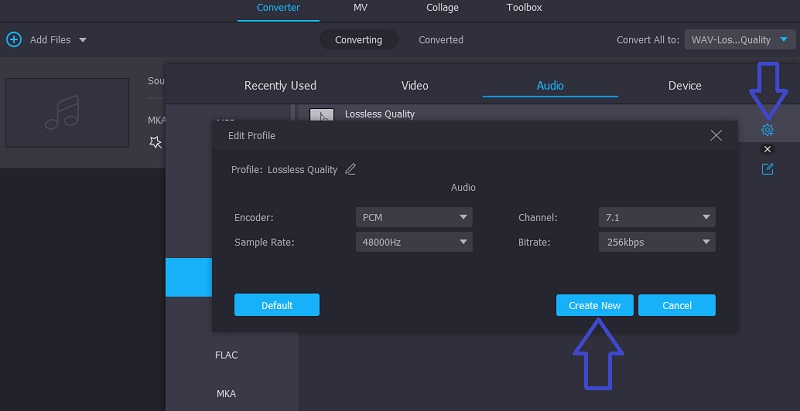 Step 4. Convert MKA to WAV
This time, you can add or edit the metadata information of your audio file before the conversion process initializes. Simply click on the Edit Media Metadata and it will bring you to its metadata editor. From here, add or edit accordingly and hit the Savebutton to confirm the changes. After that, proceed to convert files by clicking the Convert All button. Immediately, you will get the converted audio file.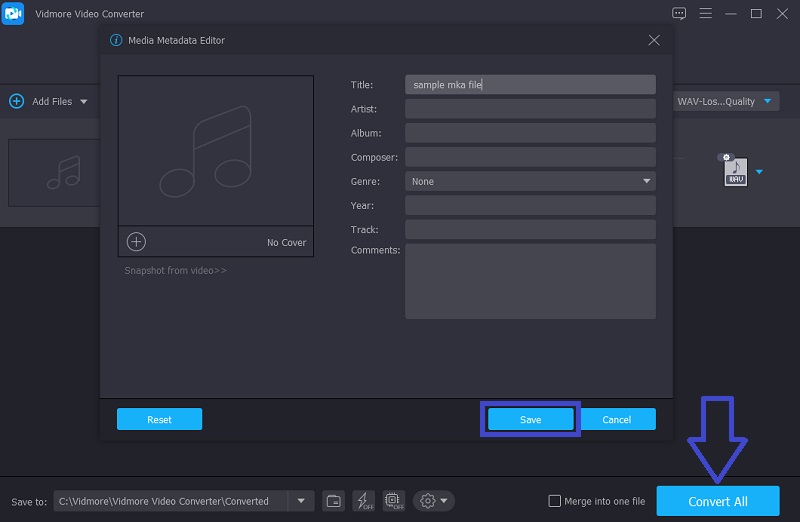 2. Freemake Audio Converter
As its name implies, Freemake Audio Converter is a desktop app that allows you to convert MKA to WAV for free. With its intuitive interface, you will be able to convert your files in a jiffy. What makes it distinguishable for others is that it comes with a handful of audio presets that will help you achieve your desired audio output.
Step 1. First things first, download the program by going to its official website to make sure you have the latest version of the tool. Install the app by following the prompts from the setup wizard.
Step 2. Now run the app on your computer and click the Audio button at the upper left corner to add an MKA file that you are attempting to change. Once it opens up the File Explorer, locate the media file and click the Open button to successfully upload the file.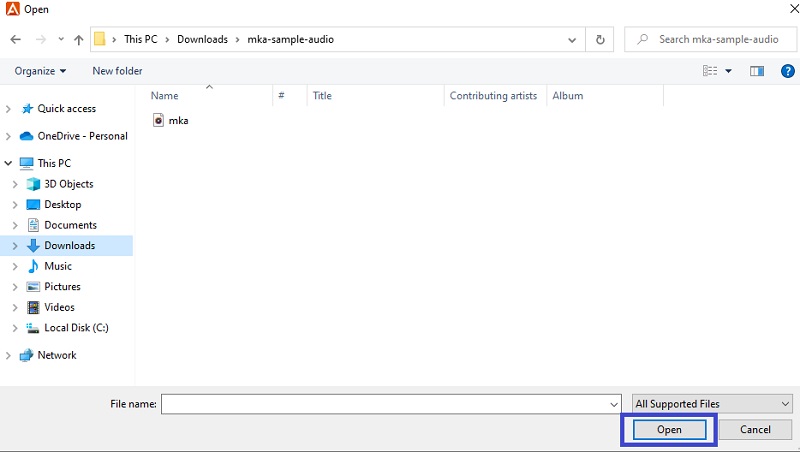 Step 3. After that, select the to WAV option from the menu bar at the bottom of the window and it will display a dialogue box. See the preset that suits your requirements, select a file destination, and hit Convert to process the file.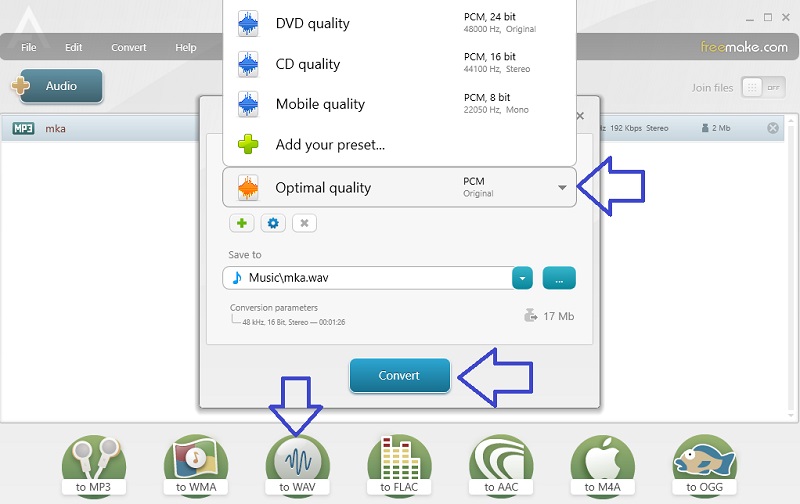 3. Aconvert
Aconvert is a simple yet effective solution to convert MKA to WAV using any browser on your computer. That's right you can use any browser on your computer to accomplish your converting task. Besides WAV, you may also convert to MP3, WMA, FLAC, and many other audio files.
Step 1. To get started, go to its official website to access the tool and then forward to the Audio tab located at the lower left side of the web interface.
Step 2. To upload your target MKA file, click on the Choose Files button or click the drop-down to import from Google Drive or Dropbox.
Step 3. Under the Target format selection, choose WAV as the output format. Before the conversion takes place, you may also adjust the audio bitrate and sample rate as you like. Finally, click the Convert Now button for the conversion to commence.
Step 4. Once done, you should see the processed file under the conversion results section. From here, click the Download button to keep a copy of the file.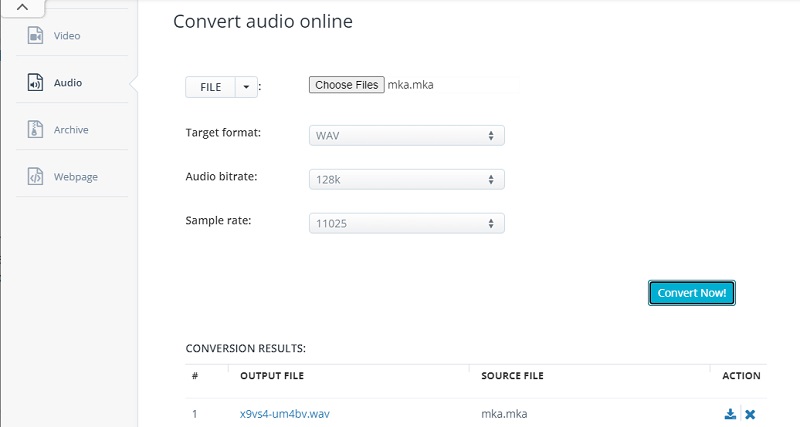 Part 3. FAQs of MKA to WAV
How can I convert MKA to MP3?
You can find lots of audio converters online. However, not all audio converts support this format. As such, you may use the ones introduced to play and convert MKA files to any of your desired formats such as MP3.
Can I import MKA in Audacity?
If you haven't installed FFmpeg and integrated it into the app, you won't be able to import MKA files into Audacity. So, it is a prerequisite to install FFmpeg to be able to access the advanced features of Audacity.
How can I add MKA to the MKV file?
You will need a tool called MKVToolNix. This is a helpful tool allowing you to add the audio track or subtitle content to the MKV file. It comes with a command-line version so users must have at least basic knowledge about UNIX commands to use this version. Nevertheless, you can opt for the GUI edition.
Conclusion
Converting MKA to WAV is not that difficult when using the appropriate software. The tools mentioned above can easily recognize MKA files and offer effortless ways to convert files. Among these solutions, it is common sense that Vidmore stands out not just for its converting capability but because of the extra features that you may access in just one software.