6 Best WAV to MP3 Converters That You Should Consider Using
Waveform Audio File Format, famously known as WAV, is a commonly used audio format on Windows systems that enables storing an audio bitstream on PCs. It was defined by IBM and Microsoft as a Resource Interchange File Format which acts as a wrapper for coding audio formats. On the other hand, WAV files mostly contain uncompressed audio yet produce a maximum audio quality for a great listening experience.
Otherwise speaking, great quality sound comes with a price. You may need to sacrifice your storage in order to retain this kind of audio format. Fortunately, WAV files are highly configurable giving you the opportunity to turn them into MP3 audio files. As regards the quality, you won't be able to distinguish much of a big difference after hearing both audio formats. With this in mind, we researched the best audio files converters that will help you convert your favorite WAV files to MP3 in no time. Check out this list of WAV to MP3 converters that we are going to review in this post.

Part 1. Professional WAV to MP3 Converter on Windows/Mac
Regarded as the professional audio and video converter software, Vidmore Video Converter is an ultimate solution that packs amazing features. This lets you convert WAV to MP3 with the perks of editing parameters and specifications to come up with your desired audio output. This lets you customize the audio bitrate, sample rate, and audio channel. Another worth mentioning feature is its capability to trim audio clips which is helpful when trying to shorten a long audio file. By virtue of its excellent functionalities, we could say that it is a great pick for your audio/converting needs. To have a hands-on experience of this best WAV to MP3 converter, take the necessary steps to use the software.
Step 1. Install the WAV to MP3 Converter App
To start, download and install Vidmore Video Converter on your device. To download click one of the Free Download buttons with their corresponding OS. Follow the setup wizard to install and launch it.
Step 2. Load a WAV file
From the running interface of the software, click on the Plus icon in the middle and select the WAV that needs to be converted.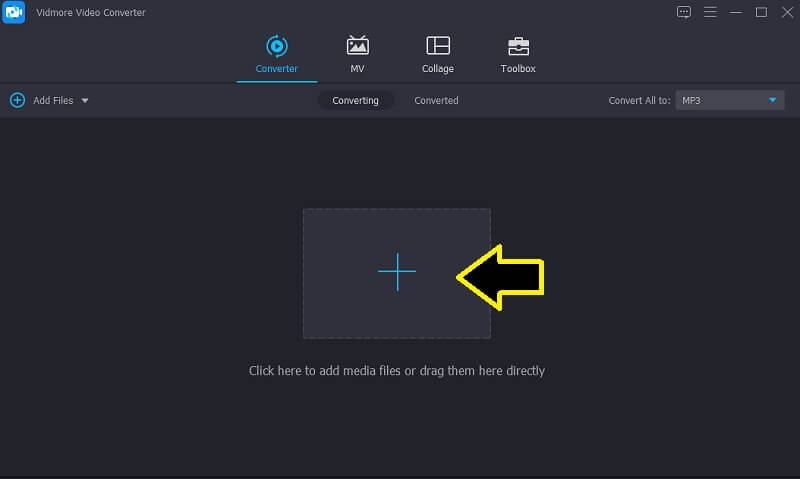 Step 3. Select MP3 as the output format
Next go to the Profile menu and click on the Audio tab. Then select MP3 on the left side option. You can choose from the preset MP3 or create or click the Custom Profile icon to modify the output. After that, you can edit the sample rate, audio bitrate, and sample rate as you like. Then click the Create New button.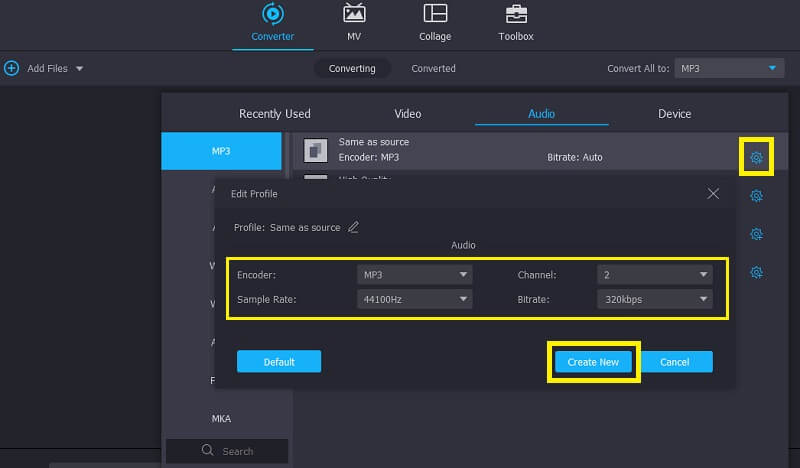 Step 4. Convert WAV to MP3
When you are done modifying the output, go back to the Converter tab and click the Convert All button at the bottom right-hand side of the interface. Once the process finishes, you will get the audio playback on the folder that will pop up.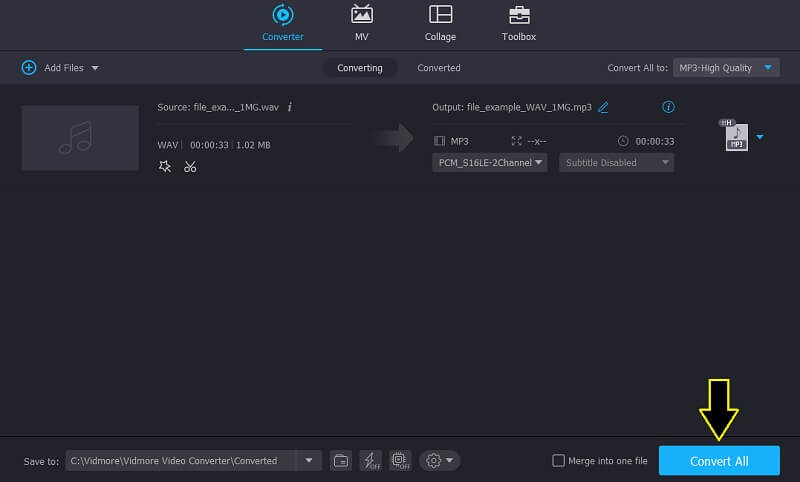 Part 2. Top 3 Online WAV to MP3 Converter
Now let's proceed on audio converters for WAV to MP3 online. Through these tools, you will easily convert your WAV files to MP3 anytime and anywhere provided that you have access to the internet. With that being said, below are the fast WAV to MP3 converters online.
1. Vidmore Free Online Audio Converter
If you are not willing to download MP3 to WAV converter for PC or a WAV to MP3 converter on your PC, you will need this online tool. Same with the above tool, Vidmore Free Online Audio Converter lets you convert WAV files to the audio format of your choice including MP3. Also, you can use it for converting on Safari or Google Chrome and on any other browsers that you are comfortable using. Needless to say, you should be able to use the program without encountering a problem with this WAV to MP3 converter Mac or Windows PC.
Step 1. First, launch Vidmore Free Online Audio Converter using your browser.
Step 2. To launch the service, click on the Add Files to Convert button from the main page. If you're using the tool for the first time, you may need to download and install its launcher. By then, you'll be able to convert without any restriction.
Step 3. Upload your target WAV file and select MP3 from the option.
Step 4. From the pop-up window tick on the MP3 radio button and click the Convert button. Then select a folder where you want to save the converted audio.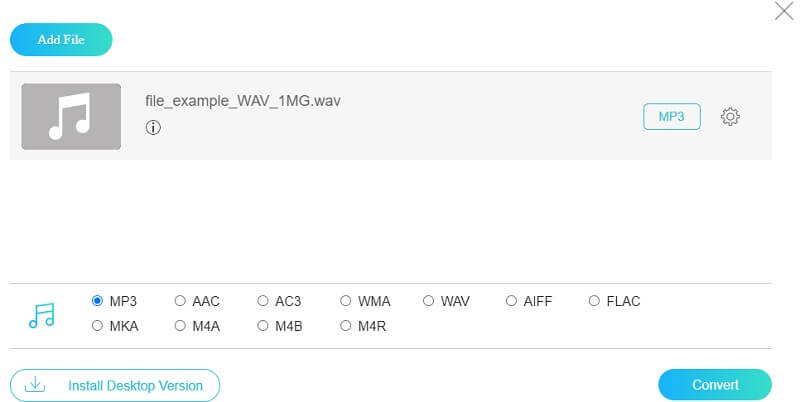 2. Online Audio Converter
Another WAV to MP3 free of download is Online Audio Converter. This is equipped with several methods for uploading an audio file. The importing methods include loading from the local drive, and from Google Drive and Dropbox. Not only that, but you can also edit the MP3 metadata tags of your audio file. Through it, you can modify the Title, Artist, Album, Year, and Genre of the audio track. Explore more of this WAV to MP3 converter free tool by taking the steps given below.
Step 1. Go to the website of the tool and select an upload method that you prefer.
Step 2. Upload your WAV file that you want to convert and select MP3 as the output format. You can also change the output quality by moving the slide for the Quality.
Step 3. Lastly, click the Convert button underneath to initialize the conversion process.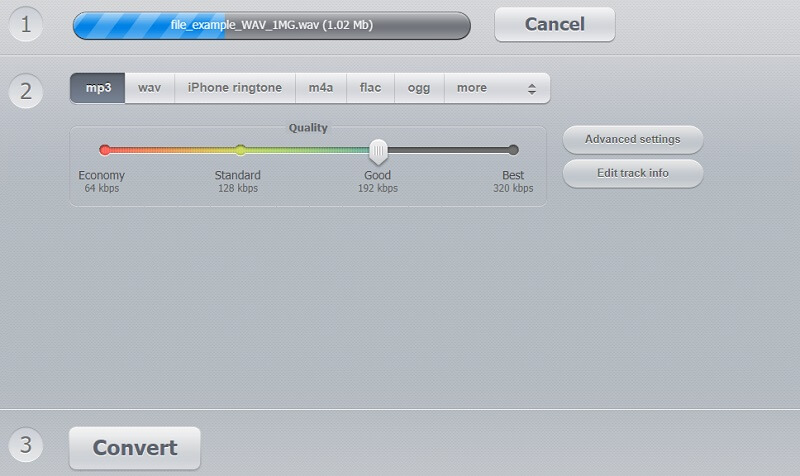 3. Cloudconvert
Cloudconvert is also a good free WAV to MP3 converter that supports almost all media files and formats. This allows you to convert from the web without installing any software or signing up for an account. In addition, it also enables you to upload from various file sources including local and online storage platforms. Apart from the mentioned capabilities, you might also find its audio trimming function helpful when you are trying to shorten a long audio clip or removing some unnecessary parts. Regardless, you can have an in-depth review of this fast WAV to MP3 converter online by following the step below.
Step 1. Visit the official webpage of the program and click the Select File button and upload your WAV file.
Step 2. Drop down the menu for the formats and choose MP3.
Step 3. Finally, click the Convert button on the right portion.
Part 3. WAV to MP3 Converter Apps for iOS/Android
1. WAV To MP3 Converter
WAV to MP3 Converter is a popular choice when it comes to converting audio files on Android devices. This comes with a set of amazing features that you'll love utilizing. There is a batch conversion capability that allows simultaneous conversing for multiple audio files. As such, you don't need to do it one by one. But it does support single WAV file conversion though. Along with that is a folder WAV conversion that aids in converting files that are saved in a folder.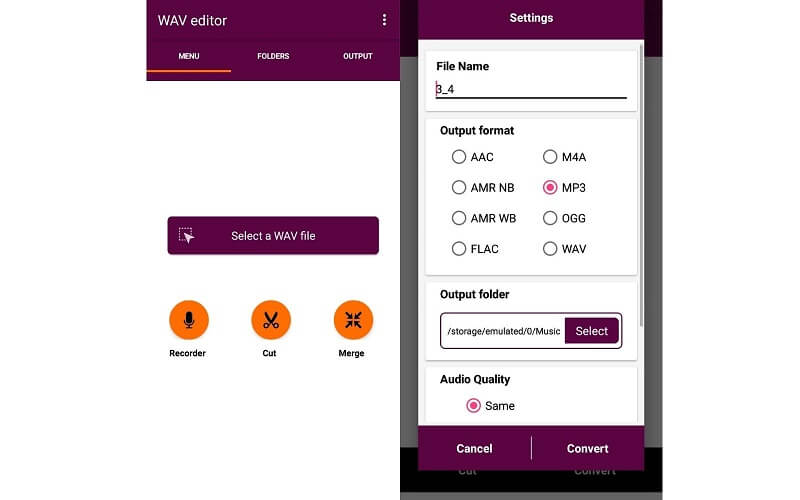 2. The Audio Converter
If you are a fan of the iPhone, then The Audio Converter is probably the app for your audio converting needs. Here you will be able to convert from WAV, OGG, MP4, WMA, MP3, as well as MOV. By observing these formats, it goes without saying that this WAV to MP3 converter mobile app for iPhone can carry out audio/video conversion.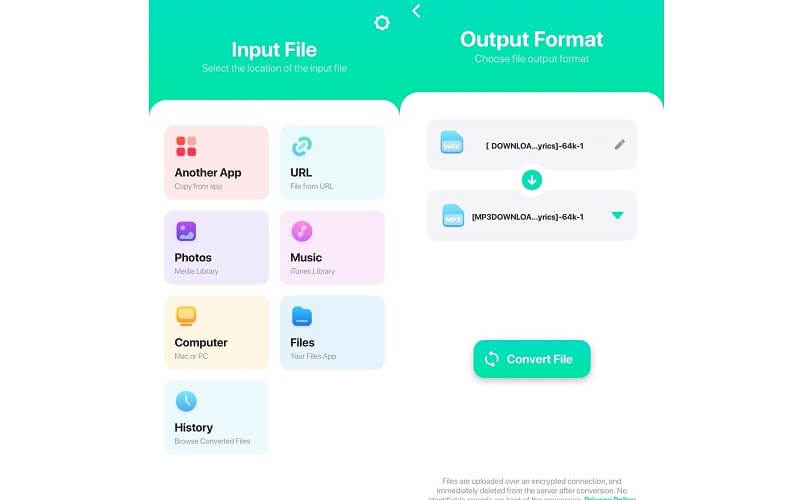 Part 4. FAQs of WAV to MP3
Is there any disadvantage if you convert WAV to MP3?
Yes. You will lose some of the audio quality from the WAV file. You will not be able to hear the loss of quality from a mediocre headset or speaker. But you can distinguish it by using a decent sound system.
Which format is best for music between MP3 and WAV?
Obviously, WAV sounds better than MP3. It's just that it will take quite a lot of space which means you need to have a large storage capacity to store more WAV files and enjoy listening to them.
Does MP3 Players have the ability to play WAV files?
Yes. In actual fact, there are a lot of MP3 players that support WAV audio playback besides MP3 files per se.
Conclusion
The post mainly tackles some of the best WAV to MP3 converters that you can use for desktop and mobile devices. When you don't want to bother downloading apps, then the online tools are great for you. On the other hand, you may opt to use desktop apps, if you are looking for something else besides converting audio files just like the Vidmore. The latter options would be suitable for those users who find it convenient to do their task on mobile devices.