How to Convert MP2 to OGG for Editing on Windows and Mac
MP2 files are designed for television and radio broadcasting. Besides this, this is also so popular among DVD players that it has become a potential competitor to Dolby Digital. One reason for this could be the higher error resilience attribute of the format. Still, many users prefer to use OGG, especially when editing an original audio recording.
Thankfully, many software tools will help you convert MP2 to OGG and even vice versa. Through this post, you will discover three practical and effective ways to achieve the MP2 to OGG conversion. Continue reading to learn more.

Part 1. Why Convert MP2 to OGG
When talking about radio broadcasting and television, MP2 is the predominant format. As mentioned, it offers higher error resilience and better sound quality. Even though it compresses audio efficiently, the format remains faithful in reproducing the original quality of the uncompressed files. It means you will get the same quality as the original.
However, there will be instances when you need to edit the audio file. OGG is one of the best and well-known formats for this need. Aside from being perfect for editing and creating original recordings, it helps you avoid patent issues with some audio formats like MP3. Hence, this post will show the three best tools to help you convert MP2 to OGG and OGG to MP2 according to your needs.
Part 2. How to Convert MP2 to OGG
1. Vidmore Video Converter
For an effective solution to convert MP2 to OGG, Vidmore Video Converter is the app you should be using. It enables you to upload multiple files and convert them all at the same time. You can also edit the audio itself, allowing you to adjust the volume and delay of the sound. Furthermore, you can cut, split, trim, and merge several audio files as you wish. Apart from converting in batch and editing audio properties, this program also enables you to modify the file's output according to your requirements. You may adjust audio parameters that include channel, sample rate, and bitrate. Check out the steps below to see how it works for converting MP2 to OGG or OGG to MP2.
Step 1. Download the MP2 to OGG Converter
To start, get the latest version of Vidmore Video Converter via clicking the following Free Download button below. Open the file extension, install and launch it on your computer.
Step 2. Load the MP3 file
Click the Plus sign button in the program's main interface and select the MP2 file that you want to convert to OGG. You can also drag and drop the file into the upload area. As for batch conversion, click the Add Files button at the upper left portion to add another MP2 file.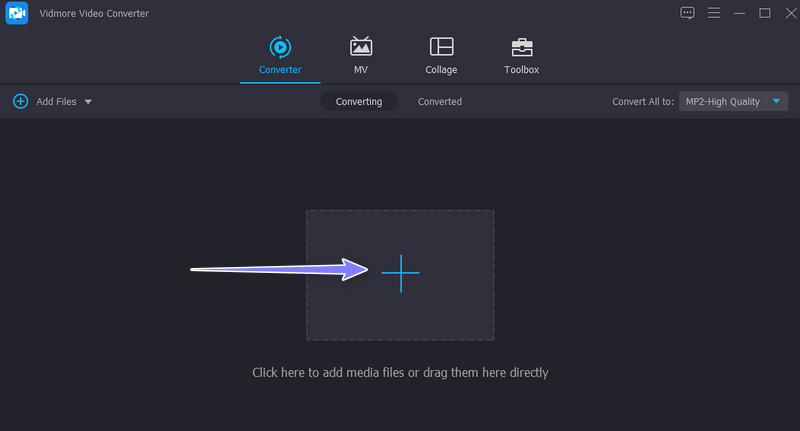 Step 3. Select OGG as the output format
Open the Profile tray and go to the Audio tab. From the list of audio formats on the left side of the window, select OGG. Next, select the quality between High, Medium, and Low.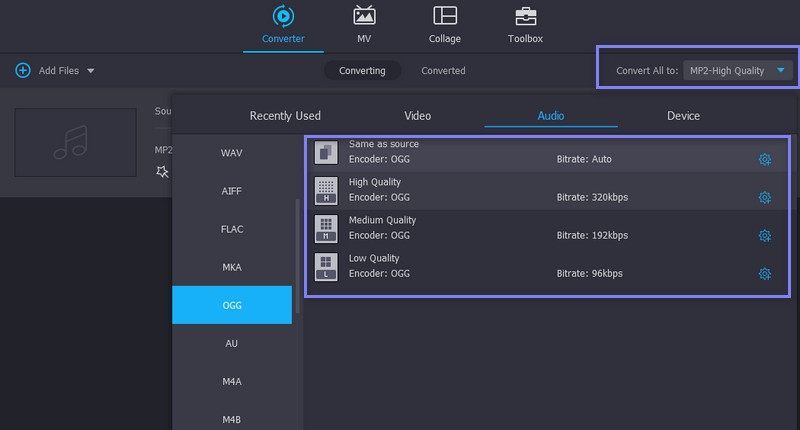 Step 4. Convert MP2 to OGG
After selecting the audio quality, click the Convert All button to convert files. Once the conversion finishes, check out the playback by going to the Converted tab. Click the Open Folder icon, and you will see the converted file at the top of the list.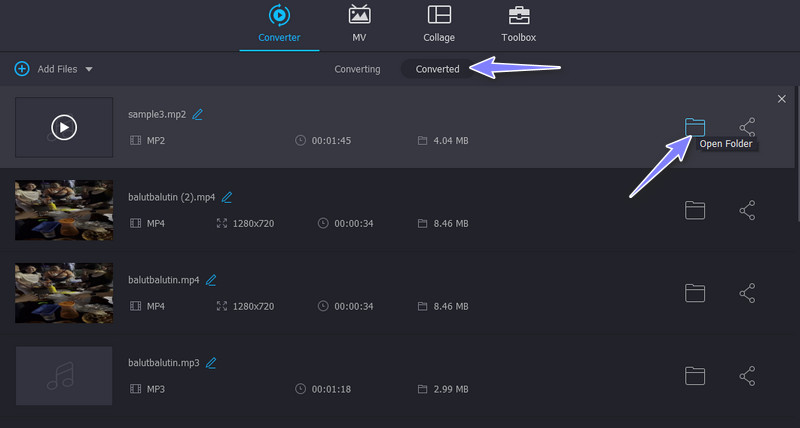 2. Audacity
Audacity is also a great alternative if you want to create an OGG version of your MP2 file. This is a free and open-source audio editing program for Mac, Windows, and GNU/Linux. Aside from that, you can access other tools like recording, copy and paste, cutting, etc. Not only that, you can apply audio effects such as delay, fade in and out, reverse, echo, and a lot more. Now, let us check how to convert MP2 to OGG using Audacity.
Step 1. Go to the official website of Audacity. From this page, download the program. Then, install and launch the app.
Step 2. Add an MP2 file by clicking the File menu at the top portion of the interface. Select Import followed by audio and import the MP2 file. Before the conversion starts, you can edit and add effects to the audio.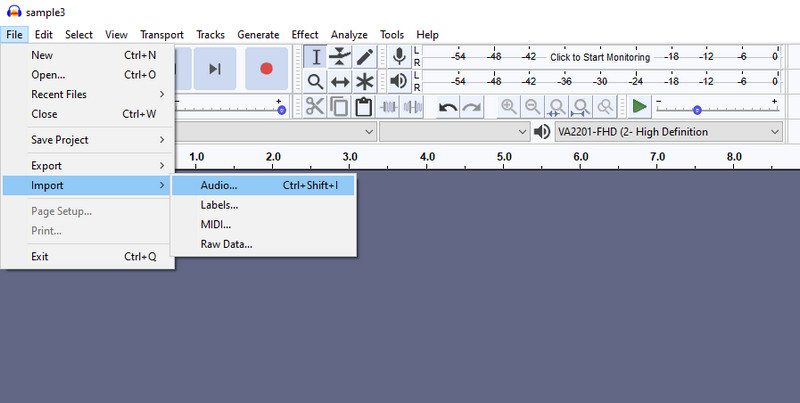 Step 3. After editing the file, go to the File > Export > Export as OGG to start converting MP2 to OGG in Audacity.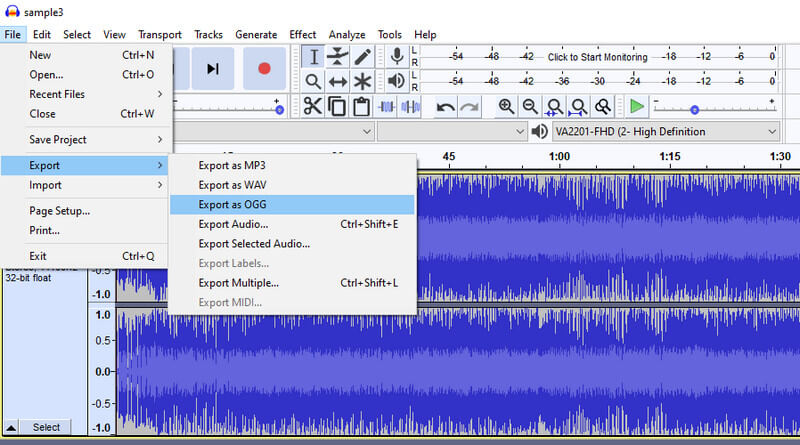 3. ONLINE-CONVERTER.com
To convert OGG to MP2 for free online, you should consider using ONLINE-CONVERTER.com. This enables you to complete the task of conversion quickly and easily with the help of an internet connection. There are a number of conversion operations that you can perform through this web application. As an example, here is how you can convert MP2 to OGG.
Step 1. Open a browser and visit https://audio.online-convert.com/convert-to-ogg. Then, click Choose Files to add MP2 files.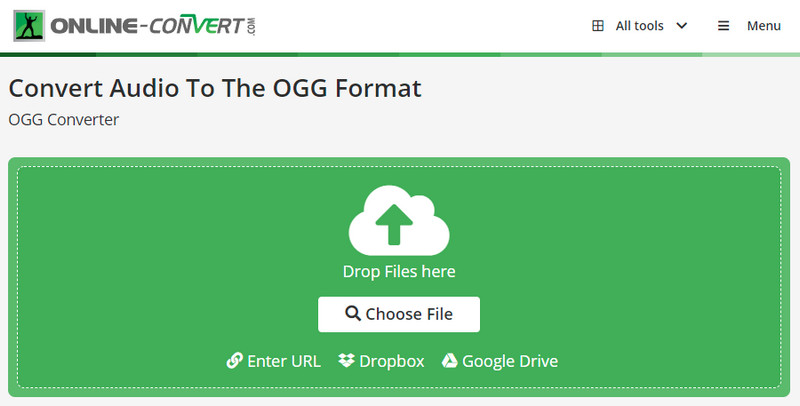 Step 2. Once done, you can adjust some audio settings like audio bitrate, channels, audio codec, sample rate, etc.
Step 3. To begin the conversion process, click the Start button. A window will pop up that will allow you to have a copy of the file via clicking the Download button.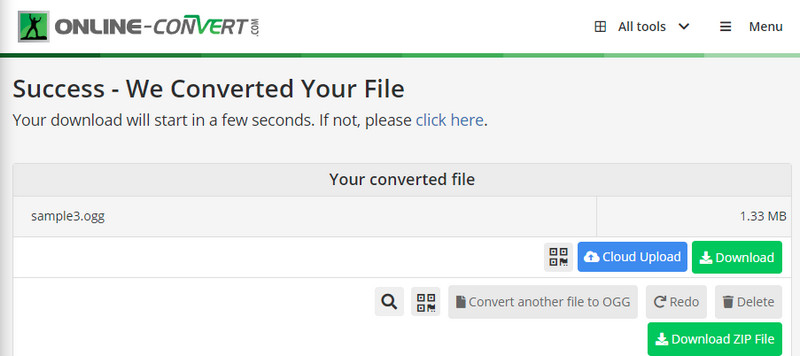 Part 3. Comparison of Audio Converters
If you are still unsure which tool to use, the table illustration below might help you out.
| | | | | |
| --- | --- | --- | --- | --- |
| | Ease of use | Supported formats | Fast Speed | Compatibility |
| Vidmore Video Converter | User-friendly | 200+ audio and video formats | | Windows and Mac |
| Audacity | A bit complicated | Support common audio formats | | Windows, Mac, and Linux |
| ONLINE-CONVERT.com | User-friendly | Supports many file formats | | Windows and Mac |
Part 4. FAQs of MP2 to OGG
Can I convert MP3 to OGG?
Definitely, yes. Audacity supports lossy formats like MP3 and converts them to OGG using the same procedure stated above. Also, you may batch convert MP3 in Audacity.
Is OGG high quality?
OGG Vorbis offers high-quality audio, which is great for music streaming. Besides, it provides a smaller file size than MP3, allowing you to store more music files.
What is OGG used for?
OGG contains both video and audio streams. Also, it can contain metadata and text, which is great for streaming content. More importantly, it avoids issues regarding copyright, allowing you to use it for free of charge.
Conclusion
All in all, the tools mentioned in this post can help you convert MP2 to OGG effectively. However, suppose you are looking for a powerful and easy-to-use program. In that case, Vidmore Video Converter is the app for you. It does not need an internet connection to work. It also features a user-friendly interface that is great for every user level.